The sixth annual Celebration of Technology and Innovation recently honored Emory scientists, entrepreneurs, and the Technology Transfer Office for inventions and expertise at guiding technologies into the marketplace. Following are the awards for 2011:
Startup of 2011: Clearside Biomedical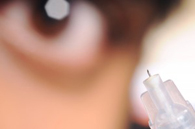 Prototype microneedle used to inject therapeutics into specific locations in the eye. Photo by Gary Meek.
Clearside Biomedical is developing microneedle technology allowing drugs to be injected to the back of the eye. The technique could be useful for treating both macular degeneration and glaucoma, as well as other eye conditions related to diabetes.
Developed by the research groups of Henry Edelhauser in Emory's Department of Ophthalmology and Mark Prausnitz at Georgia Tech, the technology uses a hollow micron-scale needle to deliver drugs to the space between the outer surface of the eye (the sclera) and a deeper layer that provides nutrients to the rest of the eye (the choroid).
Already, two- to three-million eye injections are made every year, many of them to treat age-related macular degeneration. The researchers believe their technology could reduce trauma to the eye and reduce complications, as well as make existing drugs more effective and advance a new class of drugs being developed to target specific parts of the eye.
Clearside, led by CEO Daniel White, has already garnered $4 million in funding from Hatteras Venture Partners, a venture capital firm in North Carolina.
Innovation of 2011: Mitra-Cath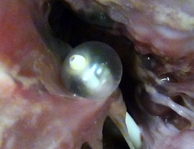 Mitra-Cath technology: silicone balloon implanted on mitral valve leaflet of pig heart.
Mitral regurgitation often occurs in patients with chronic coronary artery disease or following an acute myocardial infarction. Untreated mitral valve regurgitation can lead to heart failure. 
Murali Padala, in Emory's Division of Cardiothoracic Surgery, has developed a catheter-based tool for mitral valve repair. Padala's technology consists of a silicone balloon fixed onto the leaflets of the mitral valve, introduced into a beating heart via the apex. The device could eliminate the need for more risky open-heart surgeries for mitral valve repair.
Padala's "Mitra-Cath" technology recently won first place in the SEBIO Bio/Plan Competition in November 2011.
Deal of 2011: Spectropath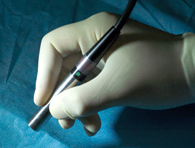 Spectropen
If a tumor is more visible and easier to distinguish from surrounding tissues, surgeons will be more likely to remove it completely. That rationale has been guiding biomedical engineer Shuming Nie and colleagues at Georgia Tech, whose technology was licensed to the startup company Spectropath in 2011.
The Spectropath Image-Guided System includes fluorescent probes, designed to enhance cancer cell visibility, and an imaging system for use during surgery. The added level of certainty about the margins of a malignancy could not only improve patient survival, but also could reduce the need for chemotherapy and radiation treatment.
In 2011, Emory executed with Spectropath a "high net worth license" with the potential to generate more than $1 million per year.
Significant Event of 2011: Gilead acquisition of Pharmasset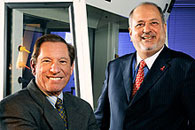 Dennis Liotta and Raymond Schinazi
Pharmasset, a pharmaceutical company focused on infectious diseases, was founded as a start-up company by Emory faculty members Raymond Schinazi and Dennis Liotta. Emory received Pharmasset stock as partial consideration for licensing various technologies to the company.
Most recently Pharmasset's primary focus has been the development of oral drugs for hepatitis C virus (HCV). Current HCV treatment is based on once-a-week injections of alpha interferon, which can cause severe flu-like symptoms and other side effects. A lead Pharmasset drug candidate for HCV is in phase II clinical testing and could be on the market by 2014.
Gilead Sciences purchased Pharmasset in 2011 for a deal valued at approximately $11.2 billion. When Gilead acquired Pharmasset, Emory was paid for the appreciated value of its liquidated shares of stock.
---