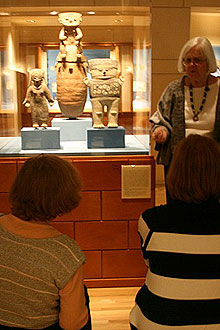 Since her diagnosis with Alzheimer's disease at age 51, Cecile Bazaz has had to give up a lot – her job, her car and much of her independence. Though her loss is profound, what she has gained might surprise you.  
"Cecile's entire adult life has been defined by being excellent at her job and by caring for our daughter. She hasn't had the time for enrichment of her own interests until now," says Alister Bazaz, Cecile's husband of 29 years. "Now she has the time to enjoy things like art and music. It's like the whole world is open to her now. An artist friend of ours in New York opened our eyes to the benefits of art to Cecile. We are glad she did because it has been so good for Cecile."  
With patients like Cecile in mind, the Emory Alzheimer's Disease Research Center, in partnership with the Michael C. Carlos Museum, is launching Museum Moments, a program designed to spark the imagination, invite conversation and form connections through art. Museum Moments is modeled after Meet Me at MoMA, a program started at New York's Museum of Modern Art, in which trained educators guide individuals with Alzheimer's through famous works of art, empowering them to share their thoughts in a social setting.  
"We're seeing growing evidence that keeping people with memory loss or dementia engaged in social activities like museum tours is key in both improving their quality of life and helping stimulate their cognitive function," says Allan Levey, MD, PhD, director the Emory Alzheimer's Disease Research Center and chair of the department of neurology at Emory University School of Medicine. "As our society ages, programs like Museum Moments are vitally important to keep the memory loss community, both patients and caregivers, engaged with the world around them."  
Register for Tour
Individuals with mild cognitive impairment, early Alzheimer's, or dementia with their family member or caregiver are invited to attend Museum Moments tours, scheduled for April 25, May 16 and June 20 at 1 p.m. Registration is required. To register, please call 404-728-4771.
---