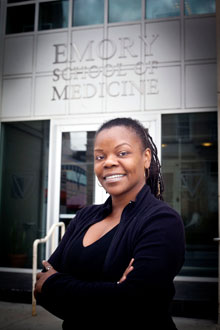 When Anita Yarbrough helps medical students navigate the dense terrain of evaluations, appointments and paperwork in her role as a senior secretary in the Office of Clinical Education for Emory's School of Medicine, she knows they will only glimpse one side of her — the friendly face, eager to help.
They will likely never know the woman who has devoted herself to community work her entire life. The single mother of five with a heartfelt interest in the needs of low-income families. The one-time business owner who has twice been homeless herself, each time fighting back to achieve stability for her family.
Today, Yarbrough is on steady ground, with  two children in college and one soon to enroll. She talks to Emory Report about her love of community, a deep appreciation of learning and the drive to seek improvement in the world around her:
You've had quite a multi-faceted life. How did you find your way to Emory?
(Laughs) I was working at Chili's as a hostess and the human resources manager for Emory Temporary Services came in with her daughter. They really liked the way I greeted them. A week later, I went to apply for a temporary job at Emory and she said, "I know you! You work at Chili's!" I was registered to work a temp position at the law school for a week, then I went for a temp position at the School of Medicine. That was 2005, and here I am.
You were named a 'We Are Emory Community Builder' for 2011-2012. What sparked your interest in community-building?
I've been that way as long as I can remember. When I was 5 or 6, a high-rise for the elderly was located right behind our apartment. I would try to make a quarter by going floor to floor, door to door, asking if I could take out garbage or sweep for them. Sometimes I would find myself just sitting there talking to the residents and forgetting about that quarter. I was also inspired by my grandmother, who worked at Crawford Long (now Emory University Hospital Midtown) as a housekeeper. Seeing her help those in need made a big impact. But I also learned that opening my heart to others has its risks, putting me in a financial bind where we eventually wound up homeless. So my children and I went into a shelter, starting over. The first time was in the '90s, the second time in 2004. I've been in some tight spots in my life but was able to bounce back because I understand that you utilize the system to get back on your feet, not to live.
What is it that you most enjoy about your job?
The students. When it's getting close to their match (for medical student residencies at teaching hospitals) and they have to go out for interviews, they get nervous. I say, "Why are you scared? There are so many people who want to be in your position." These are our future doctors, and they're pretty cool kids. In my job, I'm more of a coordinator. I handle medical student evaluations, set up appointments for them. I assist the deans at the Office of Clinical Education with a lot of medical student information and projects. I also utilize my computer background to assist people, working with the Emory students, as well as visiting students, to get them registered and manage their files. Some of them will come back with little gifts or just tell us, "Thank you." I really appreciate that.
When you're not at work or busy with your children, how do you spend your time?
I do a lot of studying, mostly business and economics. I've been going to classes through a real estate investment group, preparing myself to do some part-time real estate work. I still want to help people, those who have become homeless because of the economic downturn. I really want to find a way to get these people into homes.
I'm also on the Emory Employee Council. Working on the Employee Council was a way to make a change and be heard. It doesn't take a lot sometimes — just a tap on the first domino to cause a ripple effect.
---