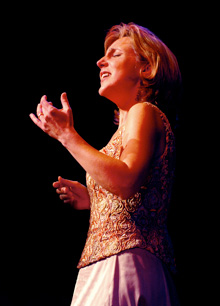 Four-time Grammy award-winning soprano Dawn Upshaw performs Friday, April 6 at 8 p.m. at Emory University's Schwartz Center for Performing Arts. Upshaw has achieved worldwide celebrity as a singer of opera and concert repertoire ranging from Baroque to new music. Her Emory program features the works of Charles Ives, Claude Debussy, Johannes Brahms, Robert Schumann; as well as contemporary composer William Bolcom.
The April 6 concert is part of the Flora Glenn Candler Concert Series. In addition, Upshaw will critique Emory vocal students in collaboration with Atlanta Symphony Orchestra director and Emory's Distinguished Artist in Residence Robert Spano on April 5.
Upshaw's artistic achievements include being named a Fellow of the MacArthur Foundation in 2007, the first vocal artist to be awarded the five-year "genius" prize. In 2008, she was named a Fellow of the American Academy of Arts & Sciences.
Since her career began in 1984, Upshaw has since made nearly 300 appearances worldwide. From Carnegie Hall to Glyndebourne, to large and small venues throughout the world, she regularly presents programs composed of Lieder, contemporary works in many languages, and folk and popular music. Upshaw's acclaimed performances on the opera stage comprise the great Mozart roles, as well as modern works by Stravinsky, Poulenc and Messiaen. In her work as a recitalist, and particularly in her work with composers, Upshaw has become a generative force in concert music, having premiered more than 25 works in the past decade.
She also furthers this work in master classes and workshops with young singers at major music festivals, conservatories, and liberal arts colleges, and serves on the faculty of Bard College Conservatory of Music and Tanglewood Music Center.
For event details, visit arts.emory.edu.
---