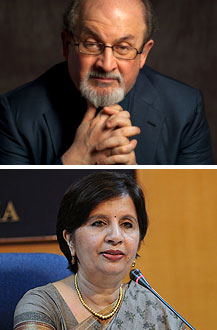 Emory University Distinguished Professor Salman Rushdie and Indian Ambassador to the United States Nirupama Rao are among the speakers at the third annual India Summit on March 2-3 at Emory University. Grounded in the cross-cutting theme of innovation, the summit features panels on medical tourism, technology and privacy, creativity and the arts, public health and international business opportunities.
The India Summit is hosted by Emory's Halle Institute for Global Learning and will take place from 10 a.m. to 5:30 p.m. Friday, March 2 and 9 a.m. to 12:15 p.m. Saturday, March 3 at Goizueta Business School, 1300 Clifton Road.
A diverse lineup of business leaders, government officials, medical experts and scholars from a variety of fields will participate in the event. Speakers include:
Manoj Jain, a national leader in healthcare quality improvement and infectious disease physician who writes regularly for the Washington Post;
Kapil Sharma, general manager-North America for Tata Sons, which promotes the Mumbai-based Tata Group, the largest private corporate group in India;
Sudhakar Shenoy, chair and C.E.O. of IMC, Inc. and a global player in the biotechnology industry;
Devi Shetty, pioneering heart surgeon and founder of Narayana Hrudalaya Hospital in Bangalore, who will participate virtually from India; and
K.M. Venkat Narayan, Ruth and O.C. Hubert Professor of Global Health and Epidemiology at Emory's Rollins School of Public Health and research director at the India China America Institute, which is sponsoring the summit.
The event is free and open to the public, but seating is limited. Attendees are required to register online. A live webcast of the summit will also be available at halleinstitute.emory.edu.
Launched in 2010, the India Summit—formerly the "Emerging India Summit"—is organized by a dynamic team of students and faculty from across the university. Past summits have showcased the paradigm shift in the world from developed to emerging economies.
---