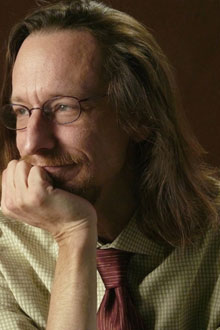 The Michael C. Carlos Museum of Emory University presents a conversation with Rob Walker, author and former New York Times columnist, and religion professor Bobbi Patterson on Feb. 29 at 7:30 p.m. Walker and Patterson will discuss Buddhist principles for navigating today's consumer culture.
Rob Walker is the former "Consumed" columnist for the New York Times Magazine, the author of "Buying In: The Secret Dialogue Between What We Buy and Who We Are," and the founder of The Unconsumption Project. In an informal conversation, Walker and Patterson will talk about one of the Four Noble Truths of Buddhism—that suffering is caused by desire—and the complexity of navigating a culture in which "desire" is manufactured by product designers and advertising agencies, and driven by our own consumerism.
The conversation will be held in the Reception Hall of the Carlos Museum on 571 South Kilgo Circle. The program is free and open to the public.
This program is co-sponsored by Emory's Office of Sustainability Initiatives. The media sponsor is WABE 90.1 FM. This event is in conjunction with the Carlos Museum exhibition "Mandala: Sacred Circle in Tibetan Buddhism.
---