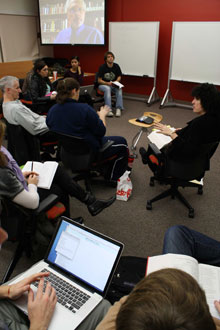 Shakespeare wrote that "All the world's a stage." And thanks to several projects from Emory English professor Sheila Cavanagh and London-based actor and academic Kevin Quarmby, more of the world is taking on the Bard in 2012.

A chance meeting in 2008 at a conference in India led to a Skype collaboration between Cavanagh and Quarmby, using technology and a professional actor to help Emory students interpret the writings of Shakespeare.

"We wanted to reproduce what it's like to be an actor in the rehearsal process," says Quarmby, who Skypes with Cavanagh's class live from his office in London. "One technique we use is to invite one student to act as casting director. It creates a sense of power and involvement where everyone feels important."

The unusual course offering has earned attention in the field, including two well-attended presentations in January at the Modern Language Association where Cavanagh and Quarmby demonstrated how they are interpreting Shakespeare in the 21st century through technology. They also will present at the Shakespeare Association of America during its April meeting in Boston.

It also brought Cavanagh and Quarmby together to found the World Shakespeare Project, which promotes real-time interaction between students and faculty worldwide under the auspices of Emory's  Halle Institute for Global Learning.

Emory students will get a chance to experience this type of learning during Maymester when the two lead "International Shakespeare in a New Media World." While the course will remain focused in Atlanta and London, connections have been made to India and Morocco, bringing students from these areas into the discussion. In conjunction with Wayne Morse and staff at Emory's Center for Interactive Teaching, the co-instructors will introduce students to modern technologies they can use for individual and group projects.

"Shakespeare appears in curricula around the world within a shared body of text," says Cavanagh. "Inviting people from different cultural backgrounds to the discussion will open up the level of intellectual discourse."

The class also has drawn interest from the Goizueta Business School, which is interested in how international collaborations deal with cultural and technology issues and whether such a collaboration is scalable, Cavanagh says.
The World Shakespeare Project and Emory are the beneficiaries of a collaboration Quarmby established with Rose Theatre Kingston in London. Theater executives have offered the Rose as a London base for Emory, providing access to private videos and clips on British stage and film. "We can use the recordings however we see fit," Cavanagh says, "and, at times, can give Emory students and us access to prominent people in the field."
Cavanagh and Quarmby also are teaching this summer during Emory's British Studies Program at Regent's Park College in Oxford.
"The serendipity of a brief remark, combined with the eagerness of two Shakespearean academics and a remarkable level of support from across the Emory campus—including the Center for Faculty Development and Excellence and Goizueta Business School—has created a valuable learning opportunity for faculty and students in several countries," Cavanagh wrote for Emory in the World magazine. "It's a remarkable privilege to be involved in this endeavor. My teaching will never be the same."
» Read more articles about innovative uses of technology in teaching in Emory Report's Tech-niques blog.
---