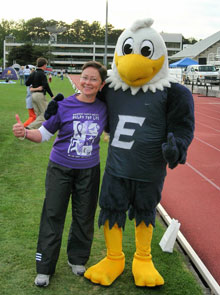 Teams are forming now for Relay for Life, a student-run fundraising event for the American Cancer Society that has become a spring tradition at Emory. The 2012 Relay event takes place on April 20-21 from 8 p.m. to 8 a.m. on McDonough Field.
Organizers are encouraging faculty and staff, in particular, to get involved this year, either as a participant, a volunteer or by making a donation. 
"This is a great opportunity for Emory's students and staff to partner toward a unified goal," says Andrea Lentz, who serves as a co-adviser with Emory College colleague Susan Lee.  Lentz is assistant director of programs, Office of Undergraduate Education in Emory College of Arts & Sciences.
An opening ceremony will set the stage for the 12-hour relay event to raise money to fight cancer. Cancer survivors make the ceremonial first lap, followed by caregivers, then all teams begin to walk together. Games, activities and entertainment take place throughout the night, and ceremonies include the lighting of luminary candles in honor of loved ones lost or currently fighting the disease.
Last year, Emory's Relay for Life raised more than $59,000 with 73 teams and 737 participants, and over 4 million ACS dollars have been used directly at Emory since 2006, says Lentz. 
Student co-captains Jarred Dubnow and Apoorwa Thati have set a fundraising goal of $60,000 for the 2012 event. The goal is to have 70 teams with 800 participants, with each participant raising $100.
Teams are encouraged to walk through the night and enjoy the festive community spirit, music, performances and food. But, notes Lentz, teams are not required to remain for the full 12 hours. 
Lentz, a five-year cancer survivor, says she joined Relay to give back. "I walk to show gratitude for the great treatment I got at the Winship Cancer Institute and to walk for those who can't."
For more information on how to get involved with the Relay for Life, including forming a team or supporting an existing team, visit www.relayforlife.org/emory.
---