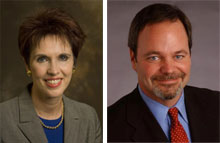 Jane Jordan has been named interim vice president of governmental and community affairs following the resignation of John Engelen.
The announcement was made by Steve Sencer, senior vice president and general counsel in the Office of the General Counsel.
Jordan is currently Emory's deputy general counsel and chief counsel for health affairs.
Engelen ends his Emory tenure on Feb. 17 to become vice president of government relations for CHS Inc., a Fortune 100 agricultural, food and energy company based near Minneapolis.
The Office of Governmental and Community Affairs represents the interests of Emory University and Emory Healthcare on the federal, state and local governmental levels.
"During John's tenure at Emory, the Office of Governmental and Community Affairs has thrived. From the United States Capitol to the Georgia Statehouse to the Decatur Courthouse, the OGCA team has ably represented the interests of Emory University, including Emory Healthcare, during a time of profound changes.  We will miss John's leadership, deep knowledge of government, and his humor, but we are confident that John leaves behind a strong team that will continue the OGCA's excellent work," said Sencer.
A national search for Engelen's successor as vice president of government affairs will be launched.
---