Book | Report Podcast >>
New thoughts on the natures of religion and science
By Dana Goldman | Emory Report | Feb. 9, 2012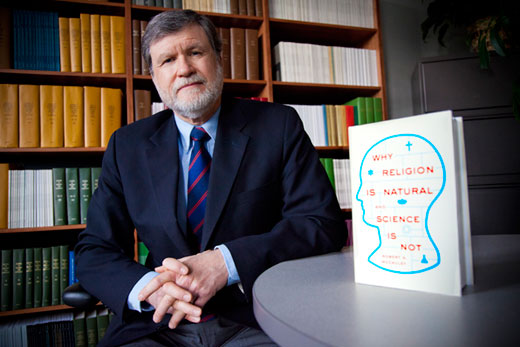 Robert McCauley's new book is among the first to look at religion and science from a cognitive perspective, and yields some surprising outcomes. Emory Photo/Video.
Emory philosopher Robert McCauley has spent his career fascinated by the cognitive underpinnings of religion and science. Now the director of Emory's Center for Mind, Brain and Culture is making a bold argument in his new book "Why Religion Is Natural and Science Is Not" (Oxford University Press, 2011). He suggests that science is more fragile than we think while religion more resilient – all for reasons coming back to humans' cognitive processes. 
McCauley will host a book discussion and signing at Barnes & Noble Bookstore at Emory on Wednesday, Feb. 29 from 4 to 6 p.m.
Listen to Robert McCauley talk about his research into the cognition of science and religion and read from "Why Religion Is Natural and Science is Not:"
Discussion
Reading