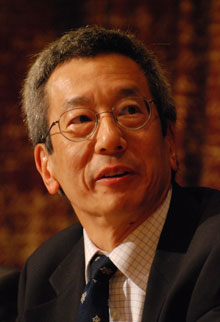 Nobel Laureate Roger Y. Tsien will give the fifth annual Donald B. McCormick Lecture on Thursday, March 1, at noon in the Woodruff Health Sciences Center Administration Building Auditorium.
Tsien is Howard Hughes Medical Institute Investigator and professor of pharmacology and chemistry and biochemistry at the University of California, San Diego. He was one of three awarded the Nobel Prize in Chemistry in 2008 "for the discovery and development of the green fluorescent protein, GFP."
Tsien's lecture on "Breeding and Building Molecules to Spy on Cells and Disease Processes" will focus on his laboratory's development of novel biological molecular probes that can be applied in a range of diverse areas, including cancer treatment.
A reception will follow the lecture, which is free and open to the public.
Named in honor of Donald B. McCormick, the former chair of the Department of Biochemistry, the McCormick lectureship spotlights outstanding research in biochemistry and molecular biology.
For more information, contact Erica Caplan at 404-727-5960.
---