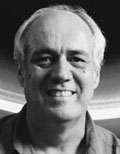 William Brown created two video presentations that premiere at the High Museum of Art as part of its "Art of Golf" exhibit, which opens Feb. 5.
Brown is senior lecturer in the Department of Film and Media Studies.   
Brown directed and produced the two videos on location in Scotland and North Georgia.

Katherine Mitchell is a recipient of the Museum of Contemporary Art Georgia Working Artist Project.
Mitchell is faculty emeritus of Emory's Visual Arts Department.
This awards program supports established visual artists of merit who reside in the Atlanta metropolitan area. It provides support for an exhibition, promotion, a studio assistant, and a major stipend to create work over the course of the year.  Mitchell's "Places of Memory and Dreams" is on exhibit at MOCA through March 31.
Joseph Skibell is a nominee for the Townsend Award for Fiction for his book, "A Curable Romantic."
Skibell is associate professor of creative writing/English and director for the Richard Ellmann Lectures in Modern Literature.
A major Georgia literary prize, the Townsend Award is administered by Georgia Perimeter College and the Georgia Center for the Book, with assistance from several other organizations. The finalist will be named in April.


•
"Acclaim" recognizes the accomplishments of staff and faculty. Listings may include awards and prizes; election to boards and societies; and similarly notable accomplishment in the wider community. To submit an item for the weekly "Acclaim" column, contact emory.report@emory.edu.
---