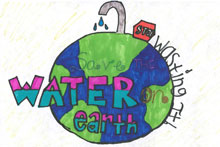 The average Georgian uses 100 gallons of water each day. In an effort to diminish wasteful habits, Emory is challenging students, faculty and staff to conserve and reduce water use in an annual water competition.
During the month of February, 71 campus buildings will compete to reduce water use. The winners, in the categories of research, residential and other buildings, will each receive $1,000 toward a sustainability-related prize. During Emory's inaugural water competition last year, 54,000 gallons of water were saved throughout the month-long contest.
The contest is a continuation of Emory's yearlong exploration of water, which has included arts events, special lectures and more.
Sponsored by the Office of Sustainability Initiatives with support from Campus Services, the competition seeks to actively engage the campus community in achieving its sustainability vision of reducing overall water use. 
Water-saving tips:
• Turn off the bathroom faucet while brushing your teeth, shaving or lathering your hands.
• Take a five-minute shower.
• Wash only full loads of laundry or use the appropriate load size and cool water selection. 
• Report leaks or running water to Campus Services by calling 404-727-7464.
New  logo
In related news, Emory is revealing a new "Water Wise" logo, created in an art competition by Coan Middle School students participating in the Graduation Generation-Atlanta program.
As the Grand Prize winner, sixth-grader Jaisha Rosser won an iPad for her artwork.  According to Ciannat Howett, director of Sustainability Initiatives, Rosser's entry was selected because "the message was simple and heartfelt. It was exciting to see how the art competition sparked an important dialogue among the students about water conservation and environmental stewardship."
The winning submission will be used on all Emory marketing and promotional items that promote water conservation.
The logo competition was sponsored by the Office of Sustainability Initiatives and the Center for Creativity & Arts in collaboration with the Office of University and Community Partnerships.
---