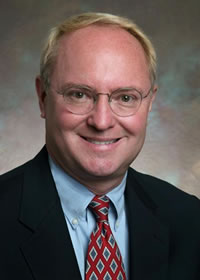 The Rollins Research Advisory Committee launched a new seminar series this past semester. The Public Health Sciences Grand Rounds series fosters collaborations across the school and promotes the exciting work of Rollins faculty.

Kenneth Thorpe, Robert W. Woodruff Professor and chair of the Department of Health Policy and Management, spoke on "The Role of Prevention in Health Reform" during the first lecture in October 7.
Gene Brody, research professor in the Department of Behavioral Sciences and Health Education, discussed "Incorporating Genetics into Epidemiological and Prevention Research" on November 4.
Christine Moe, Gangarosa Professor of Safe Water and Sanitation and director of the Center for Global Safe Water, was the final lecturer of the semester on December 9. Moe spoke on "Evolution and Revolution in Water and Sanitation: Atlanta to Accra."

The seminar series will resume during spring semester, beginning with a presentation by Lance Waller, Rollins Professor and chair of the Department of Biostatistics and Bioinformatics, in February.
---