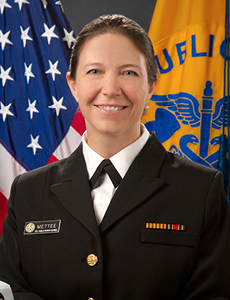 In 1996, a disgruntled laboratory worker intentionally sickened several people at St. Paul Medical Center in Dallas. Twelve co-workers became ill after eating baked goods infected with a rare strain of Shigella, which causes dysentery.
Shauna Mettee 09 MSN/MPH, then an Emerging Infectious Disease Laboratory Fellow at the CDC, accompanied the agency's investigative team to the scene. During that time, she gained experience and formed relationships that would later benefit her and other RSPH students.
More than 10 years later, she joined Rollins' Student Outbreak and Response Team (SORT), a volunteer group trained to assist with local outbreak investigations and emergency preparedness. Formed in 2002, SORT was the brainchild of Sara Forsting 01MSPH, then an epidemiologist with the DeKalb County Board of Health Center for Public Preparedness. Rollins Professor Ruth Berkelman supported the idea. The program took off as students took the lead to improve community health in partnership with local and state experts.
---