Lifting Every Voice
The Inspiration and Impact
of Pellom McDaniels III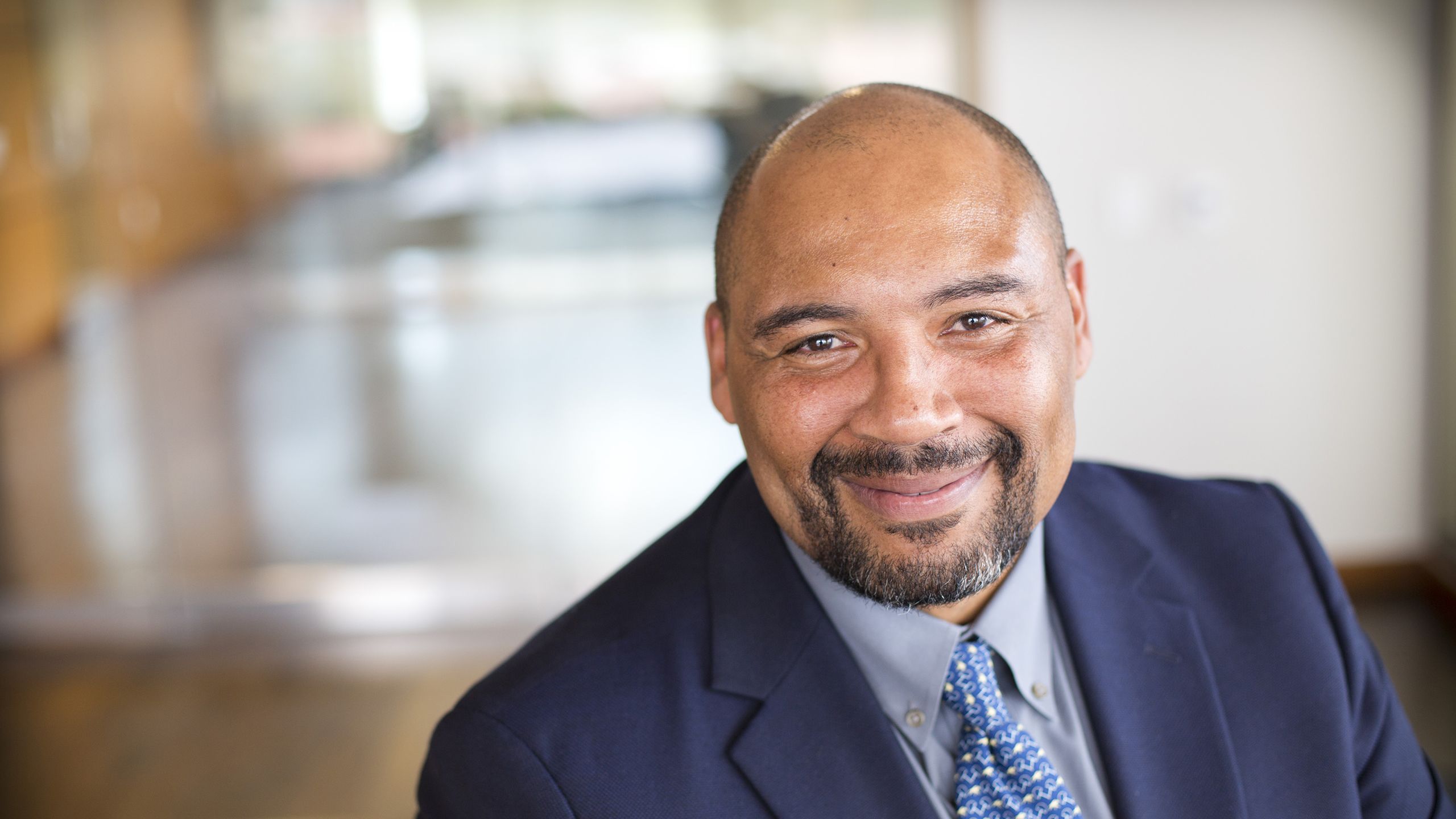 When Pellom McDaniels III felt a flash of inspiration, he didn't let go. Whether it was for a book, an exhibit, or a program, he would spend every waking hour – and sometimes restless nights – fleshing out his idea, then planning, researching, designing, collaborating, and working until he saw it through.
McDaniels, curator of African American collections at Emory University's Stuart A. Rose Manuscript, Archives, and Rare Book Library, was known for his enthusiasm and generous nature, eager to share his knowledge and passion about African American history and the stories of individuals who made an impact, large or small.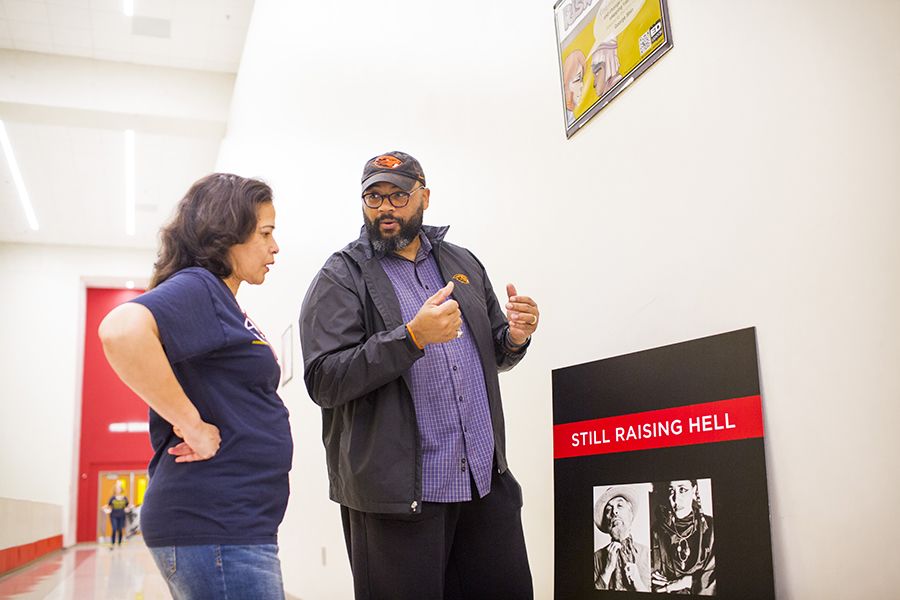 In his eight years at the Rose Library, his boundless energy found expression in collections, teaching, public events and countless projects. When he passed away suddenly at home on April 19, a sense of enormous loss stunned his loved ones, friends, colleagues, and a national network of people whose lives he touched.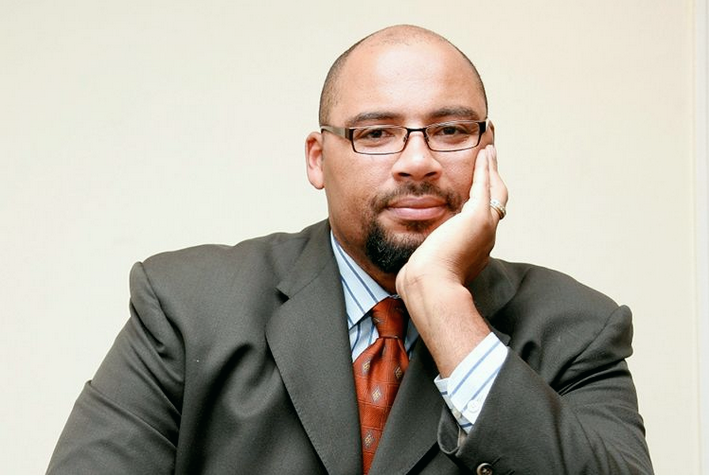 Events honoring Pellom McDaniels
Film and Creativity Conversation: "Flash Here and There Like Falling Stars: The Life and Work of Dr. Pellom McDaniels III." Wednesday, Sept. 9, at 2 p.m.
As part of the Decatur Book Festival, Emory's Rose Library hosts a virtual discussion of McDaniels' life and work, including a remembrance video and a discussion with current and former members of the Emory community who worked closely with McDaniels and were deeply informed by his vision and generosity. Part of the Rosemary Magee Creativity Conversation series. Register for the online event.
Find more events: Lifting Every Voice: the Pellom McDaniels III 2020-2021 Tribute Series
From football to academia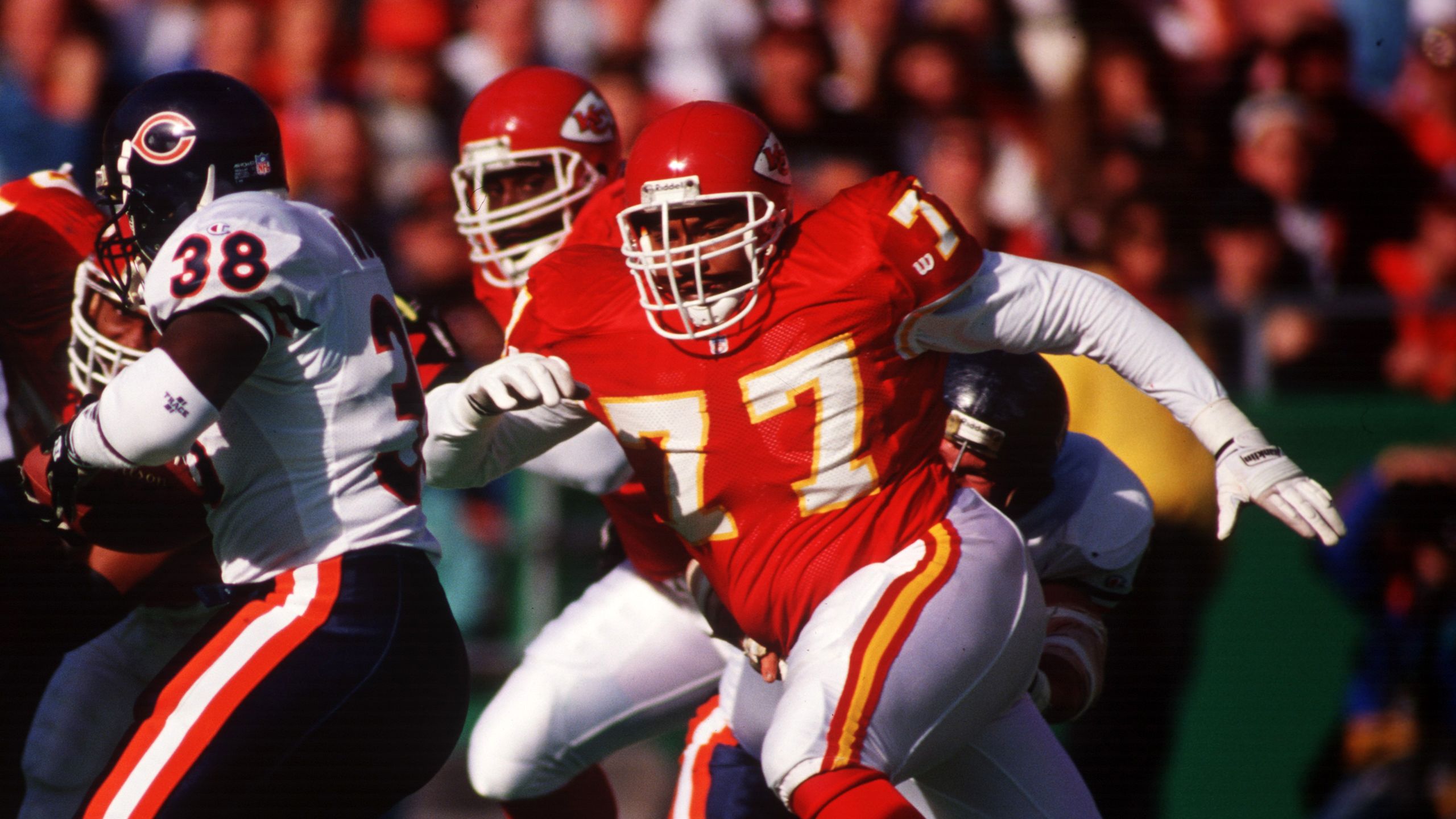 (Credit: Photo courtesy Kansas City Chiefs)
(Credit: Photo courtesy Kansas City Chiefs)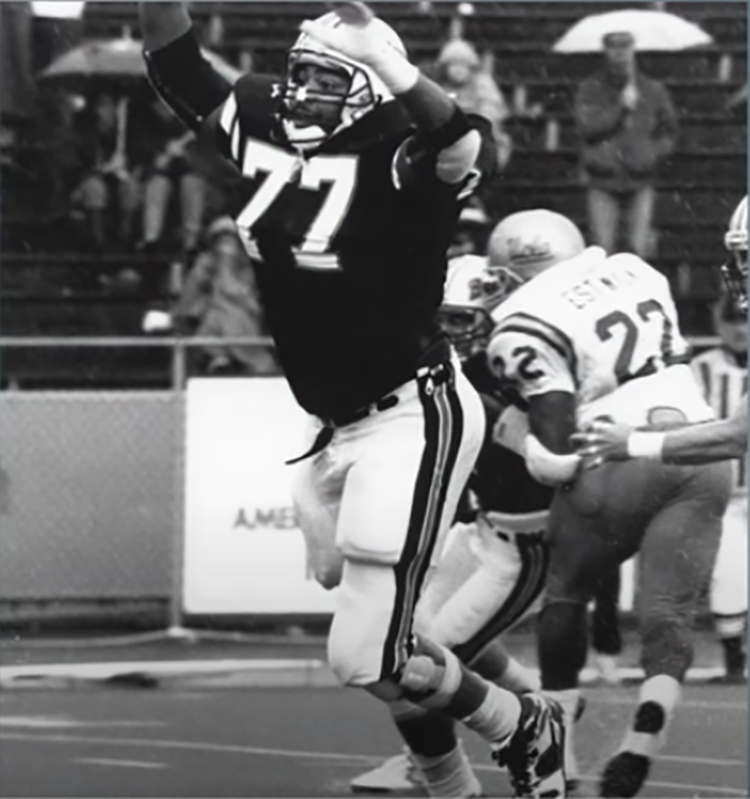 McDaniels played for Oregon State before he graduated in 1990. (Photo: Oregon State University Athletics)
A college football standout and a former NFL player prior to his academic career, McDaniels played for the Kansas City Chiefs (1993-1998) and the Atlanta Falcons (1999-2000). In 2000, an injury he sustained in a pre-season game curtailed his career and forced him into retirement.
While he recovered, McDaniels considered what he would do next. Interested in a scholarly career, he decided to pursue an advanced degree, eventually earning a PhD in American Studies from Emory University in 2007. The academic work was intense, but McDaniels enjoyed it, said his wife, Navvab McDaniels.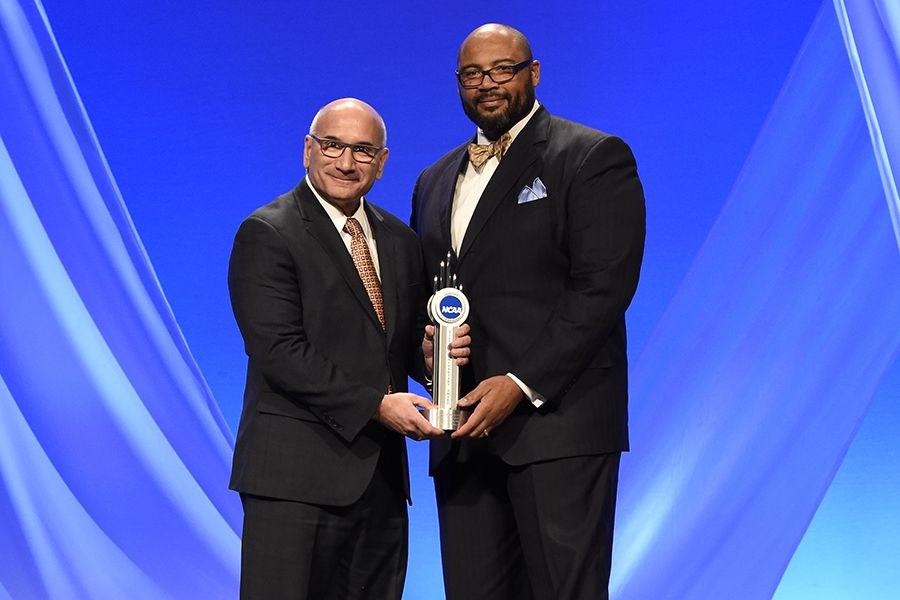 Randall K. Burkett, retired curator of African American collections for the Rose Library, hired McDaniels as a graduate student assistant. Burkett was impressed with the dedication McDaniels showed to the work that needed to be done, no matter how grueling the task. One of the first projects was to help process Carter G. Woodson's personal collection of books, which had been stored in the basement headquarters of the Association for the Study of African American Life and History in Washington, DC. A furnace malfunction had coated the books with a fine film of oil, and McDaniels and another student spent hours cleaning the books.
"At one point, Pellom showed me his fingertips. The skin had sort of disappeared from cleaning the oil off these books," Burkett said. "But he was so dedicated to the project, it didn't seem to bother him."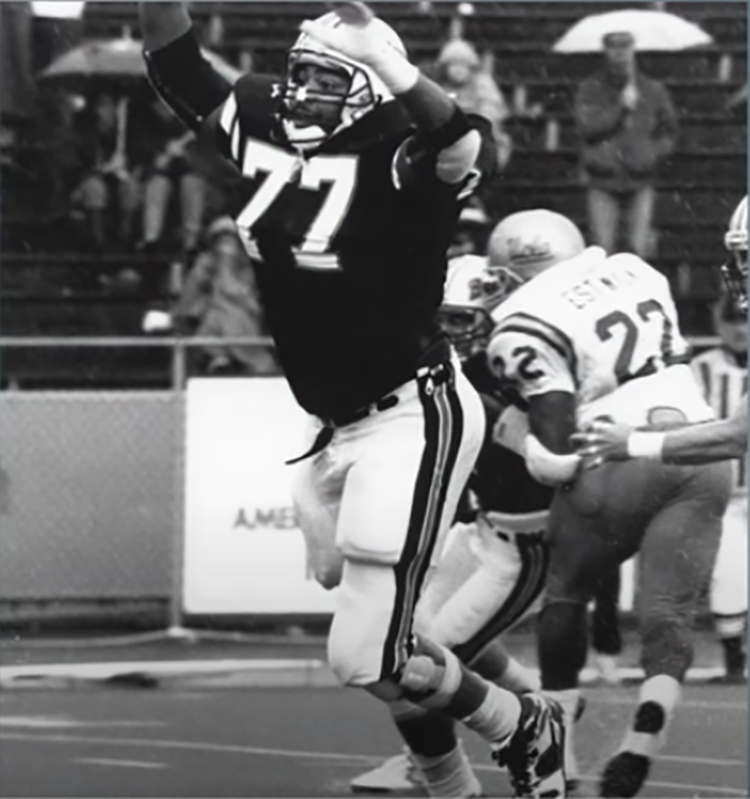 A life in Kansas City,
but Emory calls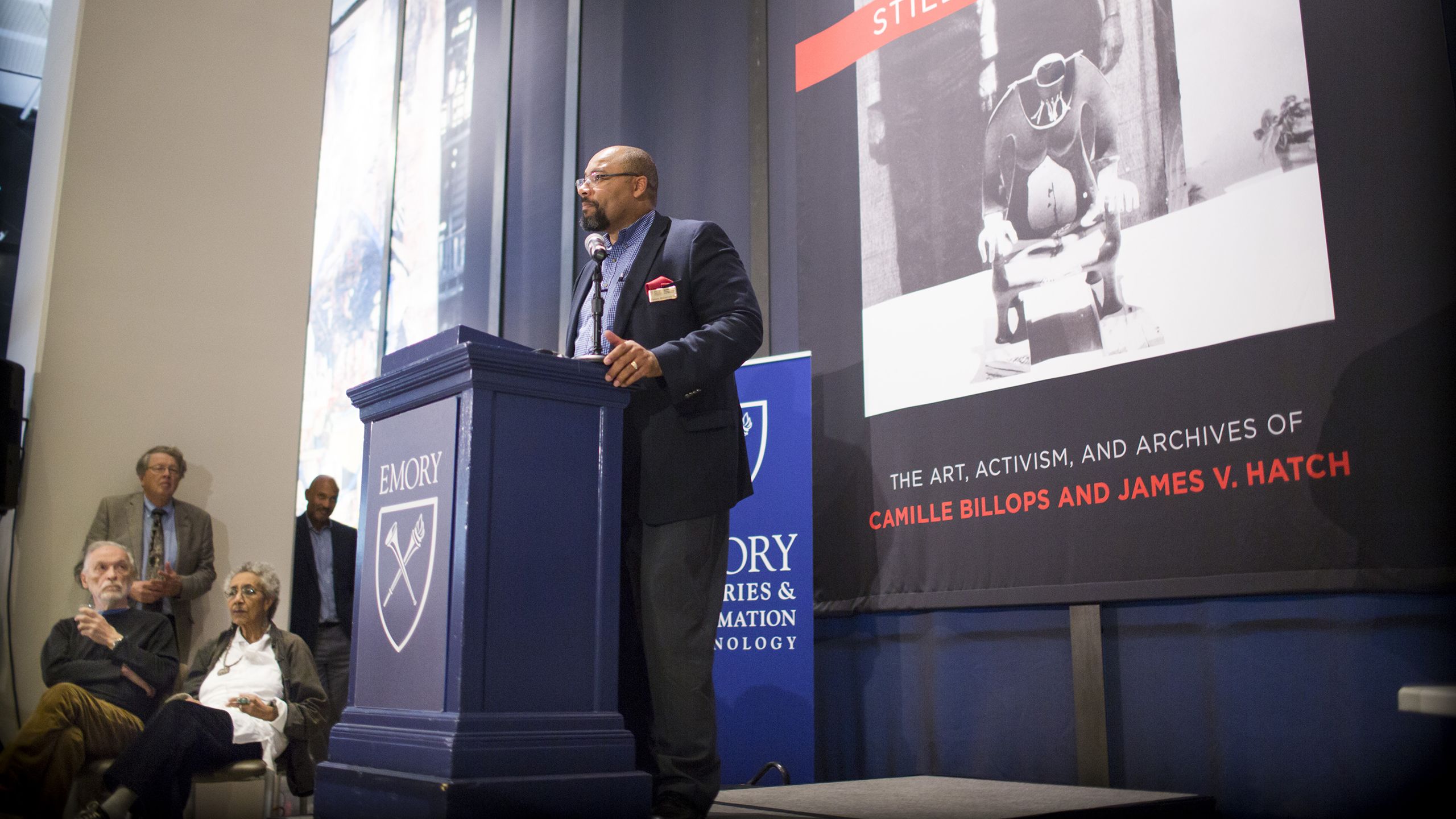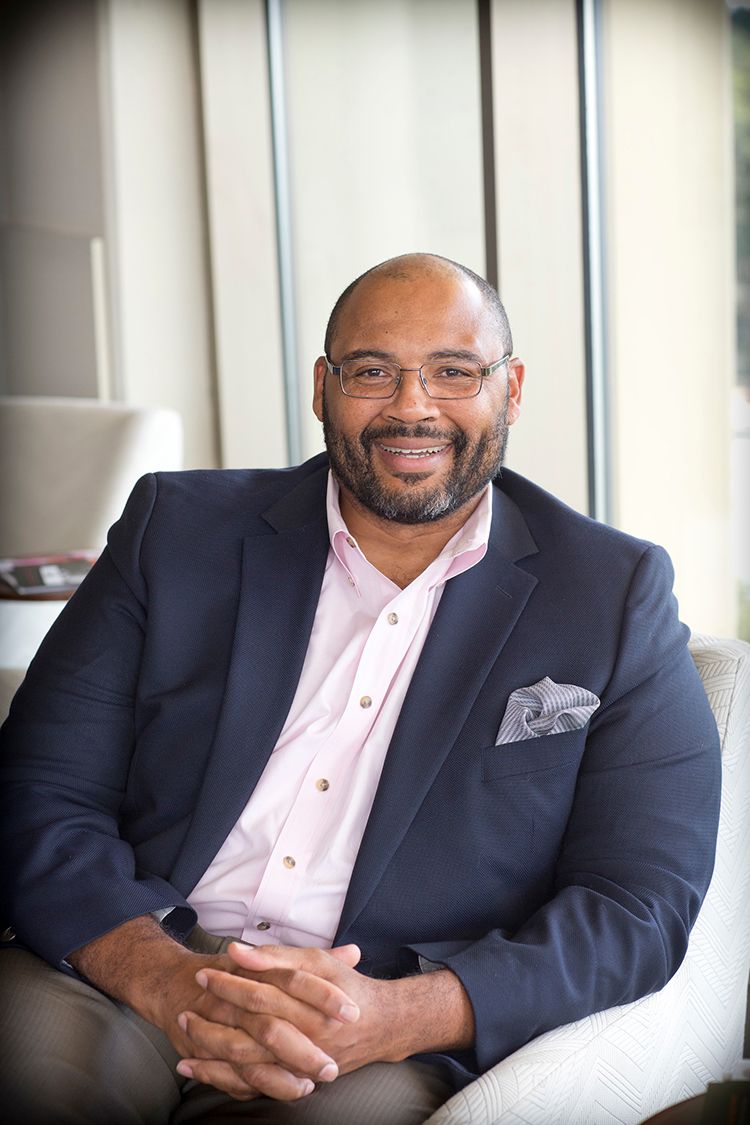 After he graduated from Emory, McDaniels landed a job as an assistant professor of history and American Studies at the University of Missouri-Kansas City. While there, he curated multiple exhibitions (involving students in many of them) and served on the boards of the Negro Leagues Baseball Museum and the Black Archives of Mid-America. He also continued the work of Arts for Smarts, a foundation he created while playing with the Kansas City Chiefs designed to bring arts experiences to children and youth in the city.
Burkett, who was planning to retire in 2018, wanted a successor who would build on his work over the past 20 years and expand the Rose Library's African American collection. "Pellom was the perfect person to continue that growth," he said.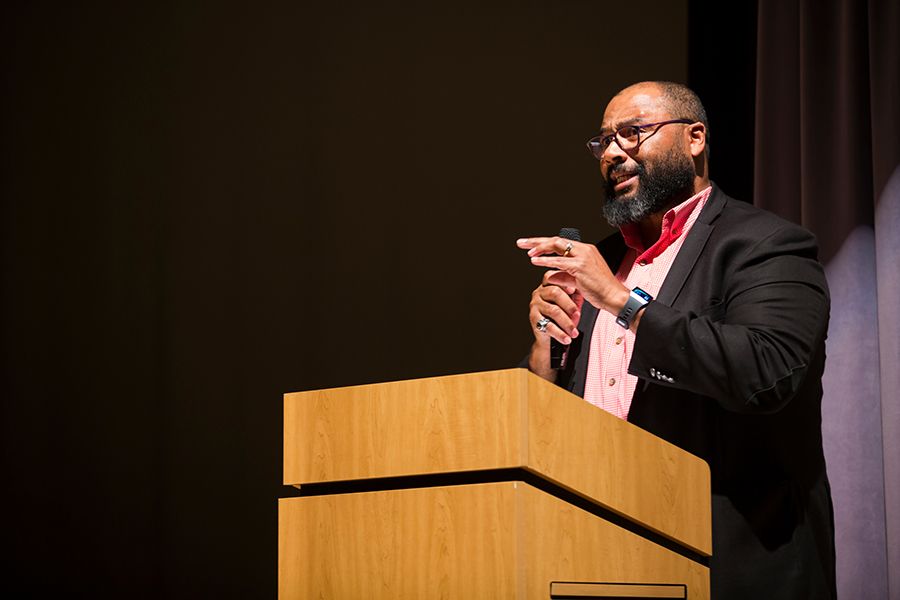 He sought out McDaniels to be the collection's associate curator around 2010, and he accepted. McDaniels traveled between Kansas City and Atlanta for about two years before officially joining the library as curator of the African American collections in 2012, the same year he became assistant professor of African American Studies at Emory.
"He was the ideal person to have in that position," Burkett said. "Pellom was truly interested in people and gave them his full attention. Every time I came in to the library, there would be people in his office – faculty members, graduate students, undergraduates – sitting and chatting with him. He would be guiding them in their research, making recommendations, offering support."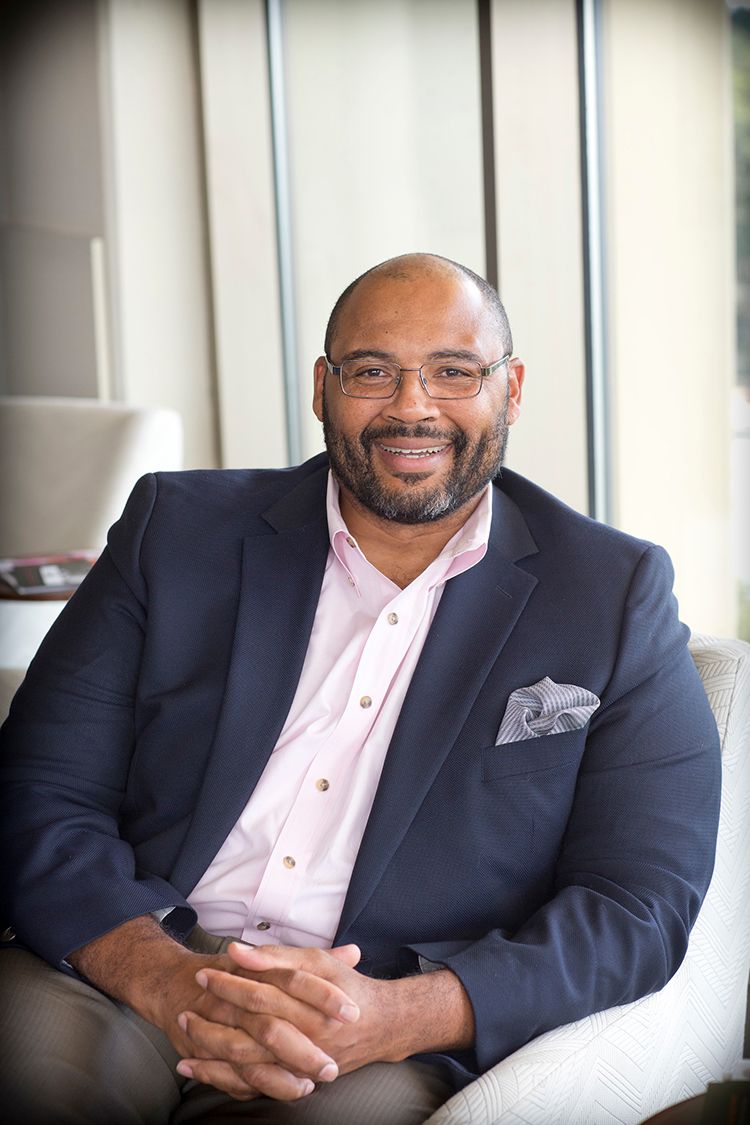 Creative exhibits and outreach to the community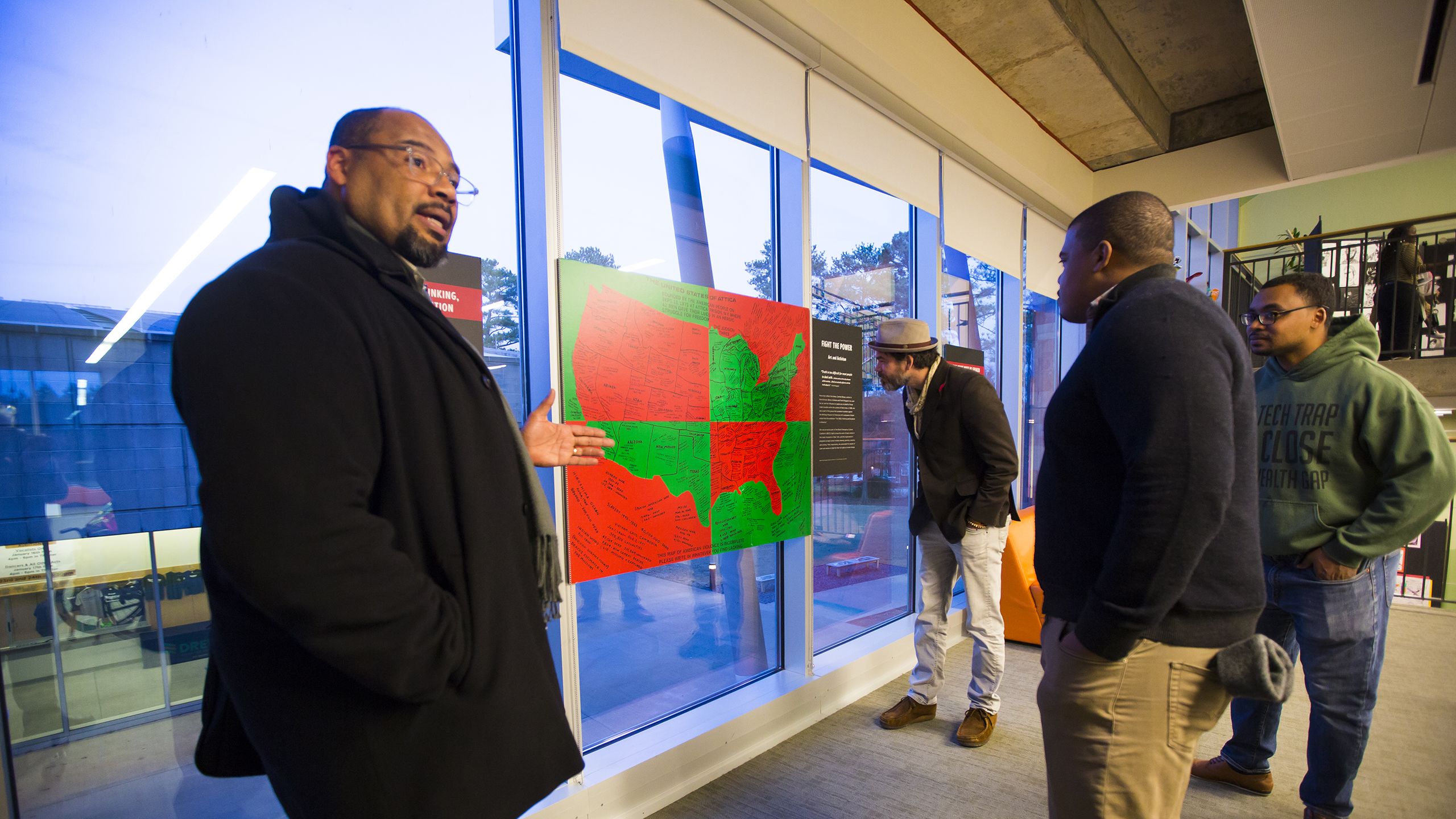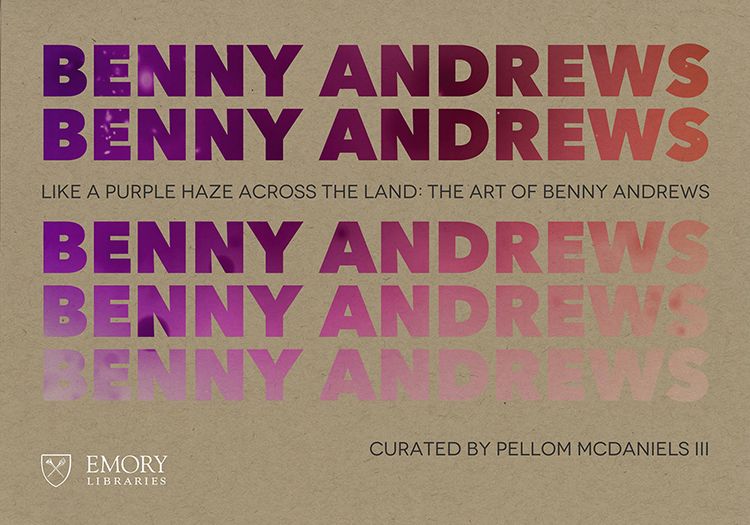 McDaniels curated "Like a Purple Haze Across the Land: The Art of Benny Andrews," an exhibit of 20 drawings by the artist.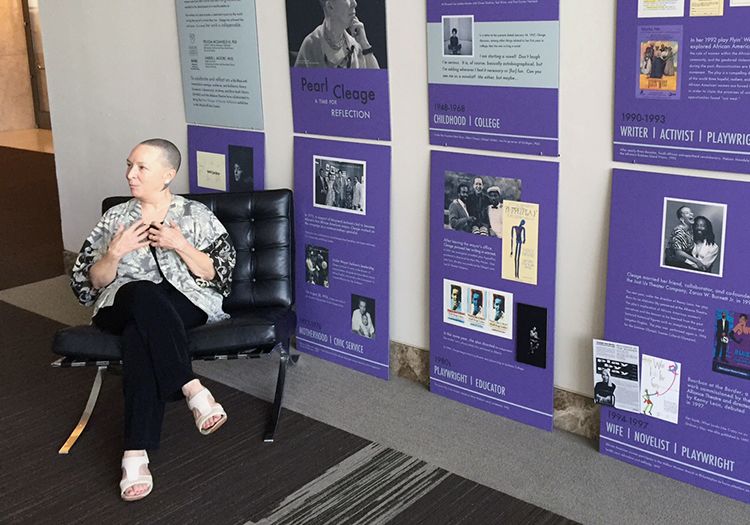 Playwright and activist Pearl Cleage sits with panels from "Pearl Cleage: A Time for Reflection," one of McDaniels' traveling exhibits, which was displayed in 2015 at the Alliance Theatre.
Part of McDaniels' role was connecting the community with Rose's African American collections, and his outreach efforts were incredibly successful. With his engaging personality and endless ideas, McDaniels sought out campus and community partners for collaborations; involved students in exhibits and spoken word programs; and created traveling exhibits that were displayed around campus, across Atlanta and beyond.
"Pellom's gift was that he always saw the possibility and the opportunity," said Rose Library director Jennifer Gunter King. "His interest was in making the connections happen, making the collections meaningful, finding partners, exploring the possibilities, and really giving life to ideas."
In 2016 he curated "Still Raising Hell: The Art, Activism, and Archives of Camille Billops and James V. Hatch." The exhibit featured materials from Rose's Billops-Hatch Archive, considered one of the premier collections of African American history in the visual and performing arts. Burkett first brought the collection to Emory and then introduced the couple to McDaniels, who hit it off with them immediately and oversaw additions to the archive.
"When I took him to meet Camille Billops and Jim Hatch, they became totally devoted to him," Burkett said. "He had great imagination. When he did that magnificent exhibition, and Camille walked in, her mouth dropped. She was just overwhelmed and thrilled with what he had done."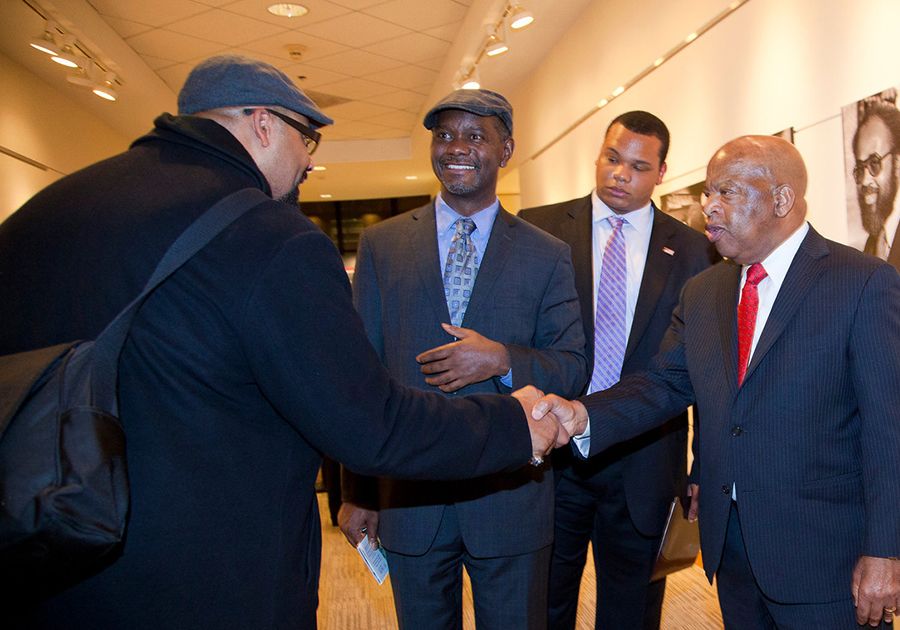 The exhibition's signature piece was McDaniels' idea for the Butterfly Chapel, the "veneration of ancestors" open-air structure he created from photographic slides of the couple's friends throughout the years. He enlisted his graduate student assistant, Clint Fluker, to create the origami butterflies, hung from the ceiling to represent the people who had passed away.
"Pellom was an artist. He was a creative at his heart," said Navvab McDaniels. "He spent many hours at our home mocking up these exhibitions and building small models. He made prototypes for the origami butterflies that we had hanging from our dining room chandelier for a while because he was trying to decide what he wanted them to look like."
With "Speak What Must Be Spoken," a collaboration with Atlanta-area schools, he helped kick off the Emory Libraries traveling exhibit program in 2019 at Martin Luther King Jr. Middle School in Atlanta, with a second exhibit in 2020 at Drew Charter School. McDaniels led a team that included the Emory Libraries exhibitions team and Barbara Coble, education partnerships manager of Emory's Graduation Generation. With this group assembled, McDaniels was able to ensure the integrity of the exhibit's message as it was modified for a younger audience as well as assist the schools with curriculum integration.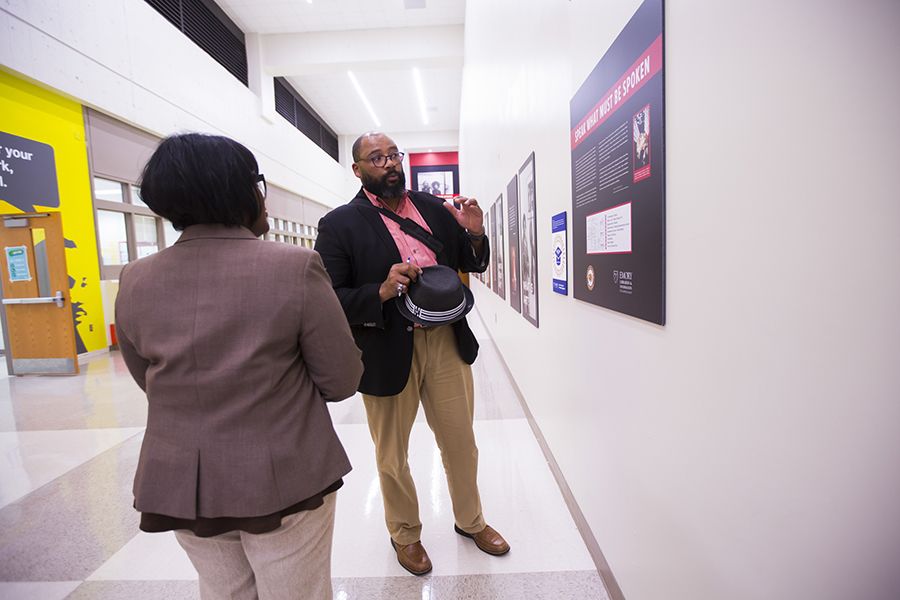 Adapted from "Still Raising Hell," this well-received traveling exhibit consisted of Billops-Hatch archival materials selected and displayed in the school to inspire students to use their artistic voices to convey the need for social justice and to set and reach their own goals. The themes were incorporated into the schools' curriculum so the students could learn about the artist-activists that Billops and Hatch documented over the span of four decades.
University Librarian Yolanda Cooper said the Billops-Hatch artist-as-activist perspective needed to be shared throughout a broad community.
"'Speak What Must be Spoken' was an innovative way to bring that perspective to students in the community," Cooper said. "The work of a fantastic exhibition team, coupled with Pellom's vision, brought outcomes that were nothing short of amazing. To see the variety of artistic projects by students inspired by these collections exceeded all my expectations. Pellom's contributions to these creative endeavors was unparalleled, and we will keep that vision moving forward."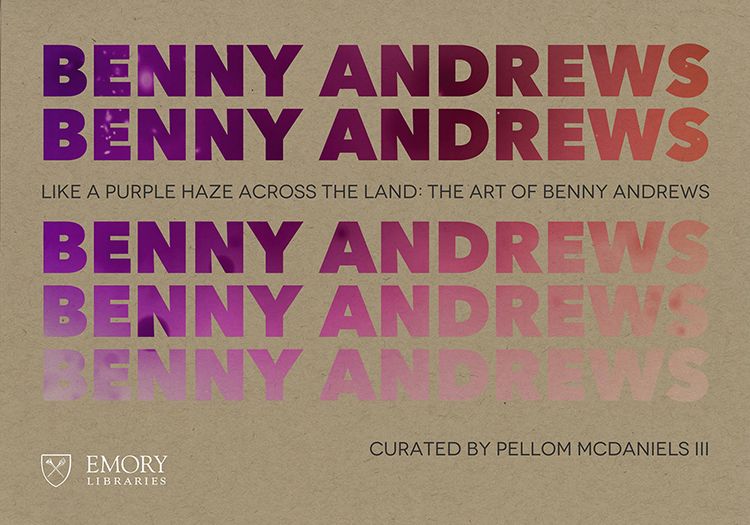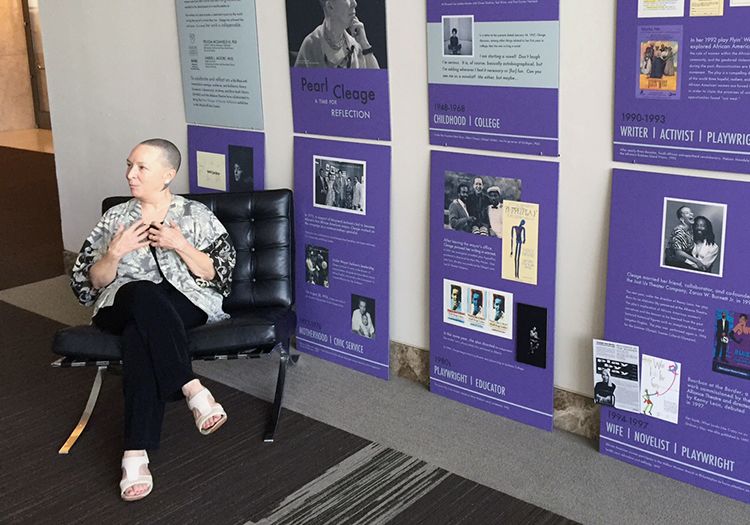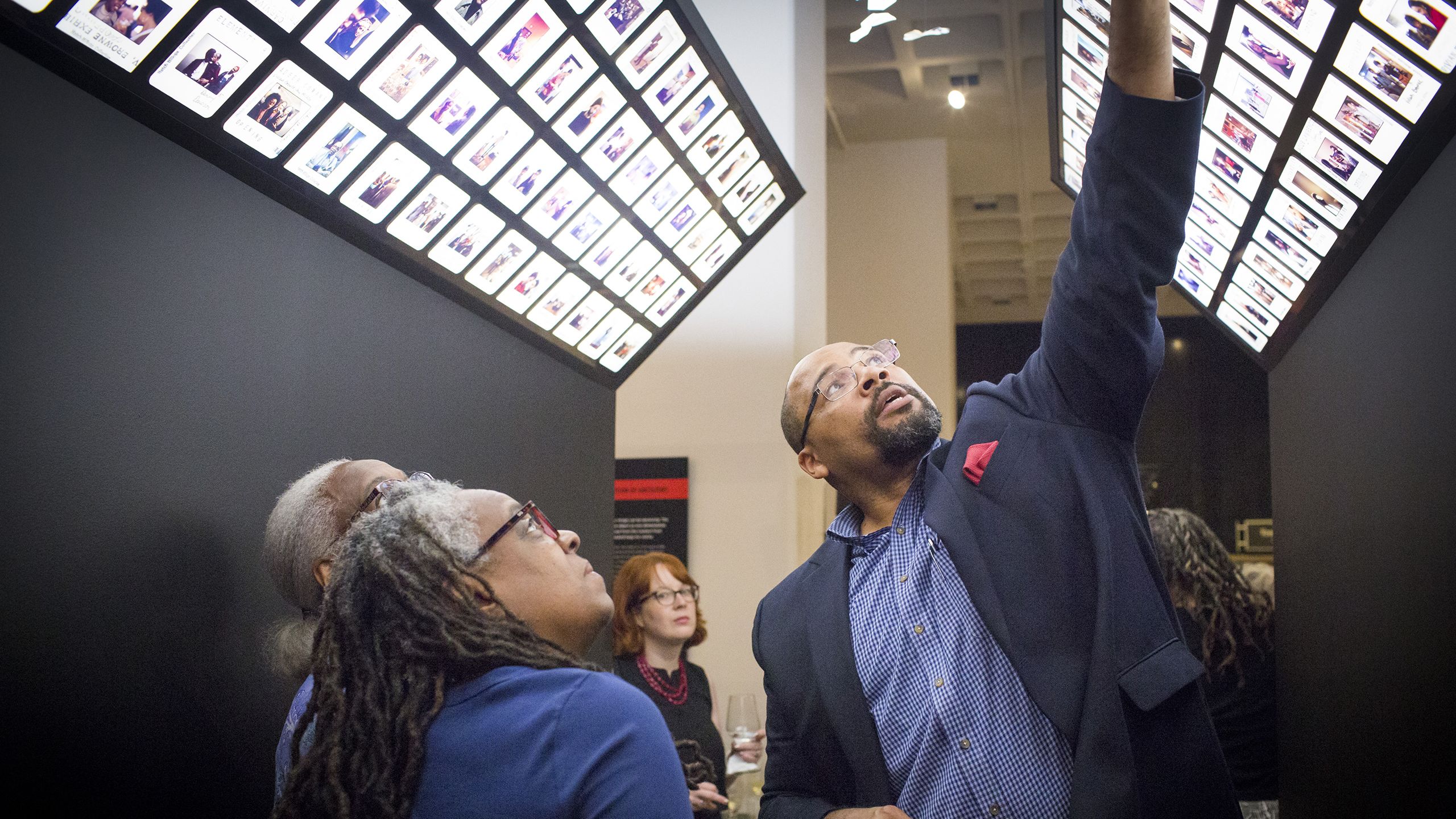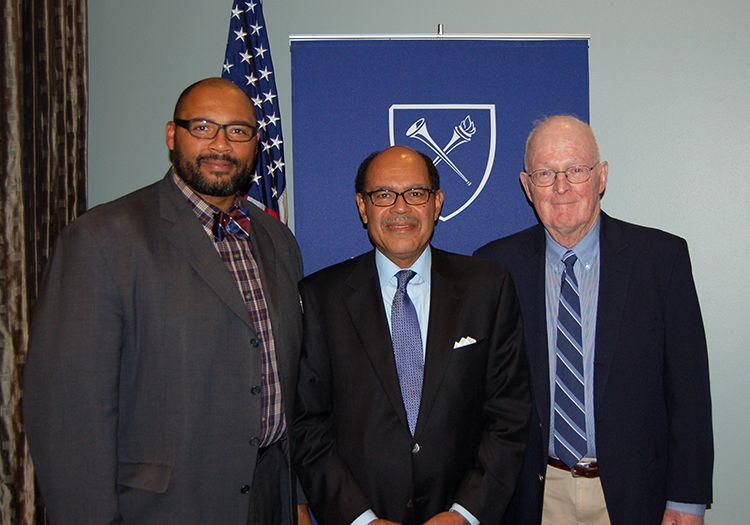 McDaniels at an exhibit and event he organized in 2013 about boxer Joe Louis with Louis' son, Joe Louis Barrow Jr., and the late American Studies professor Dana White.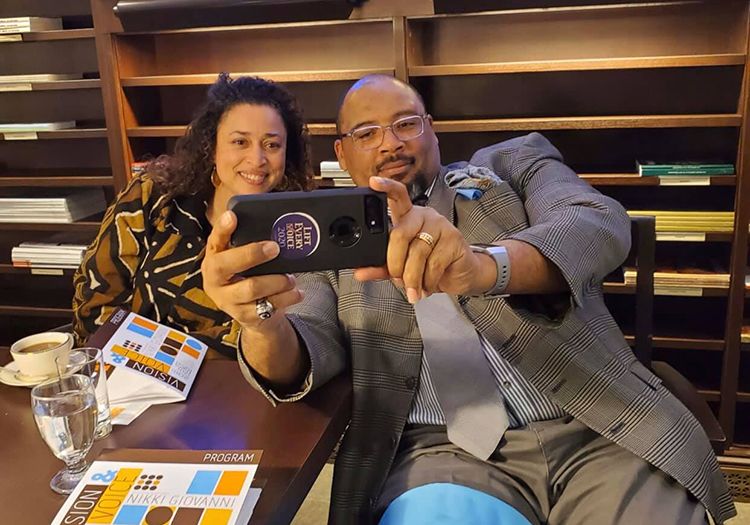 McDaniels with his wife, Navvab, at the Rose Library's 12th Night annual celebration in February (Photo: Sondi Henry).
Public programming was another avenue McDaniels used to share African American stories and draw in audiences. He staged movie screenings and discussions regarding African American soldiers in World War I, hosted panel presentations about African Americans in sports, and gave speeches about historical African American artists, athletes, activists, and others.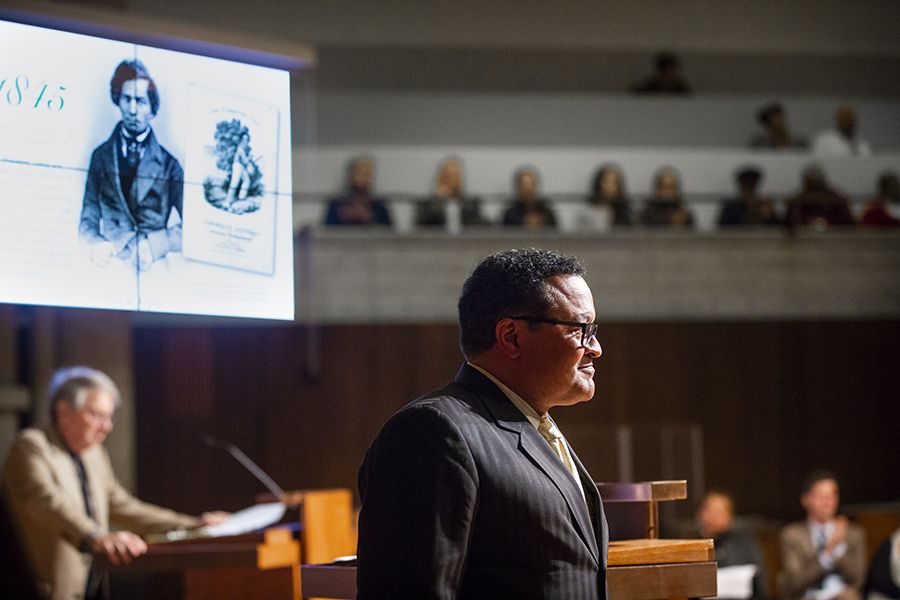 One of those programs was "Frederick Douglass: A Bicentennial Tribute," a collaborative effort with the Atlanta Irish consulate in November 2018. It featured several speakers, including Douglass descendant Kenneth B. Morris Jr., reading on the Emory campus from the 19th-century abolitionist's speeches.
That event, and the research McDaniels pursued in preparation for it, inspired him to involve Emory in the national commemoration of Douglass Day held annually on February 14, Douglass' birthday. The first campus celebration was held this year as part of a new project he initiated called Lift Every Voice 2020.
McDaniels gathered a team of people from the Rose and Woodruff libraries to work on Lift Every Voice 2020. The yearlong project examines citizenship in America through the lens of Reconstruction, using the stories found in the archives. The project goal is to spark research, discussion and critical thinking about Reconstruction and its legacies today, while highlighting Rose Library collections.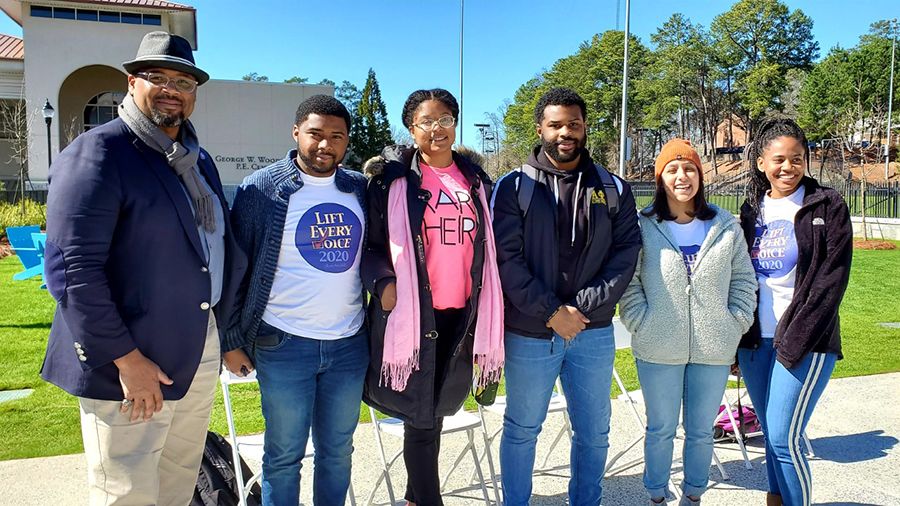 The team, now pushing forward without McDaniels but committed to achieving the project's goal, maintains an active Twitter feed (@EveryVoice2020) to share those historical stories. The group also helps organize student-led public readings of historical documents, such as Frederick Douglass speeches at Emory University and DeKalb County Schools this past February 14, to encourage discussion about what it means to be a citizen. The team plans to launch a project website at the end of this month to document its efforts and upcoming programs, which will include readings of the Bill of Rights and the U.S. Constitution.
"Pellom was a driving force," said Rose Library digital archivist Elizabeth Russey Roke, a Lift Every Voice 2020 team member. "'It's too hard' or 'we don't have the resources' simply was not in his vocabulary. He always found a way. The team is using that as inspiration to continue to move this project forward."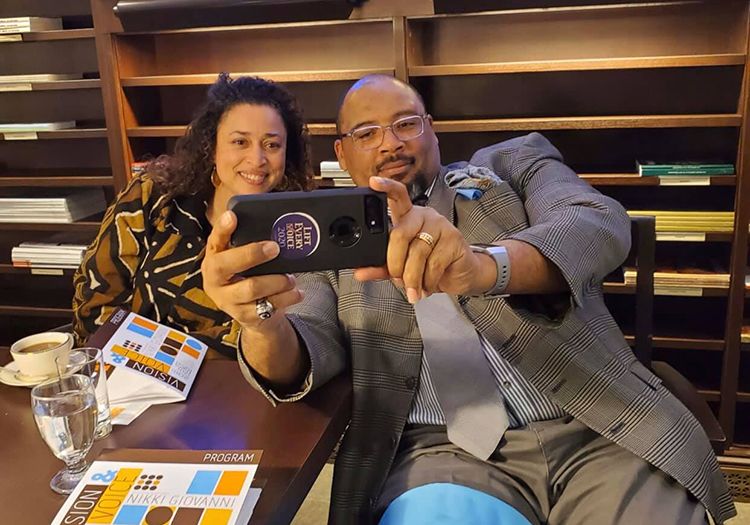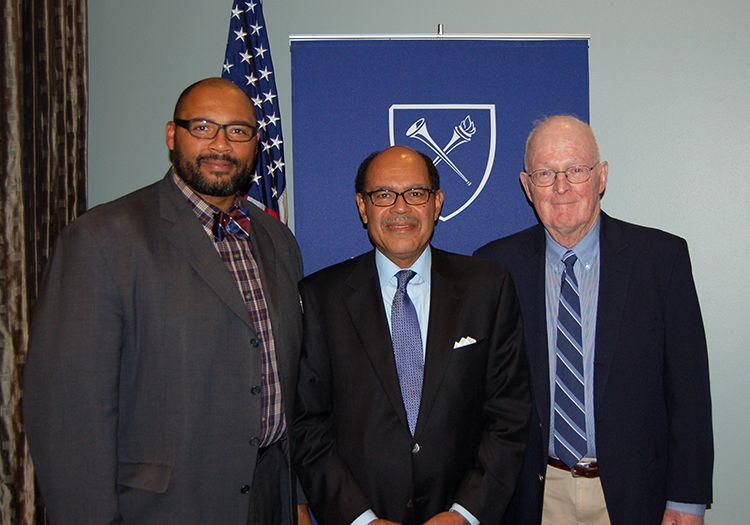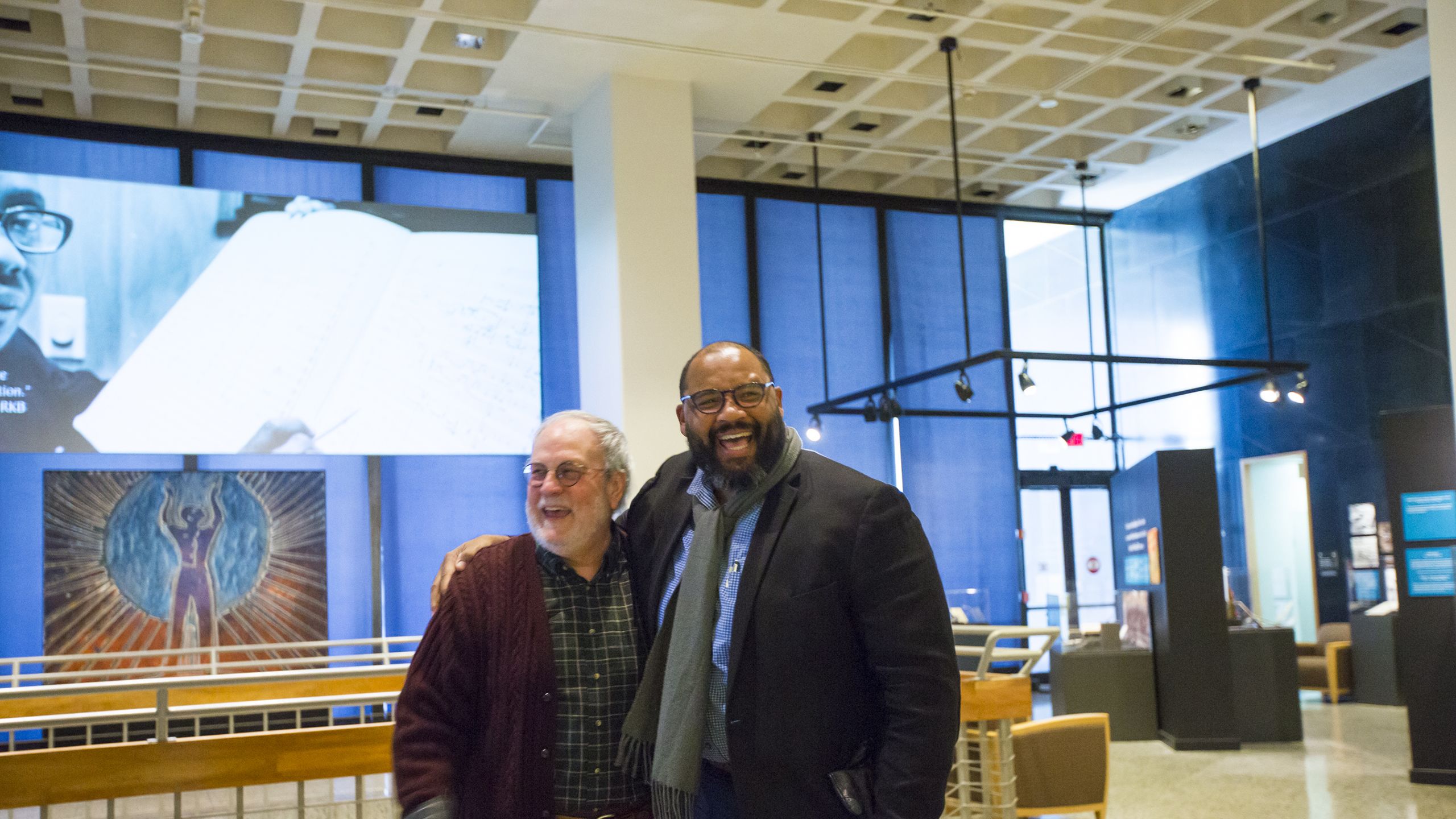 McDaniels with Robert Langmuir, who collected the thousands of photographs in the Rose Library's Robert Langmuir African American Photograph Collection.
McDaniels with Robert Langmuir, who collected the thousands of photographs in the Rose Library's Robert Langmuir African American Photograph Collection.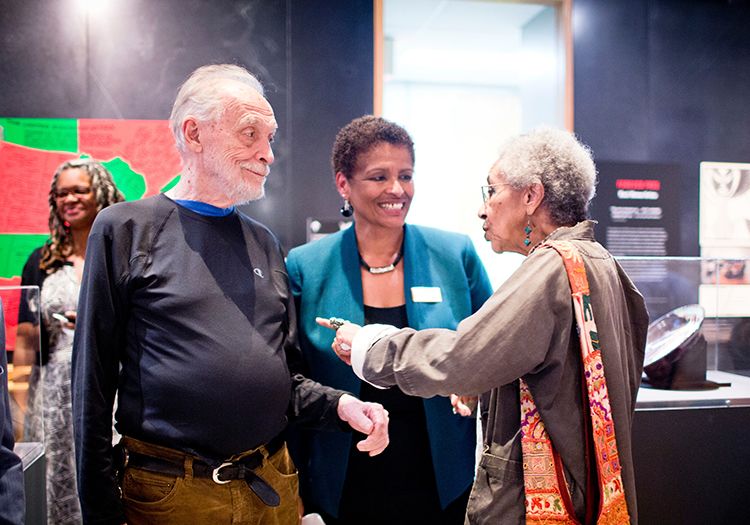 Dean and University Librarian Yolanda Cooper (center) with James Hatch and Camille Billops at the Billops-Hatch exhibition opening in 2015.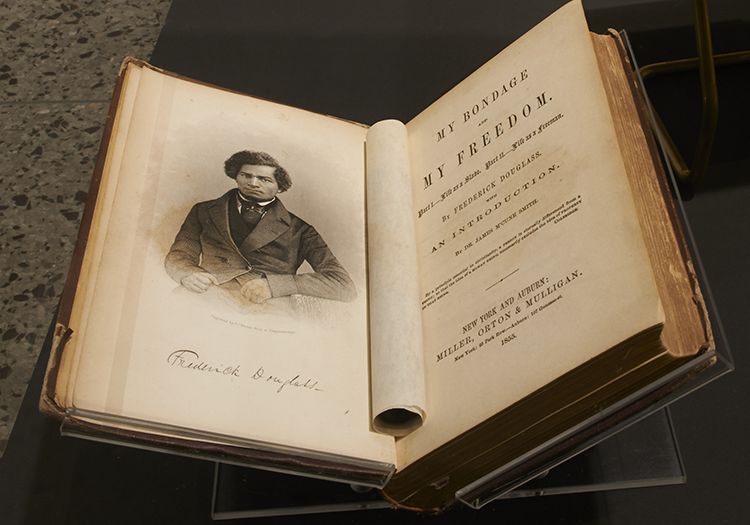 The exhibit "Frederick Douglass: A Bicentennial Tribute" featured an original copy of one of the abolitionist's autobiographies, "My Bondage and My Freedom," published in 1855.
During his time at the Rose, McDaniels brought in a wide range of African American collections, representing artists, educators, art galleries, dancers, photographers, playwrights, politicians, and activists.
The papers of Geoffrey Holder and Carmen de Lavallade, added in 2018, were among the most notable collections McDaniels acquired for the Rose Library. Holder, an actor, dancer, and artist born in Trinidad, was well known as the tall 7-Up "Uncola" pitchman with the deep voice. De Lavallade, a dancer, choreographer, and actress, danced on Broadway and the Metropolitan Opera stages in the 1950s, performed with Alvin Ailey, and continues to be active in the arts today.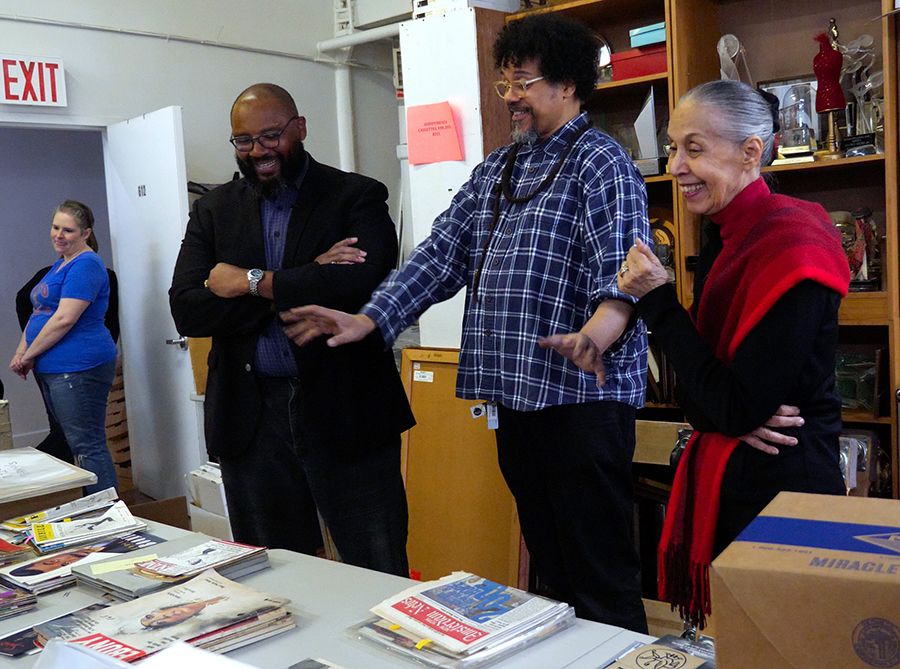 McDaniels also acquired the papers of Kathleen Cleaver, educator, activist, writer, and wife of Black Panther Party (BPP) leader Eldridge Cleaver. She was a member of the Student Nonviolent Coordinating Committee and later, communications secretary of the BPP. Cleaver subsequently earned a BA in history in 1984 from Yale University and her law degree in 1989, joining the faculty of Emory's law school in 1992.
When McDaniels brought a new collection to the Rose Library, he would often reach out to Emory faculty to discuss how they could use the materials with students or in their own research.
For example, the papers and manuscripts of playwright Douglas Turner Ward, co-founder of the Negro Ensemble Company in 1967, attracted the interest of Emory's Theater Studies Program. Brent Glenn, artistic director of Theater Emory, called the collection "a gold mine in our backyard" when the acquisition was announced in 2017.
It was McDaniels who encouraged Kimberly Wallace-Sanders, associate professor of American Studies and African American Studies at Emory, to curate an exhibit of the images she had selected from the Robert Langmuir photograph collection for her book on portraits of African American women with the white children in their care. McDaniels, who had brought in additions to the Langmuir collection, advised her on how to get started curating an exhibit with the Libraries. The "Framing Shadows" exhibit ran in the Woodruff Library in 2019, opened in the Oxford College Library in 2020, and debuted online in May.
"Pellom was the best promotional advertisement for research and teaching at Emory in so many areas: African American Studies, literature, civil rights, Atlanta history, visual culture, poetry," Wallace-Sanders said. "He was able to talk about the archives in such detail. He could find a way to connect almost any area of research and teaching with our archives."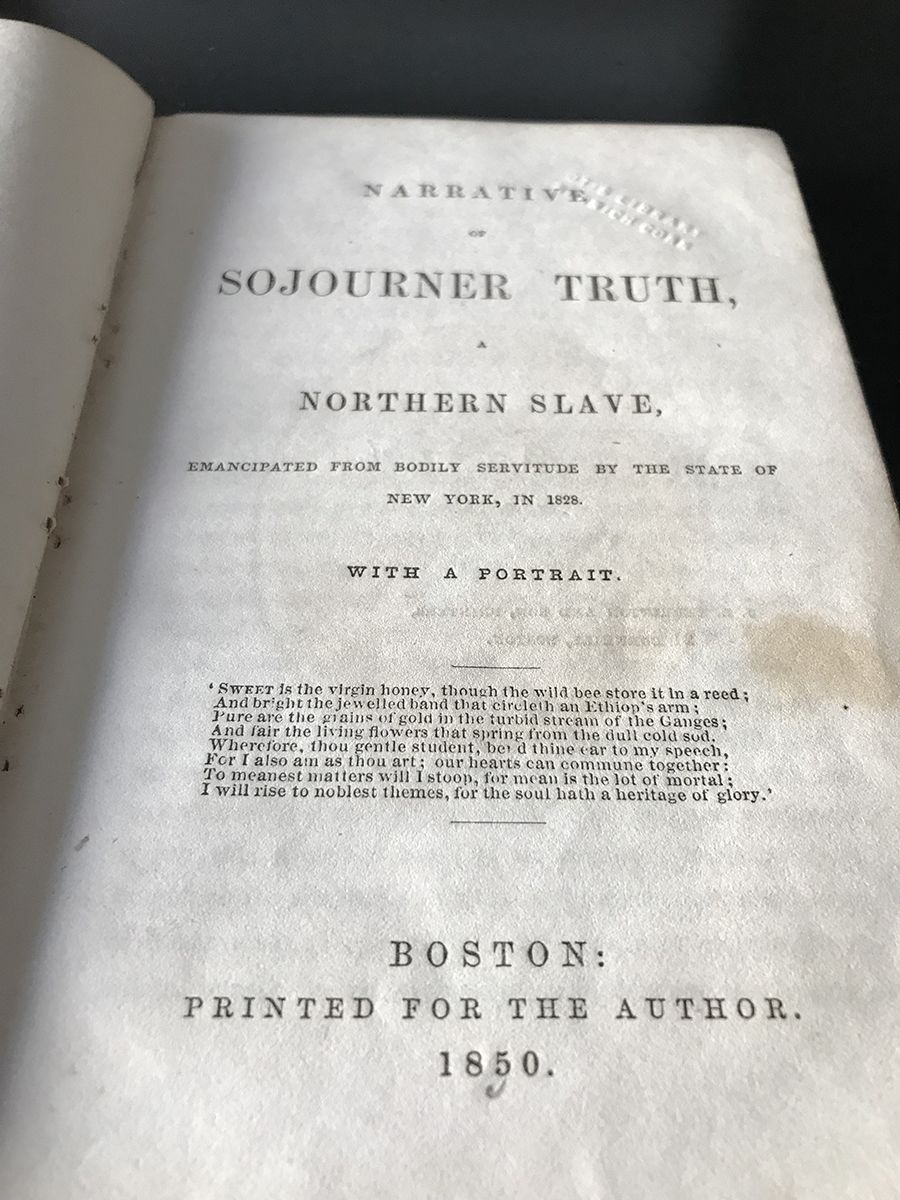 Other collections McDaniels brought in have been used in a variety of ways. As a PhD student at the University of Manchester in the UK, E. James West came to the Rose Library on a fellowship to use the papers of Ebony magazine editor Lerone Bennett Jr. for his dissertation. West's work was published earlier this year as his first book, "Ebony Magazine and Lerone Bennett Jr: Popular Black History in Postwar America," which focuses on Ebony as a vehicle for popular black history education.
Kennesaw State University's Atlanta Student Movement project heavily used the papers of A. Lenora Taitt-Magubane, who was one of the original Freedom Riders and one of the first to be jailed for those civil rights protests in 1961. And in 2018, the Rose loaned items from the Acts of Art Inc. collection to Hunter College's Leubsdorf Gallery in New York City for the exhibition, "Acts of Art and Rebuttal in 1971."
"Pellom and I were really proud of that loan," said Courtney Chartier, Rose Library's head of research services. "It was one of the first signs that even the New York art world recognizes that the Rose's collections on African American art are truly significant."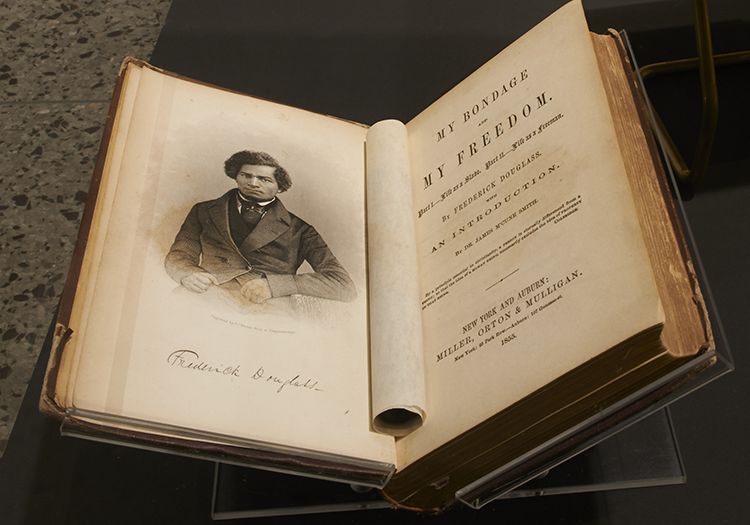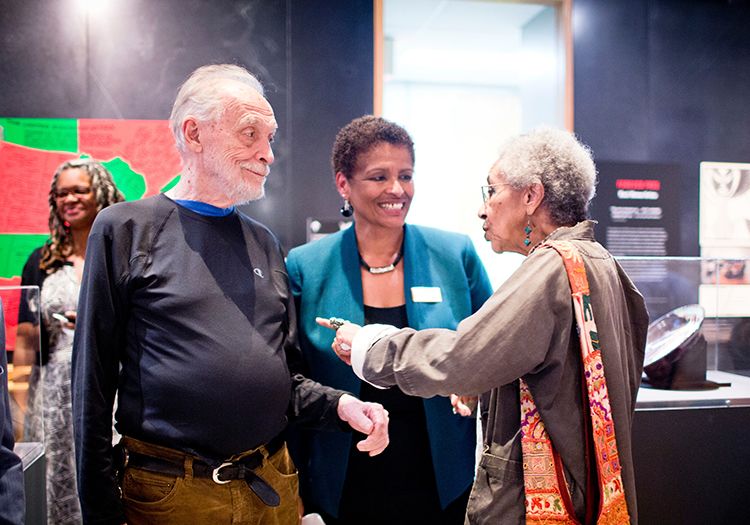 Carrying his vision forward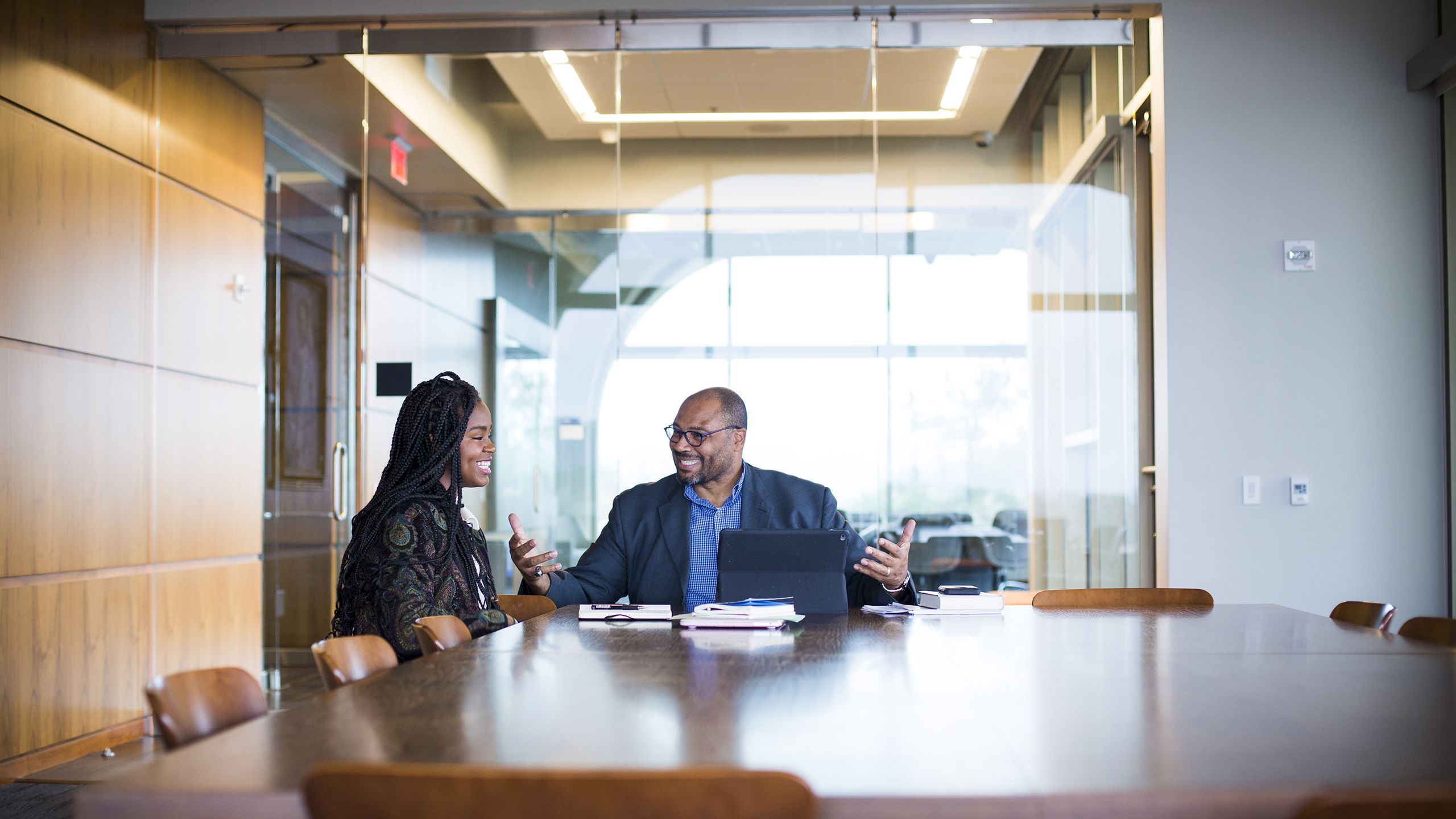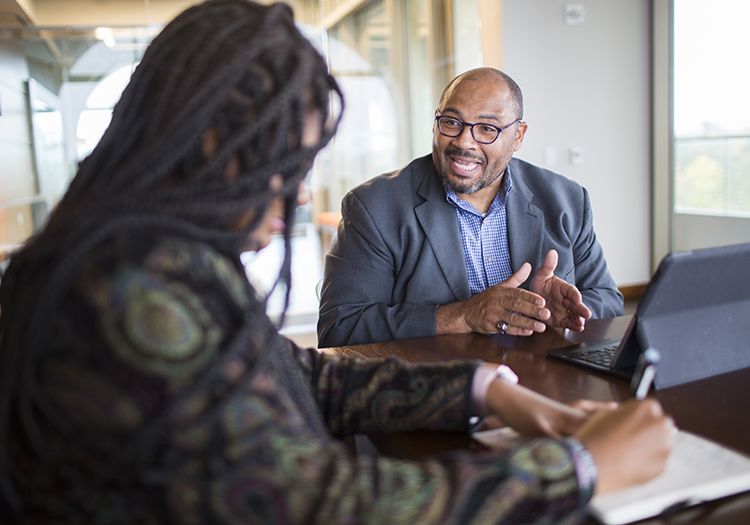 McDaniels talks with 2019 Emory graduate Christell Roach, a poet and creative writing major, in the Rose Library in 2018.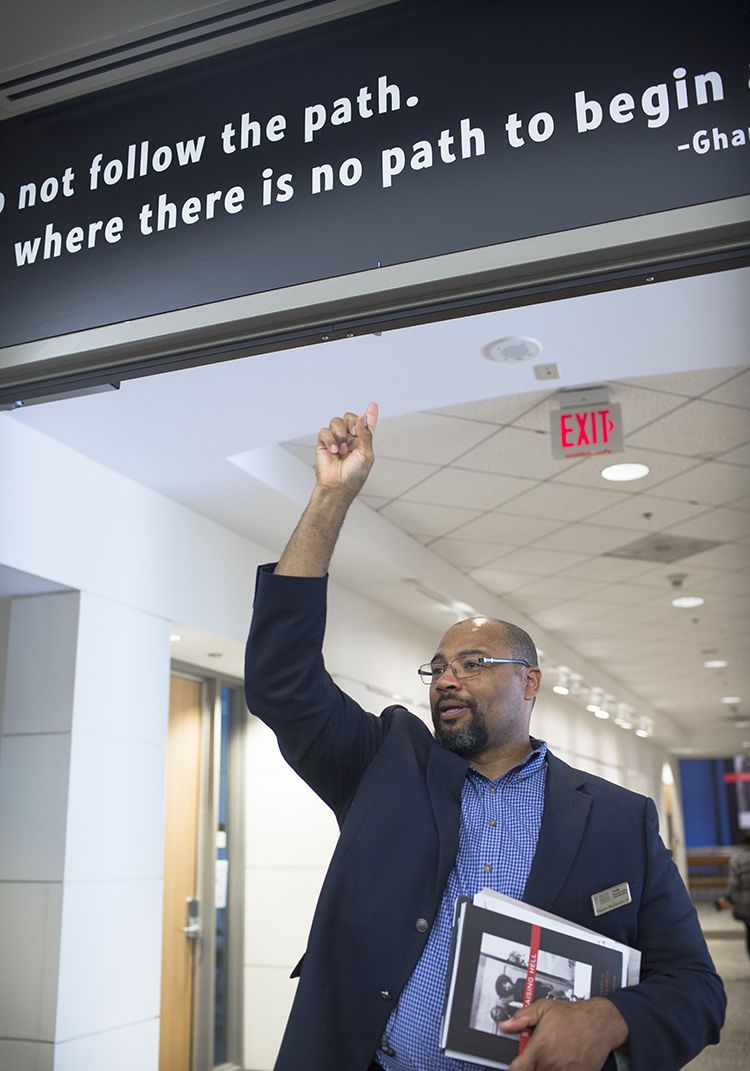 In addition to Lift Every Voice 2020 and other projects, McDaniels was collaborating on an upcoming exhibition with Randy Gue, Rose Library's curator of Political, Cultural and Social Movements Collections, to be called "Broken Promises: Public Housing and the Pursuit of the American Dream." Originally scheduled for fall 2020, it is now tentatively slated for the spring 2021 semester.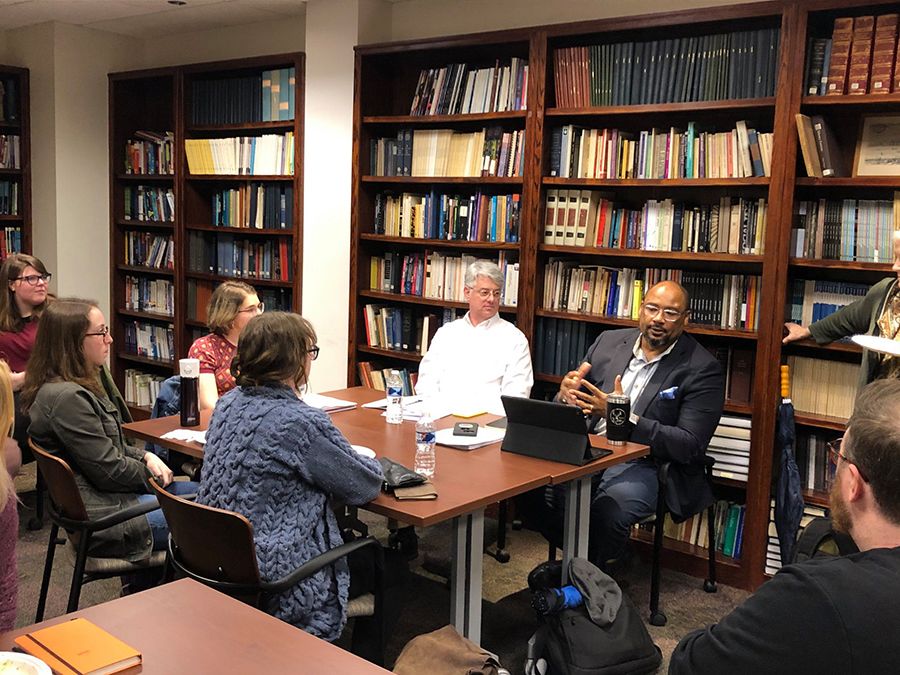 Based on the papers of Charles Palmer, organizer of Atlanta's Techwood Homes, the first U.S. public housing project, the collaboration marked the first time McDaniels and Gue were serving as exhibit co-curators.
Gue and McDaniels were working with three students in the 700-level "Public Humanities" graduate course led by professors Benjamin Reiss and Karen Stolley, planning out the exhibition for the Woodruff Library's Schatten Gallery and adjacent areas. Blending academic and activist aspects, the exhibition is meant to give both the students working on it and the visitors viewing it a new perspective on public housing.
"We actually have a lot completed at this point," Gue said. "This exhibition is even more important to me now because it's part of Pellom's legacy. I'm determined to keep to his vision."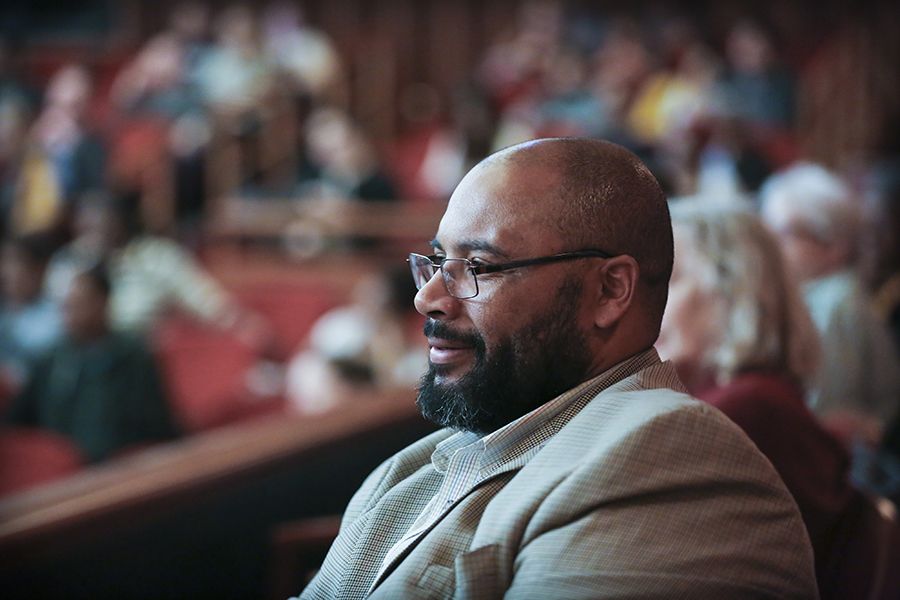 That vision will continue to flourish through the students McDaniels inspired, the colleagues who will carry his passion and his projects forward, and the many people with whom he shared his knowledge and stories of African American lives.
Within a week of his death, the Pellom McDaniels III Research Award Endowment was created to fund work in the Rose Library's African American collections by Emory students, faculty and staff, and visiting researchers. The award will be established when at least $50,000 is raised. The work that results will continue McDaniels' efforts to document and celebrate African American lives, history and expression.
"I want his legacy to be preserved, and I want other scholars to follow in his stead and do that kind of work," Navvab McDaniels said. Her hopes for what scholars will do with the collections are clear.
"I hope they highlight the stories of lesser-known people whose papers he brought into the collection," she said. "Not everyone was a Martin Luther King Jr. or an Alice Walker, but every person in their own way contributed to the forward progress of African American history."
Donate to the Pellom McDaniels III Research Award Endowment
---
Story by Maureen McGavin. Design by Norman Hulme.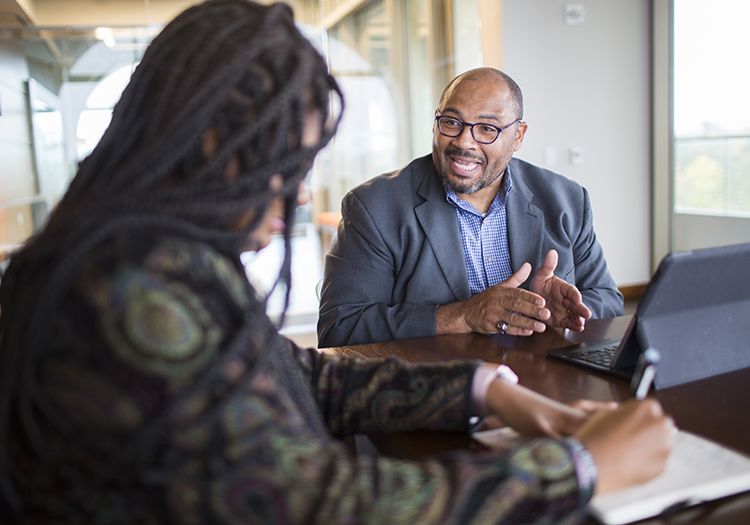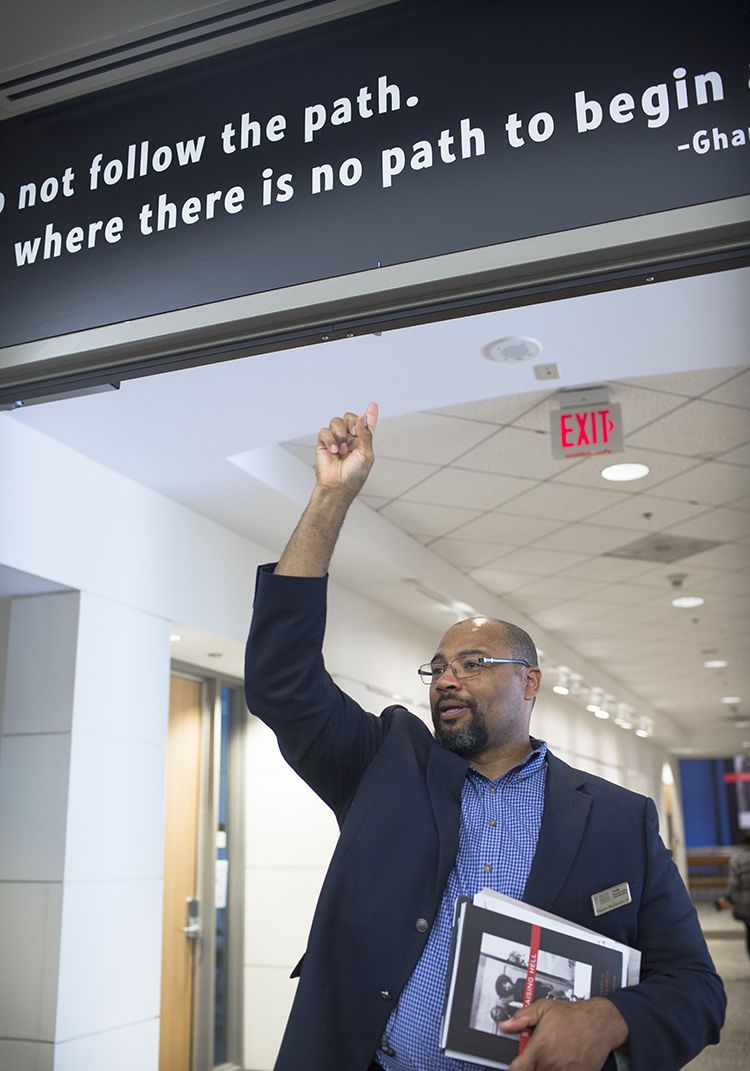 Related video