Take Note >>
Emory projects recognized for green design
By Kimber Williams | Emory Report | Dec. 9, 2013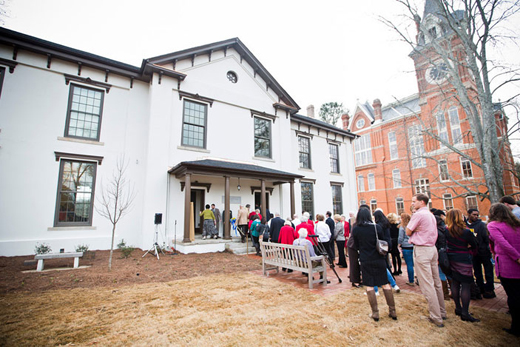 Oxford College's Language Hall earned LEED silver certification. Emory Photo/Video.
Three Emory buildings have earned LEED (Leadership in Energy and Environmental Design) recognition for sustainable design and construction.  
The Yerkes Dual Function Facility, a three-story building at the Yerkes National Primate Research Center, has achieved LEED gold certification. The Integrated Research Addition, an expansion of the Yerkes Neuroscience Building, and an addition to Oxford College's Language Hall have both earned LEED silver certification.  
The LEED gold recognition marks the 11th building at Emory to achieve that status. In total, 24 buildings on the Atlanta and Oxford campuses have now earned LEED certification, according to Emory's LEED Building List.  
LEED certification is awarded through the U.S. Green Building Council, a private nonprofit organization that promotes sustainable building design and construction practices.  
To qualify for LEED certification, buildings are evaluated in categories that include site sustainability, water efficiency, energy and atmosphere, materials and resources, and indoor environmental quality.Emory holds the distinction of having one of the largest inventories of LEED-certified building space — by square footage — among university campuses in America, according to Emory's Office of Sustainability Initiatives.  
The latest LEED-certified projects rely on a number of sustainable practices that have become standard on campus, including energy-efficient heating and cooling systems and water-saving efficiencies, says Brent Zern, an environmental engineer for Campus Services.  
"Once you have a LEED gold building, you try to replicate those strategies as much as you can, but each building is unique," notes Zern.  
Yerkes National Primate Research Center broke ground in December 2011 on a new dual function research building and a three-story addition to the neuroscience research facility.
The Yerkes Dual Function Facility provides approximately 22,000 square feet of new space and is placed into the side of a hill, enabling each floor to have grade-level access
The Integrated Research addition adds about 19,000 square feet onto the Yerkes Neuroscience Building; the third and fourth floors house the Emory Institute for Drug Discovery and the fifth floor houses Yerkes research staff. The original structure previously earned LEED silver status in 2009.
Oxford's Language Hall addition represented a unique challenge, says Zern, since the historic original building was constructed in 1874. In fact, reuse of the original building structure — and many original building materials —helped earn several LEED points.
The addition provides 7,440 square feet for new faculty offices and ancillary space and was designed with several conservation features, including low-flow plumbing fixtures, a hydration station that encourages the use of personal water bottles, an efficient HVAC system, and motion-activated lights.