Emory Profile >>
Liana Smith: Helping prehealth students along the career path
By Kimber Williams | Emory Report | Dec. 13, 2013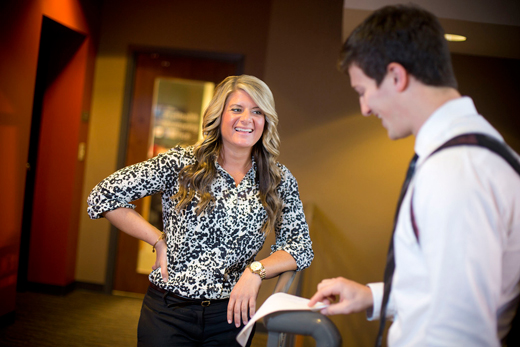 Liana Smith, associate director of The Career Center. Emory Photo/Video.
Each year, about half of Emory's incoming freshmen arrive planning to major in something related to health care.
Some will inevitably veer other directions. But if they stay the course, chances are good that they'll wind up talking with Liana Smith.
As associate director of The Career Center at Emory, and a prehealth counselor, Smith helps advise and assist undergraduate students about career decisions, employment opportunities, and the kinds of academic, extracurriculars and internships that can maximize their options for life after graduation.
Whether chatting about classes, majors and career choices or role-playing mock medical school interviews, Smith serves as both mentor and adviser to students with a prehealth career interest as well as biology or neuroscience and behavioral biology majors who plan to apply to professional schools — options that have grown considerably in the past decade, she notes.
For Smith, it's a good fit. Growing up, she also thought she was headed for medical school. But firsthand experiences teaching math and science revealed a deep passion for education that is well served here at Emory.
Smith talks with Emory Report about expanding opportunities in health care and how a competitive ice skater came to settle in the South:
How did your background influence your professional direction?
I was born and raised in Laramie, Wyoming, literally an altitude of about 7,000 feet — quite often, it would snow from my birthday, Oct. 1, until the last day of school. My father was a professor in biology at the University of Wyoming for 20 years. So a sense of science and education was really ingrained in us — I'm the oldest of five, and three of us are getting PhDs.
When I was younger, going to medical school was always my dream. During my senior year of high school, my parents moved to North Carolina, because they thought there were more options for college. I attended Wake Forest, and ended up majoring in computer science.
What happened to that medical school plan?
It was the cusp of the technology boom, the Internet was becoming popular, so it was a very exciting time. Medical school was still on the back burner, but when I graduated I fell into a computer science teaching job and just loved it. After that, it was education all the way and I never thought twice about medical school. So it's funny how things turn out.
What brought you to Emory?
I loved teaching but had no background in it. So I did a masters degree at the College of Charleston in science and math education. The person I was doing my thesis under actually knew some people at Emory. Originally, I came over here in the Computational and Life Sciences strategic initiative for a year and met Jason Breyan (assistant dean of undergraduate education), who told me, "I think you would be a great adviser."
I had taught chemistry and physics at a school in Charleston and found that I really missed the one-on-one interaction. I just love being around students. I love teaching. And here I am now, seven years later.
How do students find their way to you?
We partner with the PreHealth Mentoring Office (in Emory College of Arts and Sciences), which is relatively new — this is their fourth year. Over half of incoming freshmen come in thinking they want to do something in health care. We reach out to those students, do an orientation the first week of school. I spam them with email every week (laughs); we have a lot of programs for them. They can make one-on-one appointments with me anytime — I have walk-in hours twice a week. Once a year we also do a big health care networking night, with a lot of physicians and allied health care members in the community.
Does the demand for prehealth majors remain high?
With the changes in health care and where it's going, we find a lot of interest in prehealth options. So we work with students interested in becoming physician assistants or headed for nursing school, physical therapy school, dental school — pretty much anything they want to do — and really make sure that they are exposed to all of these fields.
What do students find when they drop by your office?
I take a holistic approach to meeting with students. At the initial meeting, they'll tell me about themselves. What are your interests, what have you done so far? Then we really give them goals and ideas for moving forward and making the most of their time at Emory. Focusing on academics as well as getting the non-academic exposure, making sure they're volunteering in hospitals and clinics, getting research experience. We want to make sure that they have all those opportunities and stay on track.
Mock med school interviews must be an interesting way to get to know your students.
Once they get to that stage, the professional schools are pretty serious. I want to help them nail it. Different schools are looking for different things, but more and more, they're evaluating students holistically — some focus on rural care, some have a heavy research focus. During peak season (fall semester), I probably do 10 to 15 mock interviews a week.
How do you know when you've been successful in your work?
Some people might say, "When they're accepted into medical school." But for me, it's seeing that moment of recognition, when they're like, "Yes! This is exactly what I want to do, and I'm so excited!" Some students don't take enough time to stop and reflect on what will make them happy. That moment when I see that glow, that excitement, that passion, or when I'm conducting a mock interview and I see they're genuinely excited about becoming a physician, that's success for me.
How does ice skating enter the picture?
I started competitive figure skating probably when I was 6 or 7 out in Wyoming. I would get up every morning at 5 a.m. and my mom would watch as I walked across the park — in three feet of snow — to an outdoor rink. We'd practice for a couple of hours before school and after school. In Wyoming, the cities are very far apart. So to do any competitions, or to practice in the summer, I'd travel three to four hours to get to another rink.
Now, I'll probably go ice skating once a year. Most people have problems just standing up, so when you can do a little spin or a jump they think you're a lot better than you are, which is kind of fun. Now it's strictly recreational. But I still carry skates with me everywhere in the trunk of my car (laughs).
I really like working out and trying new things. This year, I completed my first triathlon. By no means did I win the race, but I did cross the finish line, which is all that matters.