Campus causes offer ways to help others this holiday season
By Leslie King | Dec. 10, 2013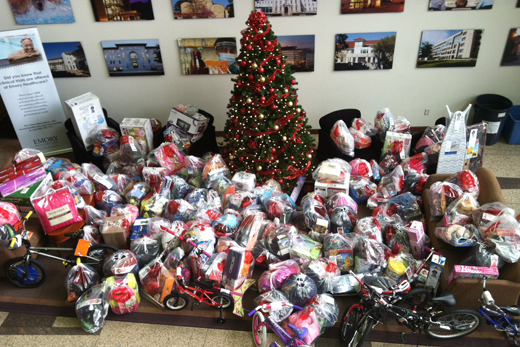 The Finance Division collected more than 100 bags of wish list items for the Salvation Army Angels Program this year. Photo courtesy of Karen Paul-Reed.
Opportunities for giving during the holiday season abound. Here are a few taking place around campus now:
• The Department of Physiology is working with Volunteer Atlanta, providing food and gifts for a single mother and her three children for Christmas as part of an annual departmental project. All the faculty and staff of the department, chaired by Douglas C. Eaton, get involved. Over the past 20 years, more than 50 families have been helped at Thanksgiving and Christmas.
• Andrew West, senior administrator of the Atlanta Clinical and Translational Science Institute (ACTSI), is a Marine reservist currently serving in Afghanistan. ACTSI is collecting donations for his fellow Marines deployed there. Cary Sheahan has a specific list of items needed: "We are going to try and send one more package to Andrew and his fellow Marines in the next couple of weeks," says Sheahan. "And we will be collecting items long after the holidays."
• Barnes & Noble @ Emory is collecting new children's books for Egleston Children's Hospital. Donation boxes are located on the first and third floors. The Holiday Children's Book Drive is open until Dec. 20.
• The Emory Employee Council is partnering with the Atlanta Community Food Bank to hold a food drive from now through the end of January. "Our goal is to collect at least 400 items for the Atlanta Community Food Bank," says Koya Alford, Employee Council secretary. Due to high demand, the Food Bank will not be able to deliver barrels to the campus so departments and other campus units can use their own containers or request a box. Departments using their own containers should inform Alford who will alert the Food Bank so they'll know where to pick up Feb. 1.
• The Office of General Counsel is collecting donations for Ronald McDonald House. Boxes are placed in suites 401, 102 and 103 of the Administration Building. The collection drive is being coordinated with the Atlanta Ronald McDonald House Charities on Gatewood Drive and a "wish list" can be found on www.armhc.org along with additional information on volunteering or ways to contribute. The deadline for donations is Friday, Dec. 13. 
• The Student Activity & Academic Center (SAAC) is hosting two opportunities to Build-a-Bear for charity, Tuesday, Dec. 10 and Wednesday, Dec. 11, at 9 p.m. each day. Decorating the diversity tree will be Saturday, Dec. 14. Participation is open to all students and members of SAAC.  
• Rollins School of Public Health is collecting donations for the residents, patients and seniors of Wesley Woods who have no family and/or live on limited incomes. Bins are placed in the Grace Crum Rollins Plaza and on the bridge. Needed items include hats, gloves, thick socks, toiletries, large print and puzzle books. Donations will be collected through Wednesday, Dec. 11. 

• This is the fifth year that The Division of Finance has supported the Salvation Army Angels Program. "This year we adopted 100 kids and 10 seniors," says Karen Paul-Reed, executive administrative assistant to Vice President for Finance Edith Murphree. Donations include clothes, toiletries, toys, home goods and household appliances. "Everyone is exceedingly generous. Several kids and seniors end up with multiple bags, and things that cannot even fit into bags!" Paul-Reed adds. UPS drivers, who volunteer their time and trucks, picked up the packages after Thanksgiving.
Editors note: Do you know of a holiday cause at Emory? Please send details to emory.report@emory.edu.