ADVANCE NOTICE >>
Forum of remembrance to honor Nelson Mandela
By Kimber Williams | Dec. 9, 2013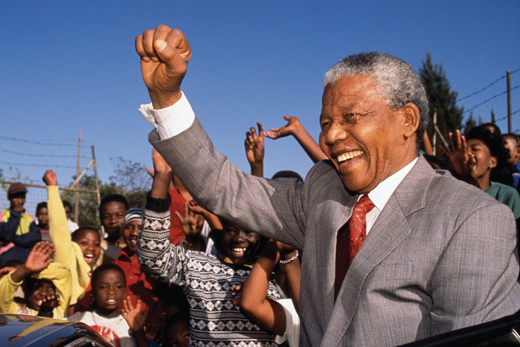 An event at Emory celebrating the life and work of former South African President and anti-apartheid leader Nelson Mandela is set for Tuesday, Dec. 10.  
"Nelson Mandela: Remembrance and Reflection" will take place from 4:30 to 5:30 p.m. in the Jones Room of the Woodruff Library. Provost Claire Sterk will offer opening remarks and introduce five panelists from the University community who will share their memories and perspectives, including:  
Clifton Crais, director of the Institute of African Studies and history professor

Robert Franklin, senior adviser to the provost for community and diversity

Sita Ranchod-Nilsson, director of the Institute for Developing Nations

Pamela Scully, director of the Center for Faculty Development and Excellence and professor of women's, gender and sexuality studies and African studies

John Stremlau, vice president of peace programs at The Carter Center.
An internationally recognized human rights activist and revered elder statesman — considered "the father of the country" in South Africa — Mandela died Dec. 5 at the age of 95 following a lingering battle with a lung infection.  
Noted as both an activist and peacemaker, Mandela received worldwide acclaim for leading South Africa's anti-apartheid movement. In 1964, he was arrested, charged with sabotage and treason, and convicted to life in prison.  
Following an international campaign lobbying for his release, Mandela was freed after 27 years. He went on to become the first black South African to be elected president (1994-1999).  
Mandela went on to lead the peaceful transition from "white-only" rule with a focus on dismantling the legacy of apartheid and is also recognized for helping to create a Truth and Reconciliation Commission to investigate past human rights abuses. His administration introduced measures to encourage land reform, battle poverty and expand health care.  
In his later years, Mandela served as international statesman, mediator and peace activist, honored with both the Nobel Peace Prize recipient and U.S. Medal of Freedom.   Emory's forum of remembrance is co-sponsored by the Laney Graduate School, the Institute for Developing Nations, The Halle Institute, and the Institute of African Studies. The event is free and open to the public.