Alum artist Brendan O'Connell captures impressions of Walmart
By Julie Schwietert Collazo | Emory Magazine | Dec. 23, 2013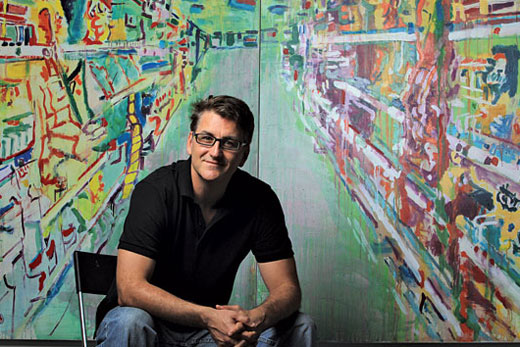 Brendan O'Connell. Photo by Essdras M Suarez/The Boston Globe via Getty Images.
When Brendan O'Connell (Emory College, 1990) graduated from Emory with a degree in philosophy and Spanish literature, he thought he'd go on to become a writer. He didn't anticipate becoming a visual artist instead—certainly not one who would become known for his paintings of Walmart.
He didn't plan to learn how to draw while living in Paris, making a modest living doing "pay what you wish" caricatures for tourists. Nor did O'Connell expect he would happen to meet actor Alec Baldwin during his six-year stint living abroad in Europe's cities. He didn't foresee that Baldwin would become an important collector and champion of his work, and he probably didn't expect that the two men—who bear an uncanny, brotherly resemblance to one another—would forge a friendship that endures to this day.
But such is the life of the artist: so much depends upon the convergence of being in the right place, at the right time, with the right people. O'Connell has learned a lot about that this year.
There are other things O'Connell didn't expect, like the consequences of being the subject of a five-page profile in the New Yorker this past February. "I knew [the article] would be a calling card, but I had no idea it would be quite this big," he says. O'Connell had received press before, including a write-up in Art in America, but nothing of the scale or scope of the New Yorker profile, which introduced the artist and his Walmart paintings to a new audience.
The well-known author of the profile, Susan Orlean, says she knew O'Connell before she wrote the article for the New Yorker; their children went to school together and she considered O'Connell "a good friend." While Orlean normally doesn't write about people she knows, she made an exception for O'Connell because she considered his work particularly compelling. She believed that what she describes as O'Connell's "interest in dignifying ordinary experience and being artful in interpreting an environment we never think of in those terms" would be as fascinating to the magazine's readers as it was to her.