ADVANCE NOTICE >>
Catholic health care chief comes to Emory
By Leslie King | Emory Report | March 18, 2013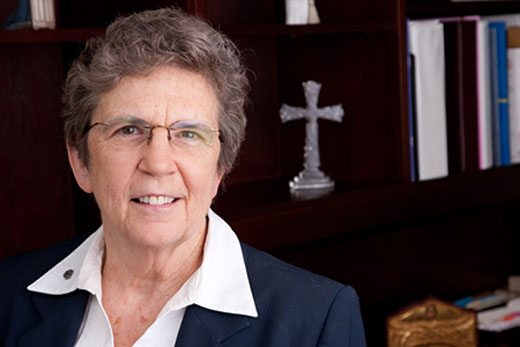 Sister Carol Keehan, president and CEO of the Catholic Health Association of the United States. She will give two public talks at Emory: at 7:30 p.m. Wednesday, March 20, and at 5:30 p.m. Thursday, March 21. See below for details.
Sister Carol Keehan, president and chief executive officer of the Catholic Health Association of the United States, will give a talk on campus Wednesday, March 20 at 7:30 p.m.
"Challenges for Catholic Health Care in a Complex World" will be in Glenn Memorial Auditorium. The talk is free but tickets are required.
Keehan's talk will address questions such as:
How does Catholic health care maintain its Catholic identity?
What are the economic, social, political and other challenges to Catholic Health care?
How does Catholic health care meet the economic challenges of the world while maintaining its commitment to Catholic ethical principles?
Will there be a distinctive Catholic health care system in the next century?
Sister Carol will speak specifically on provisions of the new legislation at a keynote lecture at the annual conference of the Health Care Ethics Consortium of Georgia and the Center for Ethics at Emory. That talk, titled "The Politics of Justice:  The Nation's Healthcare Obligations and the Role of the Affordable Care Act," is scheduled at 5:30 p.m. Thursday, March 21 at the Emory University Conference Center. Admission to the lecture is free, but rsvp is requested by emailing hcecg@emory.edu.
Her visit is sponsored by the Aquinas Center of Theology at Emory, as part of its fourth annual Major Catholic Speaker Lecture, and the Candler School of Theology.  
Keehan is an advocate of securing health care for all Americans, prompting support for most of the Obama Administration's Affordable Care Act. However, she has also been at the forefront of attempts to seek changes in that legislation to meet the Catholic Church's concern with conscience and the contraception coverage aspects.
"Sister Carol has been recognized as a leader of health care in the United States for the past several decades pushing for compassionate care, workers rights, and health care for all Americans, especially those without health insurance," says Aquinas Director Phillip Thompson. "In pursuing these goals, she has made difficult and sometimes controversial decisions over the past couple of years regarding the Affordable Care Act and the contraception mandate. It is a critical moment for Catholic health care."
In addition to these talks, Keehan will be a guest in the "Modern Catholicism Class" on Tuesday, March 19, followed by lunch with students.  
The Catholic Healthcare Association, which she leads, is the umbrella organization for the Catholic hospitals in the United States.
For more information go to www.aquinas.emory.edu.