Take Note >>
Women's History Month offers diversity of events
Emory Report | Feb. 28, 2013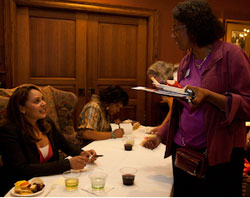 Past Women's History Month events have featured Pulitzer Prize-winning poets Natasha Trethewey and Rita Dove.
A series of events, both familiar and new, are designed to celebrate Women's History Month around campus. Among the activities:
"The Vagina Monologues: A 2013 V-Day Benefit Performance to Stop Violence Against Women and Girls," which started Feb. 28, continues Saturday, March 2, and Sunday, March 3 at the Woodruff Health Sciences Center Administration Building Auditorium. The benefit performance to stop violence against women and girls is sponsored by V-Day Emory and Feminists in Action.
On Friday, March 1, "HIV/AIDS, Ethics of Care and the Church: A Symposium and Discussion in Partnership with Interfaith and Health" will begin at 10 a.m. in Brooks Commons of Cannon Chapel.
Also on March 1, the Candler Women's "Annual Service of Word Featuring Sandra Thurman and Rae Lewis Thornton in Team Preach" will be at 4:30 p.m. in Glenn Memorial's Little Chapel. Both events are sponsored by the Candler Women's Caucus.
"Transforming Curriculum for Sustainability," a talk by Emory's Peggy Barlett, Goodrich C. White Professor of Anthropology is Monday, March 4 at 9:30 a.m. in the Luce Building. Barlett co-founded and administers the Piedmont Project, the longest-running curriculum development program for sustainability in the country. She will speak about its history, the workshops that have become a model for other universities, and some of the latest strategies for curriculum change documented in her book, "Transforming Higher Education: Stories and Strategies for Sustainability." Barlett's talk is sponsored by the Emeritus College.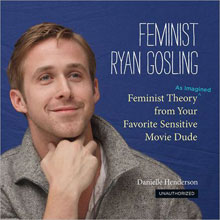 Danielle Henderson, creator of the blog Feminist Ryan Gosling, will give a talk March 5.
"Co-Opting Theory: How Creating Feminist Ryan Gosling Saved My Academic Life," will be Tuesday, March 5 at 4:15 p.m. in 206 White Hall. Danielle Henderson from the University of Wisconsin, who created the blog Feminist Ryan Gosling, will talk about intersections of feminism, race and popular culture and how it helped her to combine her non-traditional interests with traditional academic projects. A reception will follow. This event is co-sponsored with the Center for Women by the Department of Women's, Gender, and Sexuality Studies and the Jessica Glasser Memorial Fund.
Six student playwrights and choreographers from the Department of Theater and Dance will be paired to create dynamic and original movement/text duets that celebrate and explore the strength and power of women. The Theater and Dance Women's History Month Performance will be Tuesday, March 5 at noon in the Dance Studio of the Schwartz Center for Performing Arts. Sponsored by the Department of Theater and Dance.
The annual Women and Gender Awards will be presented Thursday, March 7, at the Miller-Ward Alumni House. The 2013 Unsung Heroines Awards and the Student Writing Awards are the focus of the event, which begins at 5:30 p.m. with a reception followed by the awards presentation at 6:30 p.m. The Women and Gender Awards are co-sponsored by the Center for Women and the Emory Alumni Association.
On Friday, March 8, "Women and the Prison Industrial Complex Inside and Out," a symposium and discussion on the state of ministry and women in transition will be at Candler School of Theology beginning at 10 a.m., sponsored by the Candler Women's Caucus.
On Thursday, March 28, David Lisak will deliver the keynote address, "Confronting the Reality of Sexual Violence on the College Campus," at 4:30 p.m. in the Presentation Room of the Oxford Road Building.
For more information, see the Center for Women at Emory's calendar of events.