Philanthropy >>
Proceeds from Book Benefit Metabolic Genetics Clinic
Development Communications | Aug. 1, 2012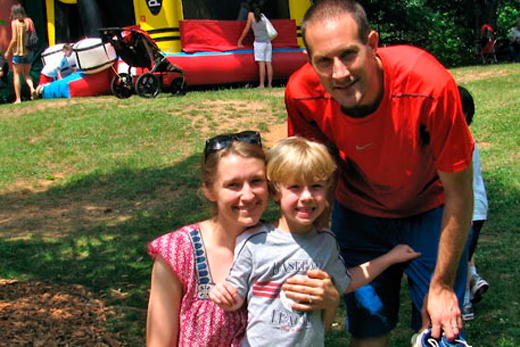 [In the photo: Stephanie, Christopher, and Ryan Harry]
In the fall of 2008, Stephanie and Ryan Harry were excited about the approaching birth of their first child, attending natural childbirth classes and planning an ideal experience to welcome their baby.

Those plans suddenly changed when Stephanie Harry was admitted to Piedmont Hospital for an emergency Cesarean section to deliver the couple's son, Christopher. A day after the birth, Harry was sent to the hospital's Intensive Care Unit with kidney and liver failure, while doctors tried to determine the cause of Harry's sudden health crisis.
Shortly after the birth, Christopher's newborn screening results revealed that he has LCHAD deficiency, a rare genetic disorder. He is the first child in Georgia to be diagnosed with this condition since newborn screening was added in 2007. LCHADD prevents the body from converting certain fats to energy, particularly during exercise and periods without food.

After Christopher's diagnosis, Piedmont Hospital's NICU staff worked closely with Emory's Metabolic Genetics Clinic to make sure Christopher was one the correct formula nad that his LCHADD was managed appropriately. After both mother and son were released from the hospital, Piedmont connected the Harry family with the Metabolic Genetics Clinic for follow up. Because Christopher's condition is so rare—occurring in one of every 250,000 live births—Harry values the thoughtful care and professional treatment the clinical team has provided. She hopes the knowledge she has gained about her son's rare condition will help give Christopher a brighter, more hopeful childhood, despite the restrictions of his illness.

In order to share what she has learned and to help other families, Harry has written a children's book, My Special Body, addressing her son's rare illness. She hopes the book will help her son advocate for himself by educating him on how to talk about his condition and serve as a tool for other parents to communicate with their children about the illness, providing healthy-living tips and fun activities. 

Harry has pledged all proceeds from the sale of My Special Body to support research in Emory's Metabolic Genetics and Nutrition Program Clinic, where the family has found the support they need to help care for Christopher. Through the support of family and friends, as well as the sales of her book, Harry has raised $10,000 for the clinic's continued research of LCHADD and similar disorders.
Since the beginning the Harrys have felt extremely fortunate to have the support of the Emory Metabolic Genetics Clinic. Clinic staff has helped coordinate care with hospital pediatricians to ensure the best care for Christopher, and the Harrys appreciate that the doctors treat him as a child and not a research subject.  
"The clinic team goes above and beyond the roles of physician and staff to provide an environment of care and compassion," Harry says.