AJC Decatur Book Festival keynote tickets now available
By Kimber Williams | Emory Report | Aug. 17, 2012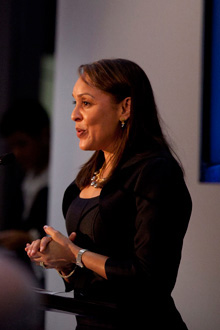 Natasha Trethewey's keynote address will be her first public appearance since being named the 19th U.S. Poet Laureate in June.
Updated Aug. 20, 2012
Tickets are no longer available for this event.
Free tickets to attend U.S. Poet Laureate Natasha Trethewey's keynote address at the 2012 AJC Decatur Book Festival are now available at Emory University's Schwartz Center for the Performing Arts box office and three local bookstore locations. 
Trethewey, Charles Candler Professor of English and Creative Writing and incoming director of Emory's Creative Writing Program, will deliver the festival's keynote at 8 p.m. Friday, Aug. 31, launching her newest collection of poems, "Thrall" — her first public reading since being named the 19th U.S. Poet Laureate in June.
Although the event is free and open to the public, tickets are required for admission and should be picked up in advance. Tickets, which are limited to two per person, are also available at local bookstores Eagle Eye Bookshop, Little Shop of Stories, and Charis Books and More.
A Decatur resident, Trethewey is the first Southerner since Robert Penn Warren to be named Poet Laureate and the first local author to deliver the book festival's keynote remarks. She received the Pulitzer Prize in 2007 for her collection, "Native Guard."
Following the keynote at Emory University on Friday, the festival will kick off Saturday, Sept. 1, with a children's parade on the Decatur Square. The remainder of the events in downtown Decatur will continue throughout the day Saturday and Sunday afternoon, Sept. 2.
This year, Emory is a major sponsor of the weekend event, which is the largest community-based independent book festival in the country, offering lectures and book signings from more than 300 authors. The event also features the following Emory authors:
Alan Abramowitz, Alben W. Barkley Professor of Political Science
Joseph Crespino, associate professor of history
Dana Greene, dean and faculty emerita of Emory's Oxford College
Lawrence Jackson, professor of English and African American studies
Michael Moon, professor of American studies
Susan Rebecca White, lecturer in fiction
Kevin Young, Atticus Haygood Professor of Creative Writing and English and
Stacia Brown, director of development for clinical programs.
For a complete schedule of authors, programs and events, check www.decaturbookfestival.com.