September 2018
Emory receives $29 million from Wounded Warrior Project
The Emory Healthcare Veterans Program is one of four U.S. programs that are part of Wounded Warrior Project's Warrior Care Network
---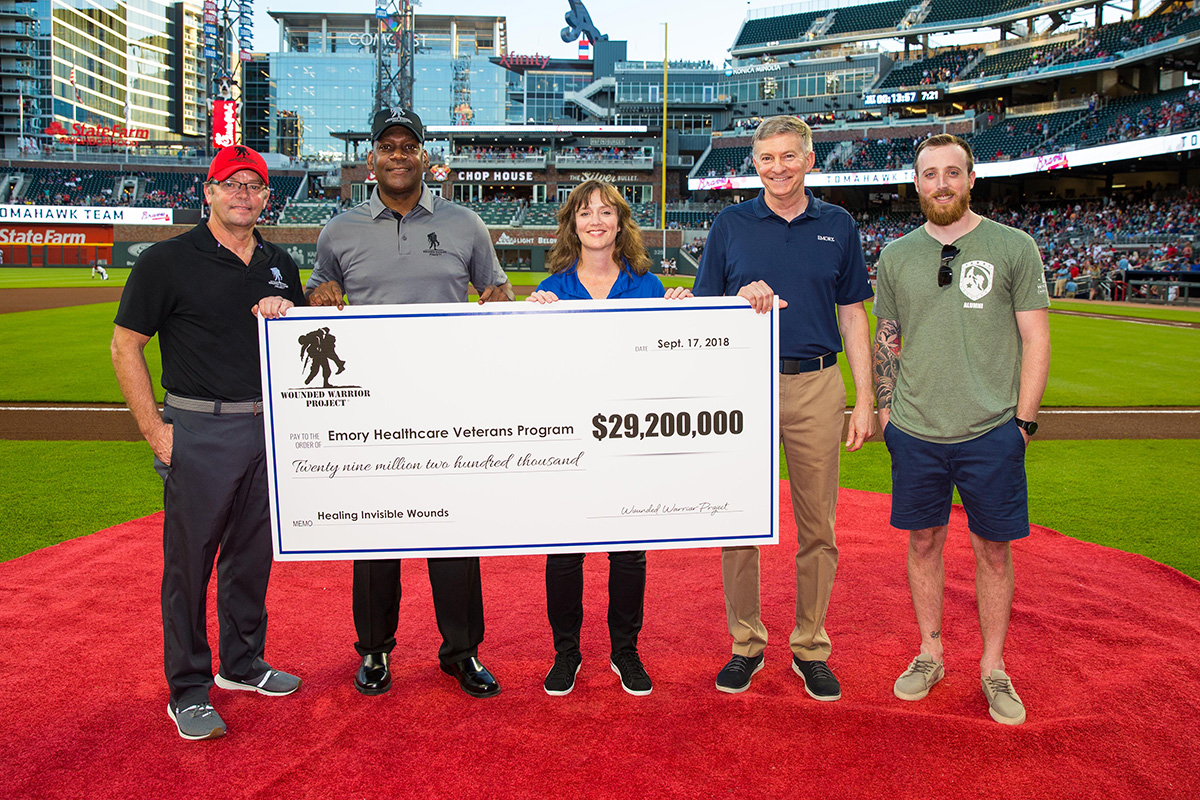 The Emory Healthcare Veterans Program has received a five-year, $29.2 million-dollar grant from Wounded Warrior Project to further its work providing transformative care for Veterans suffering from post-traumatic stress disorder (PTSD), traumatic brain injury (TBI), depression and anxiety.
The Emory Healthcare Veterans Program is one of four U.S. programs that are part of Wounded Warrior Project's Warrior Care Network, a first-of-its-kind treatment partnership that provides world class mental health care to Veterans or servicemembers who served/deployed after 9/11.
"Emory Healthcare Veterans Program delivers impactful mental health treatment for warriors," said Michael Richardson, vice president for mental health and independence services at Wounded Warrior Project. "We're proud to extend this partnership with a $29 million investment over the next five years. We have to work together to deliver the care warriors earned."
The Emory Healthcare Veterans Program operates an intensive two-week outpatient treatment program. The program is a comprehensive regimen helping Veterans re-engage in daily life, while promoting physical and mental health and wellness.
Veterans and servicemembers from across the country who qualify for the program are treated at no cost, giving them access to a wide range of services including daily individual therapy, group therapy, family therapy, wellness services, finance and career classes, and various recreational activities.
"We are honored to receive this critical funding to help us continue our innovative Veteran health care efforts as we reach a generation of warriors, ultimately providing treatment and care that help to ensure they are the most successful and well-adjusted in our nation's history," says Emory Healthcare Veterans Program director Barbara O. Rothbaum, PhD, professor of psychiatry and behavioral sciences at Emory University School of Medicine.
The $29.2 million grant includes funding to continue treatment for warriors and a capital grant to expand the Emory Healthcare Veterans Program's physical space and increase treatment capacity. It follows a 2015 grant from Wounded Warrior Project for $15 million to help establish the current program.
About the Emory Healthcare Veterans Program
The Emory Healthcare Veterans Program is part of a collaboration with Wounded Warrior Project (WWP) to offer services to post-9/11 Veterans, servicemembers, and their families. WWP established the Warrior Care Network as a nationwide, comprehensive care network that enhances access and provides clinical and family-centered treatment to warriors suffering from PTSD, TBI and other related conditions. The other members of Warrior Care Network are Rush University Medical Center in Chicago, Massachusetts General Hospital in Boston, and UCLA Health in Los Angeles.
Find more information on the Emory Healthcare Veterans program website or call 1-888-514-5345.
Share This Story