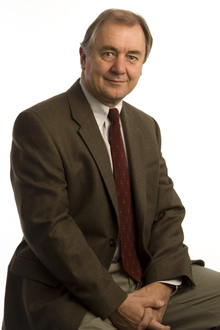 Expert: Eric Hunter
In his laboratory at the ­Yerkes National Primate Research Center, Eric Hunter studies how HIV enters cells. He also collaborates with Emory pathology professor Susan Allen to study HIV transmission among discordant HIV couples (one infected, one not) in Africa.
Hunter completed his undergraduate studies in bacteriology at Birmingham University, England. His graduate work in tumor immunology was carried out at the Imperial Cancer Research Fund & Brunel University, London, England.
During postdoctoral studies at the University of Southern California, he applied molecular genetics approaches to examine retrovirus replication, and he expanded on this approach when he joined the University of Alabama (Birmingham) in 1976. While at the UAB, Dr. Hunter was the founding Director of the UAB Center for AIDS Research (CFAR), leading its growth into one of the premiere AIDS research institutions in the United States.
His laboratory has been recognized internationally for its work in defining the molecular events involved in retroviral assembly and for elucidating the structure/function relationships for retroviral gene products at a molecular level. Recently, his laboratory has investigated the molecular mechanisms underlying HIV transmission among stable heterosexual couples living in Rwanda and Zambia with an aim toward developing novel vaccine approaches that might prevent this transmission event.
Since joining the Emory faculty in 2004, Dr. Hunter has continued examining the molecular basis for HIV entry and the role that HIV glycoproteins play in the transmission of this pathogen.
Download a high-res photo, 1.3 MB
Contact:
404-727-5692 (Melva Robertson, media relations) office
404-727-7709 (Lisa Newbern, media relations) office
melva.robertson@emory.edu
More on Eric Hunter »
Dec. 5, 2012
July 24, 2012
Media »
Yerkes National Primate Research Center
One of eight national primate research centers funded by the National Institutes of Health, Yerkes National Primate Research Center provides leadership, training, and resources to foster scientific creativity, collaboration, and discoveries. The center conducts essential basic science and translational research to advance scientific understanding and to improve the health and well-being of humans and nonhuman primates.