At Carter Town Hall, Yara Shahidi discusses the process of 'figuring it out' while still amplifying voices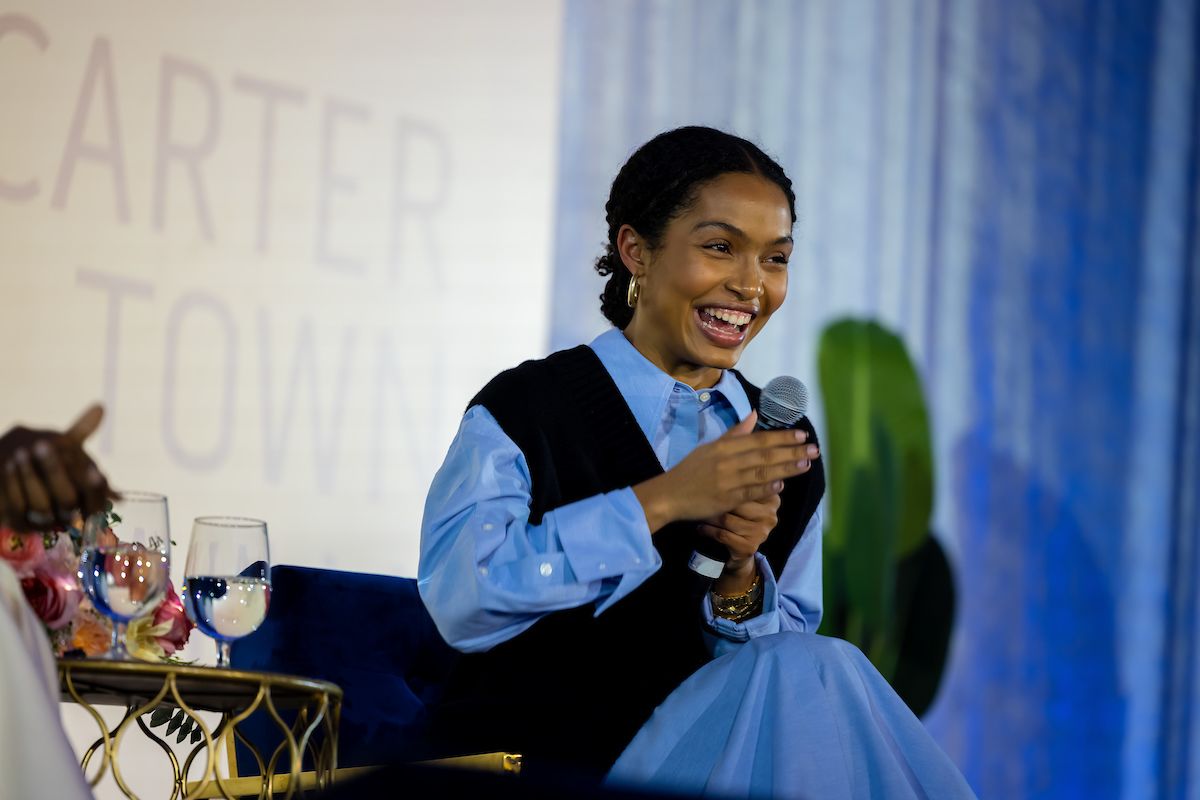 At Emory University's 42nd annual Carter Town Hall, actor and producer Yara Shahidi kept it real with students, from advancing voting rights to harnessing self-compassion during college.
"Life really informed my academia, and I don't think I would have been as good of a scholar, as good of a community member, had I not made space for the things that brought me joy, made space for the concerts and the community moments," she said.
At the Nov. 6 event, Shahidi encouraged students to open their worldview, give themselves grace and — crucially — dig into community.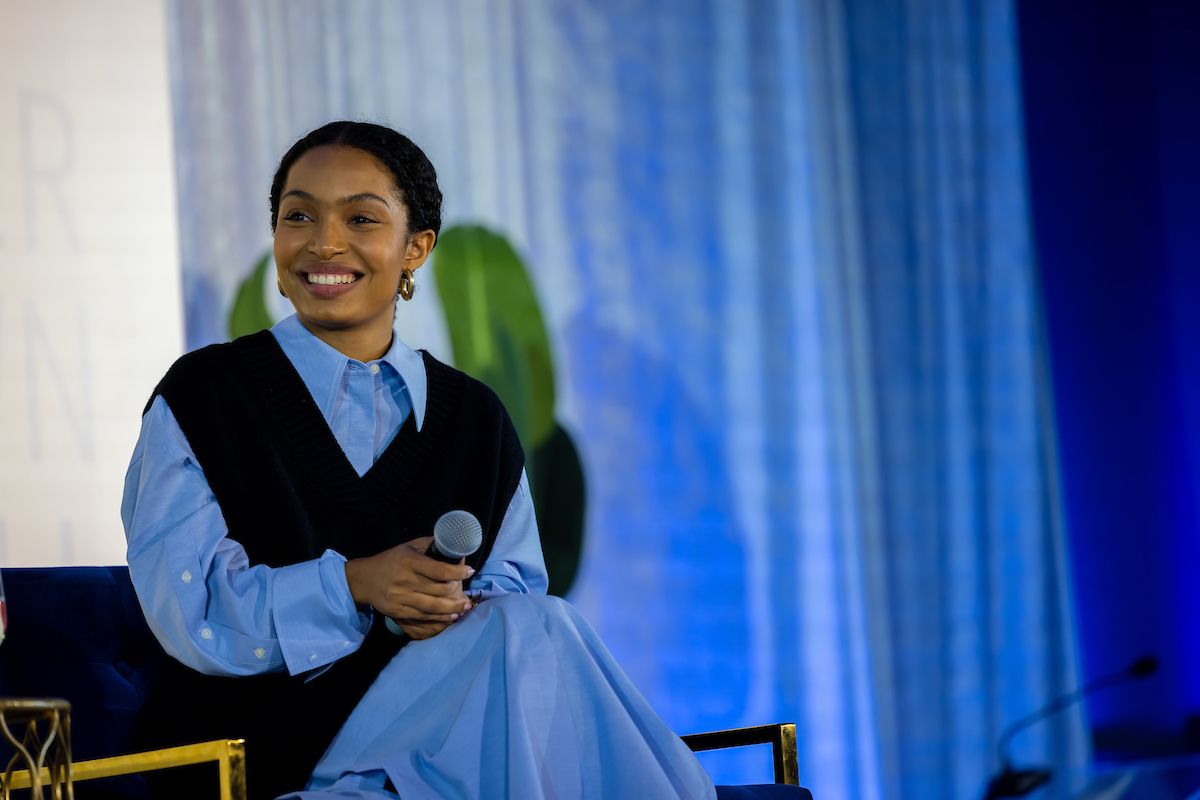 Launched in 1982 when former U.S. President Jimmy Carter became an Emory University Distinguished Professor, the Carter Town Hall seeks to inspire students. From the beginning, Carter promised that students could ask anything without his seeing questions ahead of time and that he would answer every question. For nearly four decades, he kept that promise, responding to questions about everything from how we can build a more equitable government to his favorite room in the White House.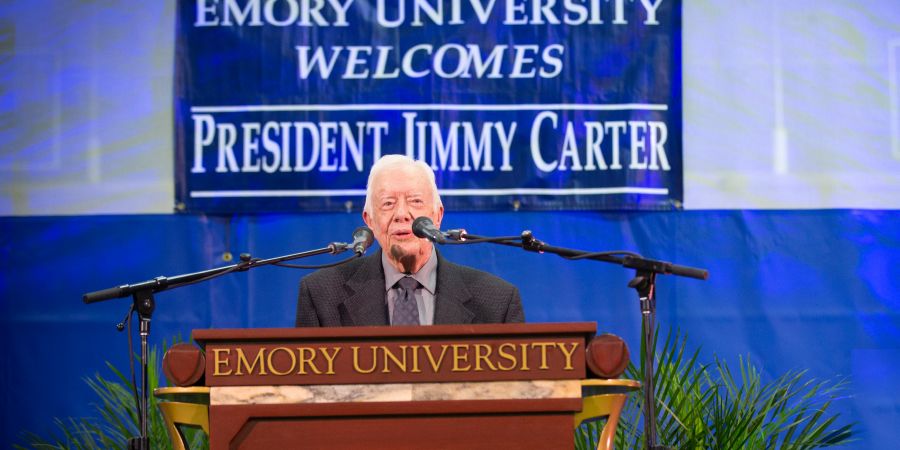 With Carter's retirement from public life, Emory has continued this tradition by bringing in new perspectives to challenge, strengthen and inspire students' own ideas and beliefs. In 2021, former United Nations ambassador and civil rights leader Andrew Young encouraged students to reach across the political aisle. Last year, soccer star and activist Megan Rapinoe urged attendees to use their voices to advance the greater good.
While Shahidi was unable to speak about her acting and producing career due to the SAG-AFTRA strikes that were happening at the time, this year's conversation was anything but stilted.
Shahidi is an award-winning actor as well as a producer, activist and scholar. Best known for her work on "Black-ish" and the spin-off series "Grown-ish," she was also named one of "The 30 Most Influential Teens of 2016" by Time, was a 2019 Glamour "Woman of the Year," was named to Forbes' "30 under 30" and more.
She has also worked with President Barack Obama and first lady Michelle Obama, founded "We Vote Next" to shine a light on Gen Z and inclusion in the political process, and is a global ambassador for Cartier and Dior beauty.
She graduated from Harvard University last year with a bachelor of arts degree in social studies and African American studies, with a concentration in Black political thought under a neocolonial landscape.
A new generation of voices for change
The 2023 Carter Town Hall was held in the Emory Student Center — and with a twist. Rather than being open to only first-year students, the event was open to all Emory students. With nearly 1,000 people in attendance, the event started with an introduction from Provost Ravi V. Bellamkonda.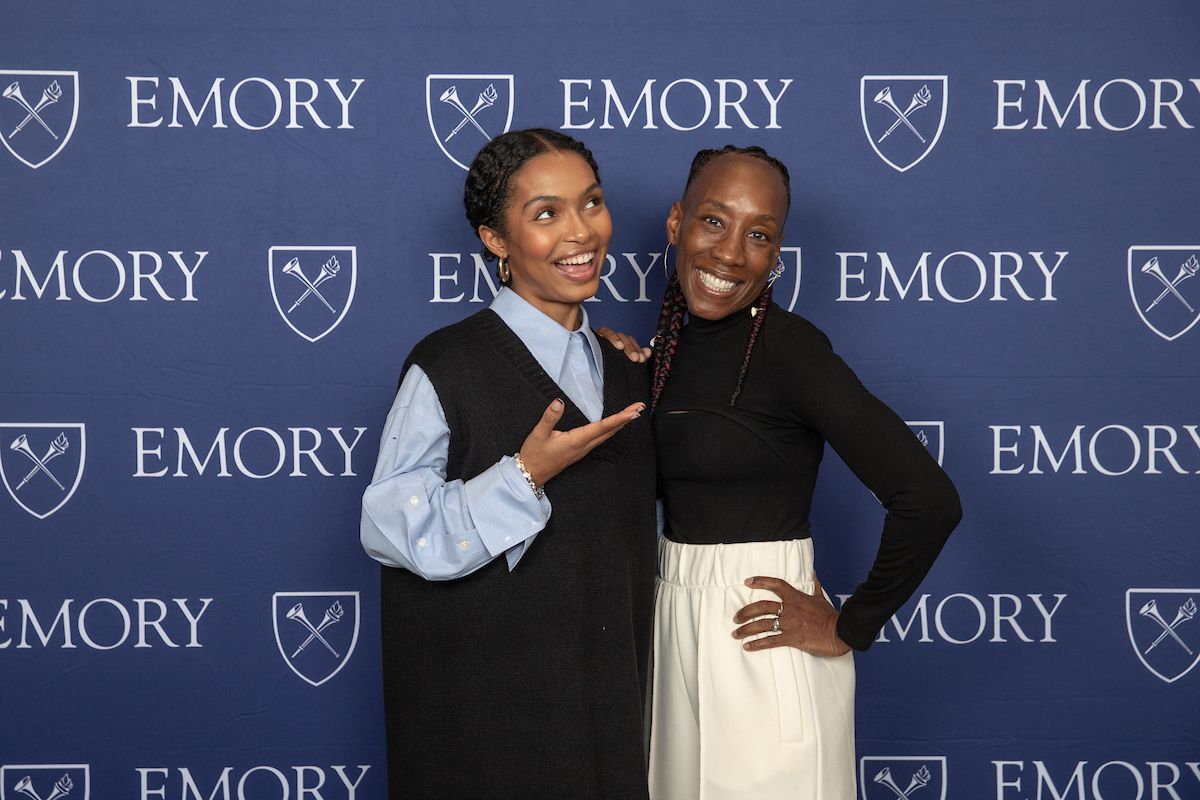 The provost was followed by Jason Carter, chair of The Carter Center's board of trustees, partner of the Atlanta law firm Bondurant, Mixson and Elmore, former Georgia state senator and grandson of President Jimmy Carter. He highlighted the ways that Shahidi has pursued the same goals as his grandfather.
"The beauty of tonight is y'all are going to see a 23-year-old woman who is so close in age to you, who is a part of your generation, who is devoting her life to those same things and sets that example," he said. "And this is, yes, a wonderful tribute to my grandfather, whom I love and respect and who has done remarkable things. But it's really about your generation, and what you're going to do on all those issues."
Enku Gelaye, senior vice president and dean of campus life, spoke after Carter, mentioning that as a former Carter Center intern, she knows the ability to inspire action is embedded in President Carter's legacy.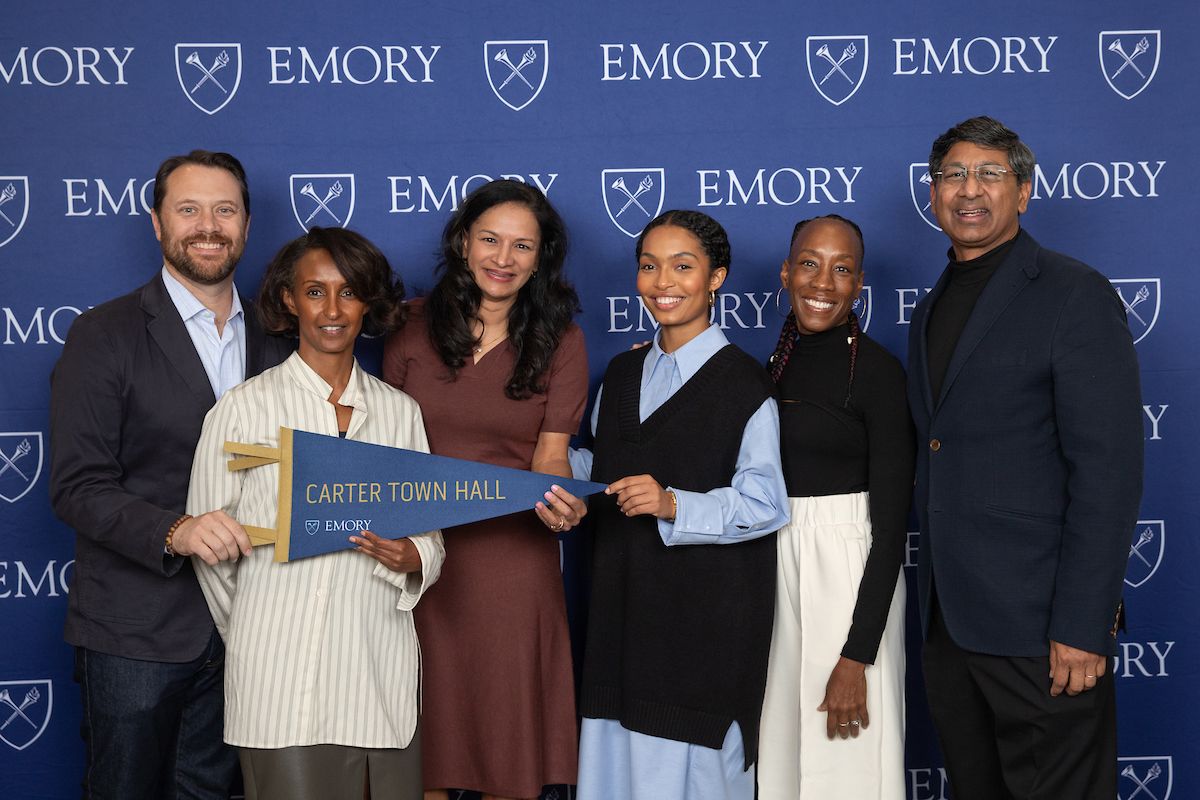 "I hope that the conversation tonight ignites a flame in each of you to make a difference for others using your unique talents and skills," Gelaye said prior to introducing Shahidi. "Each of you sitting in this room has the gifts and drive to do a little more each day to bring kindness and creativity to the world."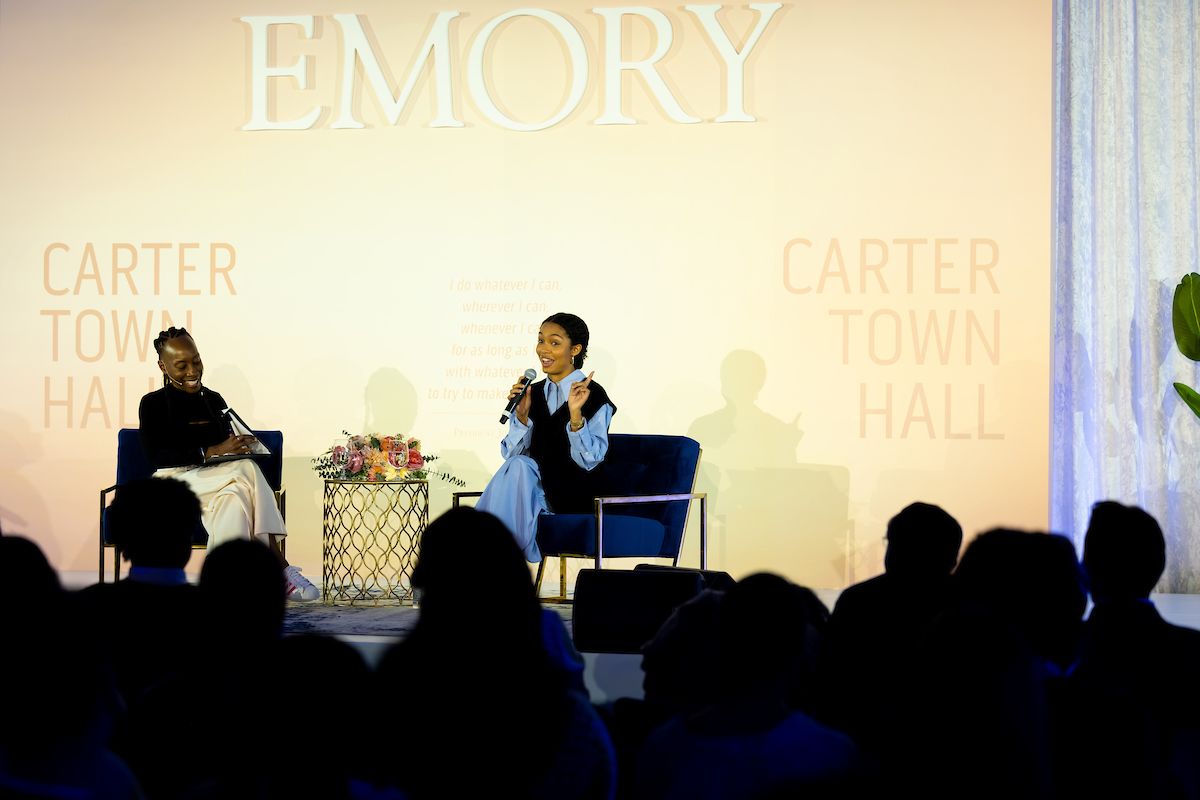 Creating room for growth
Shahidi entered the stage alongside Valeda Dent, Emory's vice provost of libraries and museum, and the two dove straight into a discussion about student flourishing — and how it's different from just existing.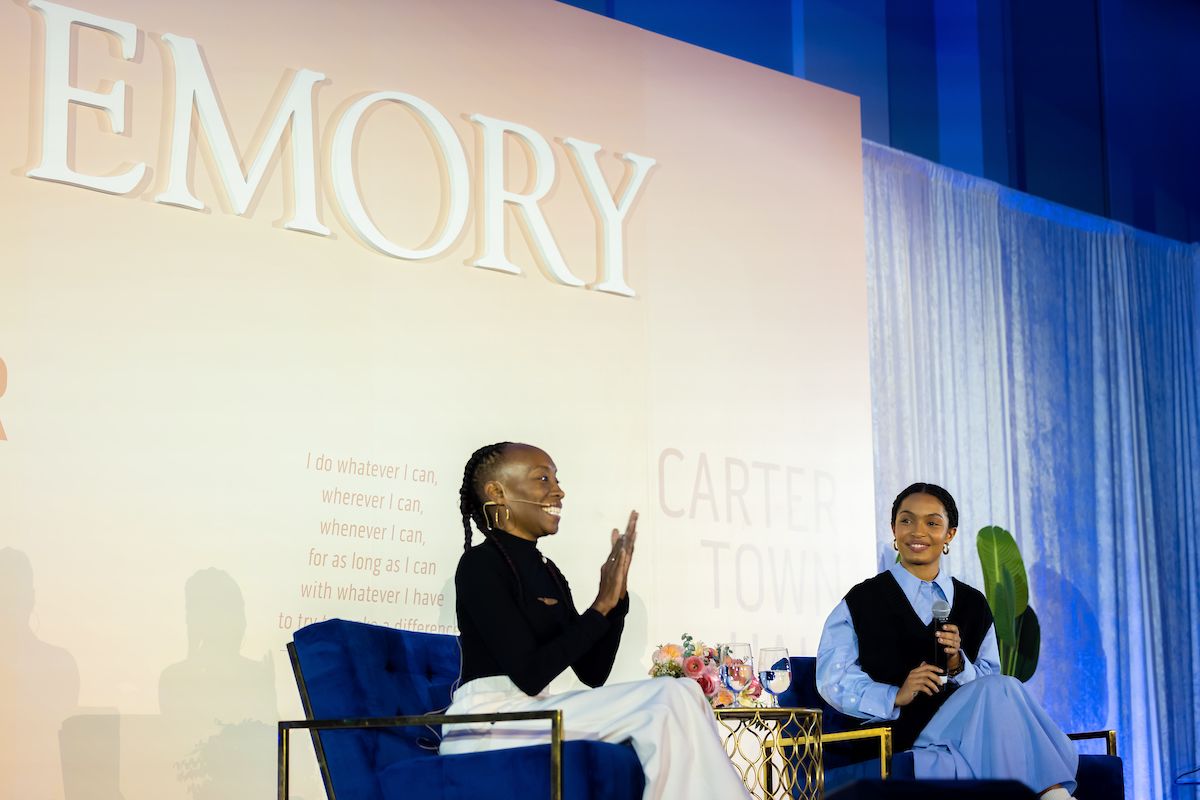 "I think people use the term 'thrive' versus 'survive' and it really is so relevant," Shahidi said. "Everyone had to work so hard to be in these establishments of higher education, and oftentimes, that came at the expense of putting aside the other things that we needed to pour into ourselves.
"So it's beautiful to be in a space in which you all are prioritizing the fact that we're full humans."
Prioritizing the messiness of being human can require a mindset shift, too. Dent and Shahidi both pointed to the common practice of focusing on achievements and activities that can be enumerated on paper — even if those aren't the things that fill your cup.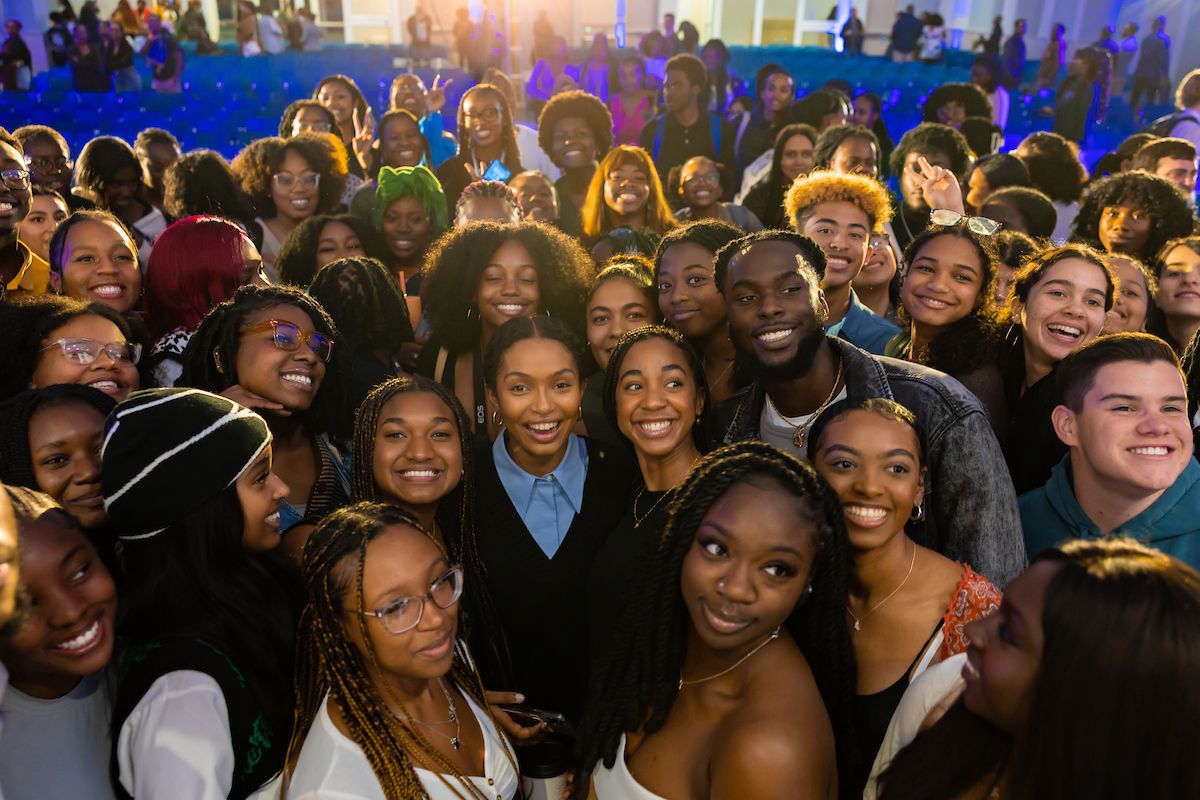 While those things are important, it's also critical to make space for things that are "a little less tangible," but "nonetheless so necessary to our growth," Shahidi said.
But whether it's for achievements you can quantify or a night spent with friends, one thing every student must learn is time management.
"How do you protect your time, your mind, your privacy and yourself from a wide variety of impacts that one might experience on a daily basis?" Dent asked.
Shahidi was honest: She's still figuring it out.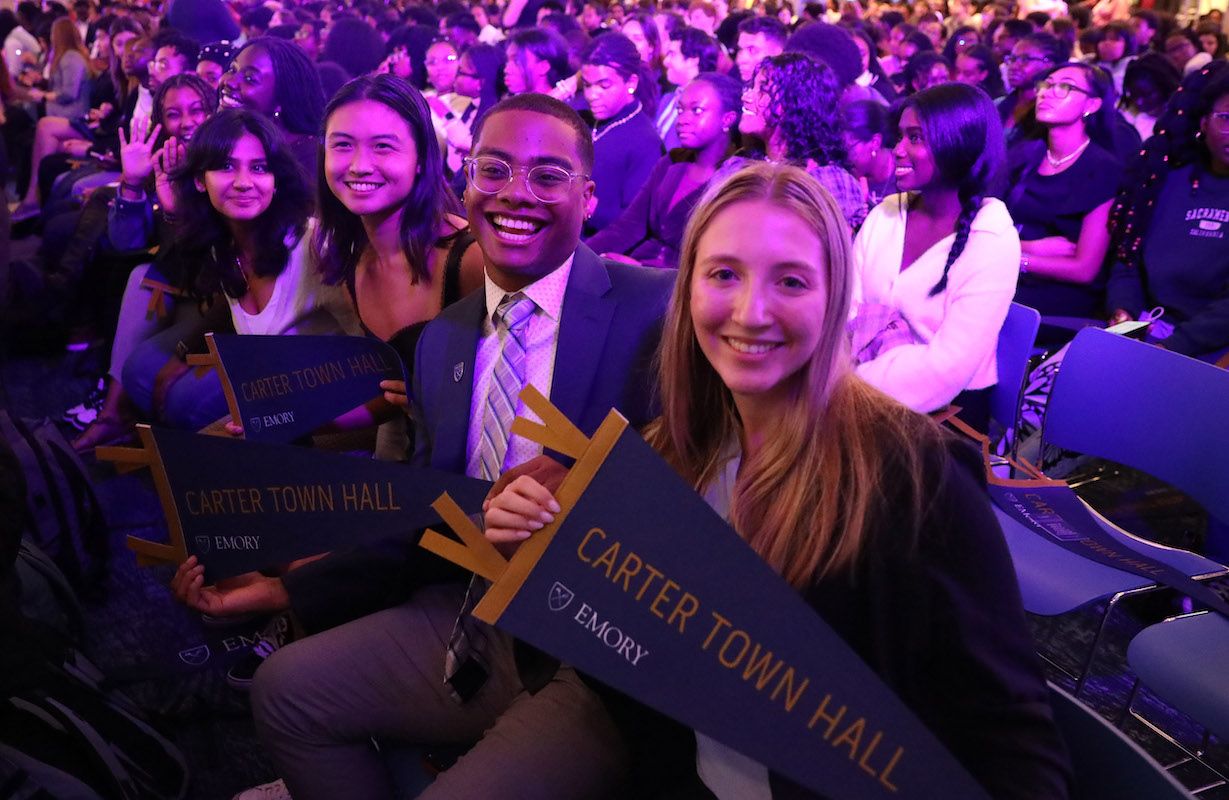 "I made many a time-management mistake, like thinking that drinking three lattes before I got tired would mean that I'd never get tired," Shahidi confessed, to laughs from the audience. Spoiler: That plan didn't work, and she was instead jittery and awake for 36 hours.
For actual time management, Shahidi had to determine what each responsibility meant for her.
"Part of my journey has been figuring out how I give value to the many things that I juggle in my life," Shahidi said. "I would always get myself in a predicament by giving equal weight to everything I did. So that meant that the assignment that was worth three points was just as heavy as the sleep, just as heavy as another commitment, just as heavy as my work. So everything felt like it was high stakes.
"I can't say I've perfected it but what's really helped is actually being able to take a step back and at the largest level say, 'Okay, who am I trying to be in the next couple of months? The next year?'"
Using curiosity to build stronger communities
The conversation also transitioned to the work Shahidi did with Harvard and the Legacy of Slavery project during her undergraduate tenure. The project, announced in 2019, is an effort to "understand and address the enduring legacy of slavery" within the Harvard University community, according to the project's website.
Dent drew the connection to Emory University's own Twin Memorials project, which is working to honor the enslaved individuals who are part of the university's history. That project is currently in the design phase.
Shahidi credits professors and mentors for bringing her into the project.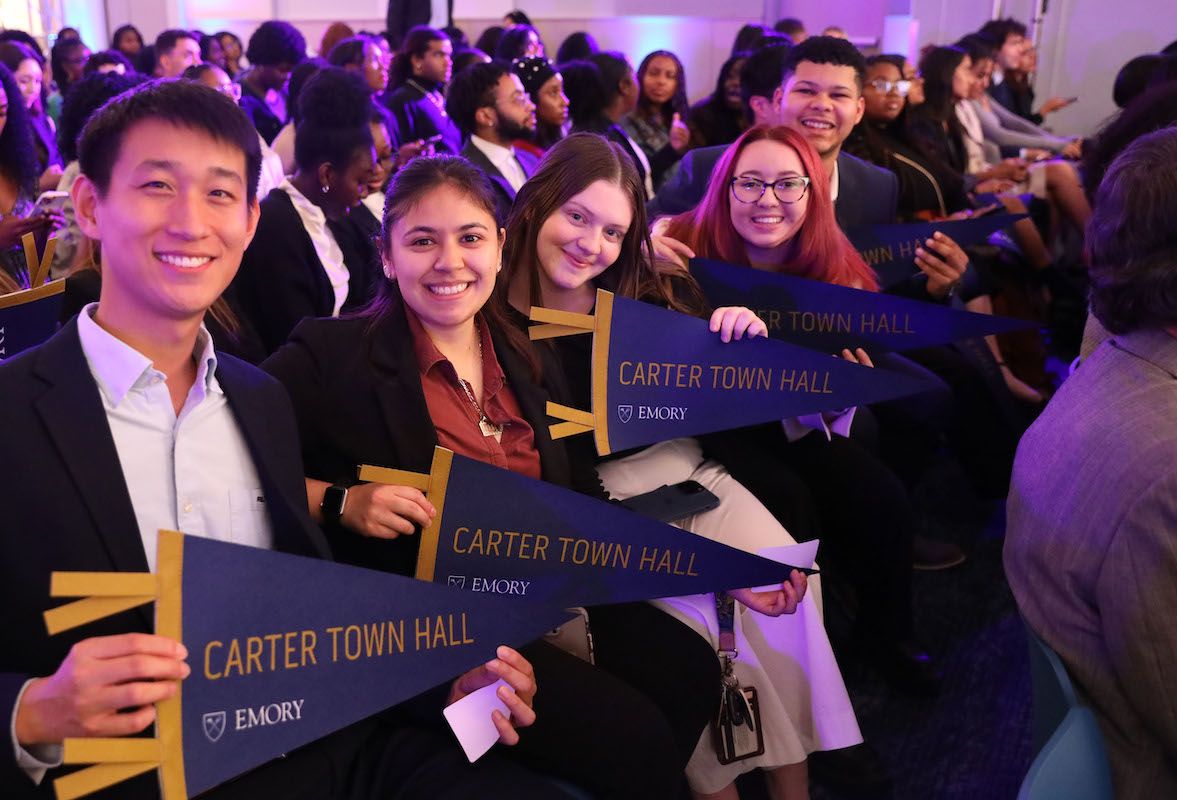 "It was really important, especially coming in as a Black student," Shahidi said. "There's this kind of unspoken history that we walk into, that other students don't walk in with, in regards to how our communities and our peoples have related to this campus prior to us. We're not stepping on as legacy students. That's not the legacy we're carrying."
Shahidi referenced James Baldwin's quote about the shock of discovering that "the flag to which you have pledged allegiance, along with everybody else, has not pledged allegiance to you," and continued to discuss the importance of institutions reckoning with their histories — and sharing those conversations and histories widely.
"President Carter often talks about the importance of human rights, the importance of human beings being seen and treated equally. This idea of caring for each other, caring for humanity and our collective responsibility to really care for each other," Dent said, asking Shahidi how she views beloved community.
Shahidi replied that being half-Black and half-Iranian meant she had family everywhere growing up and, thus, cared about what was happening in many different areas. But she credits her parents for fostering a deep sense of curiosity about the world, which expanded her capacity to care.
"Every moment in history is a work of collective effort. My love of history really helped me when I moved into the work of social engagements because one hopeful thing that I hold on to, even in the darkest of times, is the fact that all of us being present is nothing short of a miracle," Shahidi said. "We're the manifestation of centuries of work of people that didn't even know they were working for us to be here."
Seeking advice from a peer
Student attendees submitted hundreds of questions online, which helped shape the conversation between Dent and Shahidi as well as the three questions presented by student government leaders.
Below are the questions and excerpts from her answers.
Khegan Meyers, president of the Student Government Association: "Who are the most important mentors in your life and why?"
Shahidi: "I have to start with my family. I come from a family of educators, and I grew up in such a wonderful environment where I got to be curious. … There's a thread through a lot of people that I look up to: I think when people are deeply optimistic in the face of knowing just how flawed our world is, that always gives me a lot of hope."
Neeti Patel, president of the Graduate Student Government Association: "What was it like breaking into the arts space as a woman of color? And, if you're comfortable, do you have a story of any specific challenges you've had to overcome?"
Shahidi: "I think what I loved about the art space is that all of our communities have contributed to art. And in so many ways, I was able to find — and continue to find — so many sources of inspiration and community within the arts. So many artists and people that work in the industry are excited about ushering in the next generation. … In many ways, art has been my home. At the same time, there are always kind of double standards and challenges and how I move as a Black woman in the world. I think about 'Black-ish,' … it's interesting, when you look at shows that were on our network at similar times, the way we didn't qualify for awards, despite our demographic, despite the fact that there was obviously this cultural impact. I think it speaks to the general double standard that we saw and how art is received. … One thing we see a lot when we pitch shows that have a Black and brown cast is that we have to explain why it matters, what we're watching, why the stakes are so high, and we're not just allowed to have characters that exist in the world that are dealing with interpersonal problems, is something that we've constantly had to challenge and come up against."
Toluwanimi Olaleye, president of the Oxford College Student Government Association, and Neha Murthy, Emory College Council President: "What would you tell your 16-year-old self?"
Shahidi: "A journey that I'm still on, but I feel like I've in grown a lot, is my search for external validation. … Even what made me love school is that people were telling me I was doing objectively good or well at something. And I realized in my life that I've always found different versions to replace that kind of validation. I would tell 16-year-old Yara, as cliché as it sounds, the importance of being content with myself. … I'd tell myself to continue to value the journey of self-exploration and self-satisfaction. It's easier said than done, but it truly is going back to the beginning of this conversation and realizing that what is quantifiable about us is not what's important about us."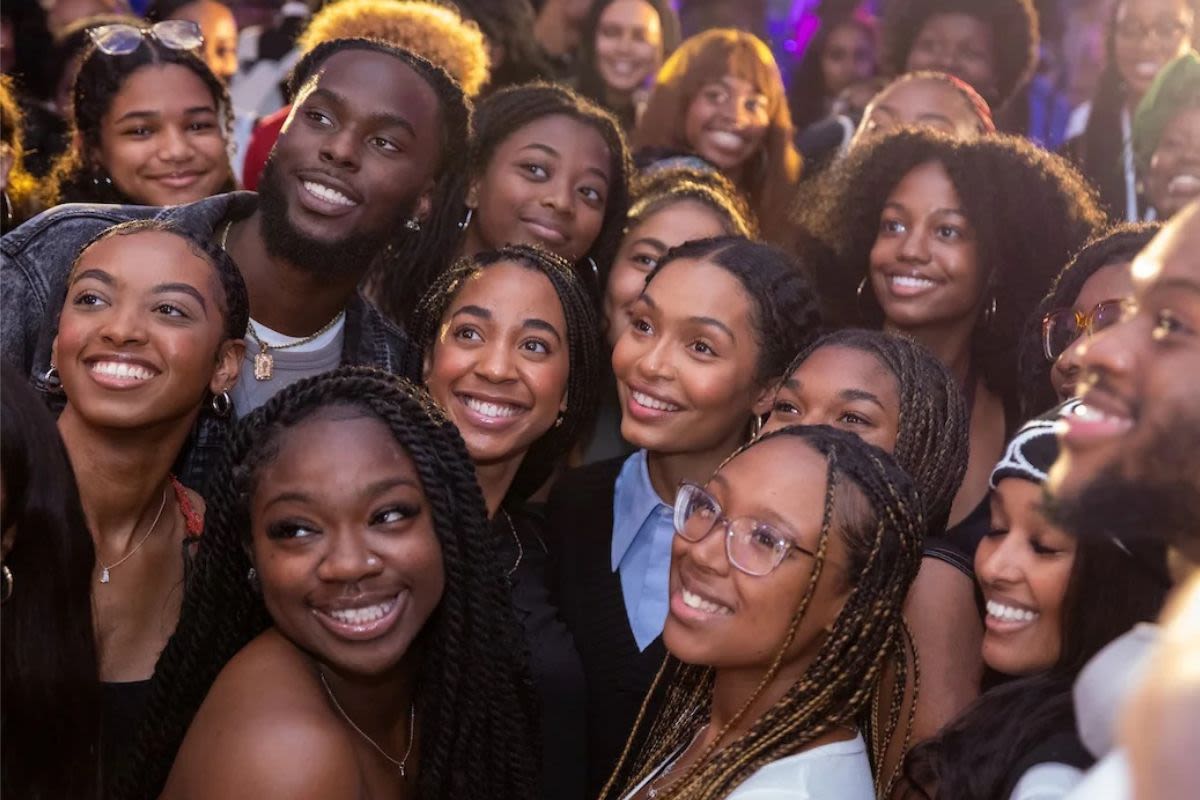 After the event concluded, students stuck around in hopes of snapping a photo with Shahidi, soaking in her wisdom and talking about the program among themselves.
Grace Tierney, from Edmond, Oklahoma, and Hans Khoe, from Los Angeles, are both second-year masters of public health students in the Rollins School of Public Health. Tierney had heard Shahidi speak to students via Zoom several years ago and was inspired.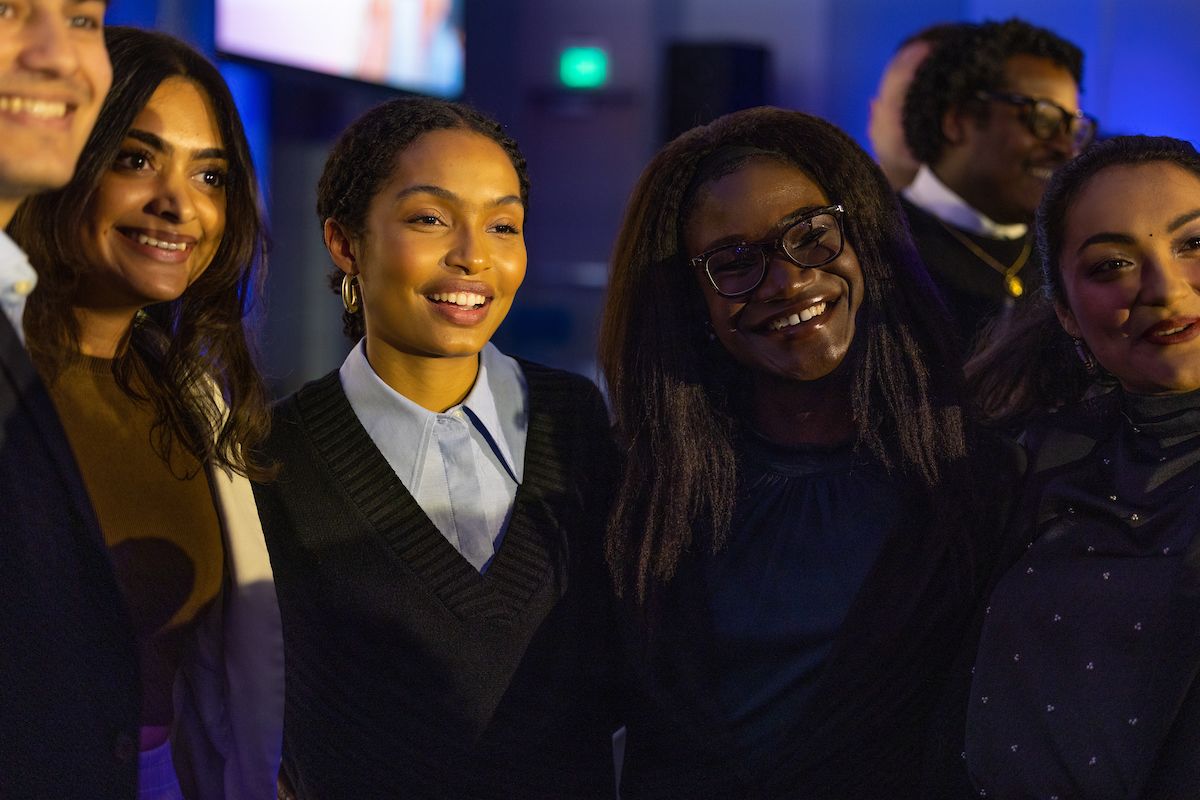 "Hearing Shahidi during my time in undergrad really pulled me into the policy space, what she had to say about including others and her drive to include the community," Tierney said.
For Khoe, the time management aspects stood out. "Her latte story, especially," he laughed. "I can relate to that."
Kayla Ferjuste, a first-year student from Norwalk, Connecticut, is part of Emory's Black Student Alliance and learned about the event — and the storied history of the Carter Town Hall — through that organization. "I knew it would be a great space to be in, especially with someone so young, so close to my age that I can really relate to," she said.
Olaleye is from Philadelphia, and is a second-year majoring in psychology, minoring in ethics, on the pre-med track. She was most excited to hear about Shahidi's personal experiences — especially when it came to college.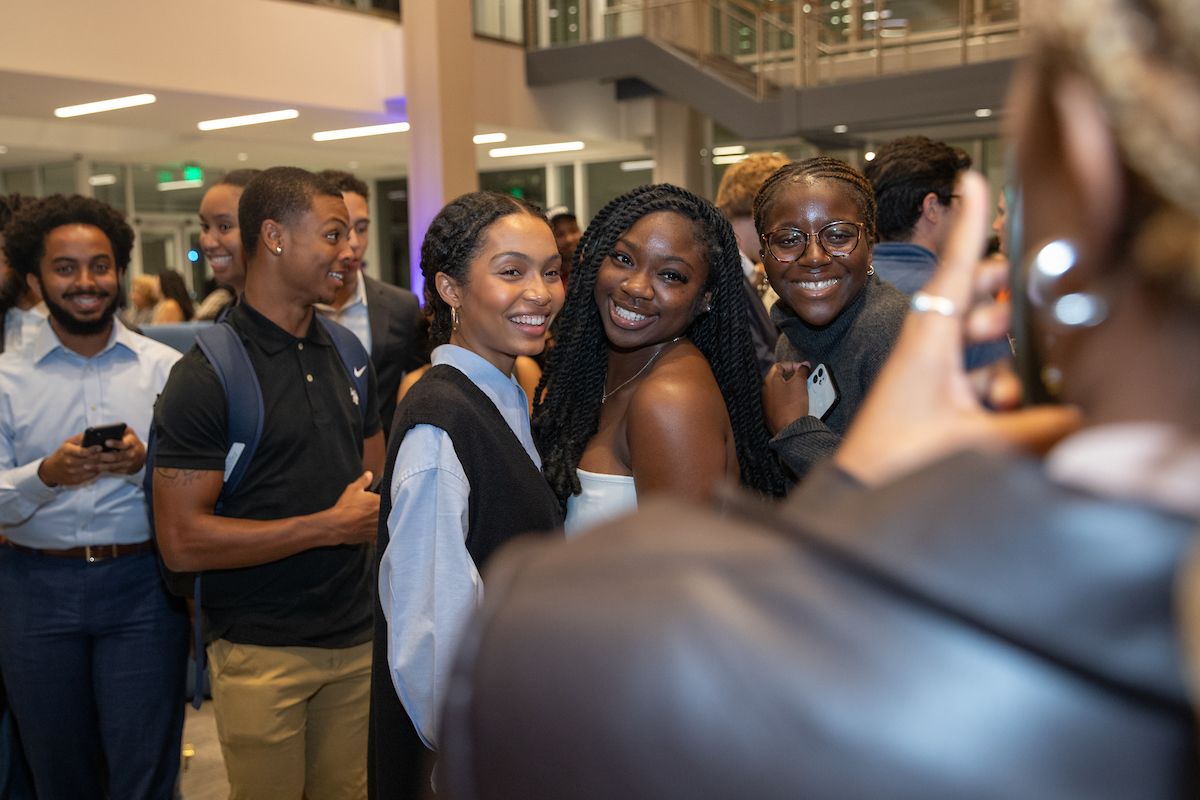 "Yara said a lot of inspiring things, but personally, it's the concept of finding time for yourself, even as we grow up," Olaleye said. "She mentioned that, as college students, we focus on grades and numbers. But looking at things we care about outside of that, it's important to align our values into those, too."
And how did it feel to ask Shahidi a question?
"I was nervous!" Olaleye said. "But she was so sweet, and I loved her response to the question."
Not only was Shahidi candid and relatable, but she left students with actionable steps, like finding the intersection of their passion and skill set, looking for the most specific way to impact their community, rather than the largest; and tapping into self-compassion along the way.
"I oftentimes speak of this concept of indebted gratitude," she said. "We're kind of born with this debt to carry on in that work and to make a pathway forward for the people that are going to come after us."

About this story: Text by Michelle Ricker. Design by Ruby Katz. Photos by Sarah Woods (Emory Photo/Video), Jenni Girtman and student Victor Zhou. Video by Corey Broman-Fulks and Damon Meharg.
To learn more, please visit: