A DIALOGUE BETWEEN PRESIDENTS
Emory's Gregory L. Fenves and Georgia Tech's Ángel Cabrera discuss the close partnerships and shared missions between their top-ranked research universities.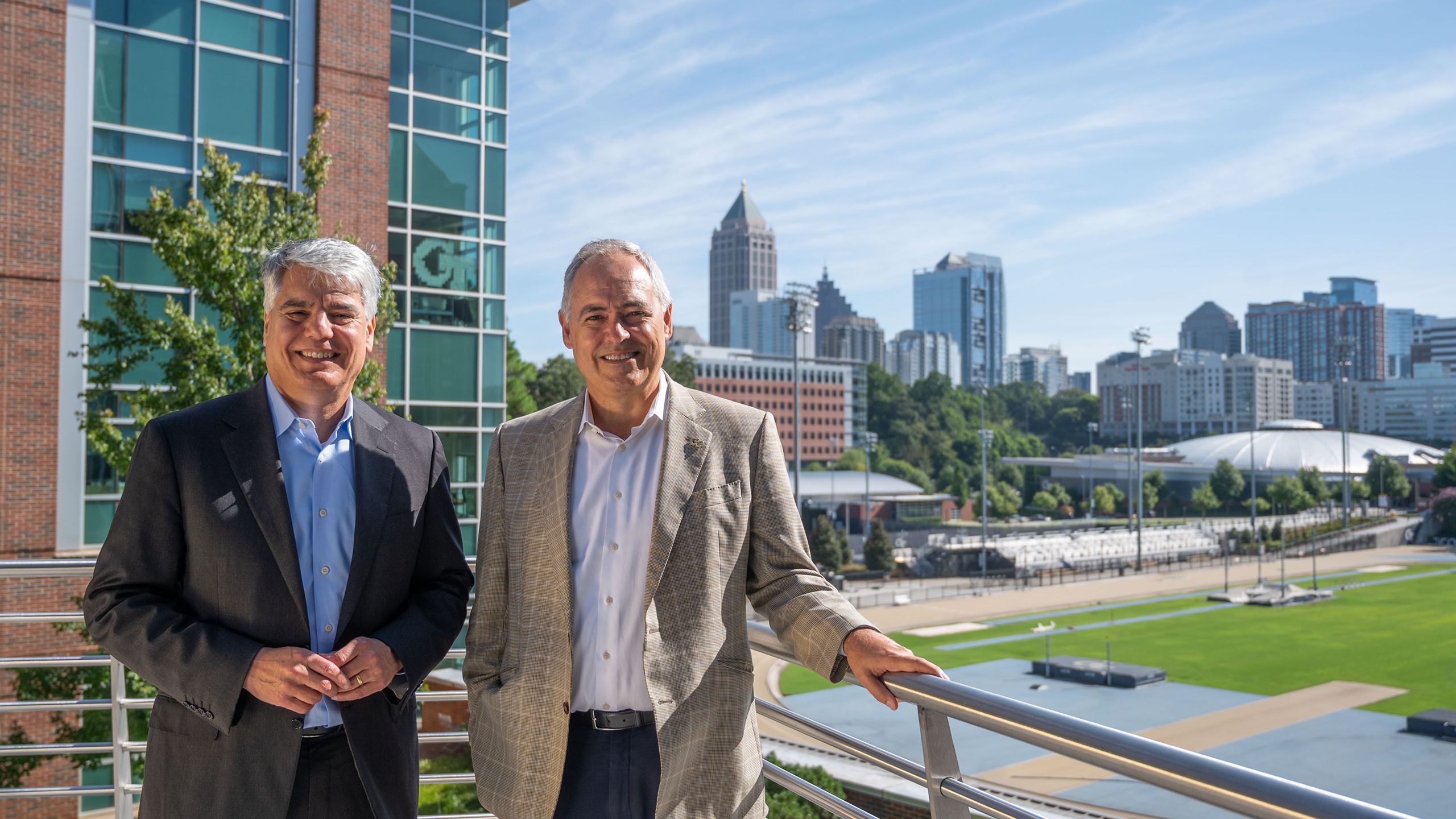 Georgia Tech President Ángel Cabrera recently invited Emory University President Gregory L. Fenves to talk about the collaborative relationship between the two premier universities and their shared commitment to serving Atlanta, the state of Georgia and the world. They recorded this discussion for the latest installment of the video series Conversations with Cabrera at Georgia Tech's BioTech Quad outside on a beautiful day in September, with the skyline of the Midtown as a backdrop to their wide-ranging discussion.
Here's a transcript of the discussion between President Cabrera and President Fenves (edited slightly for clarity):
PRESIDENT ÁNGEL CABRERA: Well, hello and welcome to the next episode of Conversations with Cabrera. It's a terrific pleasure to have my dear colleague across town President Greg Fenves of Emory University, one of the most important academic partners of Georgia Tech. At about this time last year he started his tenure as [Emory's] president, [as] I did two years ago [here at Georgia Tech]. So it's good timing to have a chat to know what's happening at Emory University, but also to discuss the past, the present, and the future of our partnership.
So, anyway, thank you, Greg, for spending some time with me. And if that's OK, I'm curious to hear a little bit about your journey coming to Emory and — why Emory? — what attracted you to become the new president of this great university?
PRESIDENT GREGORY L. FENVES: First of all, Angel, thank you for the invitation. It's wonderful to be on the Georgia Tech campus on this beautiful day in September. And so if you ask what was my journey here [to Emory], well, I've been in higher education for quite a while. After I graduated with my PhD, I went right to becoming a professor in engineering. I was a professor at the University of California, Berkeley, for a little over 20 years. In 2008, I decided to move to the University of Texas at Austin. We had a 12-year career there, first as dean of engineering and then five years as president.
CABRERA: If you look at the institutions you've been part of in different capacities what makes Emory unique and different from the others?
FENVES: To see in one university, an outstanding arts and sciences [focus], that at its core is a liberal arts university. To see professional schools — business and law and medicine — so close together. And then to be integrated with a health care system. It's a very unique university in American higher education right now. But the other thing that attracted my wife, Carmel, and me was Atlanta. We were really looking forward to being in a large vibrant diverse city, and we've just so much enjoyed discovering Atlanta and learning about how important institutions like Emory and Georgia Tech are so central to the city of Atlanta and the metro Atlanta region.
CABRERA: We have a long history — Emory and Georgia Tech — but it's been in the last two decades where really the partnership has become a lot stronger. Let's start with our shared Library [Service Center]. You and I got to tour [it] a couple of months ago. I know both of us were quite impressed by that facility and the technology and the logistics involved in it. Why is that partnership important?
FENVES: We need a way to maintain our archives, but not on central campus. And every university is dealing with this. But not every university has partners like we have. Georgia Tech and Emory have created a purpose-driven central library that we can have our history stored and accessible on 24 hour or less notice, so it's very convenient to use.
CABRERA: Another partnership that we have we have, TI:GER Program where law school students from Emory and business school students and folks with more technical background come together to think of new ventures and why is that important in the modern research university, but also in a city like Atlanta.
FENVES: Well, I think there are a couple important reasons and this is something I spend a lot of time and focus on in my career. That if we think about the ways that information is disseminated, how do we have an impact on society? There's a scholarship aspect that's crucially important. But in many areas in sciences, in engineering and technology and medicine, there are other ways to have an impact. And that is through the marketplace, through the commercial sector. So we do that through education, teaching our students to think entrepreneurially.
But then there's how do you move from the idea, the experiment, the prototype, and assess what are the market opportunities that that innovation can truly solve somebody's problem? And that's what Georgia Tech has been working on. That's what Emory has been working on, especially in the biomedical and health care sector. And then the third reason is we [the universities] are engines of economic development for the cities that we're located [in]. And if you look at the thriving cities in the country or in fact around the world, at the core of them they have research universities. And I use the plural, because the cluster of research universities is really important. If we're going to give back to society in Atlanta, the metro region, the state of Georgia, Southeast region, we are part of the engine that's going to drive that economic development, that economic growth, that opportunity making it more equal and accessible. And universities have to be part of that conversation.
CABRERA: One pretty amazing way in which this cluster effect manifested itself was by this one-of-a-kind partnership in biomedical engineering [the Wallace H. Coulter Department of Biomedical Engineering], a program that that predates us, that goes back to the late [19]90s. Honestly coming in as a new president, I've been amazed of how successful that partnership has been. Really people ask me "How was this possible — a private university and a public university bringing their assets together and creating a program in biomedical engineering that now, according to some rankings, is really in the top two top, three programs in the country?"
FENVES: It is amazing how well it works, and it is a credit to our predecessors from the [19]90s that got that program started, enabled it to continue and grow to where it is today. I know we are both committed to that continued success of the joint department. So, what makes it work? I think it's that we have complementary universities. With Georgia Tech, the expertise in engineering, the expertise in chemical engineering, electrical engineering, mechanical engineering — where the field of biomedical engineering grew out of — you have tremendously strong depth there. But biomedical engineering has bio in front of it. It has medical in it. And to be truly an innovative biomedical engineering department, the medicine part is really important. And with Emory's School of Medicine, which is just an incredible place of research and clinical care and translational research, bringing that capability together with the engineering expertise I think has provided this such unique combination. And so I think that is the key ingredient, the secret to its success.
CABRERA: Greg, as you look at the opportunity in the city that we share, that we call home, what's the most exciting part of what you see in the next five, 10 years happening in the city?
FENVES: Well, one is [something we] already touched upon, is how do we build the entrepreneurship entrepreneurial ecosystem within Atlanta? To also deal with equity and inequality and how we address that through economic opportunity, economic growth? I think that is a future for the city of Atlanta, future for our region, but also an important future for our country. We can be a model to show how that is done. The other thing that's very important for any city, but also Atlanta, is educational opportunity for young people. [K-12] schools are so essential to our future. They're gonna be our students in a decade or two. They're going to be the workforce. They're going to be the leaders of the city. And I think it's important for leading institutions in the city to work with local leaders, work with communities about how we can prepare the next generation. Educate them so that they can be happy, be successful, and can be contributors to their communities.
CABRERA: When I spend time with the new companies that are choosing to move to Atlanta — by the way I even see Google's new tower right there and Microsoft not far from here — and I ask them "What is it that that you like about Atlanta, that is bringing you to Atlanta?" They highlight the same things. The density of, again, research universities, high quality universities. The diversity of our universities and the diversity of the talent available in Atlanta. So I'm delighted to know how committed you are to increasing opportunity, to expanding access, to strengthening that ecosystem of inclusive entrepreneurship in our city.
Greg, it's been a pleasure to have you. I love to have you as a partner. And here's to many more collaborations between our institutions.
FENVES: Well, Ángel, you're a great partner for Emory University and a great citizen of Atlanta, so I look forward to continuing and strengthening the collaborations between Emory and Georgia Tech.