Remembering John Lewis
Emory mourns the loss of a dear friend and fierce inspiration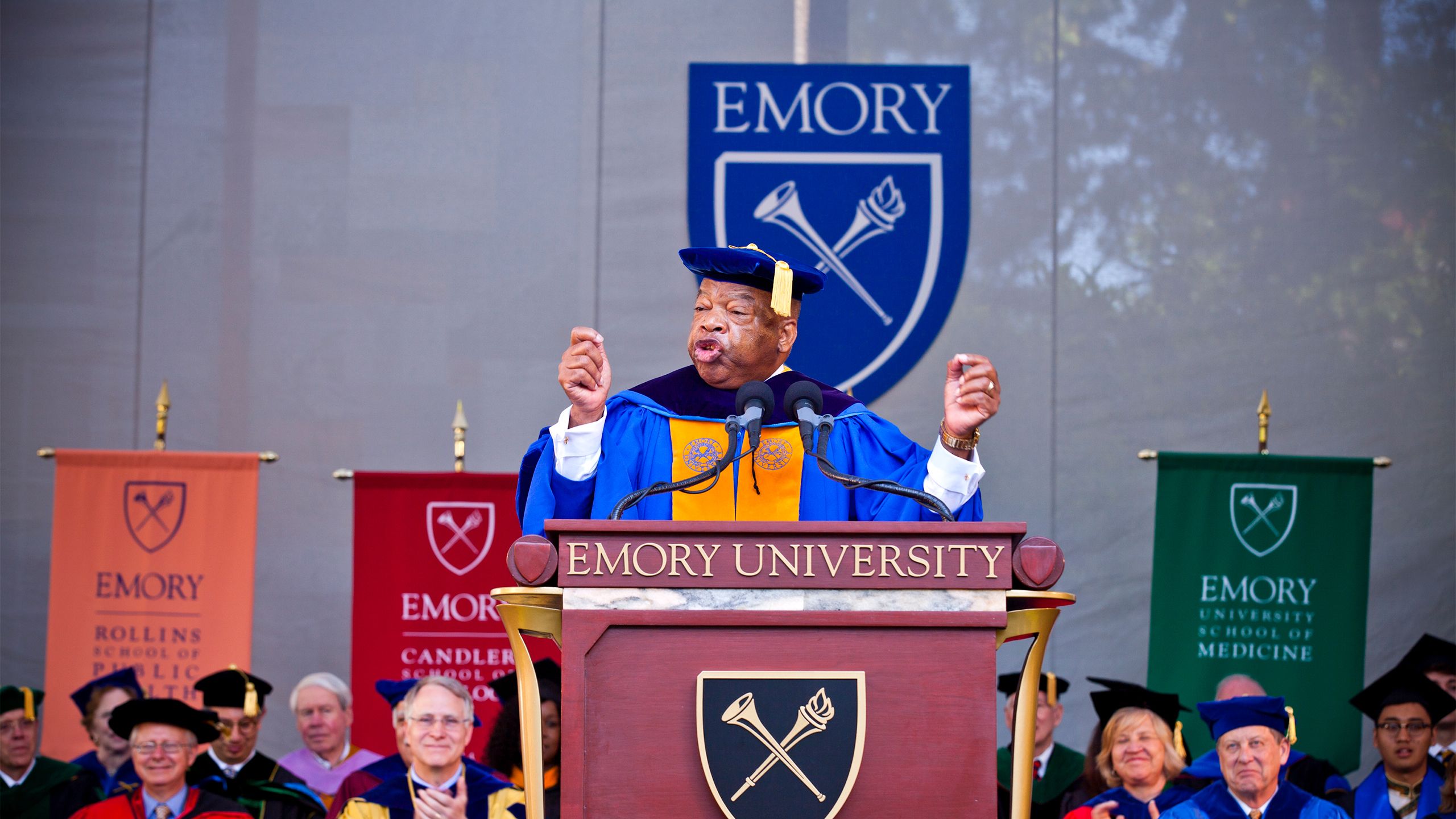 U.S. Rep. John Lewis gives the keynote speech at Emory's 169th Commencement.
U.S. Rep. John Lewis gives the keynote speech at Emory's 169th Commencement.
---
Update: July 27, 2020
John Lewis' message to Emory grads rings out in Capitol Rotunda
As congressional leaders gathered in the Capitol Rotunda on Monday to honor U.S. Rep. John Lewis, House Speaker Nancy Pelosi took the podium to praise "a titan of the Civil Rights Movement" who became "the conscience of the Congress."
Standing before Lewis' flag-draped coffin, Pelosi concluded her remarks by noting how he traveled the country to share his "message of action" with young audiences, then yielded the floor for the final time to "our beloved colleague, the distinguished gentleman from Georgia, Congressman John Lewis."
Lewis' 2014 Emory University Commencement address then rang out through the Rotunda, drawing nods, tears and applause from attendees.
---
Emory University lost one of its dearest friends and fiercest inspirations with the passing of civil rights luminary and longtime U.S. Rep. John Lewis on Friday, July 17, following a months-long fight with stage 4 pancreatic cancer.
Through his role representing Georgia's 5th Congressional District, which includes Emory's Atlanta campus, and his lifelong efforts fighting for equality and voting rights, Lewis forged strong connections with university students, faculty, staff and alumni throughout his decades of public service.
"We are deeply saddened by the passing of Congressman John Lewis," said Emory President Claire E. Sterk and President-elect Gregory L. Fenves in a statement shortly following Lewis's death. "His extraordinary life inspired us all.
"Rep. Lewis' moral clarity, dedication to protecting human rights, and securing civil liberties for African Americans earned him widespread respect and admiration in Atlanta, Georgia, our nation and around the world. Rep. Lewis embodied Emory's mission to serve humanity and it was always an honor and a privilege to have him on campus."
In 2014, Lewis served as the keynote speaker for Emory University's 169th Commencement, where he was bestowed an honorary doctor of laws degree for his contributions and friendship to Emory. He also addressed the Emory School of Law Commencement ceremony the same year and was the 2019 Commencement speaker for Emory's Oxford College.
In addition, Lewis served as a frequent guest lecturer at Emory's colleges and schools over the years, and in 2015, the university established the John Lewis Chair in Civil Rights and Social Justice in Emory Law with a $1.5 million gift from an anonymous donor.
Addressing more than 15,000 graduates and visitors gathered on the Emory Quad for the 2014 university-wide ceremony, Lewis recalled how, as a Black child growing up in segregated Alabama, he questioned "Colored Only" and "Whites Only" signs and was told by his parents and grandparents, "That's the way it is. Don't get in the way, don't make trouble."
Later, when as a young man Lewis would meet Rosa Parks and Dr. Martin Luther King, Jr., they "inspired me to get in the way, to get into trouble," he said, advising graduates: "You must find a way to get in the way, you must find a way to get into trouble—good trouble, necessary trouble."
"To the very end, Rep. Lewis was a towering figure for social justice," Sterk and Fenves said, noting that he died the same day as fellow civil rights leader Rev. Cordy Tindell "C.T" Vivian, whose papers are housed at Emory. "These two icons fought for equality and human rights and challenged racial injustice — struggles that remain relevant today.…
"Emory joins Atlanta and the rest of the country in mourning the loss of a remarkable leader and friend. While he is no longer with us, we will continue the university's work to live by his example."
"You must find a way to get in the way, you must find a way to get into trouble: good trouble, necessary trouble."
U.S. Rep. John Lewis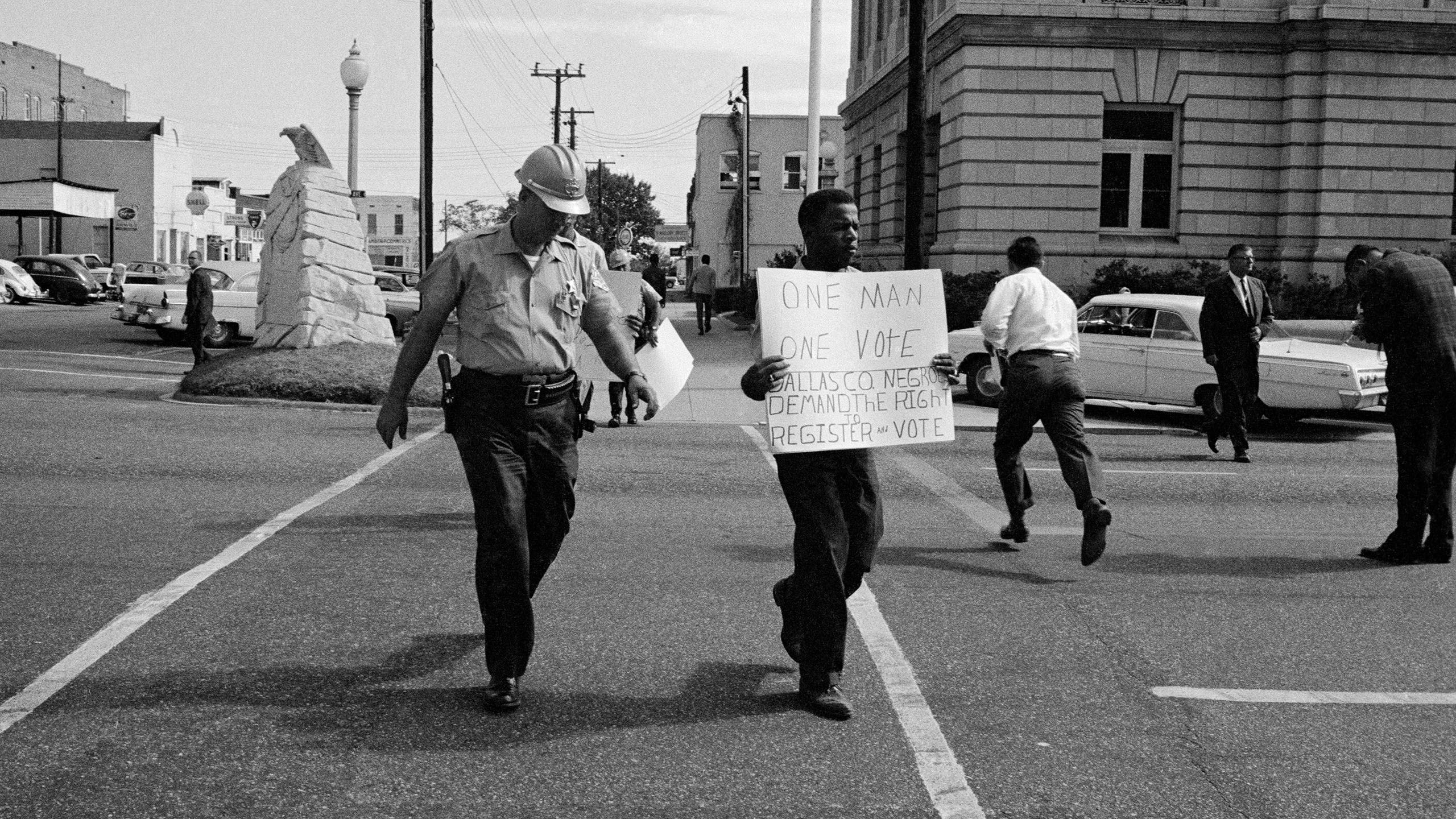 Getting into "good trouble"
John Robert Lewis was born on February 21, 1940, outside of Troy, Alabama, the son of sharecroppers. He was inspired to activism after listening to King's radio sermons and would practice his own sermons on the chickens he tended on his family's farm. He graduated from American Baptist Theological Seminary and held a BA in religion and philosophy from Fisk University.
He began getting into "good trouble" at an early age — a message that Emory students and other young people should take to heart, notes Carol Henderson, Emory's chief diversity officer and vice provost for diversity and inclusion.
Lewis was a teen when he wrote a letter to King and received a bus ticket from King to travel to Montgomery, Ala., to meet him. He was a student when he began leading demonstrations against segregation. At 23, Lewis was the youngest speaker at the historic 1963 March on Washington, which he helped organize. At 25, he sustained a skull fracture when he was beaten by police as he helped lead a march for voting rights across the Edmund Pettus Bridge in Selma, Alabama, on what would come to be known as "Bloody Sunday."
"He was young when he became a change agent — it wasn't like he waited until he was 50 or 70," Henderson says. "He and Rev. C.T. Vivian did that work at a young age. That tells me how we have to continue to make room at the table for our students to make change and we have to collaborate with them."
From leading protests to his decades of service in Congress, Lewis worked tirelessly throughout his life to ensure that the United States lived up to its founding ideals, with a humility and grace that belied his public stature.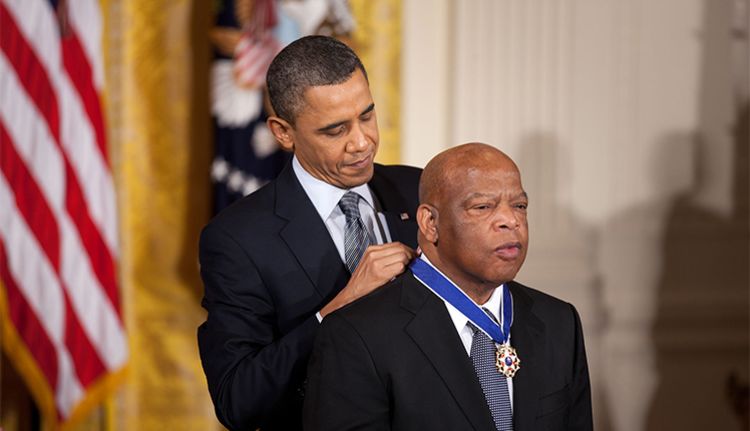 He received numerous honors and awards including the Medal of Freedom, the country's highest civilian honor; the NAACP's Spingarn Medal; and the John F. Kennedy Profile in Courage Award for lifetime achievement. Later in life, he co-authored the best-selling graphic novel series "MARCH," based on his life as a human and civil rights activist. Book three of the trilogy received the National Book Award for Young People's Literature, the first graphic novel to earn this honor. Lewis co-wrote a well-received autobiography as well, "Walking with the Wind: A Memoir of the Movement."
"The question is not who will fill his space, as he was one of a kind," Henderson says. "The question is who is going to carry on his legacy of change? Who is going to get into good trouble? Who is going to be the person who will hold us accountable for living out our ideals and making sure we are inclusive, equitable and that we appreciate and value diversity in all of its forms?
"That is what John Lewis would have wanted, and his life will be a model and something for us to reflect on when we need to find strength."
"He was the conscience of Capitol Hill. He was the soul of America."
Emory professor Robert M. Franklin Jr.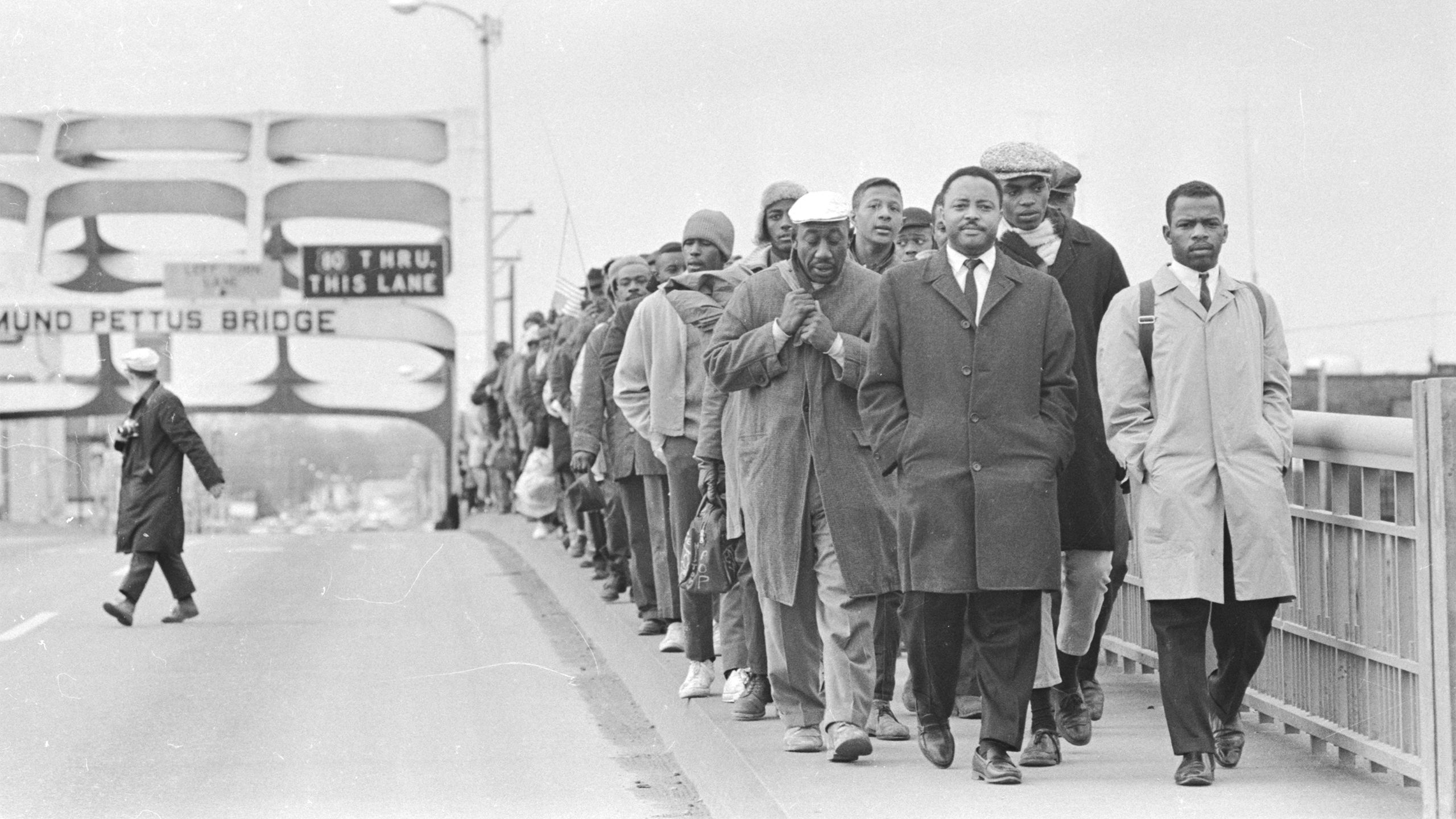 A leader and friend in Congress
In 1981, Lewis was elected to the Atlanta City Council. In 1986, he was elected to the U.S. House of Representatives from Georgia's 5th District, a seat he would hold until his death. He served as senior chief deputy whip for the Democratic Party in leadership in the House, a member of the House Ways & Means Committee and chair of its Subcommittee on Oversight.
Lewis was both a "patriot" and an "eternal activist," says Robert M. Franklin Jr., James T. and Berta R. Laney Professor in Moral Leadership in Emory's Candler School of Theology.
"He was the conscience of Capitol Hill. He was the soul of America. He was the voice of goodness, and common sense," Franklin says. "He was our representative and our neighbor."
He was also a staunch ally and advocate for Emory in Congress.
In the nearly 35 years he represented the 5th District, "Congressman Lewis was a great supporter of Emory's work on a broad range of issues such as HIV/AIDS, maternal health, dating violence and social justice, to name a few," says Cameron Taylor, Emory vice president for governmental affairs. "He and his staff have historically, and repeatedly, called on Emory to advise and provide expertise. He was proud of our work."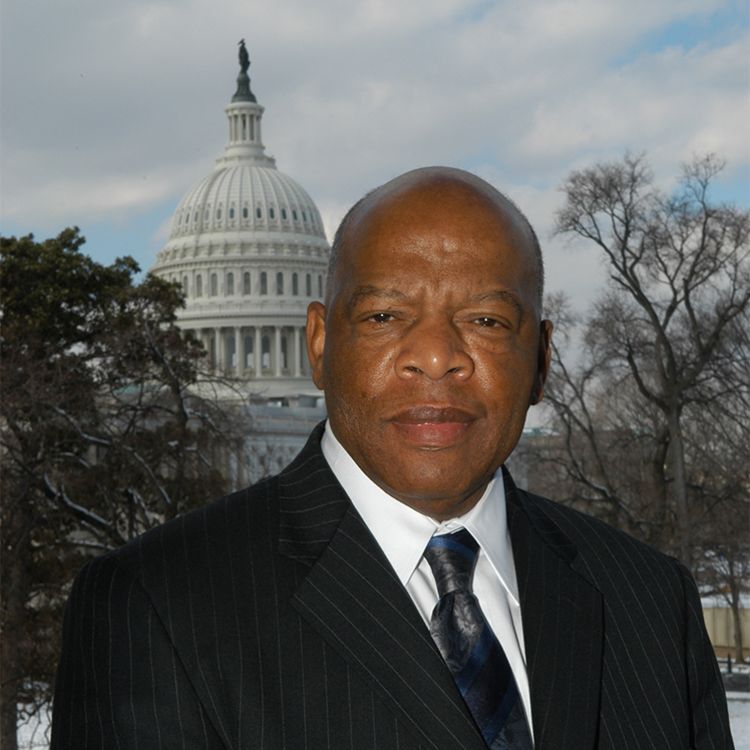 Lewis helped secure initial funding for the feasibility study for the Clifton Corridor Transit Initiative in 2004 and continued to champion those efforts. The Tax Cuts Job Act, signed into law in late 2018, includes tax provisions that negatively impact private higher education institutions such as Emory. Lewis argued strenuously against these provisions and then worked closely with Emory to overturn a provision that would have impacted parking and transit pass employee benefits.
More broadly, he worked with Emory on efforts to improve access to health care, funding for public health and biomedical research, and many other issues.
"His personal integrity combined with a commitment to public service earned him a reputation for his willingness to work across the political spectrum for the benefit of all Georgians," Taylor says. "Further, the gravitas he brought to Congress, born of the leadership and moral courage he demonstrated in the Civil Rights Movement, enabled him to influence important conversations and inspire others to join him in pursuing solutions to difficult problems. Finally, on a personal level, he was a gracious and generous individual, who conducted himself exactly how he advocated. He endeavored to make everyone in his presence feel welcome and special." 
"What will sustain his memory will be how we as a community choose to live out the lessons he taught by example."
Emory professor Andra Gillespie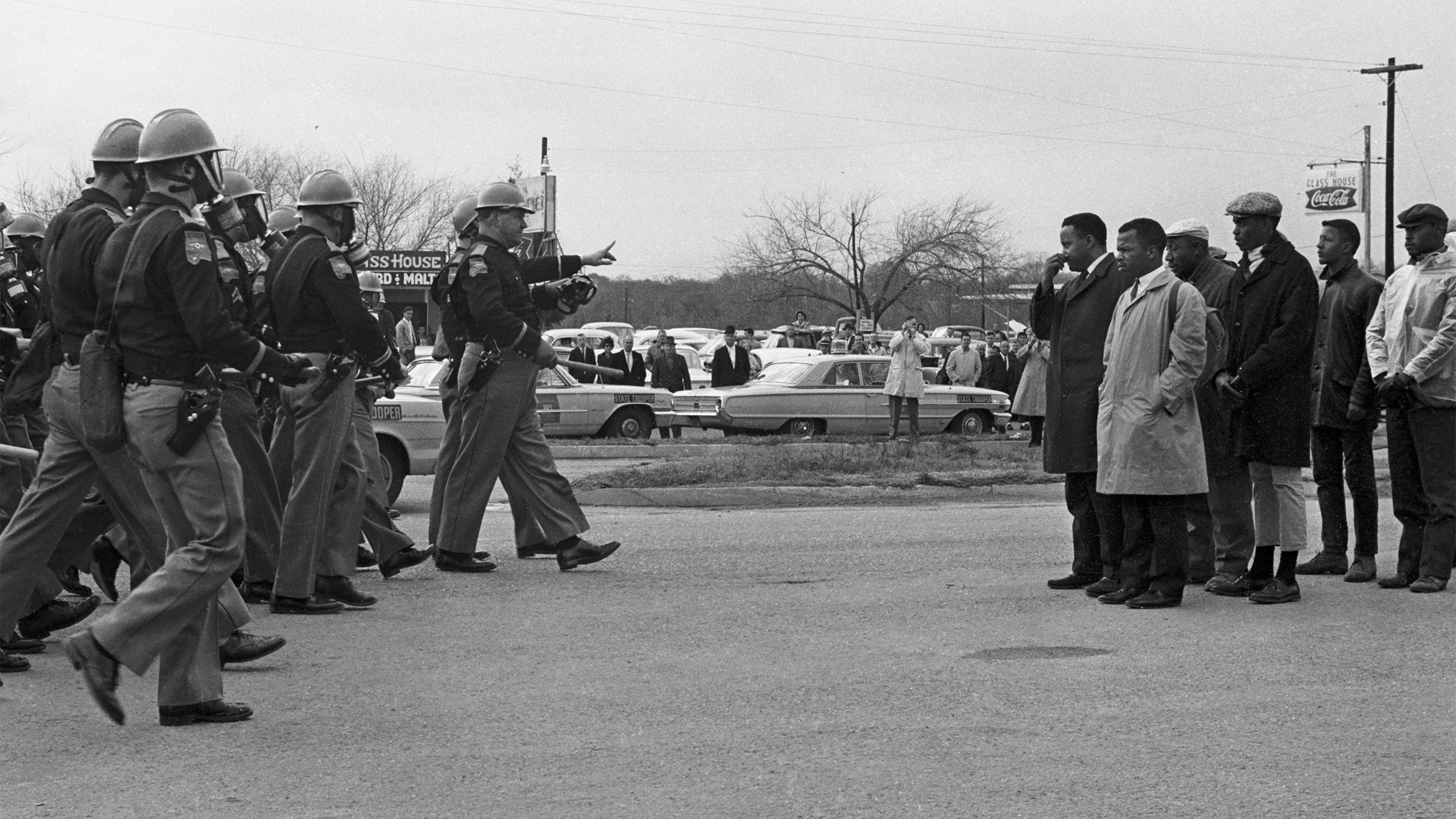 Carrying on Lewis' legacy at Emory and beyond
In 2015, Emory Law received an anonymous $1.5 million donation to help establish the John Lewis Chair in Civil Rights and Social Justice. The university then raised an additional $500,000 to fund the chair fully.
According to the anonymous donor, Lewis exemplified "the values of courage, commitment, dignity, humanity, fairness and equal opportunity that were and are the hallmarks of the movement," adding, "Atlanta holds an important place in the history of civil rights in the U.S. and John Lewis is a central figure in that history; we hope that a professorship at Emory Law School in his name will in some small way help to continue the good and great work that he has done these last 50 years."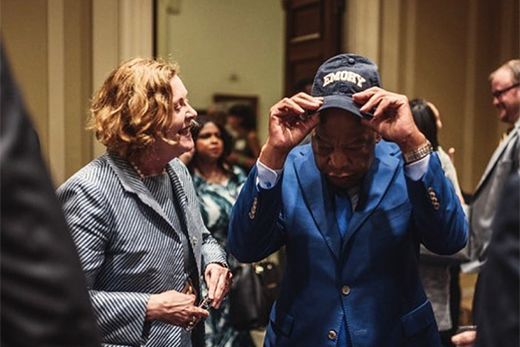 In 2019, Lewis attended an Emory Reception on Capitol Hill; he left the room wearing an Emory baseball cap. In 2017, he spoke at an event for the law school's centennial celebration held at the National Museum of African American History and Culture in Washington in front of an audience of alumni and special guests. And in 2009 on Capitol Hill, he gave welcoming remarks to an audience of 250 Emory alumni and friends who were the first to publicly view the university's renowned transatlantic slave trade database, Slave Voyages.
Emory Law associate professor Fred Smith Jr. is leading a national search to fill the new John Lewis Chair. That faculty member should be in place by fall 2021, says Emory Law Dean Mary Anne Bobinski.
"The  John Lewis Chair for Civil Rights and Social Justice will be a lasting tribute to the legacy of Congressman Lewis, establishing Emory Law as a leader in teaching, research and community engagement related to civil rights and social justice," Bobinski says.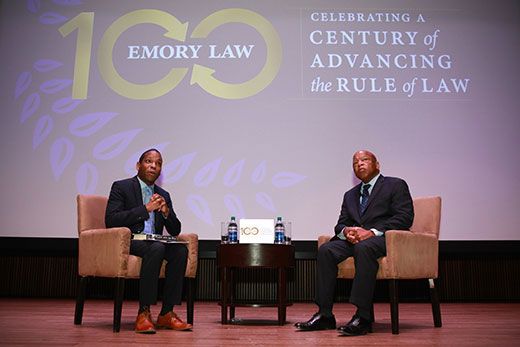 While Emory and Atlanta feel Lewis' loss acutely "because we had the privilege of interacting with him personally, what will sustain his memory will be how we as a community choose to live out the lessons he taught by example," says Andra Gillespie, associate professor of political science and director of Emory's James Weldon Johnson Institute for the Study of Race and Difference.
As this summer's ongoing protests for racial justice show, a new generation of activists is already stepping forward, she notes.
"I find it particularly moving that Rep. Lewis' last public appearance was with D.C. Mayor Muriel Bowser at Black Lives Matter Plaza," Gillespie says. "The image was full of important symbolism: the veteran of the mid-20th century Civil Rights Movement standing with the Gen X mayor of the nation's capital at a spot where Millennial and Gen Z protesters continue the fight for full equality."
Documentary:
"John Lewis: Good Trouble"
Emory alumnus Ben Arnon 98C helped produce one of the summer's most-anticipated documentaries, a celebration of John Lewis' life and work.
"John Lewis: Good Trouble" was released July 3 by Magnolia Pictures.
"It means the world to us that Congressman Lewis was able to experience the release of the film and feel all of the love that people across the globe have shown for him," Arnon says. "It is the honor of a lifetime to be part of the producing team that created this film, which will become a rich, lasting legacy of a great American hero and icon.
"The film has been extremely well-received across the entire country and has helped to catalyze impactful conversations about leadership, racial equity and equality."
Read about the making of "John Lewis: Good Trouble" and how you can watch it now to learn more about Lewis' extraordinary accomplishments.
Emory has also partnered with the filmmakers to provide an exclusive opportunity for alumni, faculty, staff and friends to watch the film. For each $12 stream of the film purchased through Eventive, $5 will be donated to the John Lewis Chair in Civil Rights and Social Justice at Emory Law. As a bonus, you'll also have special access to watch a pre-recorded, post-viewing discussion between Rep. Lewis and Oprah Winfrey that makes a perfect follow-up to the documentary.
Learn more about this Emory offer at Eventive.
---
ABOUT THIS STORY: Written by Stacey Jones, Laura Douglas-Brown and Roger Slavens. All historical photos courtesy of Magnolia Pictures: photo with protest sign by Danny Lyon/Magnum Photos; photo on Edmund Pettus Bridge by Tom Lankford, Birmingham News; photo of protesters and police officers on Bloody Sunday by Spider Martin.