For Students of Emory University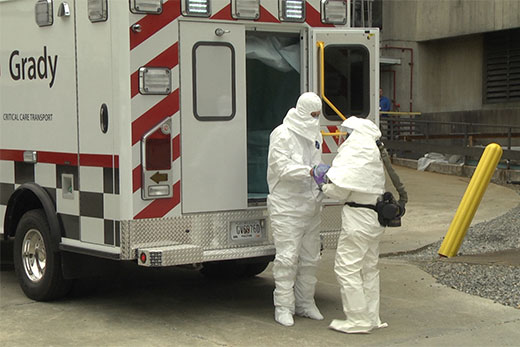 11 lessons learned from treating Ebola at Emory
When medical missionary Kent Brantly stepped from an ambulance and walked into Emory University Hospital on Aug. 2, 2014, he became the first Ebola patient treated in the U.S. With Ebola once again a global health emergency, find out how lessons Emory learned five years ago are transforming care for infectious diseases.
---
A look back: When Ebola came to Emory
In this special video, learn why Emory was willing to treat Ebola patients and how they were welcomed and cared for here. Plus, view resources including infographics, additional interviews with members of Emory's "Team Ebola" and more.
---
---
Hidden from sight: Eye care after Ebola
Emory ophthalmologists continue to learn about Ebola-related vision issues and even traveled to examine survivors in the Democratic Republic of Congo during the current outbreak.
---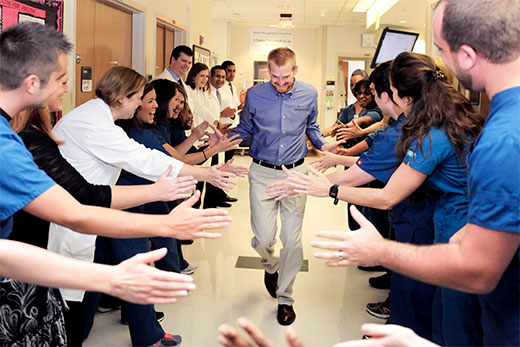 Because they got better
The four patients successfully treated for Ebola at Emory in 2014 have returned to health and continue to help others. Find out what they are doing now.
WATCH THE PRESS CONFERENCE
Hear directly from Emory health care providers and Ebola patients treated here in a special Facebook Live event today at 10 a.m. on the Emory University Facebook page.
Take a look inside Emory's Serious Communicable Diseases Unit, 12 years in the making before the first Ebola patients arrived.
---
Understanding the unique structure of Ebola virus disease is the key to successful treatment.
---
The personal protective equipment (PPE) worn by Emory staff when treating the first Ebola patients in the U.S. is now recommended by the CDC for use worldwide.
---
Removing gloves and other personal protective equipment can be the most dangerous part of a caregiver's day.
Editor: Laura Douglas-Brown
Vice President for Enterprise Communications: Doug Busk
Senior Vice President for Communications and Public Affairs: David B. Sandor

Dooley Report is published by  Communications and Public Affairs
Read the Dooley Report Guidelines
Copyright 2022 Emory University | All Rights Reserved
201 Dowman Drive, Atlanta, Georgia 30322 USA | 404.727.6123