Hidden
from
 sight
Emory doctors recently screened Ebola survivors in the Democratic Republic of Congo for vision problems and eye disease.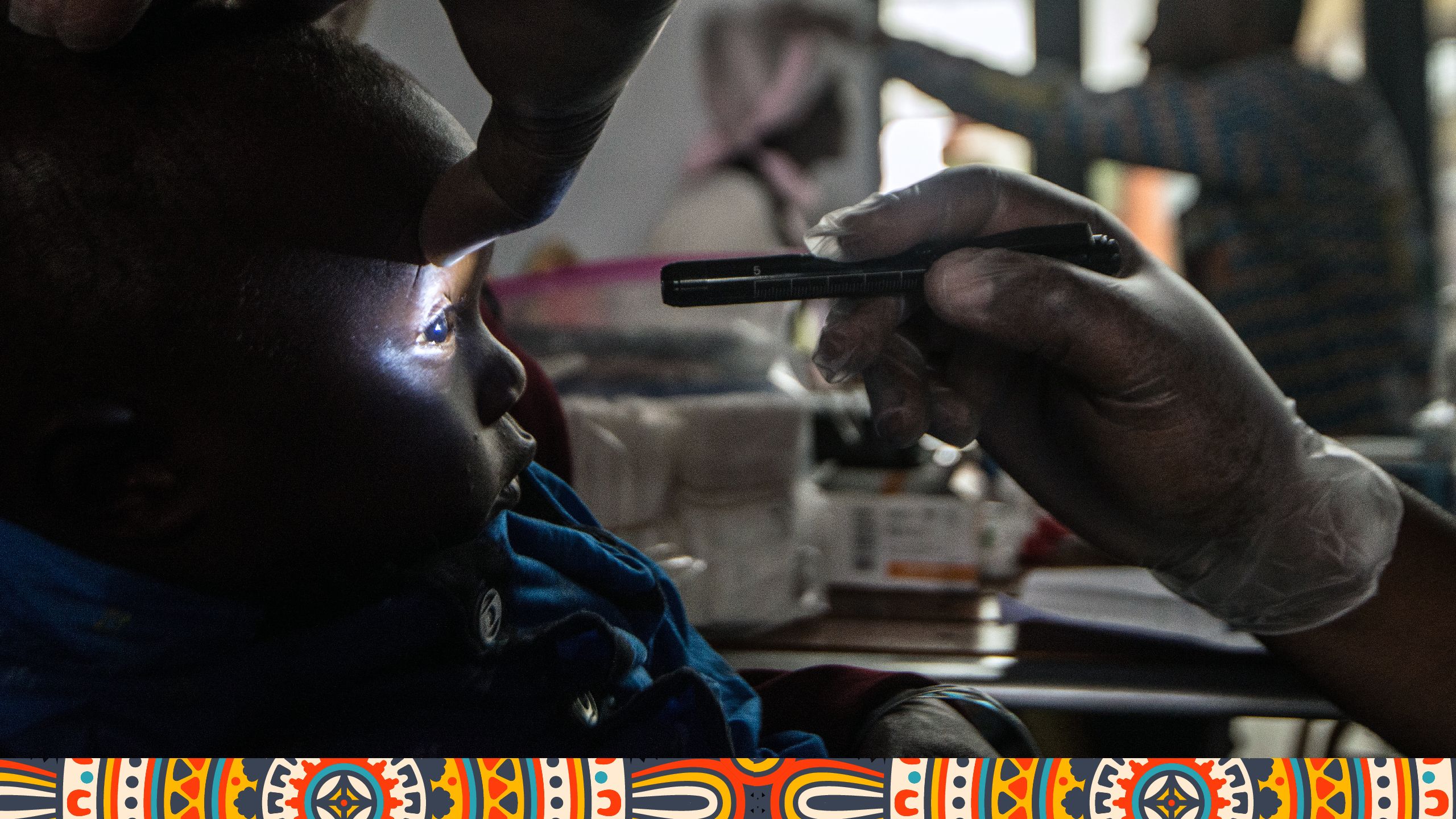 Muhindo is young, small and an accidental warrior – one of the growing number of children in the Democratic Republic of Congo (DRC) who have fought and prevailed against Ebola virus disease.
The odds of making it were stacked against Muhindo and others in the Congo, which is currently facing the second largest Ebola outbreak in history. The ability to combat the damage the disease typically wreaks on individuals and communities has been complicated by regional conflict from armed militia, local mistrust and violence. Nearly a third of those who have contracted the disease are children, and two of every three infected have died. The World Health Organization (WHO) recently declared the current Ebola outbreak in the DRC a global health emergency.
Emory ophthalmologist Steven Yeh, MD, examines Muhindo's eyes. Photo by J. D. Kannah (WHO)
Emory ophthalmologist Steven Yeh, MD, examines Muhindo's eyes. Photo by J. D. Kannah (WHO)
For Muhindo and others who have survived Ebola virus disease (EVD), a significant threat still remains: uveitis, an ocular inflammatory disease that can lead to vision impairment – or even blindness if left untreated. To help avert this complication, two Emory ophthalmologists – Steven Yeh, MD, and Jessica Shantha, MD - recently traveled to the strife-torn eastern DRC to provide much-needed vision care to survivors of Ebola.
"There are very real patient needs that can be challenged by security concerns," says Yeh.  "Obviously we are all cognizant of that and adhere to WHO security guidelines, but you can't let fear prevent you from being involved at such an important time for both patients and our understanding of the disease."
The team visiting the DRC in March 2019 performed vision screenings on more than 250 Ebola virus disease survivors.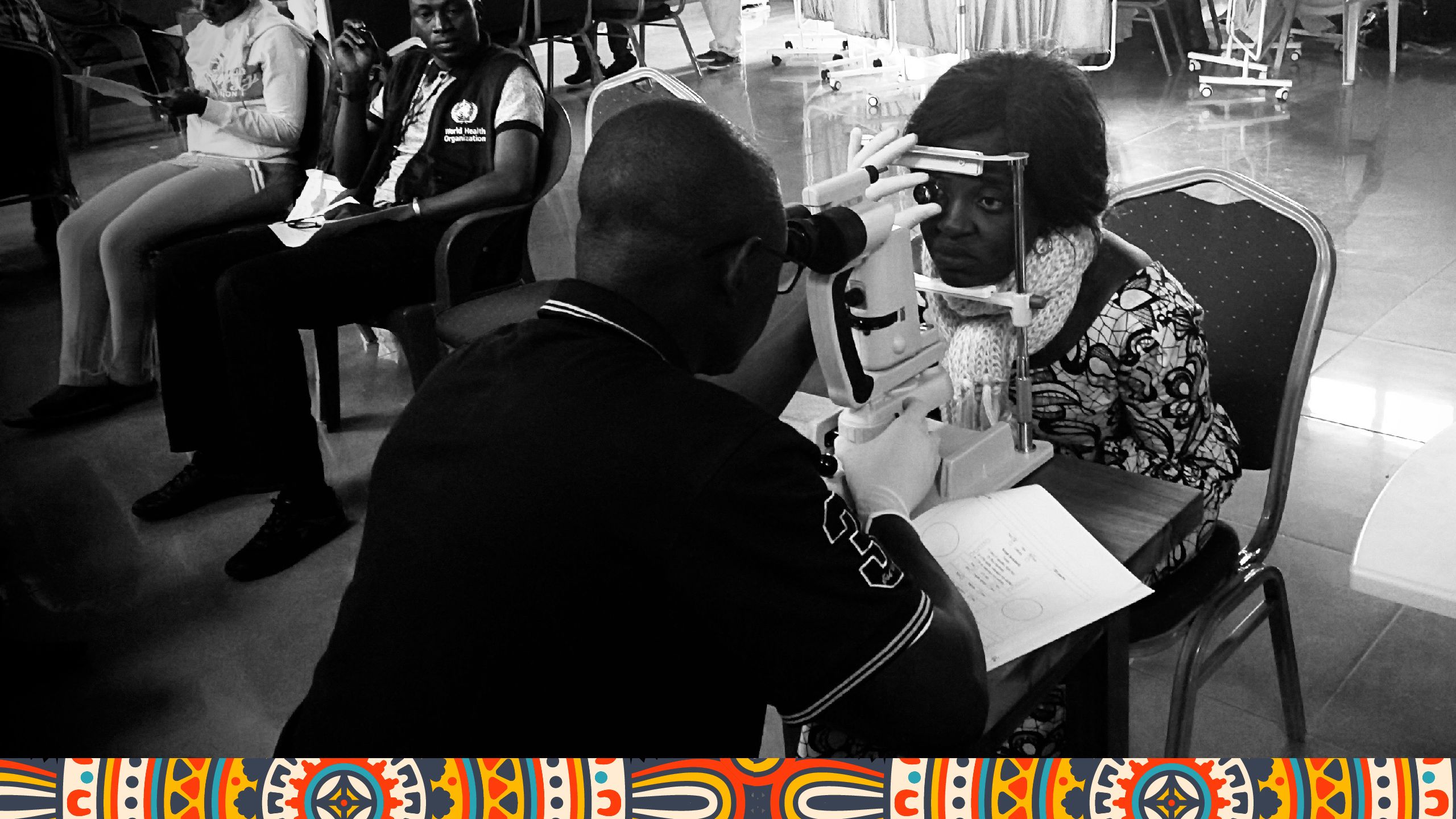 Photo by Jean-Claude Mwanza, MD, MPH, PhD (University of North Carolina)
Photo by Jean-Claude Mwanza, MD, MPH, PhD (University of North Carolina)
Yeh and Shantha traveled to the DRC, along with University of North Carolina ophthalmologist Jean-Claude Mwanza, MD, MPH, PhD, where they worked with physician and Ebola survivor, Ian Crozier, MD. Crozier was  deployed to DRC to continue the fight against the Ebola outbreak. The team partnered with the WHO's Global Outbreak Alert and Response Network (GOARN) and the DRC Ministry of Health. They trained local ophthalmologists on new diagnosis and treatment protocols; screened and treated Ebola survivors for eye disease; and developed systems for vision care during the outbreak.
Although this is the tenth Ebola outbreak in the DRC, it is the first in the eastern region.  Yeh and Shantha found that many who are ill are afraid to seek medical help; the current threat of militia violence, especially against healthcare workers who treat Ebola patients, adds to the security concerns.
Even if Ebola survivors develop eye conditions, early treatment and continued monitoring give them hope for maintaining their vision.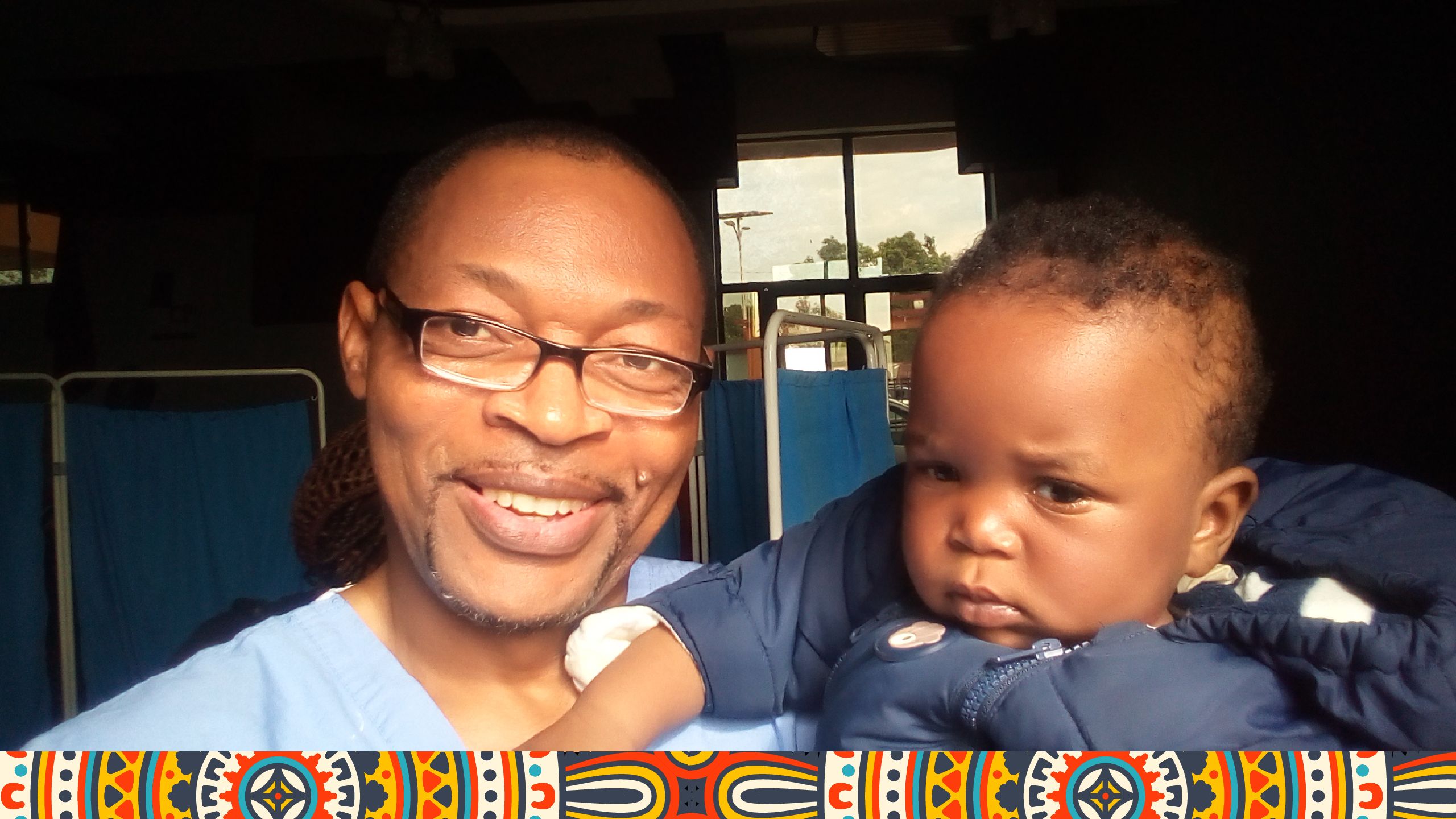 Photo by Jessica Shantha, MD (Emory Eye Center)
Photo by Jessica Shantha, MD (Emory Eye Center)
Treating patients in the face of instability
The group's trip marked the first WHO GOARN deployment for eye care in an acute outbreak setting and is the earliest that EVD survivors have received eye exams during an epidemic. 
"Until now, vision studies or treatments have been reactive," Shantha says. "Having this opportunity to be proactive and examining  EVD survivors earlier in the outbreak enabled us to enact some of the guidelines we had created from working in West Africa for screening and care."
The team screened more than 250 EVD survivors during their visit (more than 80 percent of the EVD survivors at the time). Around a third of those screened reported ocular symptoms during or after their EVD experience, ranging from itchy eyes and tearing to light sensitivity and eye pain. Ebola-related uveitis has shown to be a complication that develops in survivors, with the risk increasing over time.
"What we're learning in West Africa and the DRC can translate to new discoveries and ultimately improved health for citizens of the U.S. as well." –
Steven Yeh, MD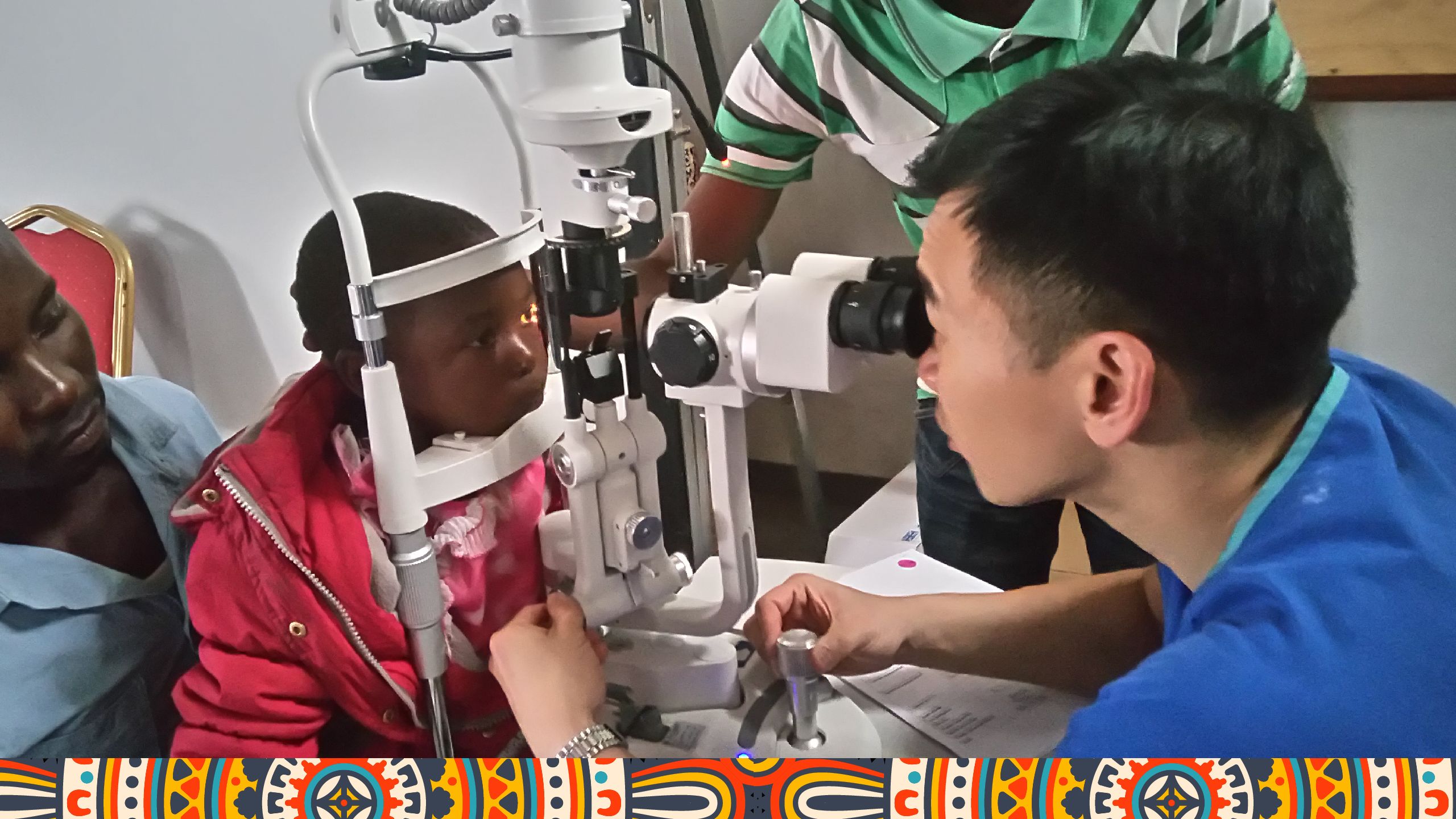 Photo by Jessica Shantha, MD (Emory Eye Center)
Photo by Jessica Shantha, MD (Emory Eye Center)
"Even after they survive Ebola and we treat their uveitis, we've found that many of these patients later develop significant cataracts that impair their vision," Shantha says. "These aren't the standard age-related cataracts; these uveitic cataracts are especially dense and thick, which makes removing them more complicated than usual."
Over the last few years, Shantha and Yeh have been at the forefront of developing international treatment protocols for eye care related to EVD. One such protocol involves taking a sample of ocular fluid and testing it for Ebola virus before scheduling cataract surgery.  Their group's unique facility design makes this study of eye fluid possible even in West African countries that were hardest hit by Ebola. 
"The lab results are back in a few days," Shantha says. "Negative test results have allowed many Ebola survivors to have cataract surgery and regain their vision."
"One thing we're learning is how to handle the eye screenings better and faster: how to deploy a team sooner, how to get better equipment to them, how to educate and train other healthcare providers, how to improve the patient screenings." – Jessica Shantha, MD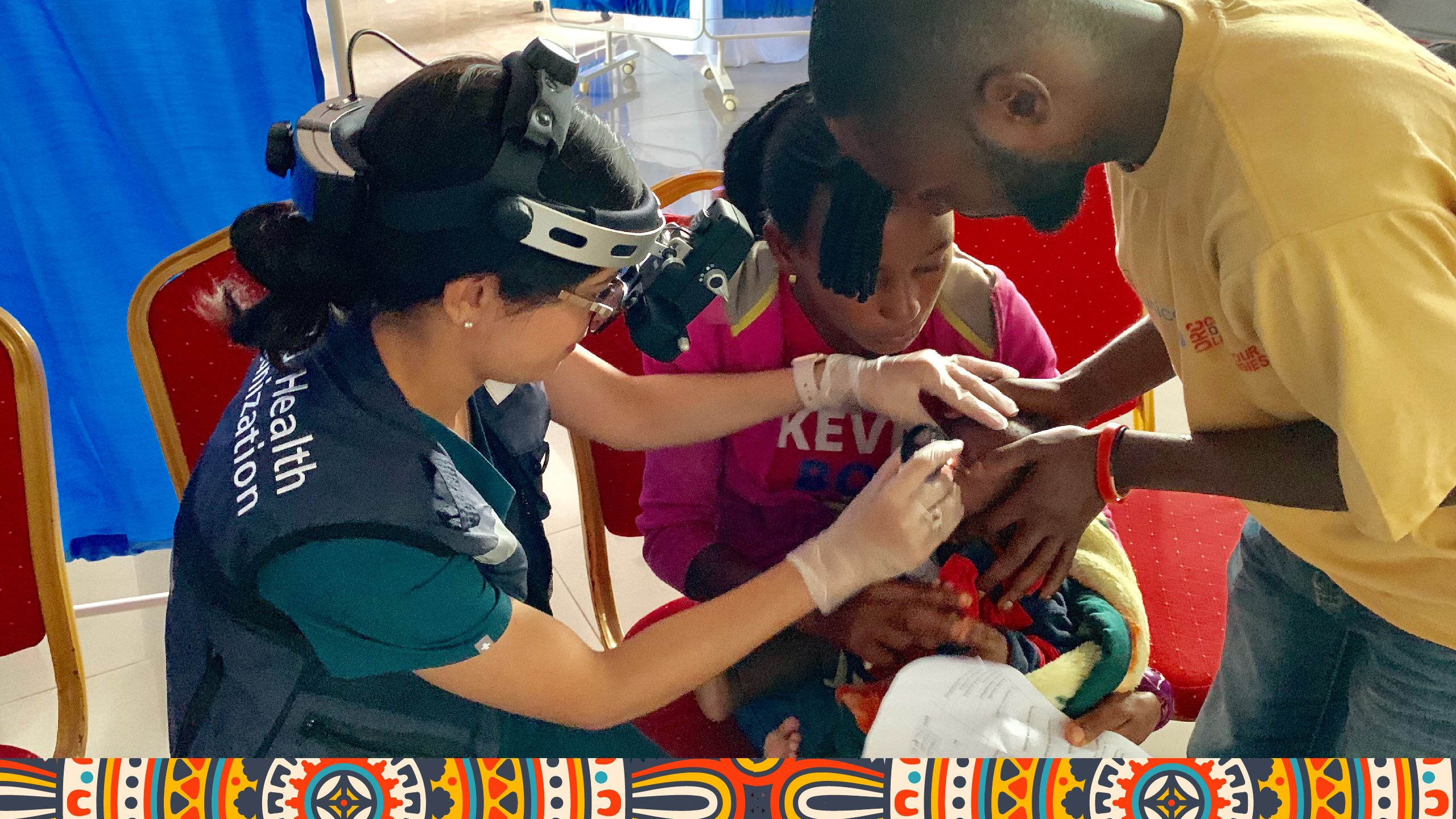 Photo by Steven Yeh, MD (Emory Eye Center)
Photo by Steven Yeh, MD (Emory Eye Center)
Ebola survivors already face a host of issues because of EVD. Developing blindness compounds their problems by stealing their ability to care for themselves or provide for their families. Cataract surgery enables them to re-enter society and maintain their work productivity.
Many use this second chance to help others however they can. 
"It was amazing to see survivors assisting others," Mwanza says. "They are going into communities to educate people and are serving at the bedside of those who are sick. Many have lost family members, but you still sense their joy and gratefulness in serving."
"We don't know whether they have universal immunity to Ebola, but they are immune to their strain," Yeh adds. "They are going back into the healthcare units to care for individuals who have acute Ebola. It's a special story, and truly inspiring to see."
Ebola virus in ocular fluid
Among survivors of Ebola virus disease, late complications can include an ocular inflammation that develops several weeks after the patient no longer shows signs of EVD symptoms. The illustration shown here contrasts a normal eye with one that shows signs of the Ebola virus.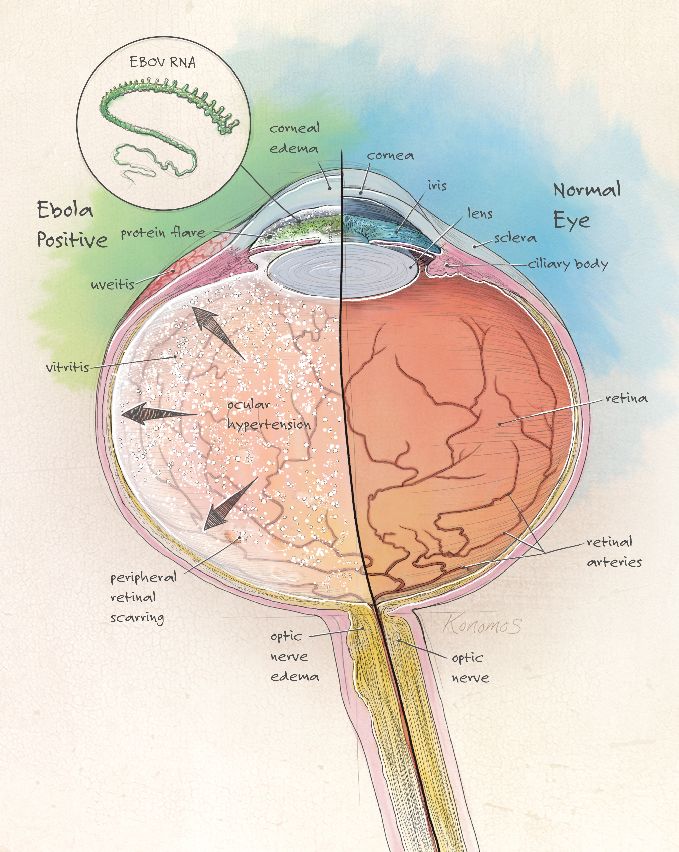 Setting the stage for post-Ebola vision care
Yeh and Shantha's work with EVD survivors began in 2014, when Emory specialists successfully treated and released four patients with the deadly infection, including Crozier. No one expected Crozier to return to Emory months later with serious vision issues because the disease had survived in his ocular fluid. 
The discovery – and its possible implications for survivors, their families and healthcare workers – sent shockwaves through the medical community worldwide. 
"Finding live Ebola virus in ocular fluid was certainly concerning," Yeh says. "One impact of this discovery was the growing concern that thousands of Ebola survivors could also be susceptible to sight-threatening uveitis because of viral persistence. We were also concerned from a public health standpoint. How do you protect health workers who are performing invasive procedures – such as cataract surgery – on patients who might have live Ebola virus in their eye?"
Ebola virus disease survivor Ian Crozier, MD, and Emory ophthalmologists Jessica Shantha, MD, and Steven Yeh, MD, have become a team advocating for Ebola survivors' vision care.
Ebola virus disease survivor Ian Crozier, MD, and Emory ophthalmologists Jessica Shantha, MD, and Steven Yeh, MD, have become a team advocating for Ebola survivors' vision care.
Yeh, Shantha and physicians from Emory's Serious Communicable Diseases Unit began treating Crozier's uveitis with corticosteroids. When his vision worsened to the point of legal blindness and his eye pressure dropped enough to affect the eye's firmness and shape, they added an experimental antiviral drug to the mix. 
Crozier slowly regained his vision and, once again, won the battle against Ebola. He joined Yeh, Shantha and others in an effort to learn more about EVD and how it affects people's vision and daily lives. 
"We've been able to take what we learned in West Africa to be more proactive in treating the patients of the DRC," Yeh says. "We're now able to offer a different level of care."
Crozier plays a role in both sides of the story. He has traveled to areas affected by Ebola numerous times as a physician but doesn't shy away from telling others that he also is a survivor. He had surgery at the Emory Eye Center to remove a uveitic cataract that formed after his treatment and continues to let Shantha or Yeh check his vision when they're together. 
"I have dual citizenship as both Ebola caregiver and care receiver," he says. "Our job is to treat them, but to also help reduce the stigmatization of Ebola and of blindness. We're still writing the textbook of how to treat this condition and move forward." 
---
About this story: Written by Leigh DeLozier. Design by Angela Vellino.
Partnering for success
The Emory Eye Center's work with Ebola survivors is done in conjunction with many organizations, including the World Health Organization (WHO), Partners in Health (PIH), Central Global Vision Fund, Lowell and Ruth Gess Eye Hospital, the Kissy United Methodist Church, and Ministries of Health and Sanitation. Local connections in Liberia, Sierra Leone and the Democratic Republic of Congo  are key to the success of their efforts.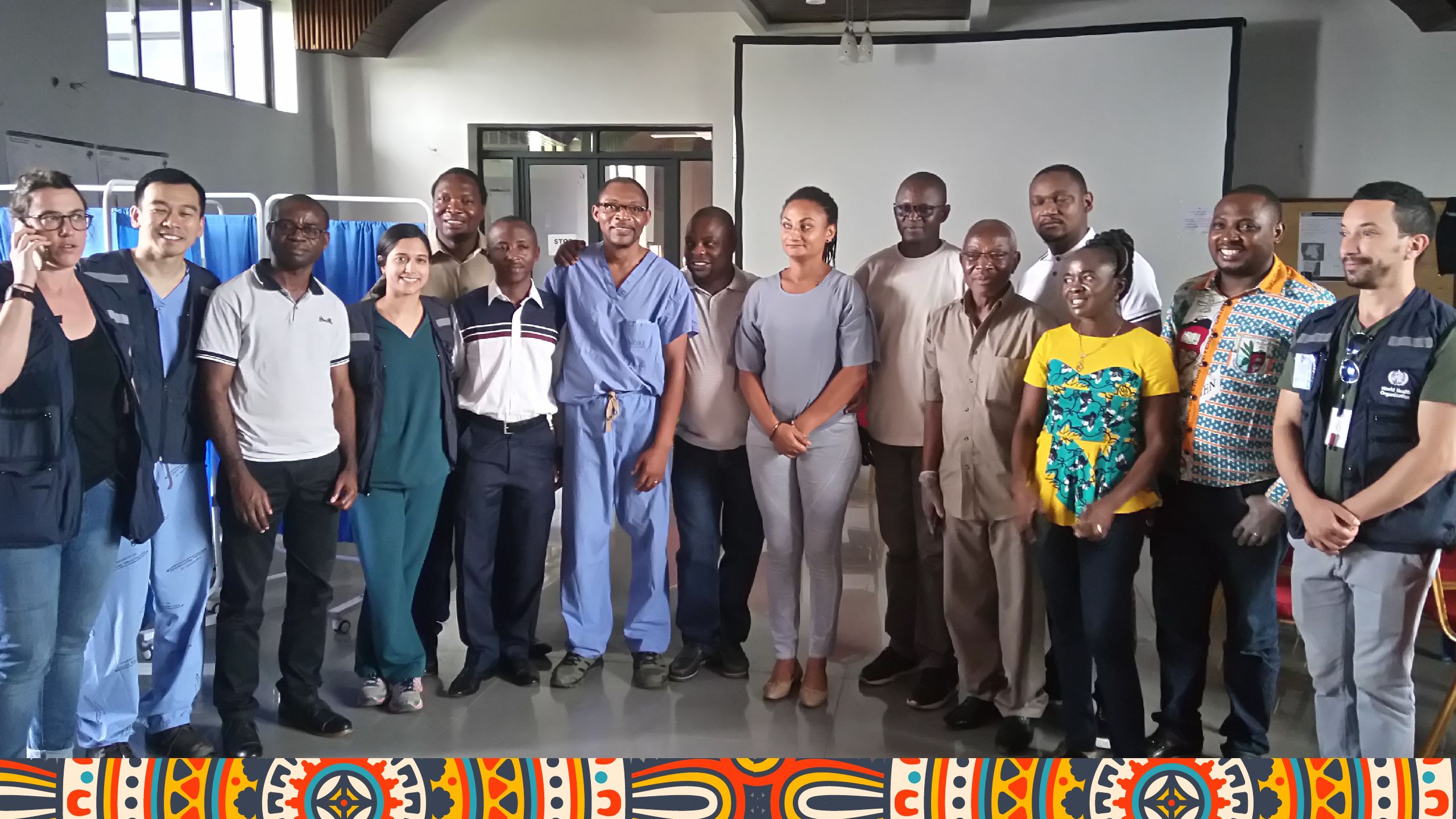 Support this urgent and ongoing work with your donations or by contacting Karla Ruggiero, Emory Eye Center's director of development