Five Years
After Ebola
Emory's infectious disease experts showed the world what can happen when you choose care over fear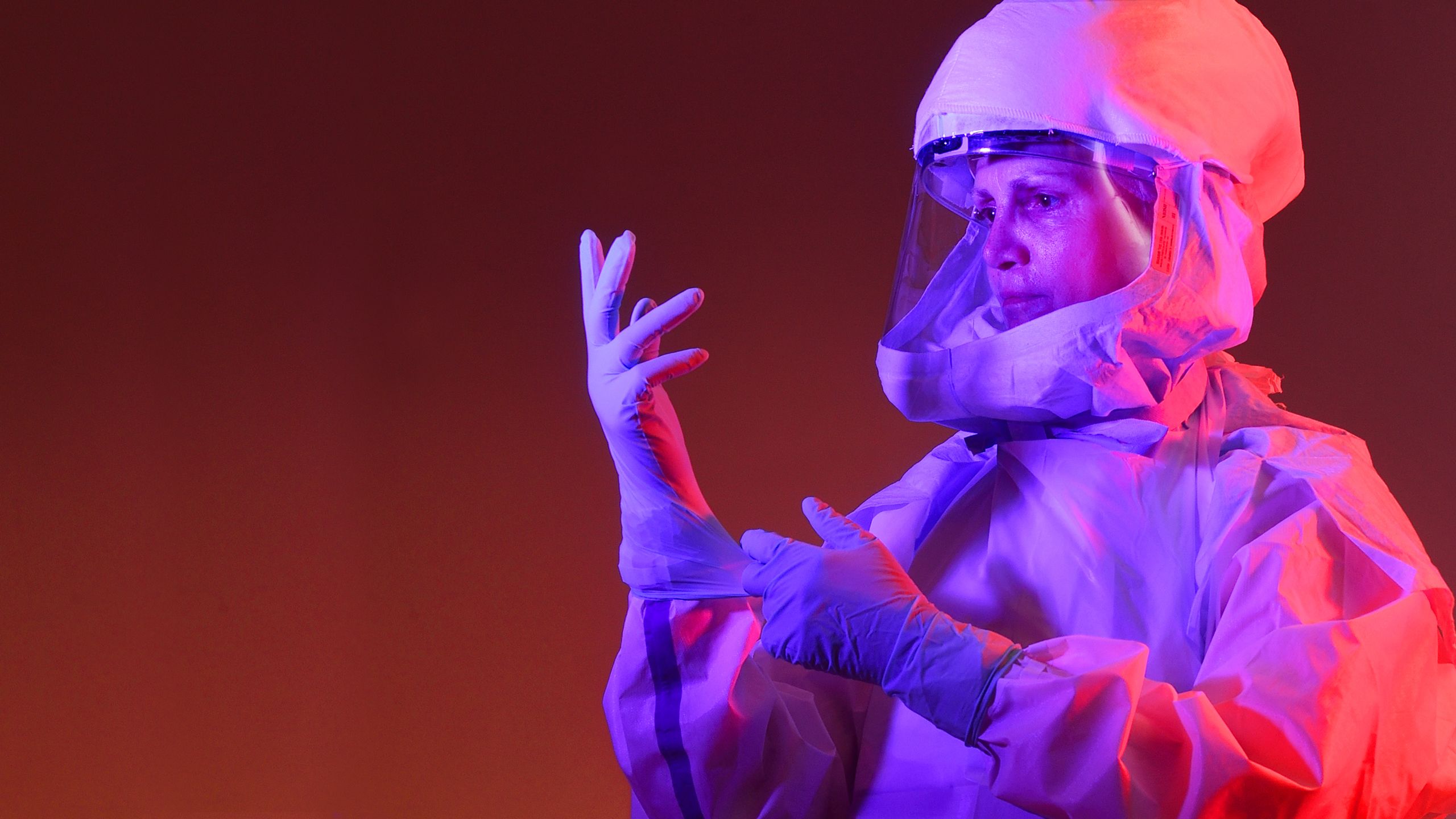 By Mary Loftus | Photos by Jack Kearse | EMORY MAGAZINE | SUMMER 2019
By Mary Loftus | Photos by Jack Kearse | EMORY MAGAZINE | SUMMER 2019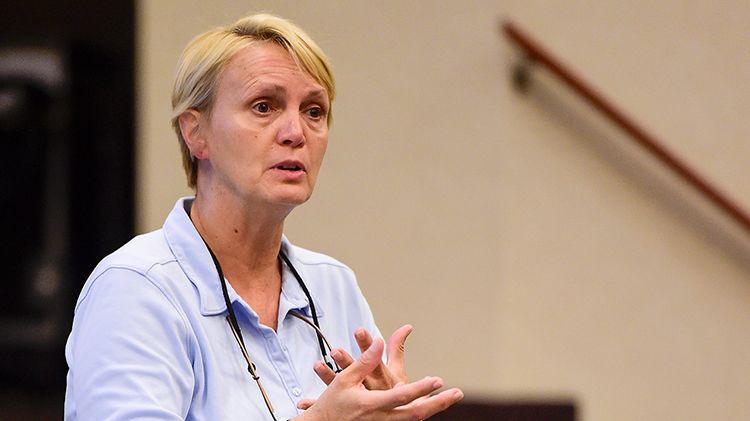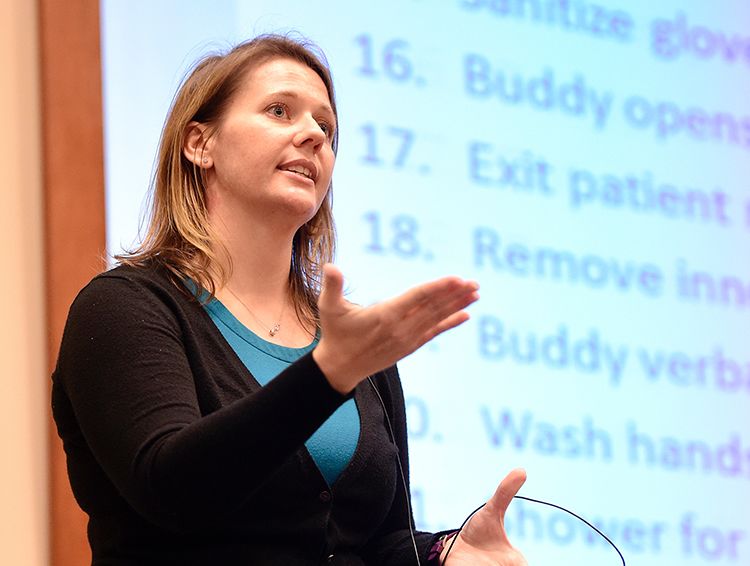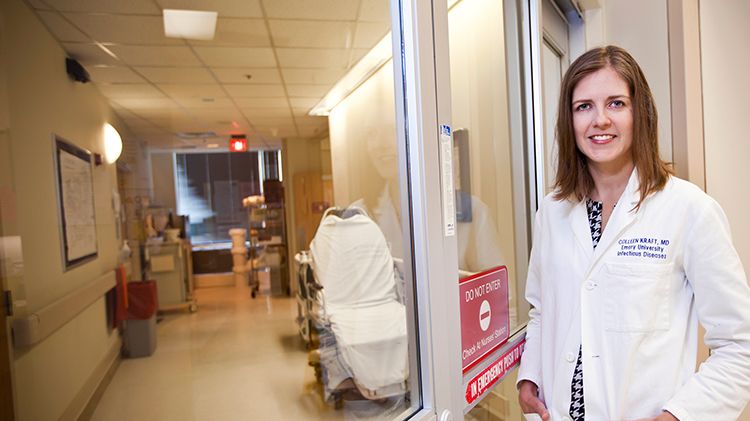 In summer 2014, Emory University Hospital admitted the first patients to be treated for Ebola virus disease in the United States. Thanks to years of preparation, experts in the Serious Communicable Diseases Unit rose to meet an extraordinary challenge, saving four patients and learning game-changing lessons that are now transforming best practices for infectious disease treatment.
PATIENTS FIRST
The moment patient Kent Brantly emerged from an ambulance, weak but walking, and made his way inside Emory University Hospital, he and everyone involved with his treatment were illuminated by a global spotlight that would stay trained on Emory for weeks. Suddenly, Ebola was a household word.
Brantly, a physician himself, contracted Ebola virus disease while serving as a medical missionary in Liberia—which, along with Guinea and Sierra Leone, was the epicenter of the worst Ebola outbreak in history. At the request of the U.S. State Department, Emory admitted him into the Serious Communicable Diseases Unit (SCDU), a highly specialized unit built in 2002 in collaboration with the Centers for Disease Control and Prevention (CDC) to care for scientists and others who have traveled abroad and become exposed to infectious diseases.
During the next three months, Emory would care for four patients with Ebola virus disease: Brantly; missionary Nancy Writebol, who worked at the same hospital in Liberia; Ian Crozier, a doctor who volunteered with an Ebola treatment unit in Sierra Leone; and Amber Vinson, a nurse who was treated at Emory by request of the CDC and Texas Health Resources after becoming infected while caring for a patient with Ebola virus disease in Dallas.
Inside the SCDU, the day-to-day reality was intense. For starters, the correct use of personal protective equipment (PPE) went from routine training to a matter of life and death.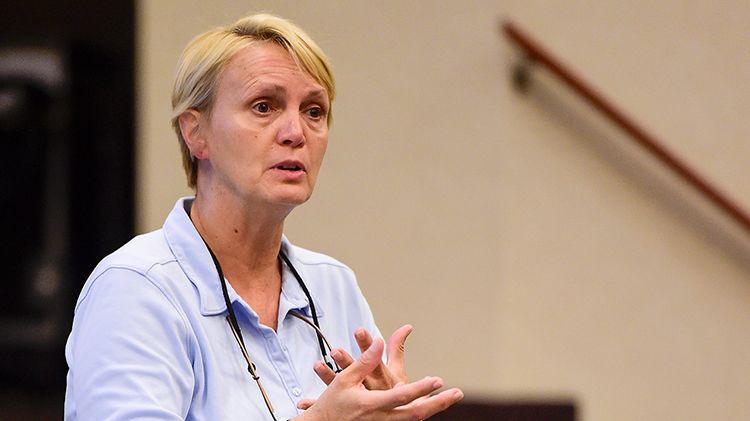 DEFENSIVE STANCE: Emory nurse Jill Morgan is now a national leader in the field of infectious disease safety.
Jill Morgan, the critical care nurse who admitted the first US patient with Ebola virus disease to Emory, has become, in her words, "a warrior for personal protection that works for bedside nurses."
That's the charge: To take what happened inside the SCDU five years ago—with a small, highly trained, and motivated staff caring for the first patients in the US with Ebola virus disease—and apply it to everyday patient care.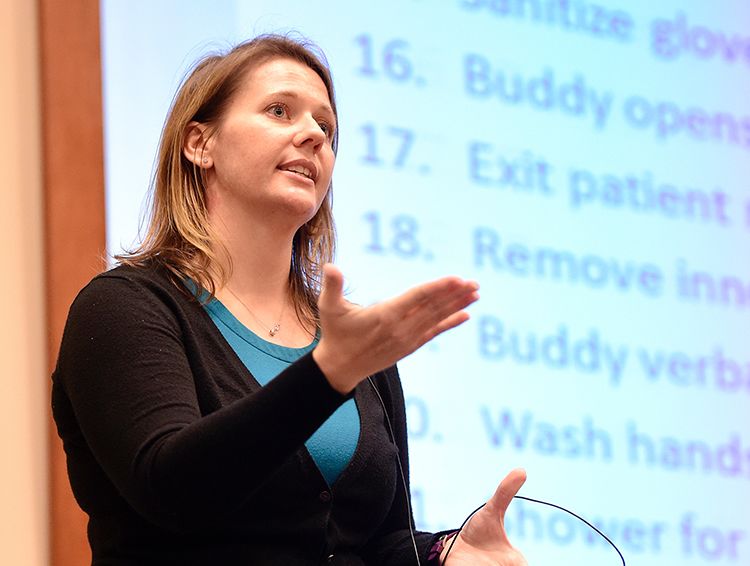 INSIDE INFORMATION: SCDU program director Sharon Vanairsdale shares Emory's experience with infectious diseases, like Ebola virus, with other health care providers.
"When we knew there was no cure, no treatment, how did we behave in patient rooms? How cognizant were we of infectious materials? How good were we at hand hygiene? How precisely did we remove our protective clothing?" asks nurse Sharon Vanairsdale, program director for Emory's Serious Communicable Diseases Program. "If we could do that every day, in every patient care interaction, what could that do to our hospital infection rate?"

The vision is to take these high-reliability principles and turn them into health care innovation—not just in one room, but in every room.
A decade from now, says infectious disease physician and medical microbiologist Colleen Kraft, she'd like to look back and say that taking care of Emory's four patients with Ebola virus disease "was just the beginning of a health care revolution."
POWERS
OF OBSERVATION
Many advances came from paying close attention.
Emory's infectious disease experts became the first to care for and study patients with Ebola virus disease daily and directly in a resource-rich setting. With that opportunity came responsibility. Research was conducted. Therapies tried. Protocols perfected. "Team Ebola" members, as those who worked in the unit were collectively known, became leaders in training and advising other health care institutions.
THE HOME TEAM: The health care professionals who volunteered to care for Emory's patients with Ebola virus disease in 2014 included School of Nursing alumni (from left) Crystal Johnson 00N, Laura Mitchell-Spurlock 95Ox 97N, and Jason Slabach 13N. They received the Emory Medal, the university's highest alumni honor, for their lifesaving work.
Example: "All health care workers should know how to properly take off gloves," says Kraft. "We want to train them to understand their environment, figure out their behaviors in that environment, and take steps to protect themselves and their patients against any sort of hazard or pathogen."
The most important, game-changing observations and advances stem from the fact that Emory was ready and willing to safely accept and care for four patients with a contagious, highly lethal disease.
"Emory University and Emory Healthcare were extremely supportive of our activities," says Bruce Ribner, founder and medical director of the SCDU. "The chief executive officer and chief nursing officer of the hospital were down in our unit almost every day. Invariably they would say, what can we do to help you out?"
From the beginning, Ribner says, his team was certain it could deliver excellent patient care in a way that was safe for health care workers and the surrounding community. "If we hadn't felt that way, we probably wouldn't have accepted the patients in the first place," he says. "But our general feeling was one of confidence and optimism. We'd been practicing this for a long time, we could do it."
TEAM HUDDLE: Members of the SCDU team strategize outside the isolation unit while actively tending to Ebola virus disease patients.
Very early, in the midst of still caring for its own patients, Emory Healthcare launched an external website outlining every protocol used by the team to serve as a resource for other health care organizations regarding best practices for screening, diagnosis, and treatment for Ebola virus disease.
"We tried to share information as immediately as possible, especially to places where outbreaks were happening," says Kraft, associate medical director of the SCDU.
With the arrival of its first Ebola patients, on August 2, 2014, Emory became the focus of intense public scrutiny, with an encampment of reporters and satellite trucks lining the Clifton corridor. Questions were raised about the safety of bringing Ebola patients to the US.
"We can fear, or we can care," Susan Grant, then chief nurse executive of Emory Healthcare, wrote in an op-ed for the Washington Post. That became a rallying cry for the university community.
Writebol, the first Emory patient to recover, chose to be quietly discharged from the hospital on August 19. Brantly was found well enough to leave two days later and chose to hold a press conference, which received international attention.
"Today is a miraculous day," he began. "I am thrilled to be alive, to be well, and to be reunited with my family." He thanked the doctors and nurses who had cared for him and gave them hugs and high fives.
The next patient to arrive, on September 9, was Ian Crozier, the sickest of Emory's patients with Ebola virus disease. Crozier, who contracted Ebola while caring for patients in Sierra Leone during the outbreak, was in the unit for forty days and experienced organ failure and intensive life support measures including intubation and dialysis.
In mid-October, two nurses were infected in Texas while caring for a Liberian man who had been visiting family when he got sick and later died from Ebola in the hospital. One of the nurses, Amber Vinson, came to Emory for care on October 15 and was discharged on October 28.
President Barack Obama met with and thanked Emory's "Team Ebola" during a visit to the CDC. "The world is looking to us and it's a responsibility we embrace," Obama said.
Eleven Lessons We Learned from Treating Ebola Virus Disease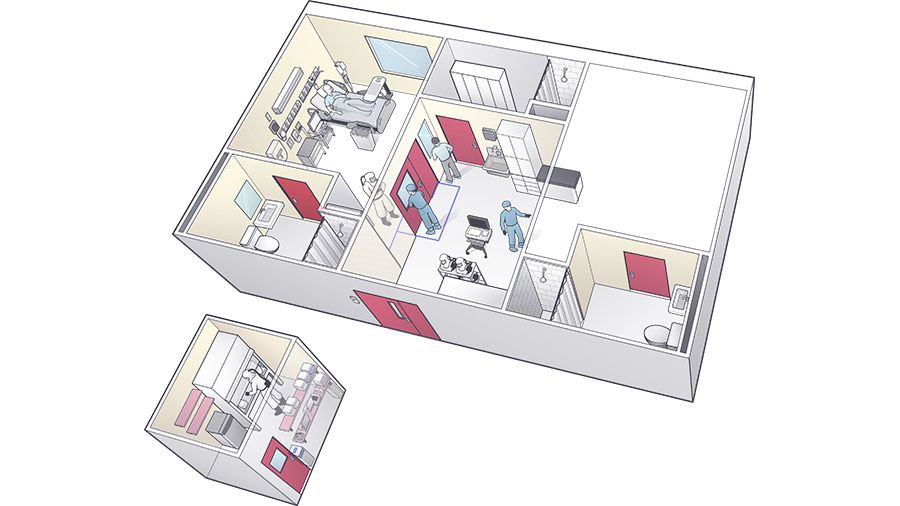 1.
LOCATION
, LOCATION, LOCATION
The Serious Communicable Diseases Unit (SCDU) was located in the back of the hospital, with easy entrance and egress. And setting up a dedicated clinical laboratory next to the isolation unit was invaluable. It allowed the clinical analysis of blood and other bodily fluids, all by just taking the samples down the hall.
"We could also reassure medical technologists in the main hospital laboratory that they wouldn't be having any patient samples that had Ebola virus," Kraft says. "And we could mitigate risks to the laboratorians doing the work in our lab by knowing exactly who handled the specimens, monitoring their temperature, etc."
The strategy, says pathologist Charles Hill, in an article for Lab Medicine journal, was to establish a self-contained, point-of-care laboratory that could support all requisite testing within the quarantine facility itself with a team of volunteer clinical pathologists and laboratory technical staff. The laboratory continues to be used for patients under investigation for high-risk pathogens.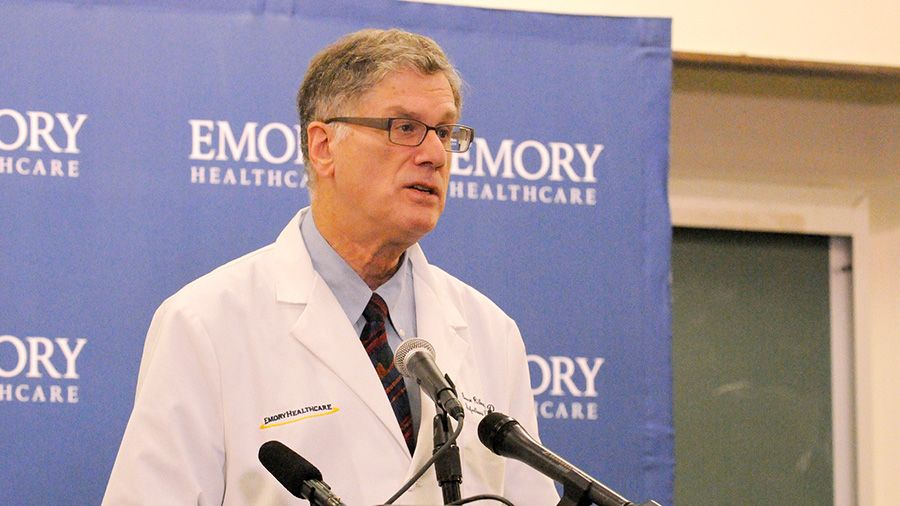 2. USE ALL MEANS NECESSARY
Perhaps the case the team learned the most from was the patient who was in the worst shape. "Ian [Crozier's] viral load was potentially 10,000 times higher than our other patients," Kraft says.
SCDU clinicians realized the high viral load was driving the most serious phase of the disease, sepsis syndrome, which led to severe diarrhea, hepatitis, and multi-system organ failure. Crozier was kept alive by all means necessary while his body fought the virus.
"If you go back to medical articles and textbooks prior to 2014, the authors were unanimous: Don't bother to insert a breathing tube, don't bother to do dialysis, don't bother to do platelet transfusions, because no patient with Ebola virus disease is ever going to survive if they have that degree of illness," Ribner (above) says. "But this is a level of care that, quite frankly, we deliver every day in intensive care units."
A model now exists for providing dialysis to Ebola patients. The Emory team shared this protocol at the annual meeting of the American Society of Nephrology and published it in the Journal of the American Society of Nephrology.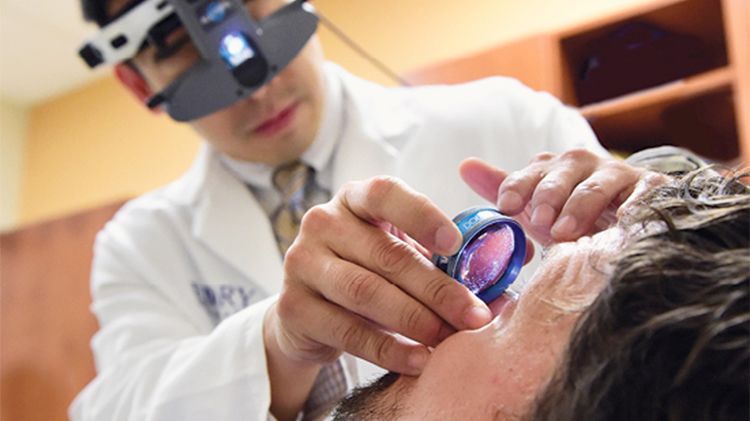 3. EYE OF THE BEHOLDER
Ophthalmologists from the Emory Eye Center have made multiple discoveries about survivors of Ebola virus disease and vision problems—among a host of other post-Ebola symptoms discovered by treating Emory's patients.
They became involved with Ebola when treating survivor and physician Ian Crozier for severe, sight-threatening uveitis, an inflammatory disease of the eye. Steven Yeh discovered live Ebola virus in Crozier's ocular fluid, and he and Jessica Shantha worked with physicians from the SCDU to successfully treat Crozier.
Since that time, Yeh, Shantha, Crozier, and other colleagues have traveled to Africa numerous times to investigate these problems and to care for survivors, including flying to the Democratic Republic of Congo to examine survivors of the current outbreak.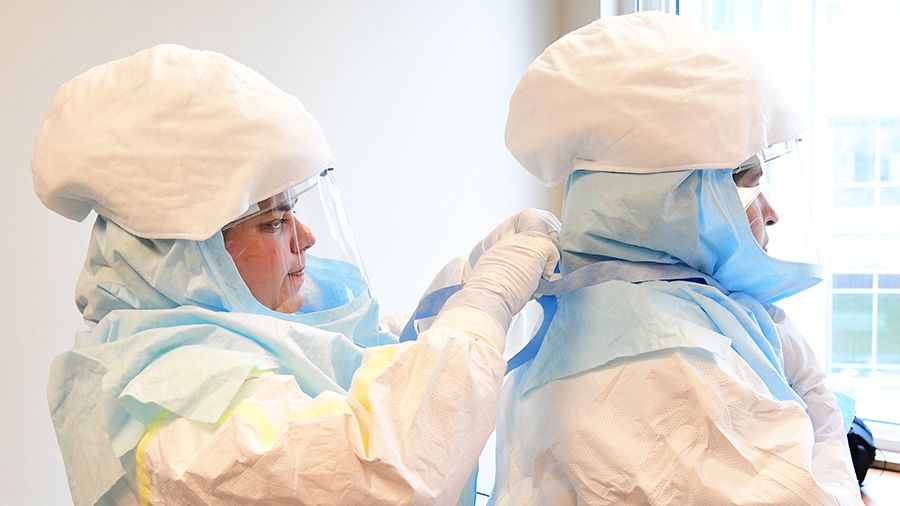 4. OFF AND ON
Every day, sometimes multiple times, nurses and doctors who entered the isolation unit had to don their PPE (personal protective equipment). From the top, the suit includes a powered air-purifying respirator, double gloves secured with tape, a body suit made of ultra-strong, waterproof synthetic material, an apron, and disposable shoe covers.
While Ebola is a fluid-spread virus, the team decided to be as cautious as possible. Also, the PAPR was found to be more comfortable than a mask and hood due to the circulating air. The CDC now recommends this higher level of precaution when caring for patients with Ebola virus disease.
"You have to be very detail-oriented in a unit like this," says Vanairsdale. "There were about twenty steps you had to follow just to take everything off. And we always used a safety buddy, to make sure no steps were skipped."
The team is now helping test reusable respirators, and examining which steps of PPE donning and doffing are most dangerous to health care workers.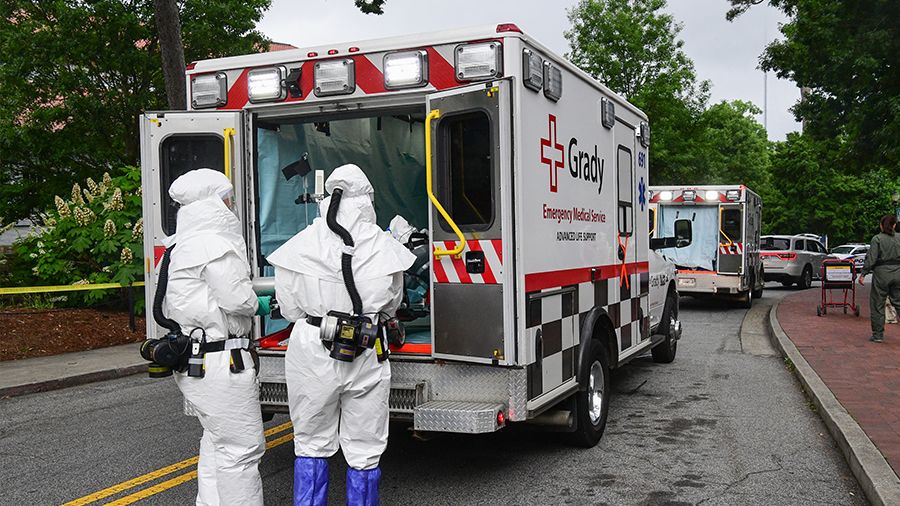 5. GO PRO
Transporting patients with lethal infectious disease isn't just a matter of finding an ambulance and turning on the siren. The ambulance itself must be made into a mini-biocontainment unit, the route carefully mapped out, the attendants and drivers specially trained.
Alexander Isakov, emergency medicine physician and director of the Emory Office of Critical Event Preparedness and Response, was in charge of the transport of the patients with Ebola virus disease who were flown to Atlanta.
Isakov and Ribner used their experiences to improve nationwide infectious disease preparedness. Isakov leads the Emory Ebola Biosafety and Infectious Disease Response program, which provides education and training for workers who face risk of occupational exposure.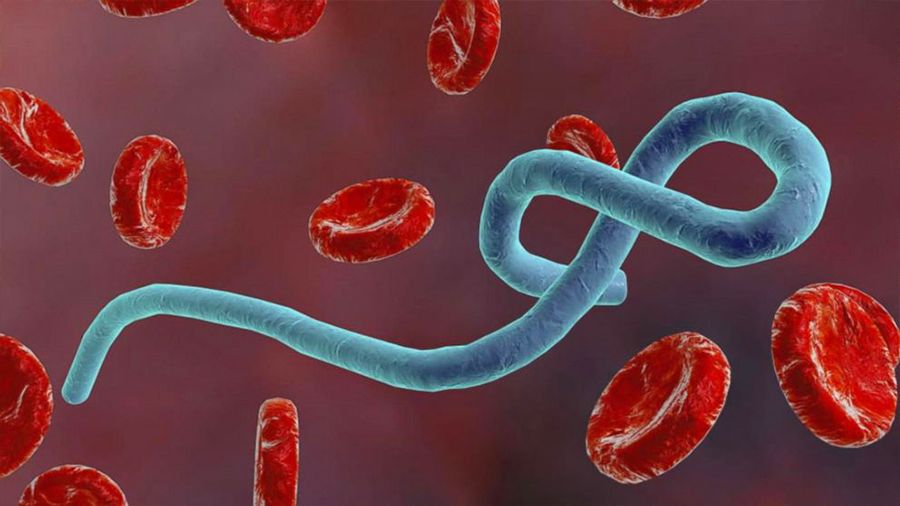 6. LET'S TRY THIS  
The Defense Advanced Research Projects Agency awarded Emory a grant for up to $10.8 million over three years to determine if the blood of Ebola survivors contains antibodies and immune cells that could help doctors fight Ebola infections in others.
Researchers began by gathering plasma from the four patients with Ebola virus disease who were treated at Emory. The ten-institution national team is led by Rafi Ahmed, director of the Emory Vaccine Center and a Georgia Research Alliance Eminent Scholar, and infectious disease physician Aneesh Mehta. It includes laboratories around the country.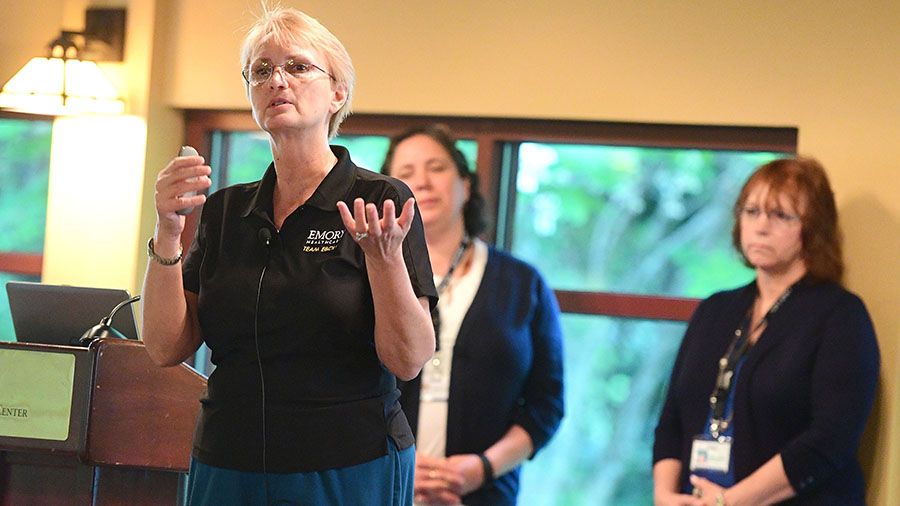 7. PASSING IT ON
Emory received a $24 million federal grant, along with the University of Nebraska Medical Center and NYC Health and Hospitals, Bellevue, to establish the National Ebola Training and Education Center.
The team is partnering with the US Department of Health and Human Services' assistant secretary for preparedness and response and the CDC to provide training, educational resources, and consultations for 48 US medical centers that have been designated Ebola treatment centers. Emory has hosted Ebola-preparedness training conferences and experts have been going on site visits to hospitals and health care systems.
"It is our mission to pass on what we have learned to other health care providers and hospital staff, so they can ready themselves to care for patients diagnosed with Ebola," says Ribner.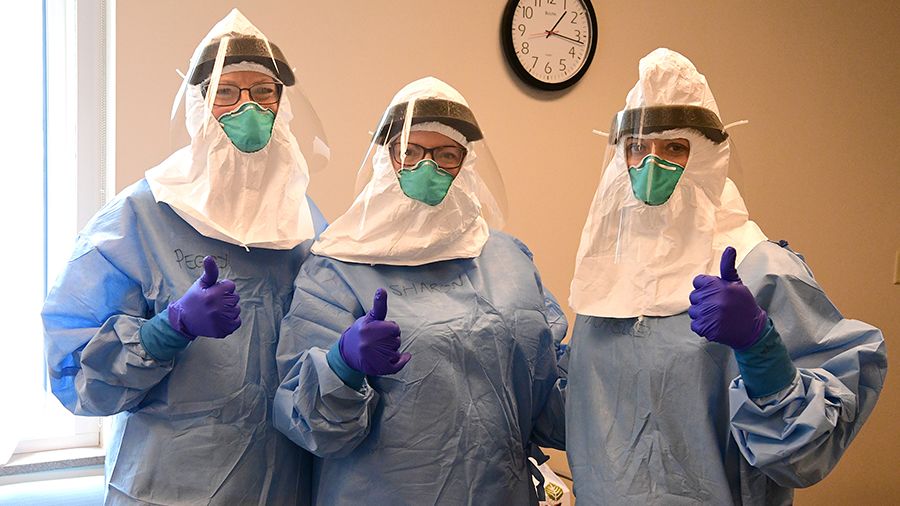 8. SUITED UP RIGHT
The personal protective equipment (PPE) required to treat a highly infectious disease is restrictive for caregivers. Team Ebola partnered with the Emory Center for Digital Scholarship and Emory Library and Information Technology Services to produce a series of 360-degree virtual reality (VR) training videos.
"The VR simulation does a good job of portraying your limited view and dexterity," says infectious disease physician Aneesh Mehta, who wore PPE while caring for Emory's patients with Ebola virus.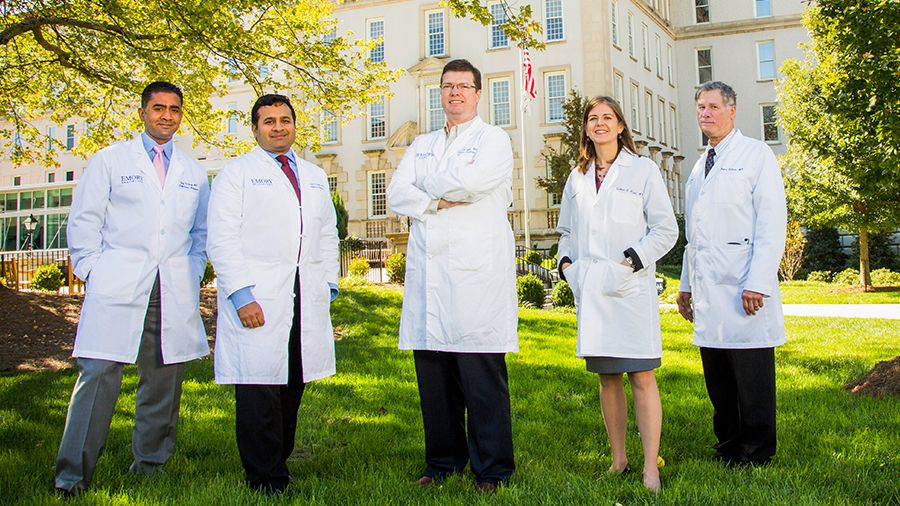 9. GROUP BONDING
Team Ebola functioned as one unit, says Kraft. "I credit our success at least partially to that flat hierarchy embodied in the unit. Everybody was free to speak about their concerns. That allowed us to trust each other so implicitly we could then take care of the patients without a lot of stress."
Every morning at 7:15, the team had their "family huddle"— staff nurses, physicians, lab personnel, environmental services. "The focus is always to take good care of patients, says Kraft, but "we decided that taking care of ourselves and each other was primary. Protecting ourselves and our peers allowed us to be free to deliver excellent care."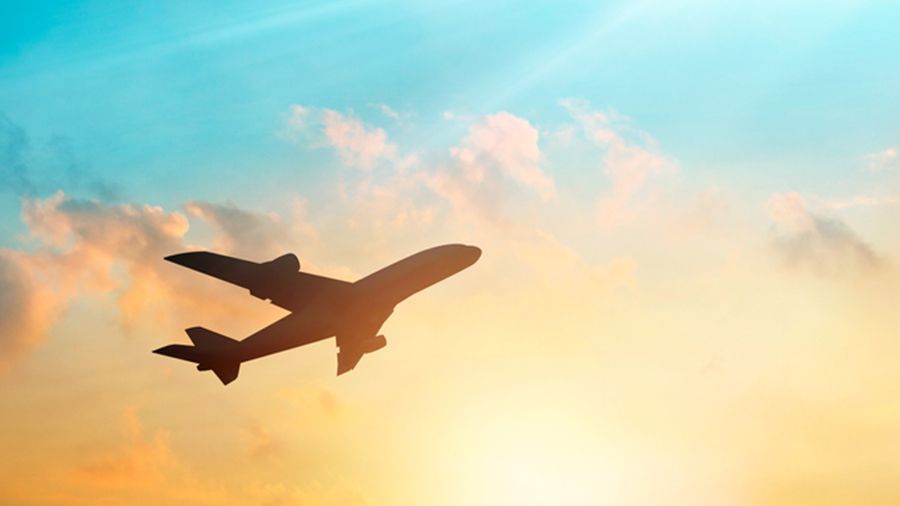 10. LEADING BY EXAMPLE
When Emory's SCDU is not occupied by a patient, select visitors are invited to come through to learn more about the unit and its operations. More than 60 groups have visited in the past few years, including ministers of health, students, public health experts, scientists, and military and government officials.
A lot of what was learned, says Ribner, has already been applied to the care of patients in the current outbreak. "We learned more about how Ebola virus makes people sick," he says. "We learned just how ill patients with Ebola virus disease could become and still functionally recover. We learned which vaccines are and are not likely to work. We contributed to the World Health Organization rewriting a lot of its protocols on how to care for patients with these types of serious communicable diseases."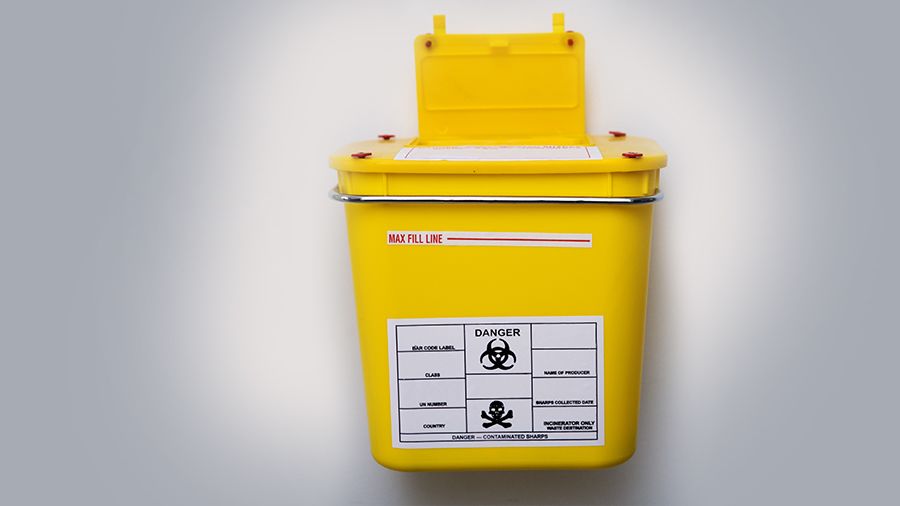 11. WASTE NOT, WANT NOT
The SCDU's original plans had not factored the amount of waste that the team found was coming out of the patient rooms. "Within the first two days, having two patients here, we rapidly started to run out of capability with the autoclave we had in our unit," says Ribner.
He and Emory Healthcare's chief operating officer got a bigger one. All dangerous waste from the isolation rooms was decontaminated and then burned, not sent through the pipes and drains into Atlanta's sewage system.
Decontamination of the unit itself also proved challenging, since the constant washing and rewashing with harsh solutions ate away at floor tile and other surfaces. Ribner has replaced as much as possible in the unit with stainless steel and other highly durable materials.