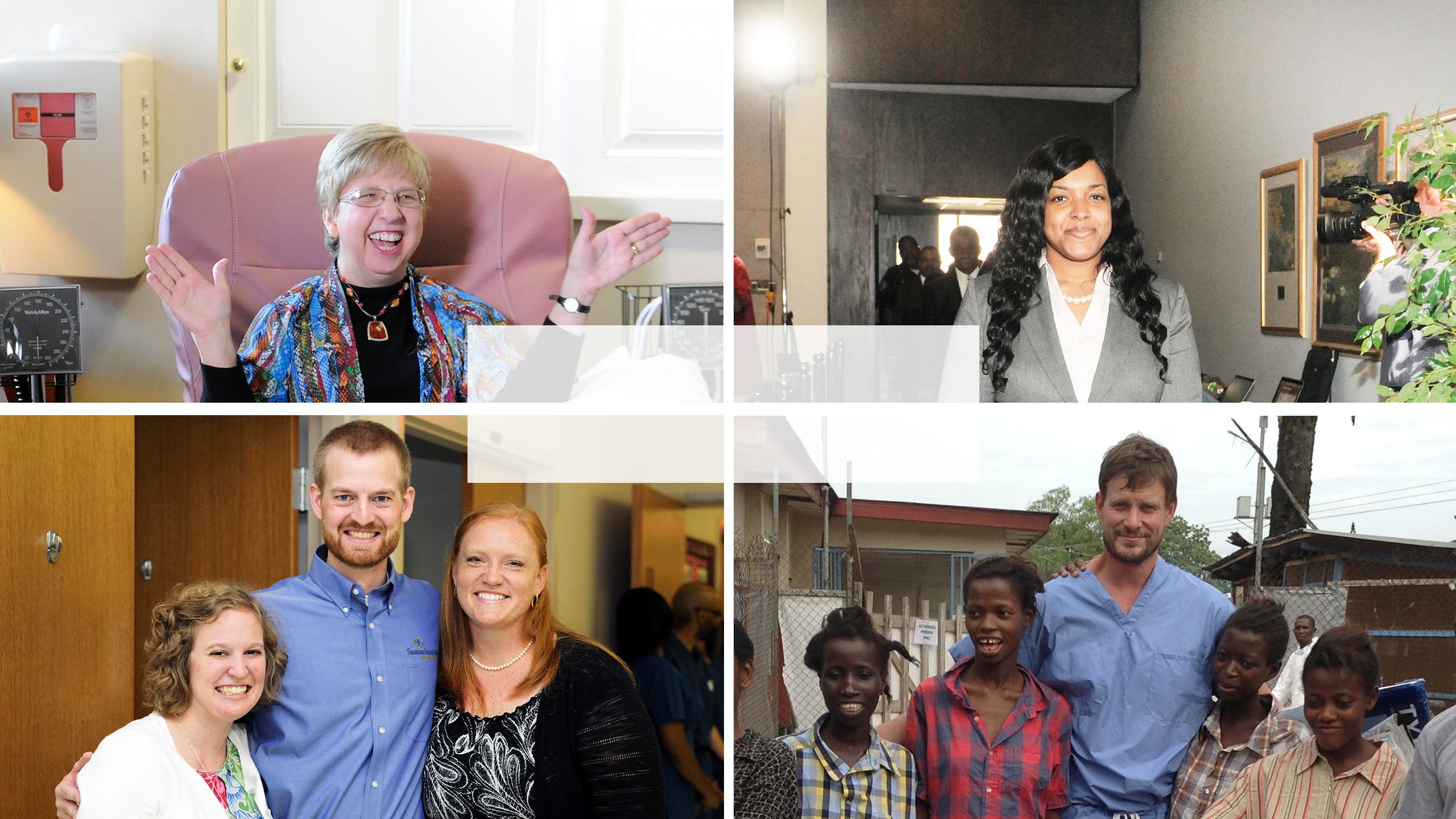 By Mary Loftus | Photos by Jack Kearse EMORY MAGAZINE | SUMMER 2019
By Mary Loftus | Photos by Jack Kearse EMORY MAGAZINE | SUMMER 2019
Five years ago, Emory University Hospital made health care history by treating the first four US patients infected with the deadly Ebola virus disease.
That shared experience among physicians, nurses, and patients led to lifesaving lessons about infectious disease care—as well as lasting connections.
In late summer 2014, a deadly Ebola virus outbreak was spreading through West Africa. Nearly a thousand had died, with more cases reported daily.
Physician and missionary Kent Brantly, who was in Liberia with his family on a two-year assignment with the Christian charity Samaritan's Purse, says Ebola was "not on our radar."
But he would soon find himself in the midst of the largest, longest, and most deadly Ebola epidemic in history. Lasting from 2014 to 2016, it mostly affected Liberia, Guinea, and Sierra Leone. In all, there were 28,000 cases of Ebola and 11,000 deaths. 
The hospital where Brantly worked as a physician and missionary, just outside of Liberia's capital city of Monrovia, received its first patient with Ebola virus disease in June 2014. "In the first month and a half, we had one survivor out of 45," Brantly says.
Dressed head to toe in sweltering protective gear, he provided medical care, held his patients' hands, and sang to them as they lay dying.
Brantly awoke one day in late July feeling ill, and later tested positive for Ebola. He tried hard to believe it was not a death sentence, but he had seen the disease take its course in his own patients.
Then another missionary he worked with, Nancy Writebol, also tested positive. Within days, they would be in isolation rooms across from each other in Emory's Serious Communicable Diseases Unit (SCDU).
The next patient to arrive, on September 9, was Ian Crozier, the sickest of Emory's patients with Ebola virus disease. Crozier, who contracted Ebola while caring for patients in Sierra Leone during the outbreak, was in the unit for forty days and experienced organ failure and intensive life support measures including intubation and dialysis.
In mid-October, two nurses were infected in Texas while caring for a Liberian man who had been visiting family when he got sick and later died from Ebola in the hospital. One of the nurses, Amber Vinson, came to Emory for care on October 15 and was discharged on October 28. Four days later, Crozier was well enough to be discharged.
Ultimately, the four patients treated at Emory Hospital's SCDU not only survived, but have continued to thrive. And, in treating them, much was learned about infectious disease care.
President Barack Obama met with and thanked Emory's "Team Ebola" during a visit to the CDC. "The world is looking to us and it's a responsibility we embrace," Obama said.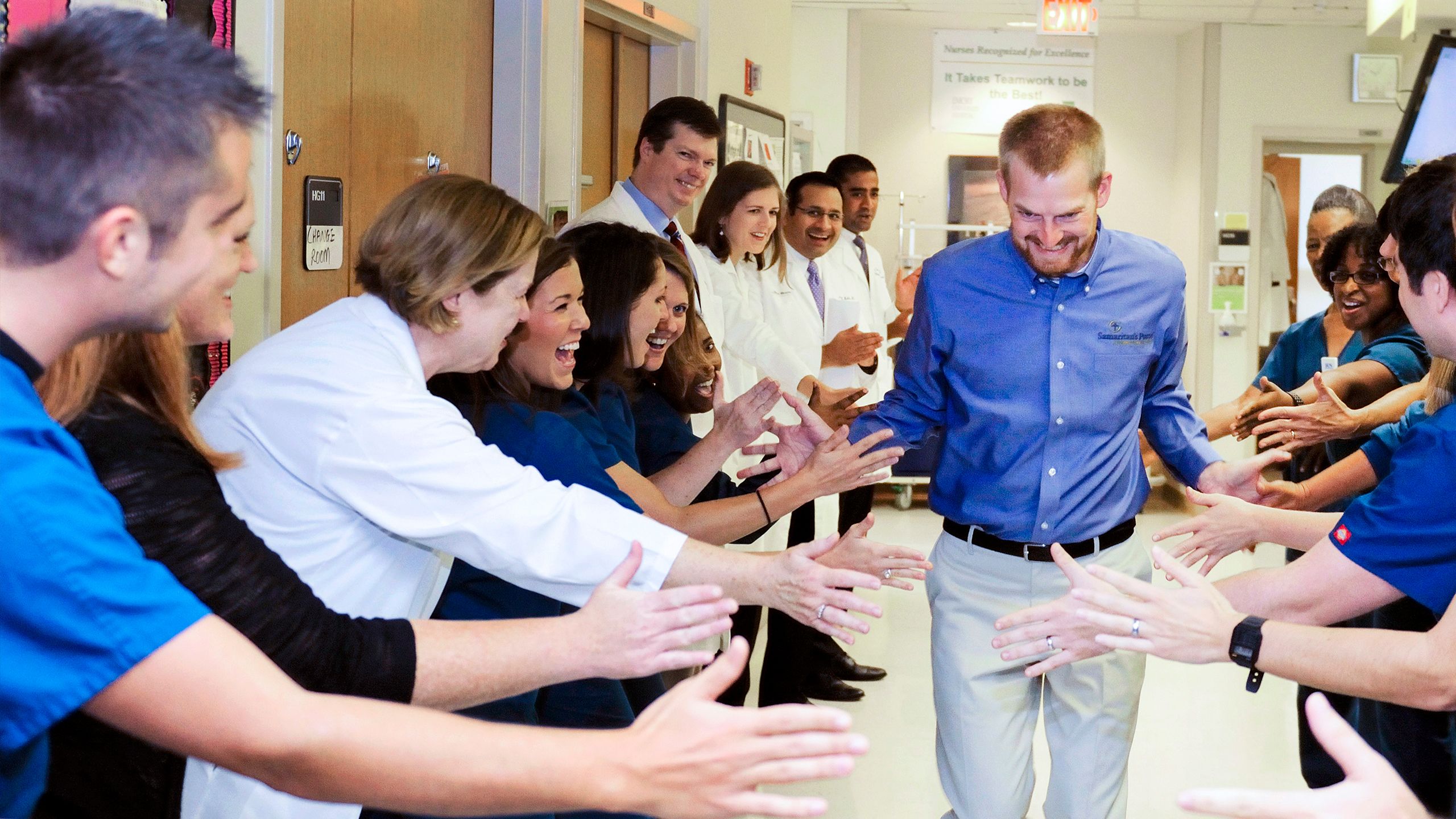 'We're Glad You're Here'
After testing positive for Ebola virus disease, Brantly was evacuated on a private jet and was on his way by ambulance to the Serious Communicable Diseases Unit at Emory University Hospital.
"The drive from Dobbins [Air Reserve Base] to Emory was about thirty minutes. I had no idea that news helicopters were overhead and our motorcade was being televised live all across the nation," Brantly says. "Many people have told me they remember where they were when they watched the first patient with Ebola touch American soil, wondering what would happen next."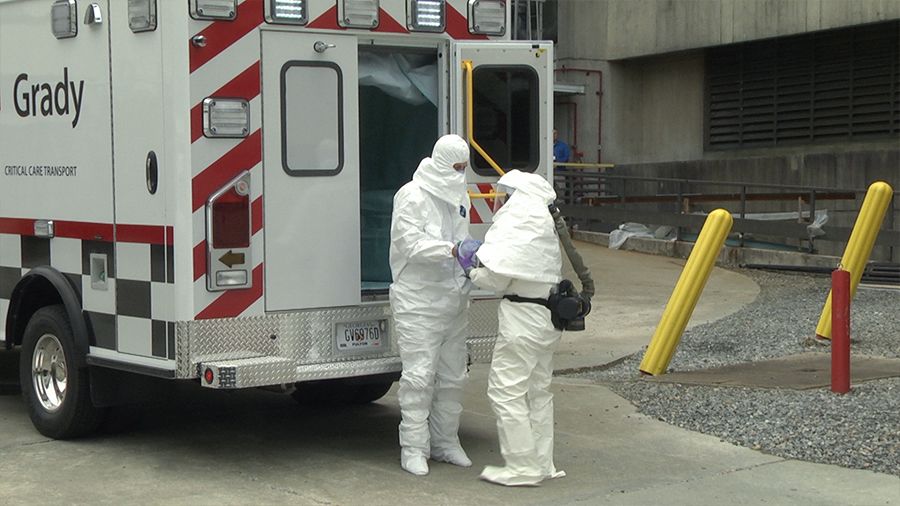 Brantly and his attendant—both clad in astronaut-like protective suits—walked slowly and steadily toward the unit. Inside, a highly trained team of doctors and nurses, who had been preparing for this moment for years, were eagerly waiting. Nurse Jill Morgan had written, "Welcome home! We're glad you're here" on a white board outside Brantly's room.
The unit had been developed twelve years earlier in collaboration with the Centers for Disease Control and Prevention (CDC) to care for patients with lethal, contagious diseases. The result was a fully equipped, negative pressure isolation unit, able to deal with biosafety level-4 pathogens and ready to be activated and staffed at a moment's notice. This was fortunate, since the State Department had informed SCDU medical director Bruce Ribner just a few days before that two patients with Ebola virus were being medically evacuated from Liberia to Emory for care.
Brantly was the medical director at the only Ebola treatment unit in southern Liberia when he was diagnosed with Ebola virus disease. "Amber and I went to Liberia as anonymous, quiet missionaries wanting to live meaningful lives," he says.
No longer anonymous, Brantly was part of a group of Ebola fighters that was named "Person of the Year 2014" by TIME magazine, along with Ribner.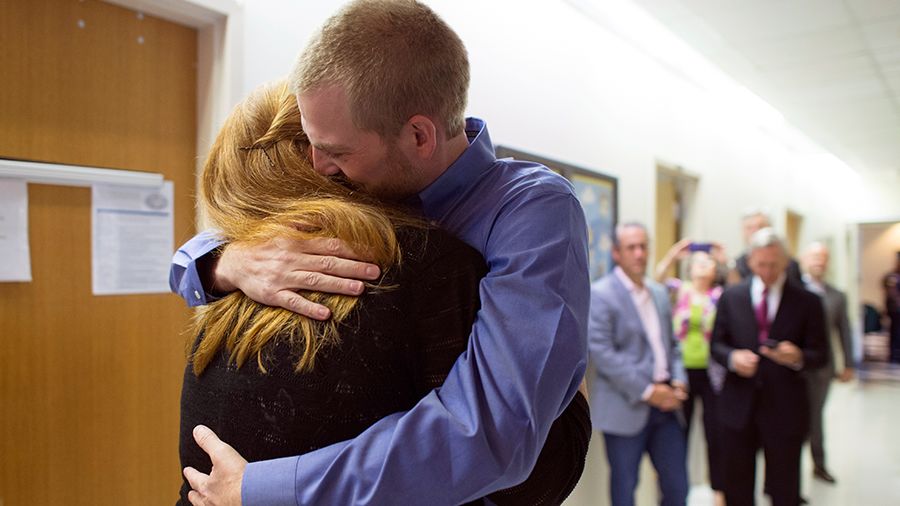 Since then, Brantly has been featured in a Samaritan's Purse documentary, and has written the book Called for Life: How Loving Our Neighbor Led Us into the Heart of the Ebola Epidemic.
"After my discharge from Emory, that spotlight allowed me to serve as an advocate for the people of West Africa, who were still suffering so terribly from Ebola," says Brantly.
He worked as a medical missions advisor for Samaritan's Purse, where "I tried to share a message of choosing compassion over fear." At the end of 2015, Brantly returned to the practice of medicine, while continuing to travel and speak.
 Brantly says he has made a full recovery from Ebola virus disease,  although he suffered from fatigue and anxiety for months after leaving the SCDU. He, like several other survivors, participated in a three-year research protocol through Emory. 
Brantly, his wife, Amber, and their children live in Fort Worth, Texas, but plan to move back to Africa later this year. "This time to Zambia, to return to the type of work we set out to do six years ago, serving in a hospital where there is a great need for more doctors," he says.
Nancy Writebol: The Face of Compassion
Nancy Writebol has been back in Liberia since 2015, continuing her work with Serving in Mission (SIM), an international Christian organization. She lives with her husband, David, in the home they shared before her evacuation to Emory.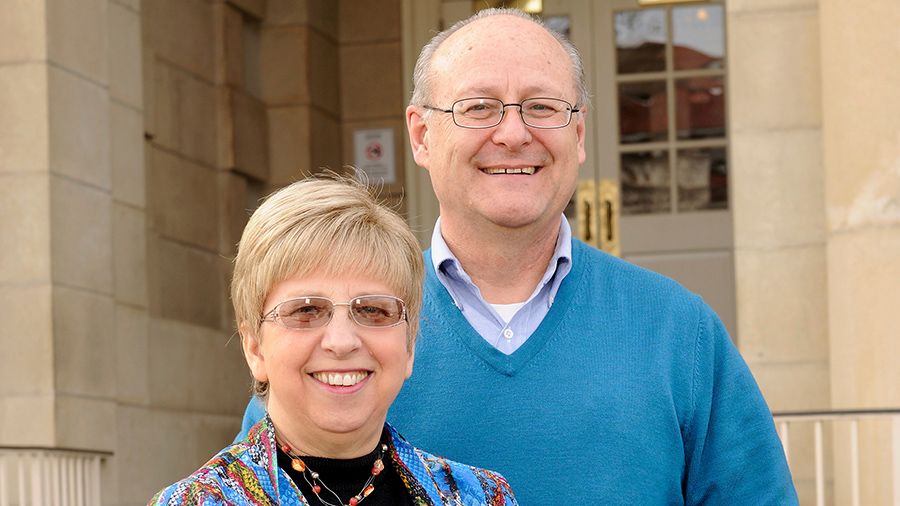 "Upon returning, I met with Ebola survivors and invited them to become part of healing groups to process the trauma they experienced," she says. 
Writebol helped lead trauma-healing training workshops for leaders of churches, NGOs, and other organizations. "It's been an interesting journey as we dealt with those affected not only by Ebola, but also by the atrocities of fourteen years of civil war," says Writebol, now the global trauma healing coordinator for SIM.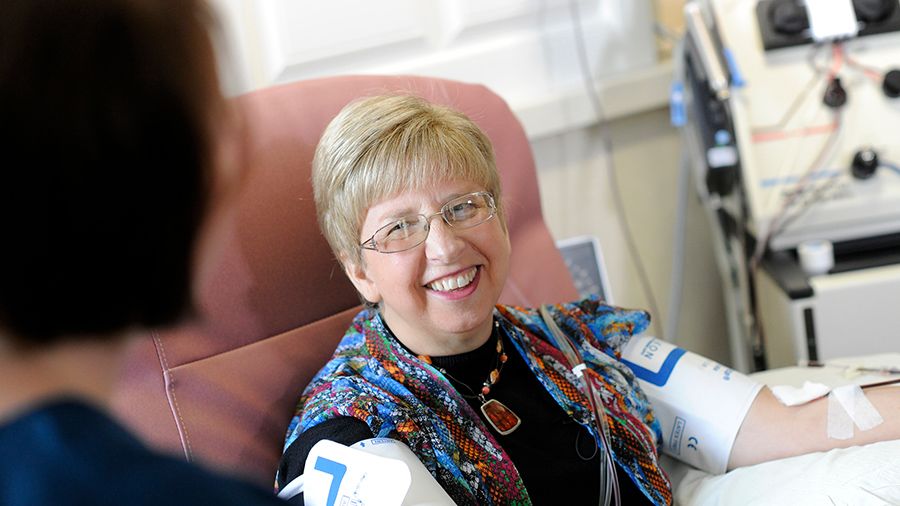 Other than a bit of joint pain in her knees, she says she has fully recovered. "In serving survivors in Liberia, we are reminded of the compassion and kindness shown to us at Emory," she told a group of student nurses during a visit to Emory. "You're the face of compassion to your patients. See them as a person, not a disease. Advocate for them. Do not be afraid."
Ian Crozier: Guardian of the Ill
In the Democratic Republic of Congo, where the second-deadliest Ebola outbreak still rages, survivors of Ebola virus disease are doing an astounding thing. Now thought to be immune, they are returning to Ebola care centers and clinics to tend to the sick. A term for these survivor caretakers has emerged: garde-malade, guardians of the ill.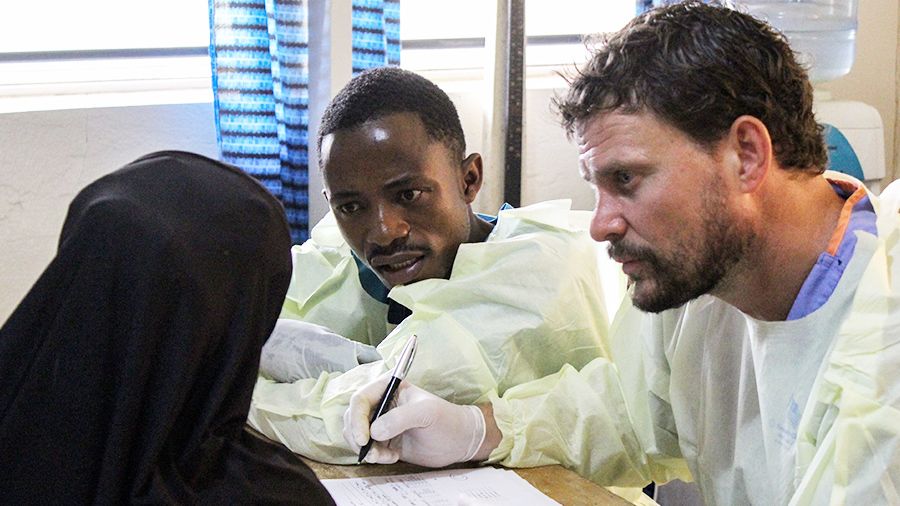 Ian Crozier is a garde-malade.

Five years after his own arduous recovery from Ebola at Emory, he was back in Africa caring for patients of the current outbreak. Efforts to quell the spread of the virus and tend to the sick have been hampered by violent attacks on health care workers.

Undeterred, Crozier was in the DRC for ten weeks this spring, working for the NIH. In March, he flew to Beni to join Emory ophthalmologists Steven Yeh and Jessica Shantha as they evaluated 250 survivors for eye disease—one of several post-Ebola symptoms that Crozier has also experienced.

A native of Zimbabwe raised in the US, he was volunteering with WHO when he became infected in Sierra Leone. "I'd never seen a virus so aggressive," he says. "We were essentially wearing spacesuits at patients' bedsides and still it was not enough. I would have been dead in a week if I hadn't been brought to Emory."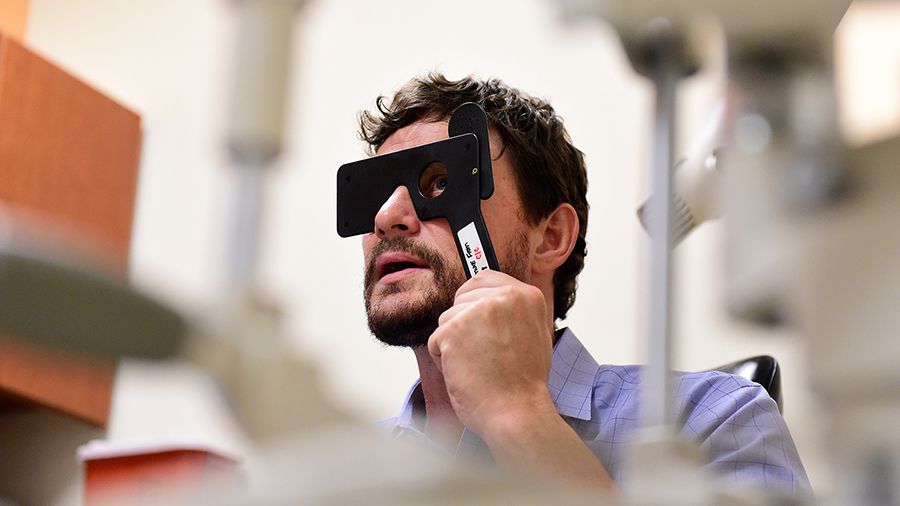 Crozier was discharged in October, but suffered from aftereffects including fatigue, joint and back pain, headaches, hearing loss, and eye inflammation, which led him to the Emory Eye Center. Yeh discovered that the inside of Crozier's eye, whose iris had inexplicably turned from blue to green, was still teeming with Ebola virus—new knowledge for infectious disease experts.

"I want to make sure that what was learned at my bedside, and at the bedside of the other survivors at Emory, is translated and applied to an African setting," Crozier says.
Amber Vinson Markray: Doing Her Part
One of the first two health care workers to acquire Ebola in the US, Amber Vinson Markray still works as a nurse, although she is now in the clinical education department of a Texas hospital.

"Through my time spent recovering, I learned a great deal about the patient experience," she says. "Being isolated [in the unit] made me appreciate being able to go outside to feel the sun, fresh air, and the sounds of birds chirping. It definitely impacted how I provide patient care."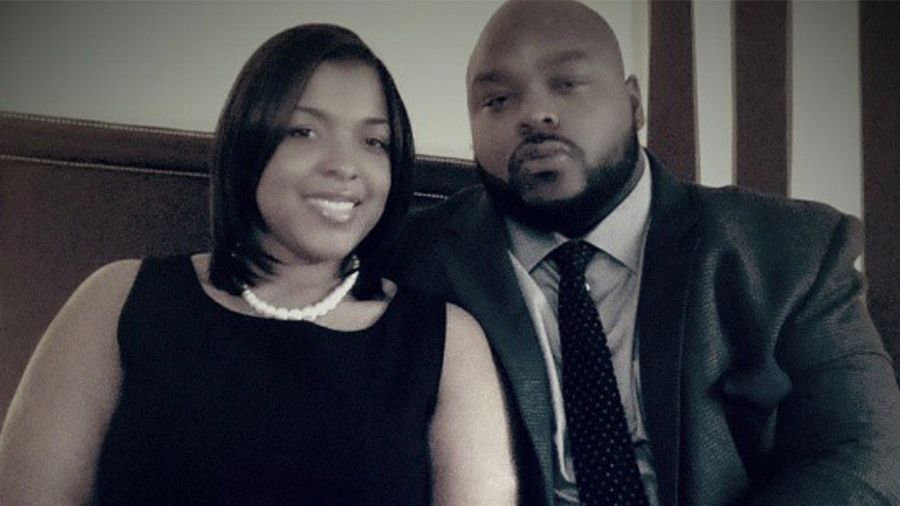 Suffering from a virus whose mere name can cause panic taught her valuable lessons, as well. "I learned the importance of providing clear, simple information about diseases, transmission, and treatment to the public," she says. "The lack of public knowledge was a challenge. Fear made some encounters difficult."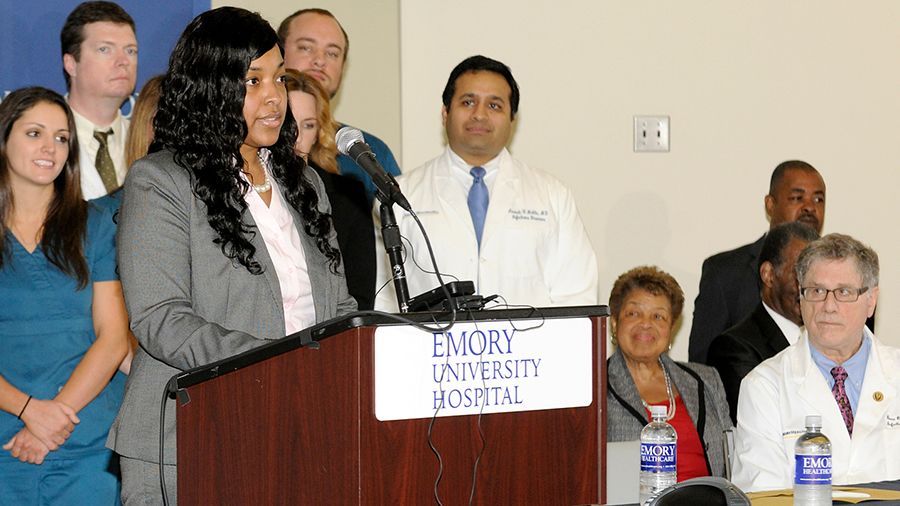 Like Brantly, she held a press conference at Emory before leaving.

"While this is a day of celebration and gratitude for me," she said, "I ask that we not lose focus on the thousands of families who continue to labor under the burden of this disease in West Africa."
Since fully recovering, she has participated in a research study at Emory and donated blood to a biotech firm for vaccine development.
"Maybe something wonderful can come out of it," she says, "so I want to do my part to help."