Building community
New identity spaces enhance sense of belonging for Emory's campus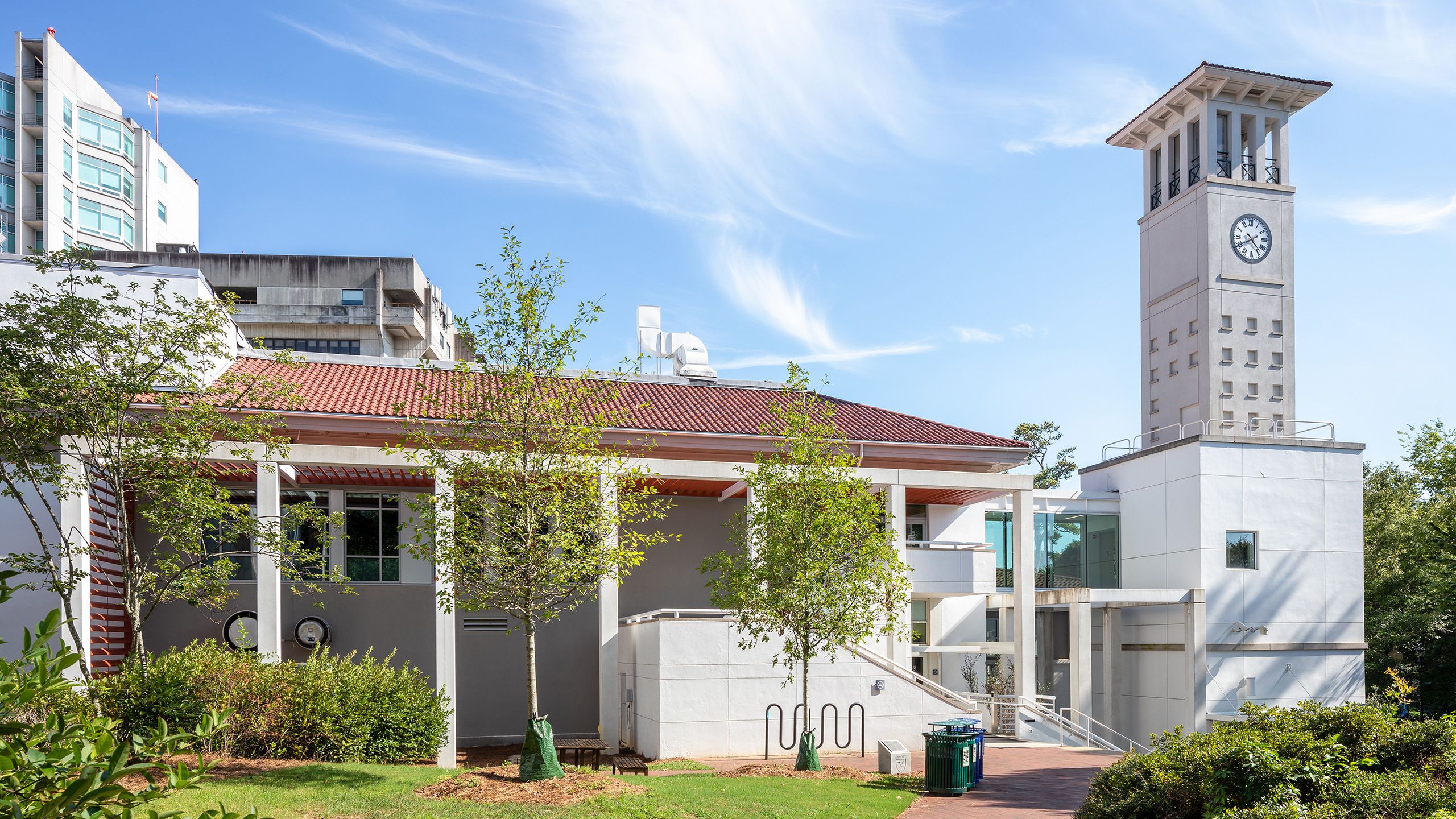 When David Kulp got a spontaneous invitation to visit the new Belonging and Community Justice Identity Spaces on the third floor of Cox Hall from Enku Gelaye, senior vice president and dean of Campus Life, he couldn't refuse.
Though he currently studies in the Emory School of Medicine, Kulp first came to the university as an Emory College undergraduate in 2016. During those years, he was very involved in campus life, serving on a student advisory board. That's how he met Gelaye, and they catch up over lunch often these days.
Walking through the new spaces, he couldn't hide his excitement over the natural light pouring in through the windows, or the intentional layout of the area.
"I was very impressed by it," says Kulp. "It's nice to see the expansion of offerings for student spaces on campus come to fruition."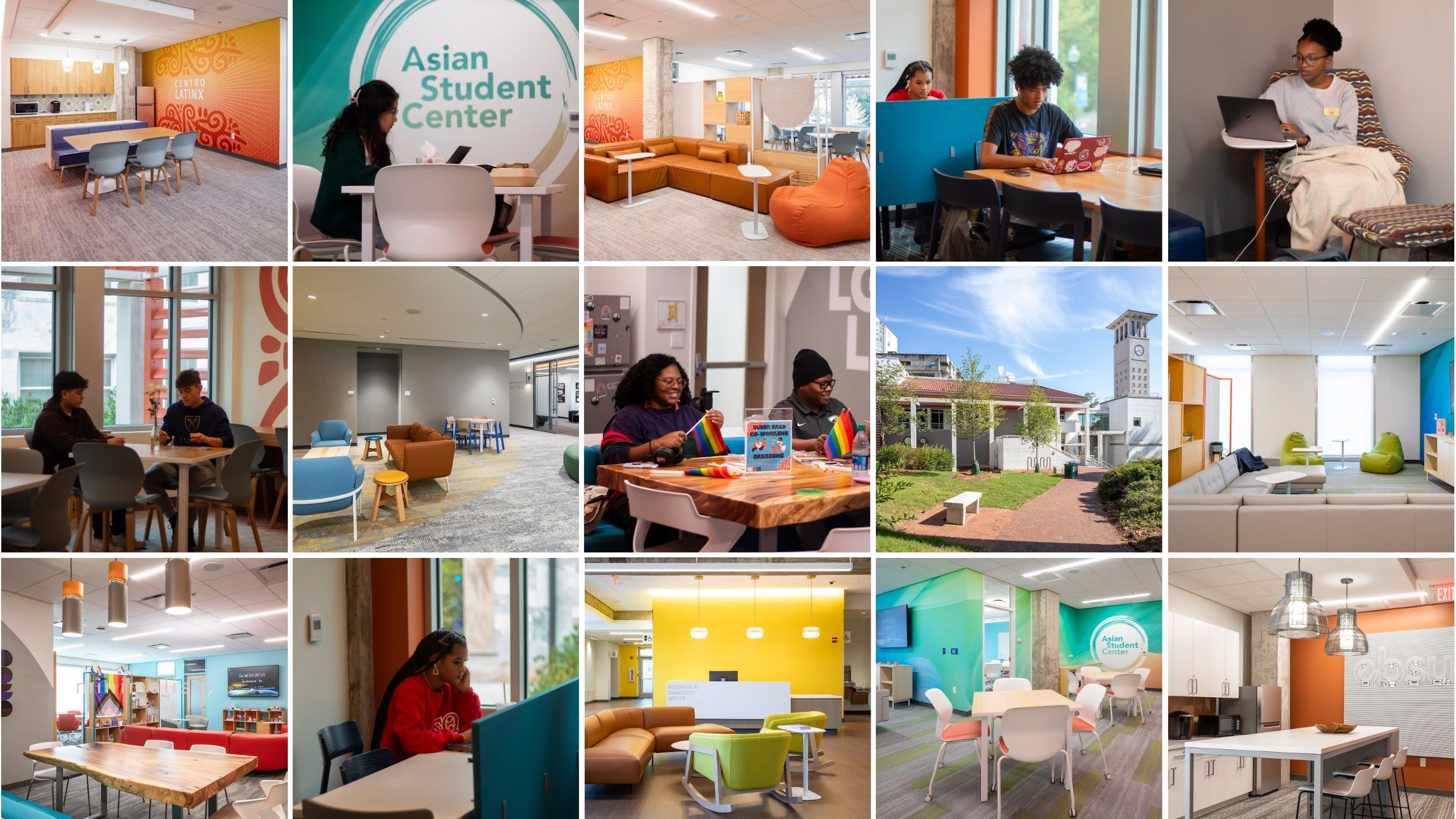 The Belonging and Community Justice Identity Spaces have already been hosting students and putting on programming since a soft launch in September.
With a grand opening on Saturday, Oct. 21, at 1 p.m. coinciding with 2023 Homecoming festivities, the new spaces enhance the sense of community for Emory students across disciplines, identities and experiences, immersing them in affirming spaces while also encouraging exploration of intersectional identities.
New spaces for the Asian Student Center, Center for Women, Centro Latinx, Emory Black Student Union, the Office of LGBT Life and Emory First, a space for first-generation college students and students from low- and limited-income backgrounds, are all found on the third floor of Cox Hall.
These new spaces were born out of a long history. Though many of the organizations already existed on campus long before the physical areas, the idea to renovate them into something more robust and visible began in 2019 and was prioritized by President Gregory L. Fenves when he toured campus in summer 2020.
Before the current spaces were built, the identity spaces were occupying the Alumni Memorial University Center (AMUC). A significant renovation to the spaces in AMUC was unveiled in 2021 to give students improved spaces while the multi-million dollar construction in Cox Hall was underway.
"The core of this project is cultivating a sense of community for all," says Enku Gelaye, senior vice president and dean of campus life. "Student identity spaces nurture a sense of community in our students that affirms and uplifts their voices."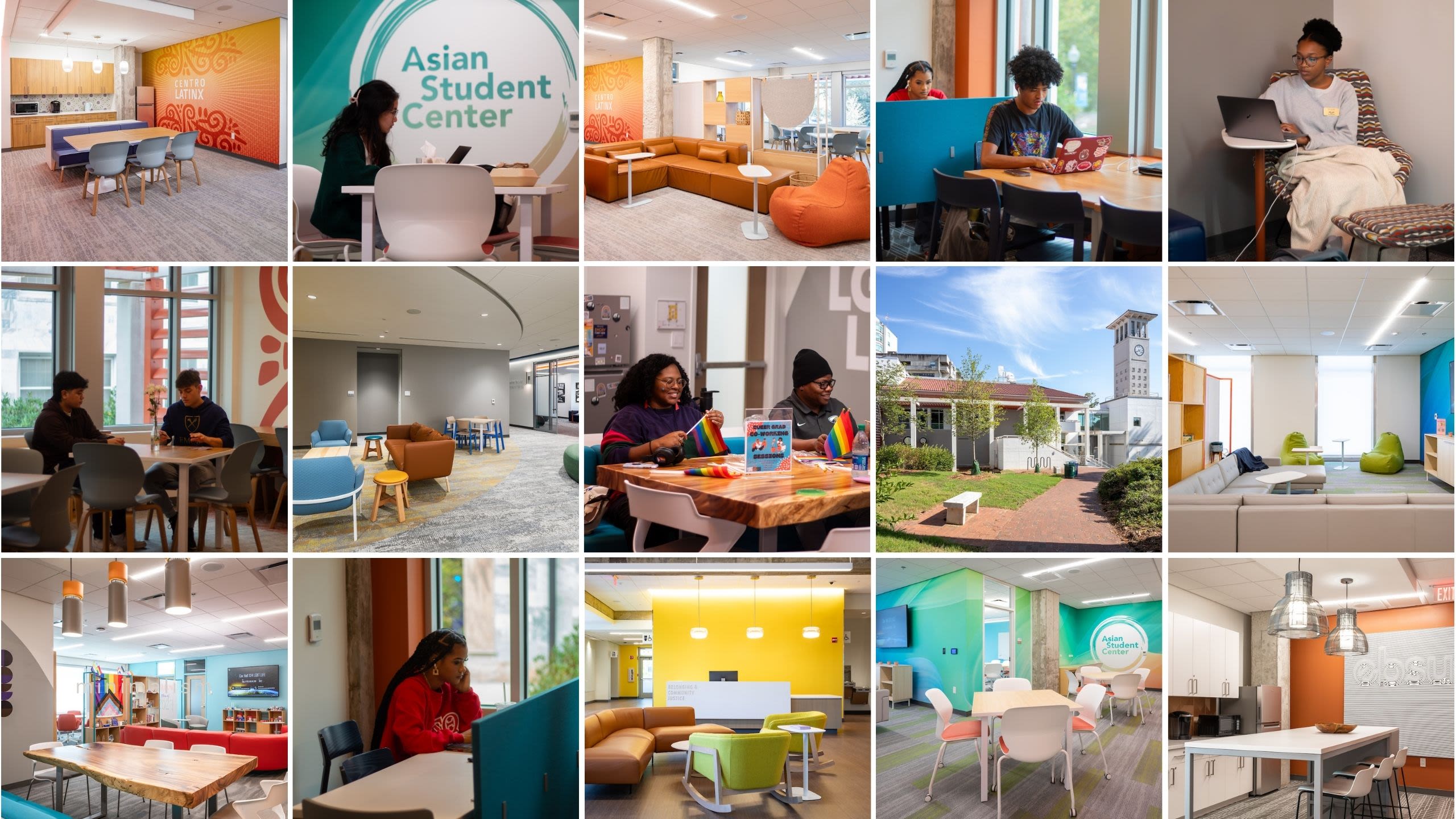 Communities coalesce
In the identity spaces, Yvonna Smothers, a third-year student studying human health and economics, says she feels at home with members of her community — even though she is more than 700 miles away from her hometown of Chicago, Illinois.
Smothers works as a student programming assistant in the Center for Women but spends plenty of time in the Emory Black Student Union and first-generation student spaces, too.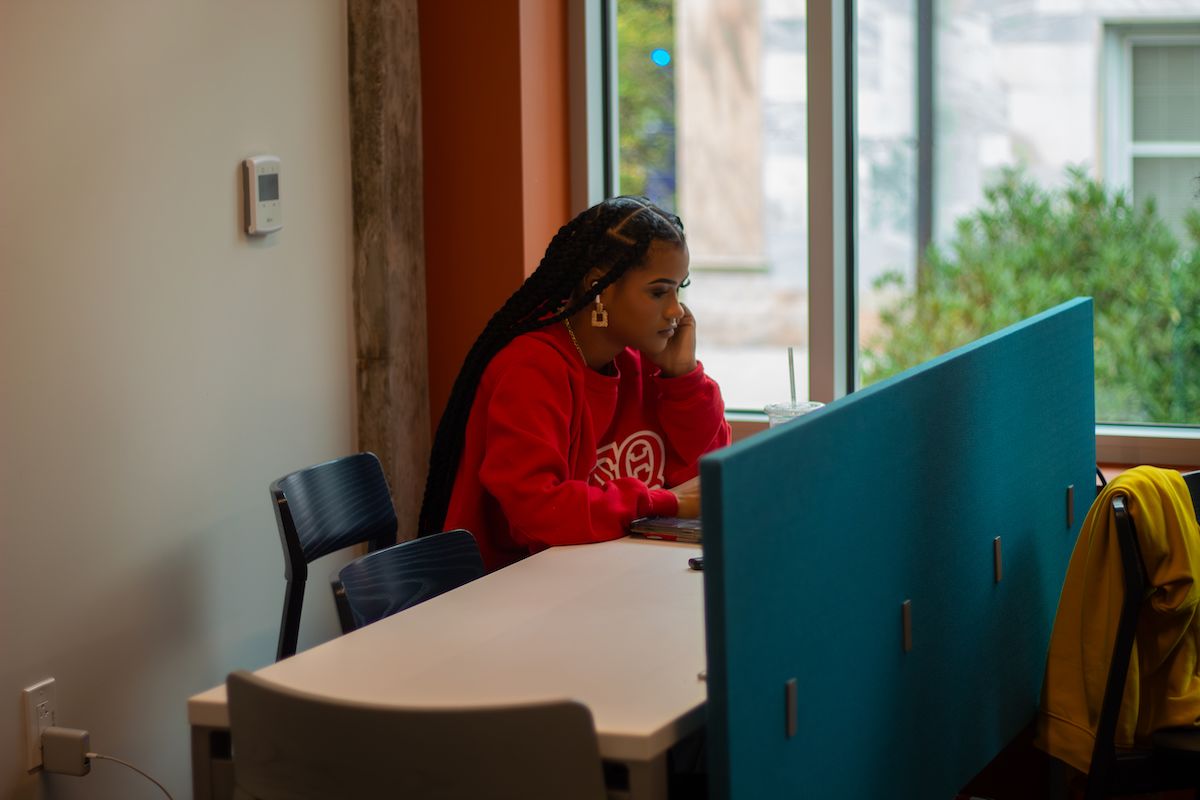 The Emory Black Student Union identity space features areas for individual and group study.
Creating community is a top priority for Smothers. She says these new spaces are already creating more opportunities to plug into communities than previous iterations of the identity spaces in other buildings or rooms.
Recently, the Center for Women and Emory Black Student Union (EBSU) hosted a line dancing event, inviting people to join in the festivities in the EBSU's new space by playing music and instructing the steps for popular line dances like the Wobble or the Tamia.
"Line dancing made me feel like I was back at home, because Chicago is a very big place for stepping and line dancing," says Smothers. "Being able to go into these spaces really reminds me of the people that I'm representing back home."
Smothers says that entering these new spaces surrounded by people with familiar experiences keeps her grounded and plugged into her communities.
"I think it's important for me to be able to go throughout these spaces and see people that have the same experience as me," says Smothers. "I don't feel as isolated as I would in other places even though I'm so far away from home."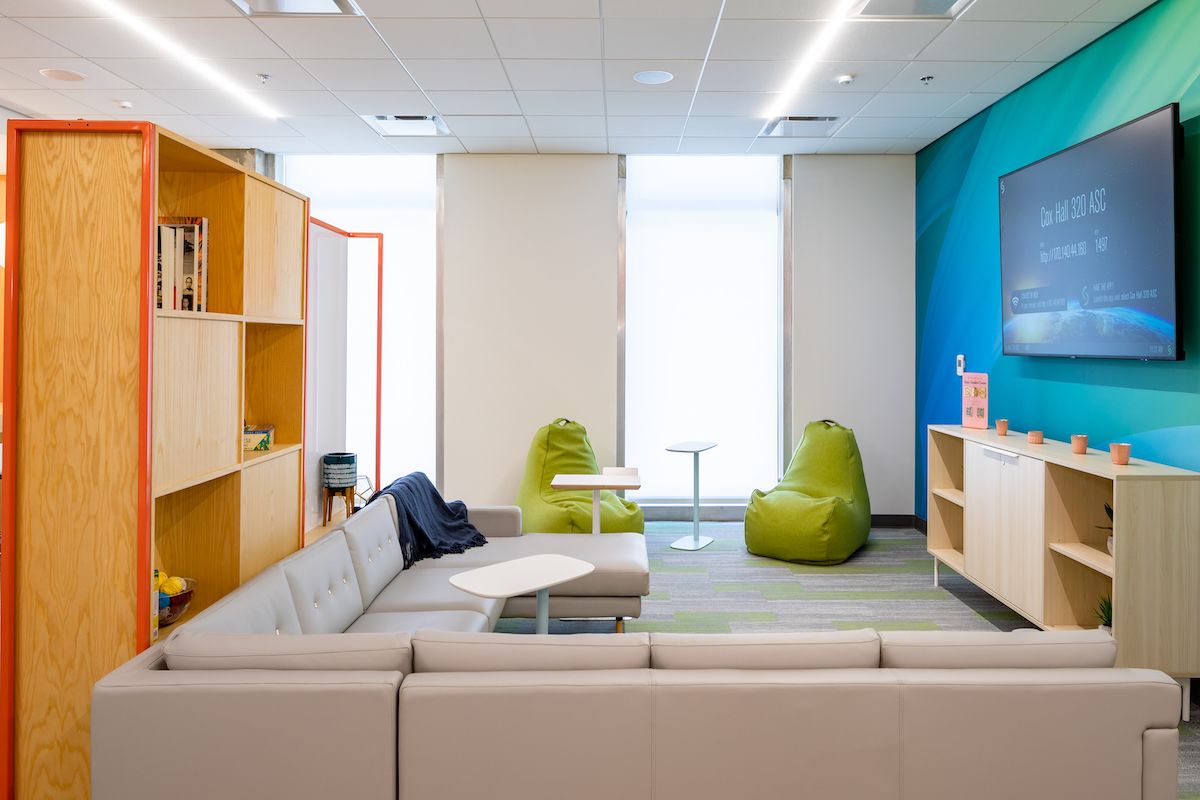 The Asian Student Center features a large space for students to study, relax and create community.
Thanks to their new location, some students are learning about the identity spaces for the first time.
Jennifer Soto, a second-year pre-nursing major from Los Angeles, has been involved with the Asian Student Center (ASC) since her first year on campus. She noted how that elevated visibility has helped the ASC connect with community members.
"Not a lot of people knew about the space back then where it was located, so we didn't really have large turnouts for our events," says Soto. "Ever since stepping into the new floor at Cox Hall, we have been getting a lot of engagement from the community compared to before. We definitely feel like a lot of our needs that weren't completely met in the AMUC are met at Cox Hall."
Soto noted how she found sanctuary within the walls of the ASC.
"The first word that usually comes to mind when I think about the new spaces is 'safety,'" says Soto. "It's just a nice place to wind down after a long day, just finding a space that's really meant for yourself."
For Chanel Craft Tanner, director of Emory's Center for Women, there's a clear difference in the attitudes of students in the new spaces. She describes a new excitement she's observed in the students.
"They're just like kids in a candy store right now," says Tanner. "The energy is just amazing, and it hasn't stopped."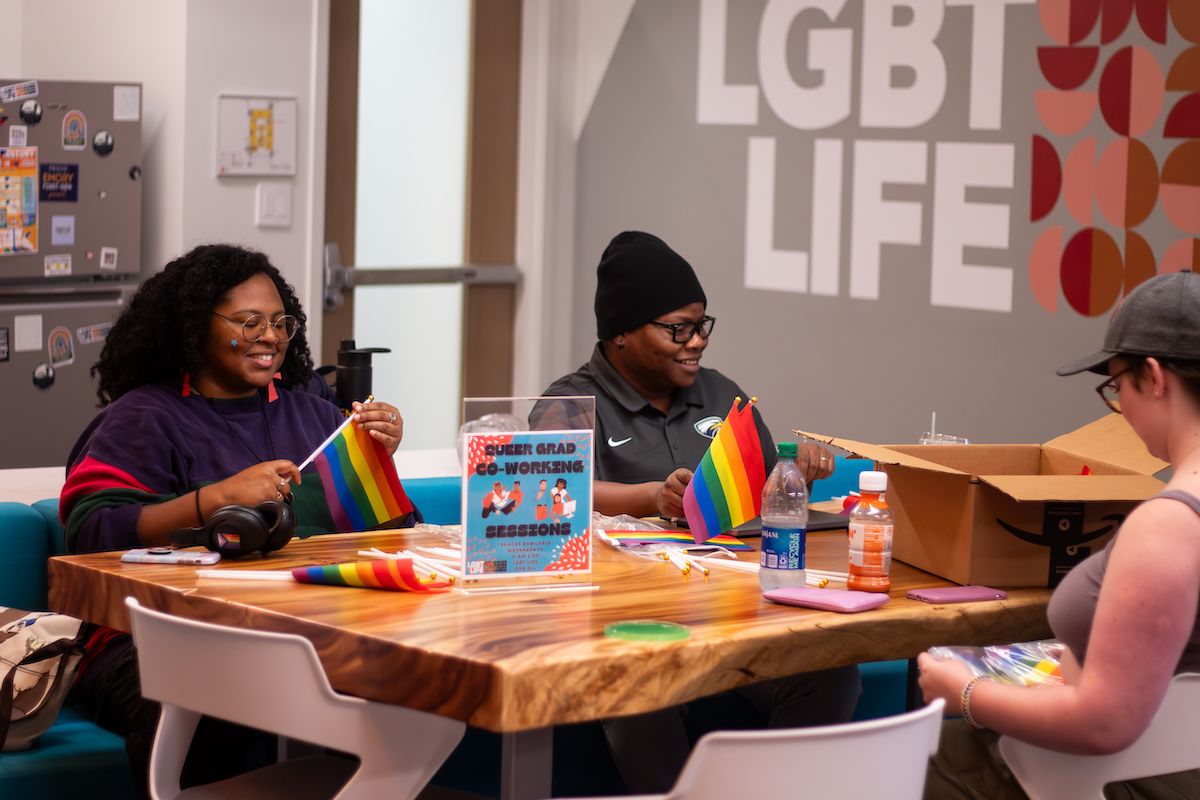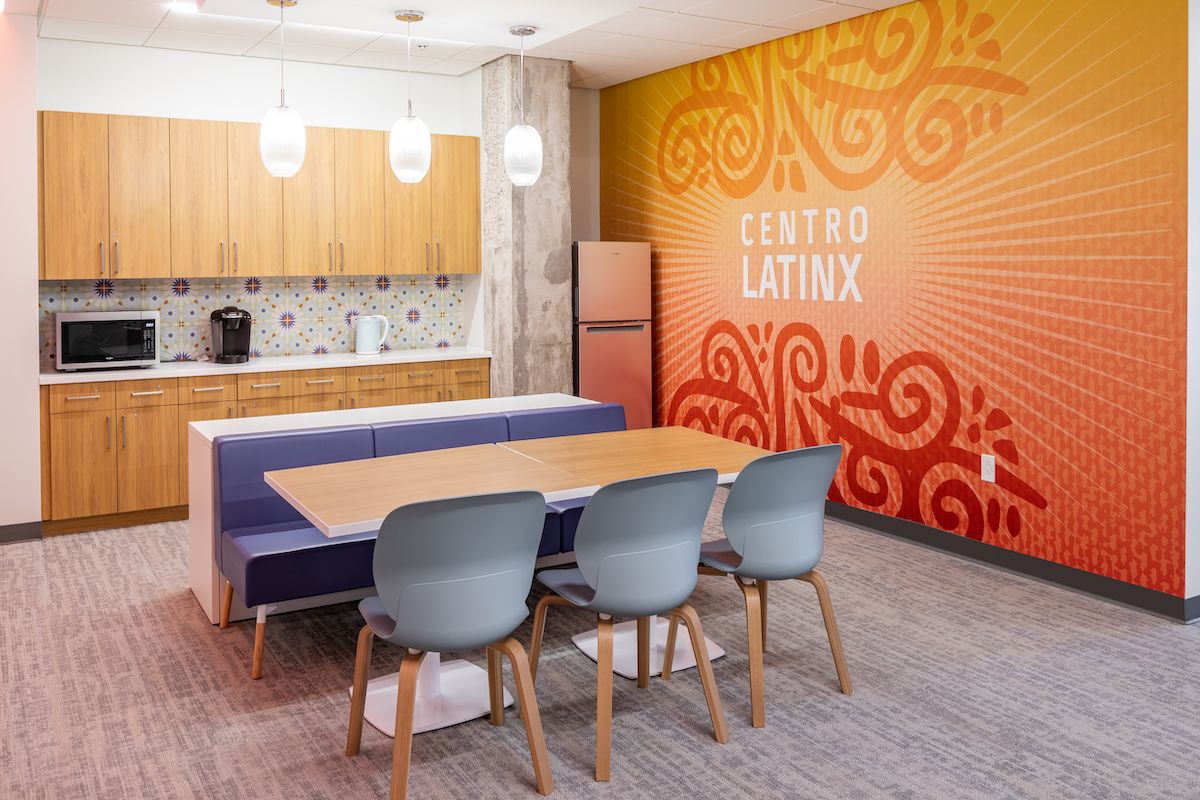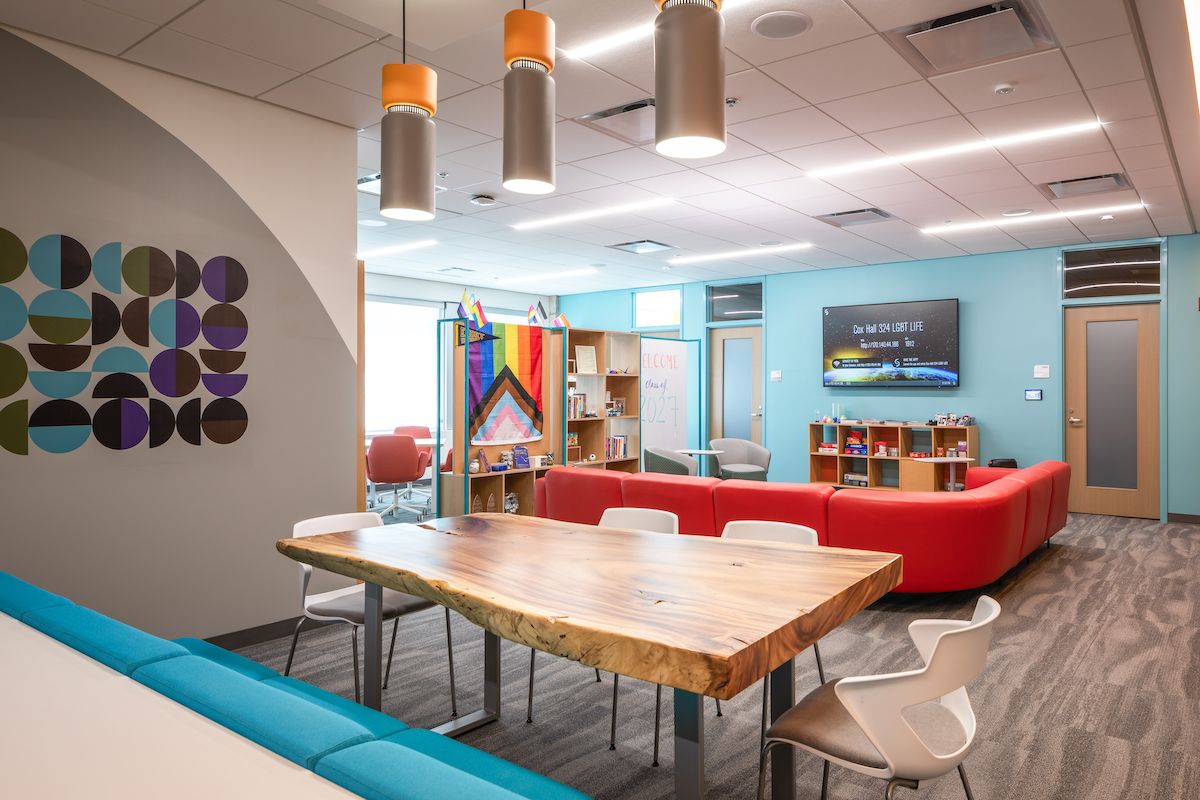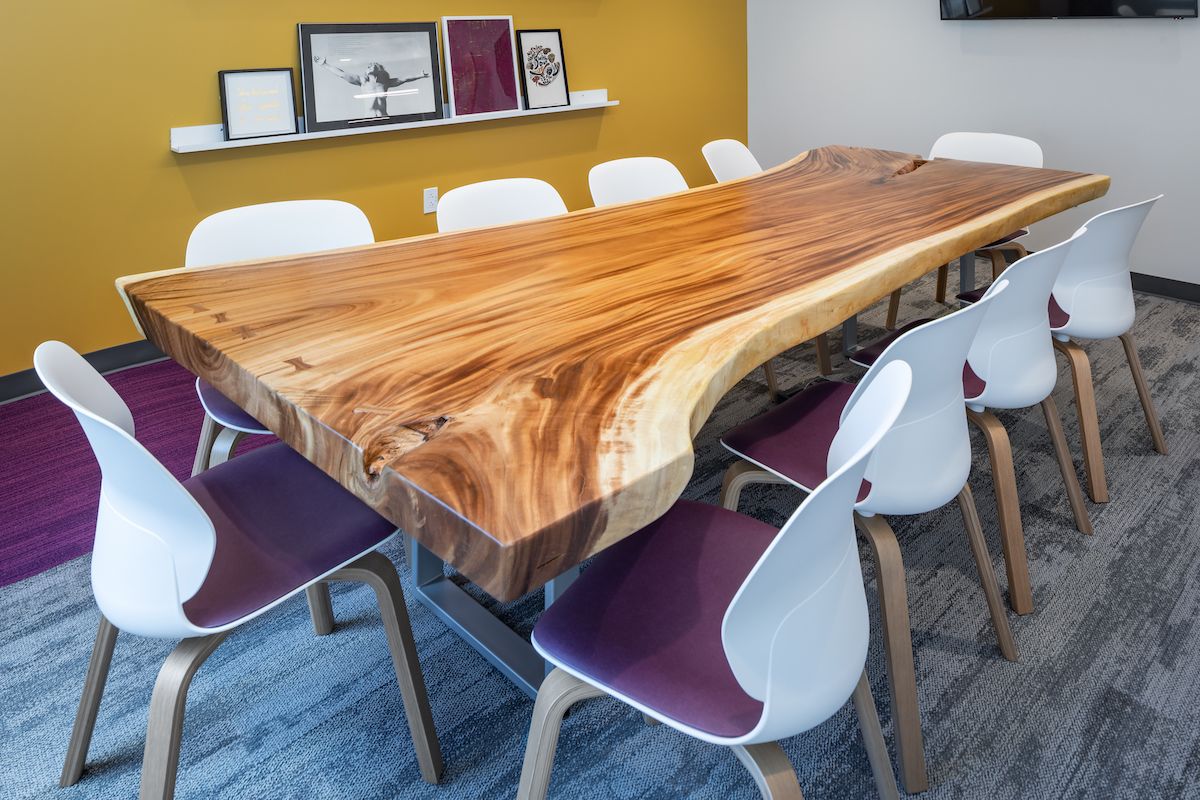 A student-centric design
Entering the third floor of Cox Hall, it is uniquely evident that each detail was designed with a priority on creating community and belonging — a feeling that was achieved by none other than Emory students. The design of the identity spaces was influenced by input from more than 40 feedback sessions throughout the planning process. Each space has unique features and qualities advocated for by Emory students.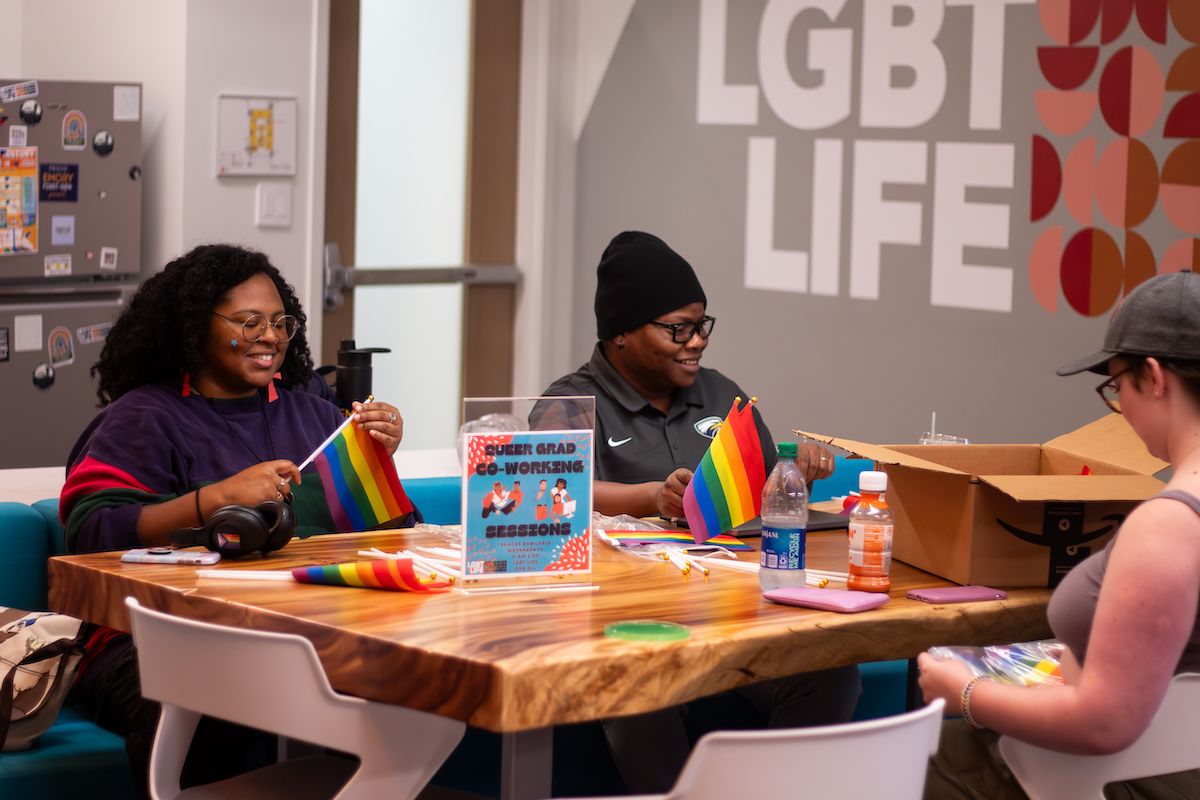 Yemko Pryor (left) and friends relax together in the Office of LGBT Life identity space.
Yemko Pryor, a fifth-year PhD student in genetics and graduate program assistant in the Office of LGBT Life, was one of the students who volunteered to help design the spaces. Pryor, through many sessions, gave feedback on color palettes, voiced their opinion on furniture and helped imagine an overall vibe for the spaces — with the ultimate goal of creating a home base on campus.
"We really wanted to have a living room sort of vibe," says Pryor. "And that's exactly what it feels like. It's quite easy to bounce from, 'I'm zeroed in focusing on work, so I'm going to the quiet meeting room,' to saying, 'I'm done with work, and I just want to chat,' and moving to the giant couch to play Mario Kart."
The alumni perspective was supported through the lens of staff members of identity spaces, many of whom are alumni themselves. They worked to carry on the legacy of their time as Emory students and advocated for features they would've enjoyed.
Victoria Alarcon graduated from Emory in 2019 and now works as a program coordinator in Centro Latinx. Alarcon says that they would've loved to have a kitchen as a student to gather with friends and family over food. The new Centro Latinx space features a kitchenette with appliances, plates and flatware. The larger kitchen at the front of the Belonging and Community Justice space has already become a comfortable space for students to gather and create community.
"Food is so central to our culture and being able to share that is so important," says Alarcon. "Being in the new Centro Latinx and having access to a kitchen is really exciting for students."
The feeling of home comes across loud and clear to students. Taylor Colorado Merino, a second-year sociology student from Los Angeles, spends a lot of his time in Centro Latinx. Merino noted that, in addition to the comforting nature of Centro Latinx, it's important to him that Emory created a space for certain communities on campus to increase their prominence.
"I think it's very special, the visibility that comes with creating spaces like this," says Merino. "It helps me feel connected with the community and keeps us grounded in the value of our time and the value of having those connections."
Across the hall, in the Office of LGBT Life, there were a few additional design priorities to support students. Danielle Bruce-Steele, director of the Office of LGBT Life, says she wanted a secondary entrance and exit for people who may not be comfortable being seen entering the space.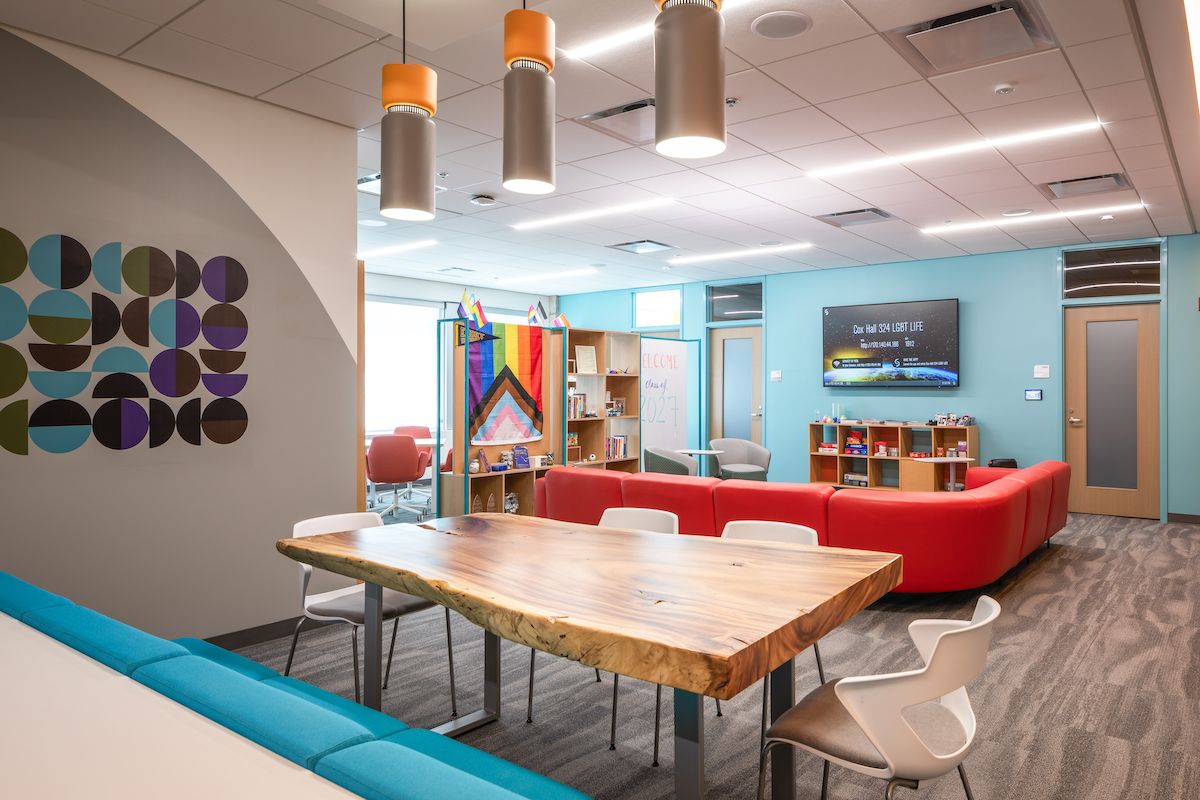 The Office of LGBT Life identity space boasts areas for students to study, relax, play games and create community with their peers, along with offices for staff.
The expansion of each identity space not only means more visibility for marginalized communities across campus, but it also quite literally means an expansion of the physical space that they can occupy. This means more programming opportunities and more chances for all student populations to feel welcome.
Pryor reflected on how, in previous buildings where the identity spaces were, much of the population in each office was overwhelmingly undergraduate students. Now, she's seeing more graduate students interact with the office than ever before.
"There are resources that most graduate students previously didn't know were in the office because they just haven't felt comfortable being in there for long periods of time in the past," says Pryor. "Since the space is so much bigger, we are physically able to be more inclusive to graduate students."
Exploring intersectionality
One of the hallmarks of the identity spaces are the pockets of tables, bookshelves and nooks between each of the six distinct spaces. They are intentionally designed to encourage exploration of the intersections of identities represented on the third floor.
Merino noted the part that stood out the most to him was the intersectional spaces. They voiced an appreciation for the emphasis put on the design of the meeting spaces.
"I think it's very important to acknowledge the several layers to students," says Merino. "We're not just Latinx, we're not just Black, we're not just Asian, we're not just part of the LGBT community. It's important that the university recognizes all these different intersections."
Smothers herself embodies the point Merino made, sharing time among the EBSU, Center for Women and Emory First spaces. She noted just how intersectional the first-gen space was itself.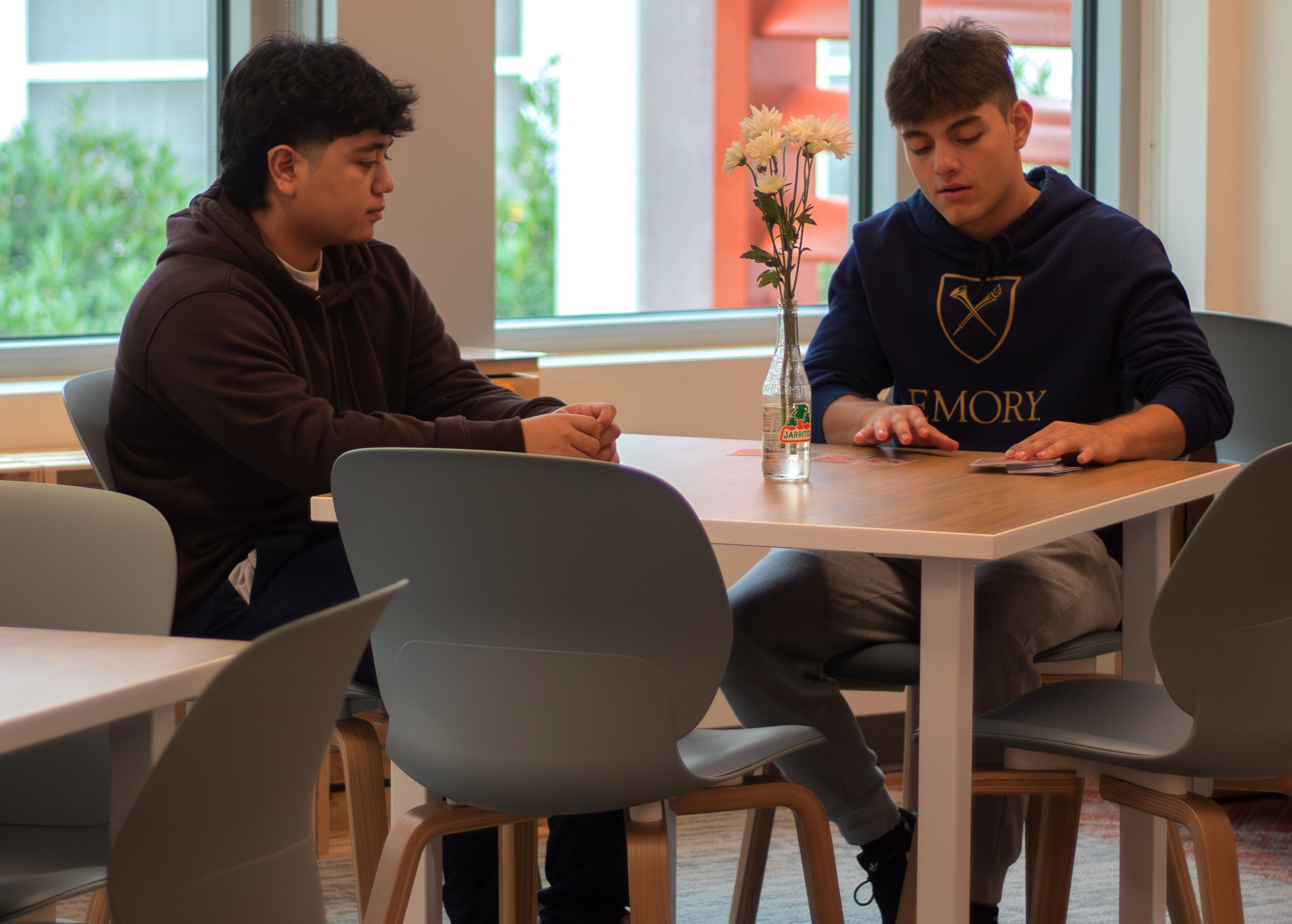 Centro Latinx has spaces for students to connect with friends and other community members.
"It's not just Black people that are first-gen or a specific identity that are first-gen. You go into that space, and you see all types of people that are a champion for their family," says Smothers. "You get to learn about different people's identities, learn what they're going through and figure out resources from them as well."
Smothers pointed out that she doesn't feel confined to the spaces she specifically identifies with, either. All the spaces encourage students to come in and build community across differences.
"In the other identity spaces, even if you don't necessarily belong within those communities, they are very open and welcoming to students just coming in, like allyship," says Smothers. "It's really helpful to not have to choose which side I can go to."
For Bruce-Steele, this attitude embodies one of the missions of the identity spaces.
"You may find community, and you may find friends, and you may find whatever it is you're looking for in any of these spaces because they are meant for creating belonging," says Bruce-Steele. "They're meant for creating community, but they're also created for engaging and learning across differences."
Chazidy Register, assistant director of the EBSU, further echoed Bruce-Steele's point and noted that not only is it convenient for students to find these communities between spaces, it's also a responsibility of staff members to engage in intersectional programming to help students explore these identities.
"It's clear that Emory had the intent in mind to encourage us to work together and truly be collaborative," says Register. "You can't help but work with your peers, and you can't help but think about all the different identities we hold in this space."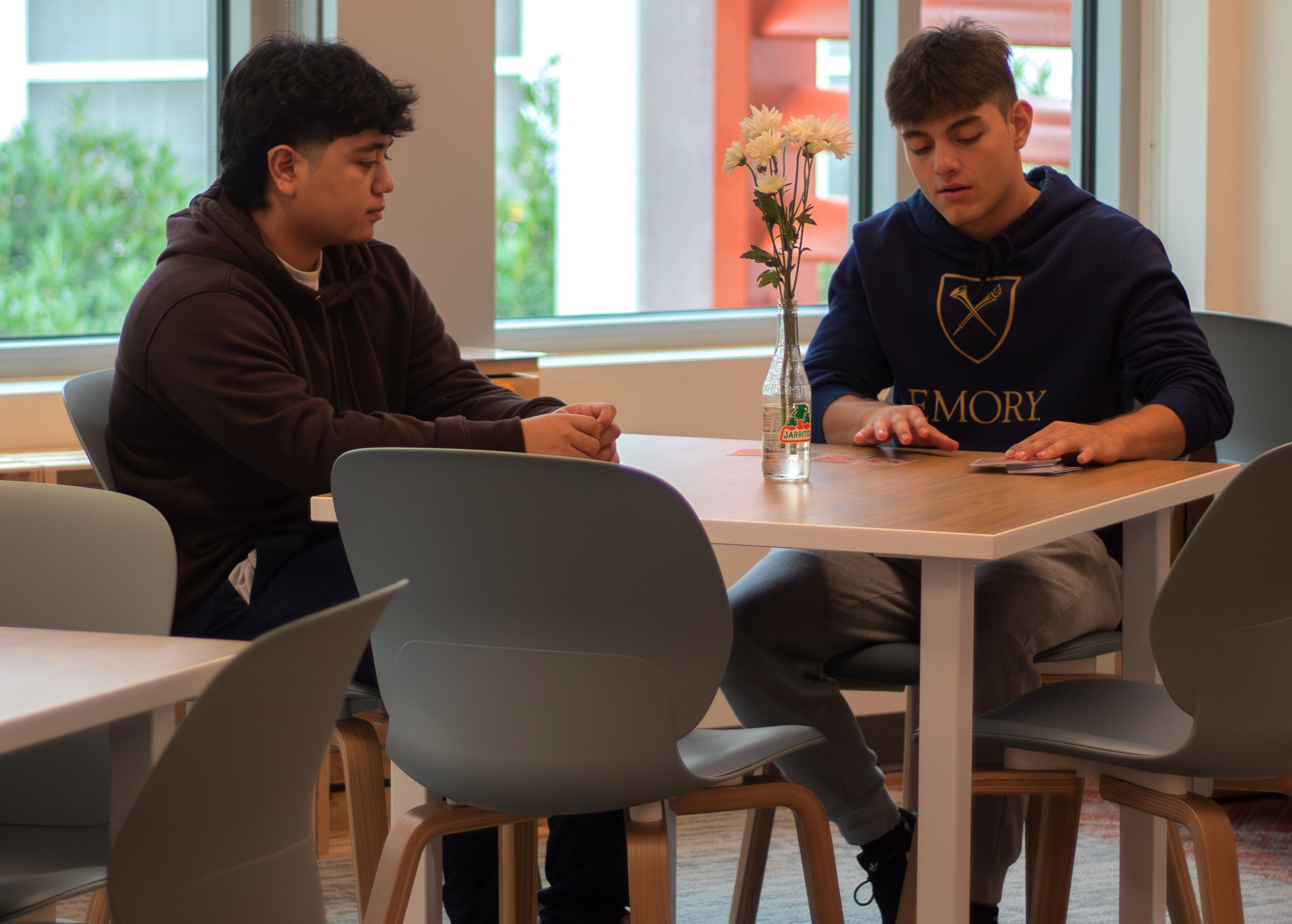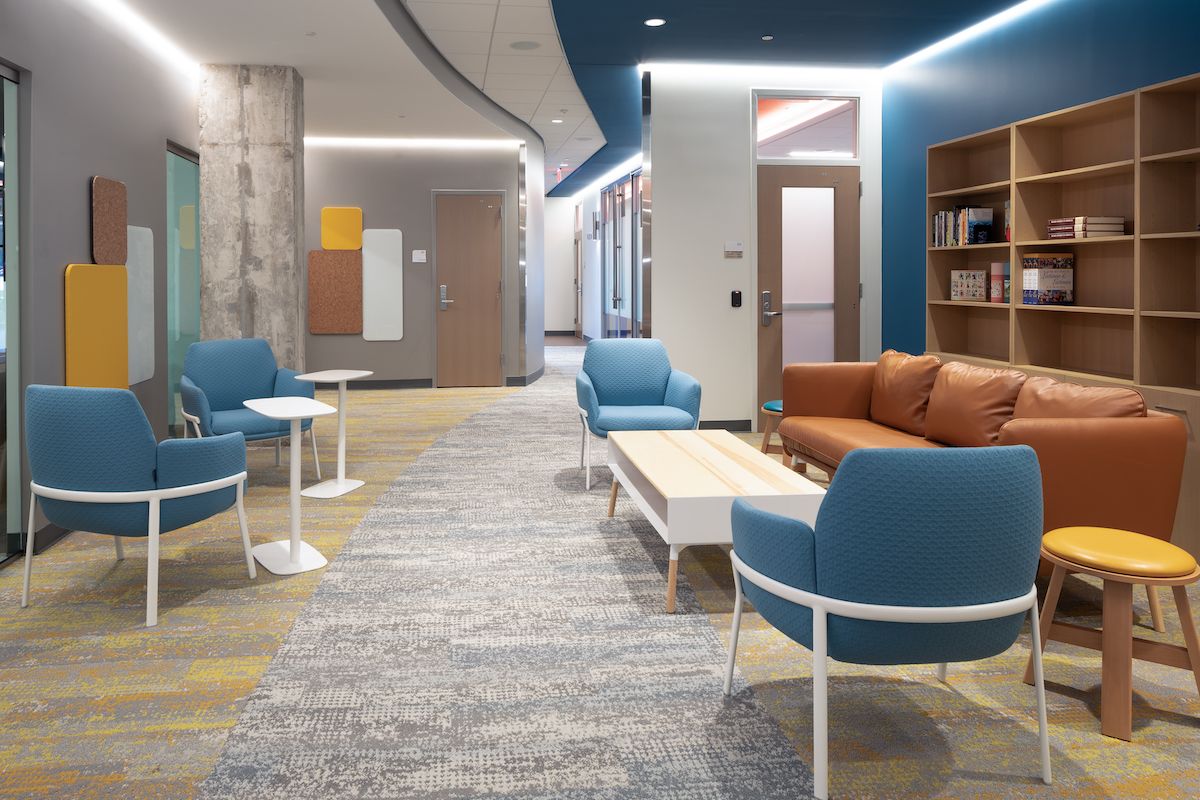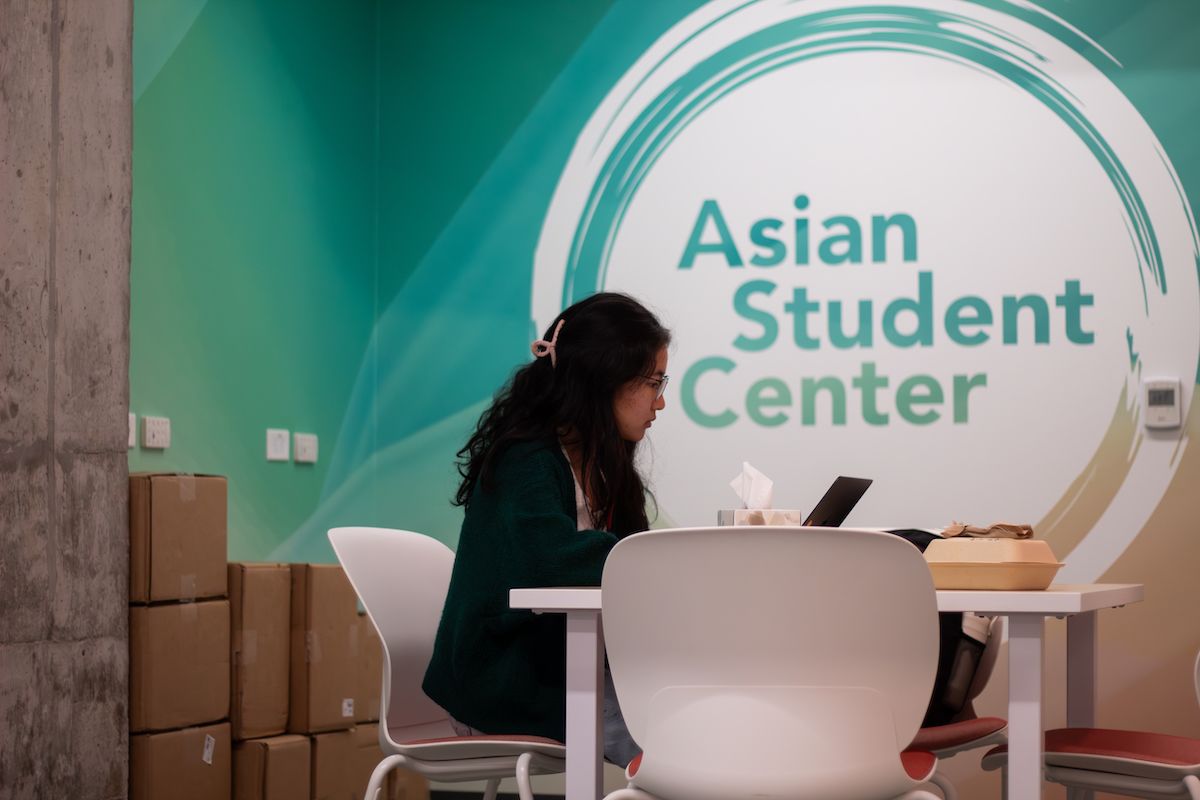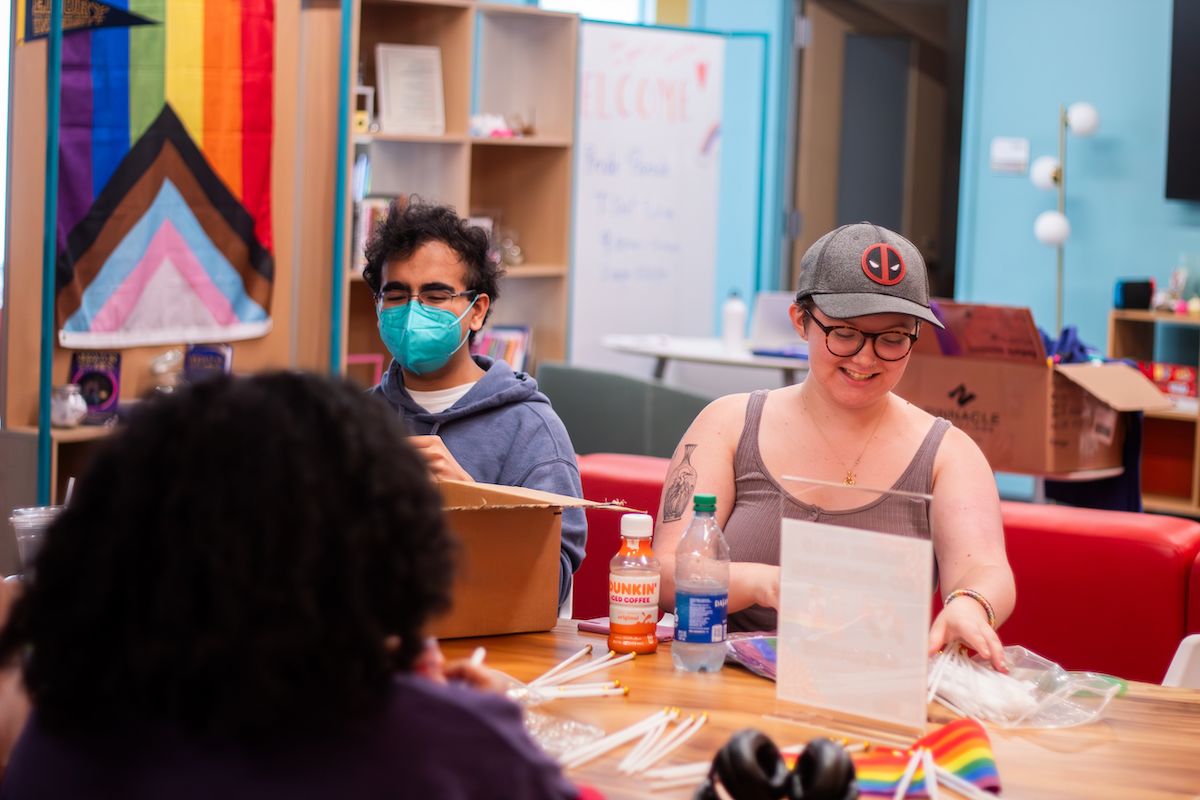 Setting future goals
Though the identity spaces haven't even officially had their grand opening yet, leaders are already looking toward the future.
"At Emory, we want every student to be able to take full advantage of the extraordinary educational opportunities," says Kristina Bethea Odejimi, associate vice president for belonging, community and engagement in campus life and dean of students. "To do so, students must feel welcome and that they belong. The new identity spaces provide room for all students to learn about different cultures and a place for students to connect across their identities, expanding their personal understandings of themselves, the world around them and making keep connections with those with shared experiences."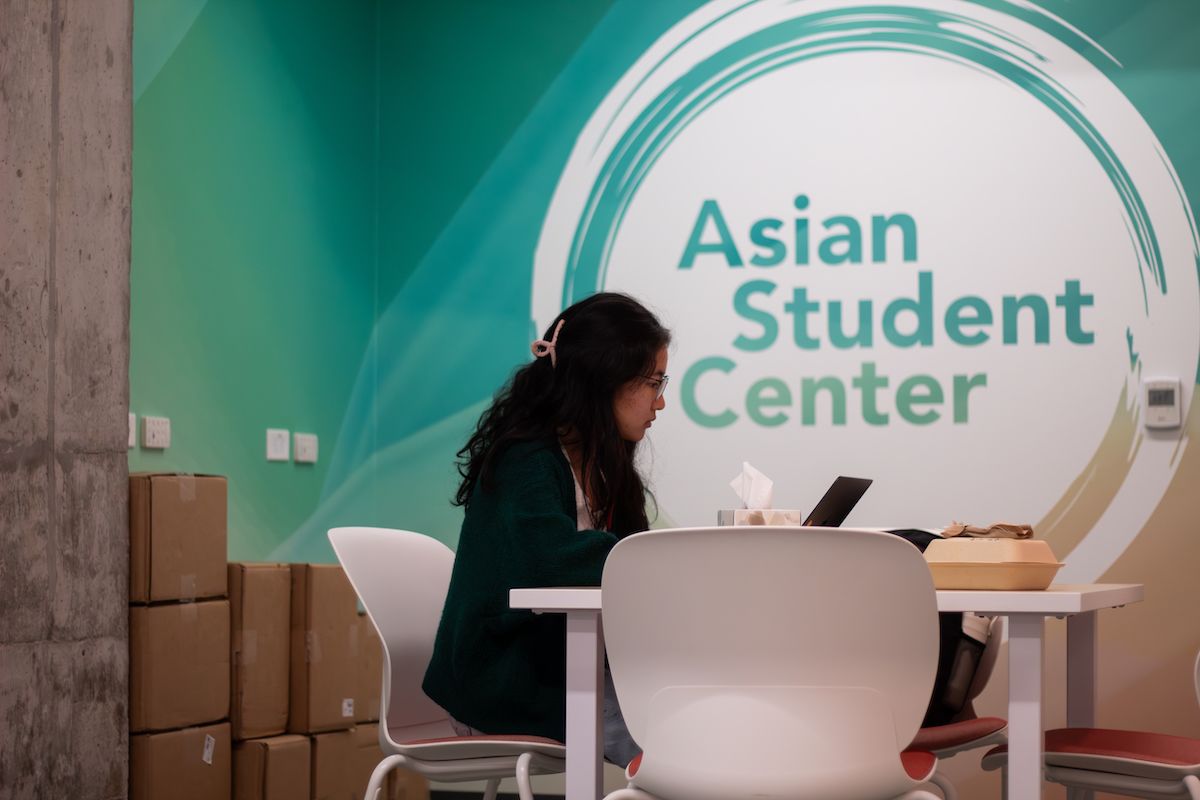 Students often utilize the identity spaces to study, such as this student in the Asian Student Center.
For Katherine Hur, assistant director of the Asian Student Center (ASC), one of the top priorities is interdisciplinary programming. She says that collaborative initiatives are beneficial for all members of the community.
"We're trying to partner with faculty and academic departments," says Hur. "I would love for the ASC to become this intersection of social, cultural and educational programming."
The identity spaces are equally as new for Register as for Emory students. Beginning as a leader in the EBSU earlier this semester, she wants to permanently ingrain the positive, community-oriented feelings of a new space into the foreseeable future.
"I want to make this space more of exactly what people are feeling beyond the freshness of it," says Register. "I want students to feel just as welcome a year from now."
Leaders of the spaces and students who utilize them want them to be a place for Emory community members to be themselves, build connections and learn. The spaces have proven to be that so far, and it only makes sense that one of the biggest long-term goals of all those involved is for that feeling to continue in perpetuity.
The Center for Women is designed with a comfortable setting for programming and has a well-stocked bookshelf.
"The biggest goal is belonging. It's important for students to know that they belong right where they are," says Tanner. "My hope is that it continues to be that, or it serves as a beacon for that. Whenever they are unsure if they belong, they'll know 'I must, because that center exists for me.'"
Though it may be unconventional, Bruce-Steele proposed another goal with a laugh.
"Wouldn't it be great if we outgrew it? If we had so many students taking advantage of the spaces that we're like 'Wow, we're going to have to find another space,'" says Bruce-Steele. "Or, that we have to be more creative to ensure everybody who wants to use the space can."
Grand opening of the Belonging and Community Justice Identity Spaces: Everyone is invited to join the celebration on Saturday, Oct. 21, during Homecoming weekend. The Unity Block Party is set for 11:30 a.m. to 2:30 p.m. in Asbury Circle. The Ribbon Cutting Ceremony takes place at 1 p.m. on the third floor of Cox Hall. Come eat, drink, play games, dance, socialize and commemorate the spaces that offer community and a haven for so many Emory students.
Written by Anna Chapman. Designed by Ruby Katz. Photography by Alex Minovici and Whiting Turner.
Resources
Want to know more about Emory?