Emory's First-Gen Week provides visibility for students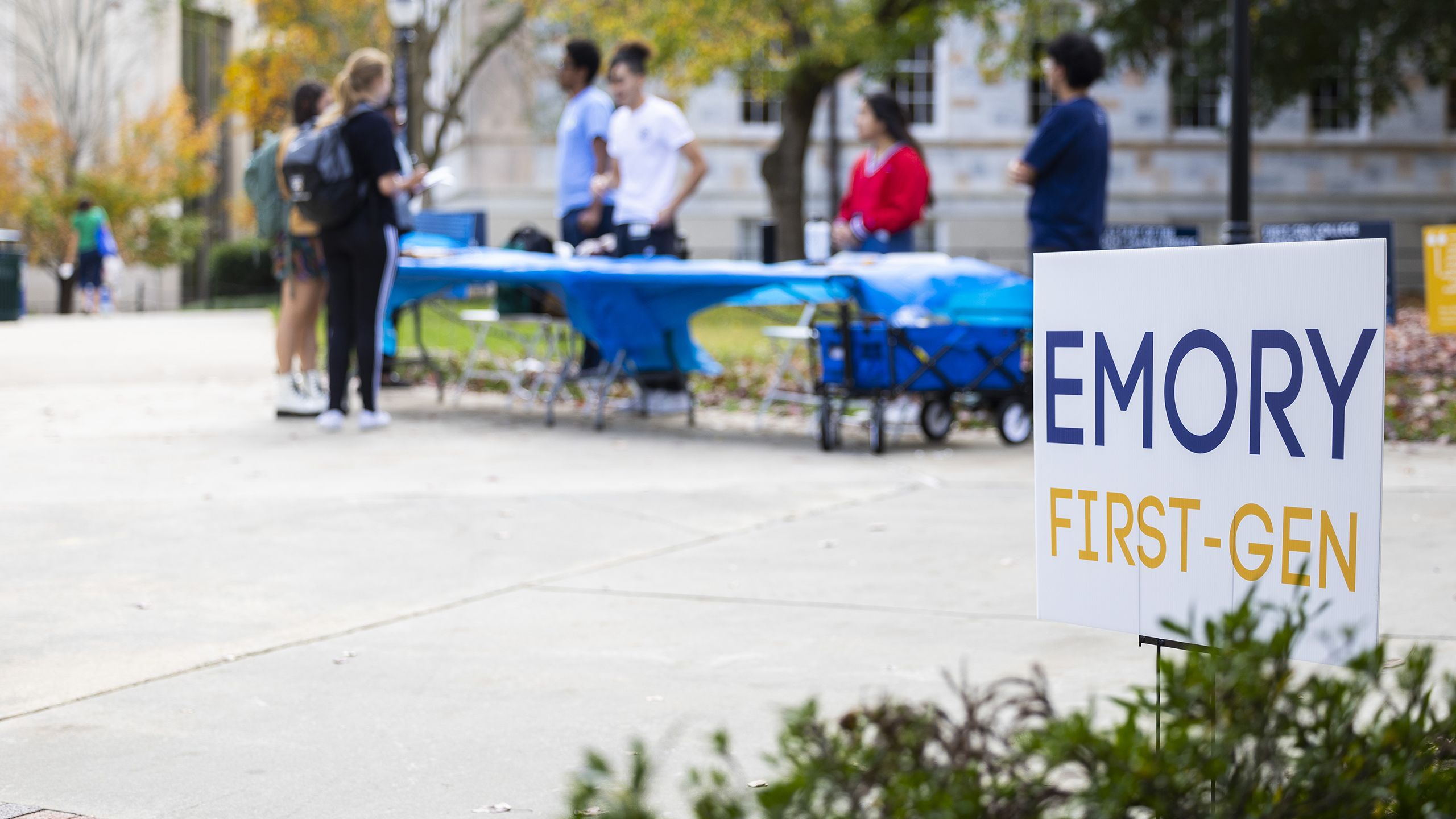 Emory's First-Gen Week provides visibility for students
Nov. 16, 2022 | Story by Kelundra Smith | Photos by Kay Hinton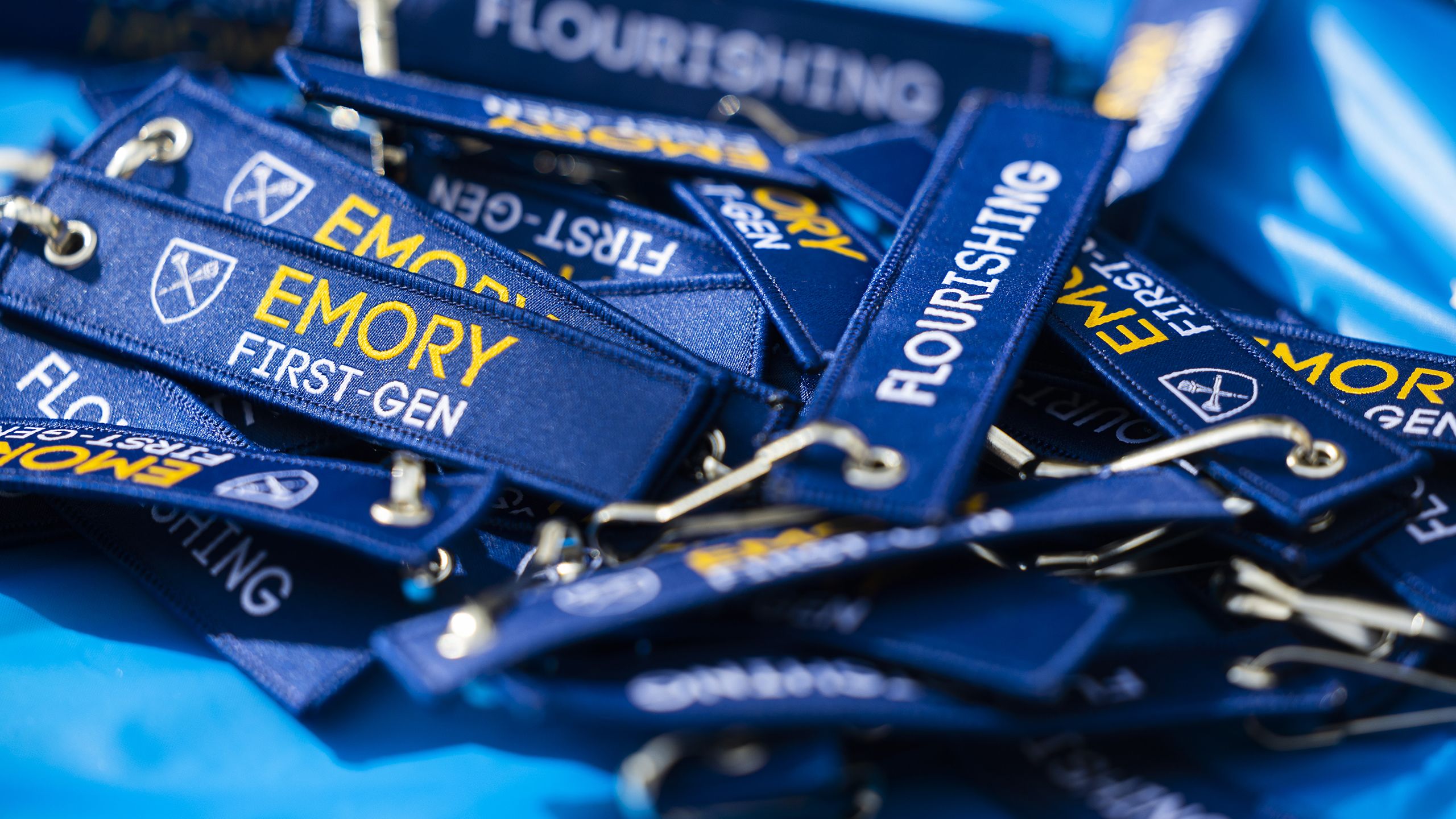 From Nov. 7-11, Emory celebrated First-Gen Week to highlight the unique experiences of students who are the first in their families to attend a four-year university.
An estimated 7% of Emory undergraduates are first-generation students, and 48.7% of graduate students identify as first-generation. Many come to Emory through the QuestBridge National College Match, which is a college admission and scholarship process where high-achieving, low-income students can be admitted early to QuestBridge college partners with full scholarships. Emory is one of 48 elite, liberal arts colleges and universities throughout the country that participate in QuestBridge. Other first-generation college students may apply through early or regular decision outside of the QuestBridge process.
One of the most important parts of the first-gen experience at Emory, and a key focus of the university's Student Flourishing initiative, is building community. Organizations such as First-Generation Low-Income Partnership (FLIP) and 1915 Scholars provide spaces for first-generation students to discuss their unique challenges and find mentorship. During first-year student orientation, first-generation students and their families are also invited to attend a meet-and-greet and panel discussion about on-campus resources.
Learn more about the first-gen experience at Emory:
During First-Gen Week at Emory, which is celebrated in coordination with National First-Gen Day, students have the chance to connect with each other and learn about the myriad resources available to first-generation and low-income students at the university. View a full list of resources for first-generation college students at Emory.
As a part of the Student Flourishing initiative, Emory is focused on enhancing access to the university by strengthening financial aid for students with the most need. The Emory Advantage program eliminates loans and replaces them with institutional grants and scholarships so that students with the greatest need are not accruing educational debt.
Finding a community is critical to first-generation student success. The Office of Undergraduate Affairs, Laney Graduate School and various first-gen student organizations hosted events across campus. Activities like Donuts with the Deans, Tea-Time Tuesday and an Empowering First panel brought undergraduates, graduate and professional students and faculty together to celebrate the first-gen experience.
Another important program where first-gen students find community is the 1915 Scholars. This organization provides information, mentoring and social support to first-gen and low-income students in order to address commonly encountered barriers. The program serves as a bridge between first-gen students and the rest of campus. It is now located in Belonging and Community Justice within Campus Life.
The First-Gen Fest is one of the largest events during First-Gen Week. Here, students enjoy food and music while getting to know more about each other and campus resources.
This year, following the theme of "First Gen Flourishing," the Office of the Provost provided succulents for first-gen students to take home with them. According to the Center for First Generation Student Success, one in three undergraduates in the U.S. identify as first-generation college students.
Check out our student profiles
Hear from Emory students as they share their thoughts on being the first in their families to attend a four-year university.
Anikka Jordan
Anikka Jordan is a fourth-year psychology and English double major from Marine City, Michigan. She is the president of Media Council, vice president for Omicron Delta Kappa National Leadership Honor Society and a member of the Lullwater Review literary magazine staff. She is also the co-president of QuestBridge Scholars at Emory. She says that visibility is important for first-gen students.
"There is a big income gap in the student body, so it can be hard to find community with our peers who may come from more traditionally educated backgrounds. It can be hard to open up about personal and emotional challenges, especially during the pandemic when we all were back home with our families. With events such as First-Gen Week and support from the Office of Undergraduate Affairs, we're doing the work to make our voices heard on campus."
Abby Pena
Abby Pena is a first-year student from Shakopee, Minnesota. She says that being the first in her family to attend college is meaningful to her because her mother is from Hong Kong and her father is from Mexico. They emphasized the importance of a college education for a chance at better jobs.
"Knowing that there are so many people at Emory who are invested in you can be very motivating. I want to do something public health-related. Growing up, my family had limited access to health care, like getting checkups. I want to work in underserved areas as a nurse and possibly do research."
Terrence Lurry
Terrence Lurry is a second-year chemistry major from Eades, Tennessee. He says that he was attracted to the diversity and large QuestBridge community at Emory. The community has helped him overcome imposter syndrome.
"You come in thinking you're competing with other students, but then you realize you're only competing with yourself. I wanted to be a chemistry major, but when I got here, I realized I didn't know anything about chemistry. My first-year chemistry professor, Tracy McGill, made me feel less like an imposter, and now chemistry is one of my best subjects."
Jordan Hasty
Jordan Hasty is a fourth-year sociology major from Missouri. He started his college career on the Oxford campus and will be returning there after graduation to work as an apprentice on the Oxford Farm. Hasty says Emory's emphasis on sustainability is part of what attracted him to the campus, along with Atlanta's diversity.
"Being a first-generation college student to me means taking the time to prepare for the future. I really wanted my time in school to be different from how I grew up. I want to expand my way of thinking through the liberal arts. Starting at Oxford was helpful, because the first-gen community is very strong there."
Mohamed Ataelfadeel
Mohamed Ataelfadeel is a second-year human health major from San Antonio, Texas, by way of Sudan. As the eldest of three brothers, he is committed to easing the journey to college for other first-generation students. He is the service chair for QuestBridge at Emory, treasurer for the Muslim Student Association, peer health partner teaching Health 100 to first-year students, a sophomore advisor in Raoul Hall; a Scholarly Inquiry and Research Experience participant and a matriculate advising fellow.
"I would advise other students to trust the process. I came to the U.S. at the beginning of my sophomore year of high school, and I had to pick up English and apply to college quickly. Being here is the result of a lot of hard work and effort."
Diego Arana
Diego Arana is a first-year student from Gainesville, Georgia, pursuing degrees in economics and human health with a minor in environmental science. Arana is interested in epidemiology, specifically studying the transferal of diseases between humans and animals. He says that Emory has been his dream school ever since his mother took him to the Carlos Museum to see a mummy exhibition when he was in elementary school. It happened to be on the same day that incoming students were taking their class photo on the Quad. That and the free popsicles sold him.
"Me going to college is breaking a barrier and creating a path for my siblings. My parents always say 'you're leading the way for your siblings and cousins.' It's not just for me; it's for them."