Student Activism,
an Emory Tradition
Part 2: Graduate and Professional Students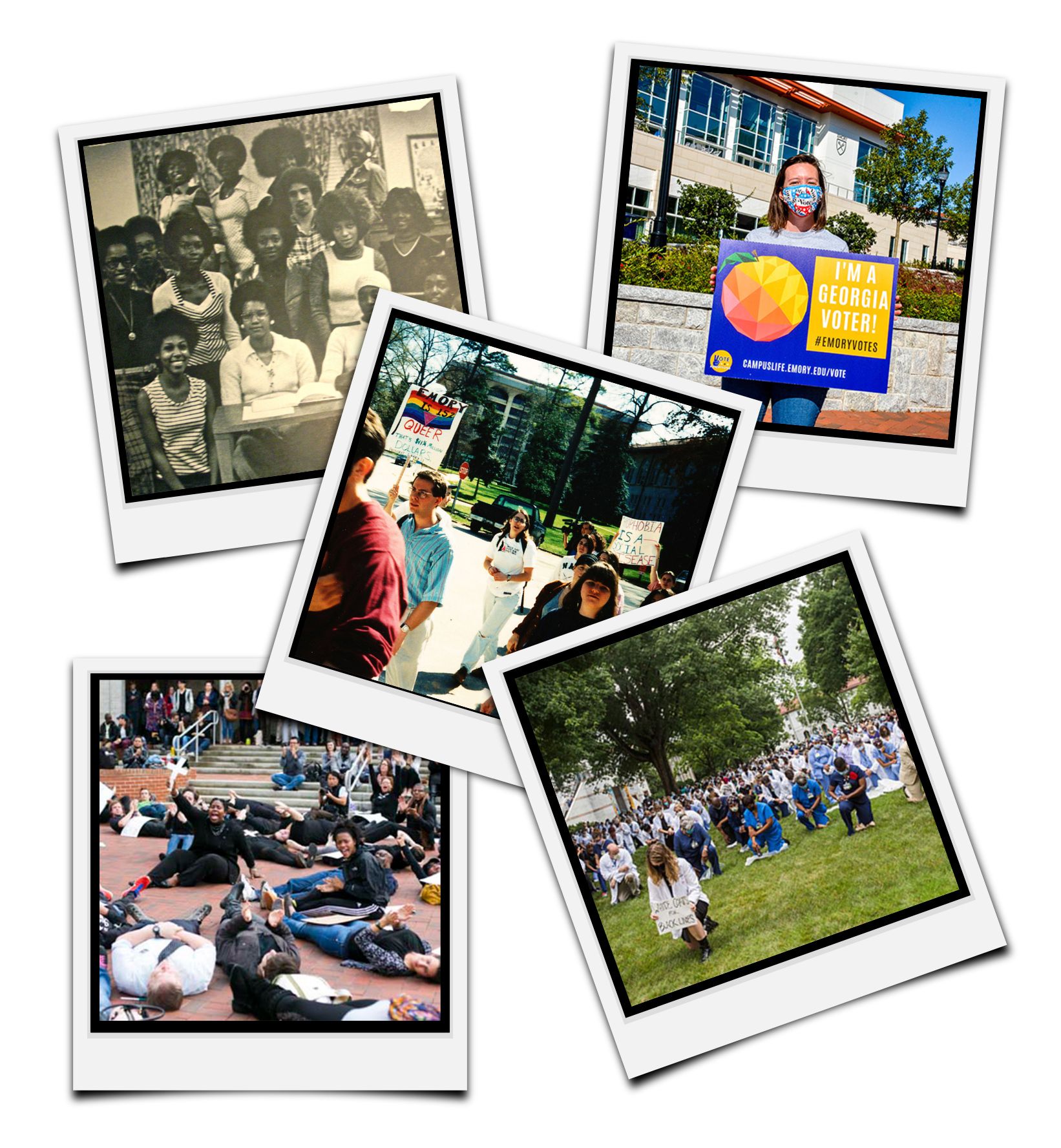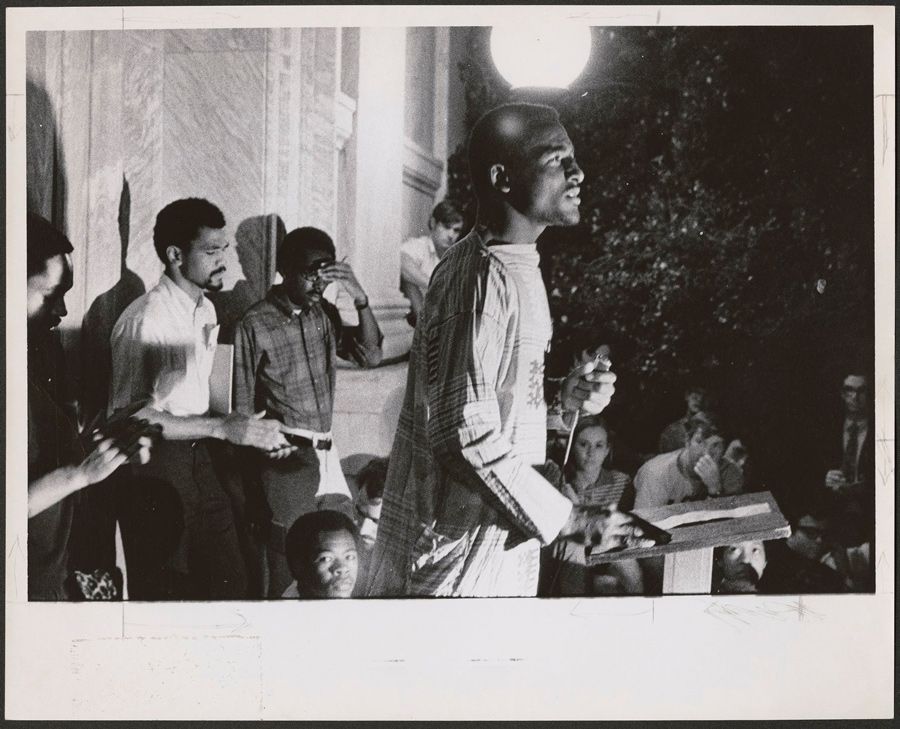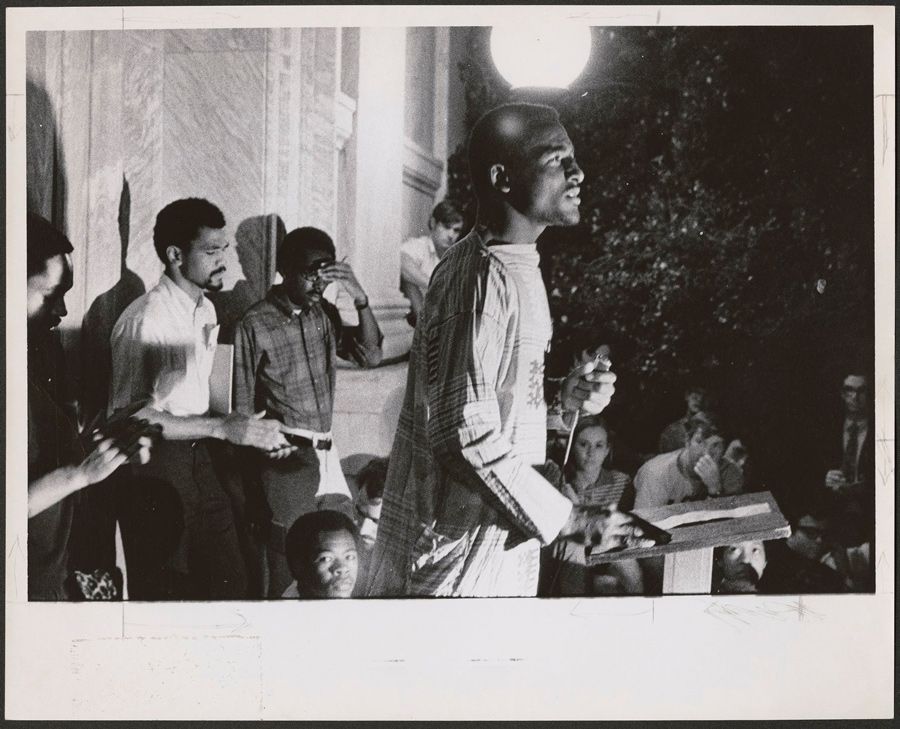 Members of Emory's Black Student Alliance presented a list of demands on the steps of Candler Library during the "Four Days in May" protests that spanned May 25-28, 1969.
More than a century ago, Eléonore Raoul, a young suffragist and community organizer, challenged convention by enrolling at Emory's new law school and going on to graduate in 1920.
In 1961, Emory students petitioned the president to admit Black students. In 1963, Verdelle Bellamy and Allie Saxon became the first African American students to graduate from Emory University.
In 1992, hundreds of Emory students marched in protest of the administration's response to LGBT harassment charges. The president appointed a task force to assess the climate for members of the university's LGBT community.
In fall 2015, Black students issued a set of 13 demands to the administration, calling for improvements in numerous areas impacting primarily Black students and other students, faculty and staff of color. The university partnered with student leaders to address each demand. Today, Emory's first chief diversity officer continues and leads the ongoing institutionalization of diversity, equity and inclusion.
In 2016, 17 campus organizations and more than 1,500 Emory faculty, students, staff, alumni and other community members submitted a petition to the university administration on behalf of undocumented students. The administration responded the next day with a statement reiterating Emory's commitment "to continue to welcome and support DACA students as members of our university community."
These are a few of the countless examples of student activism at Emory, which offers abundant opportunities for students to develop leadership skills and advocate on and off campus for issues important to them.
From equal rights to voting rights, from health care to the environment, the causes that Emory students align themselves with are as diverse as the students themselves.
Part 1 of this series introduced inspiring undergraduate activists.
Now get to know some of the graduate and professional students working to make a difference at Emory and beyond.
Note: Class years are for the 2020-2021 academic year that was just completed.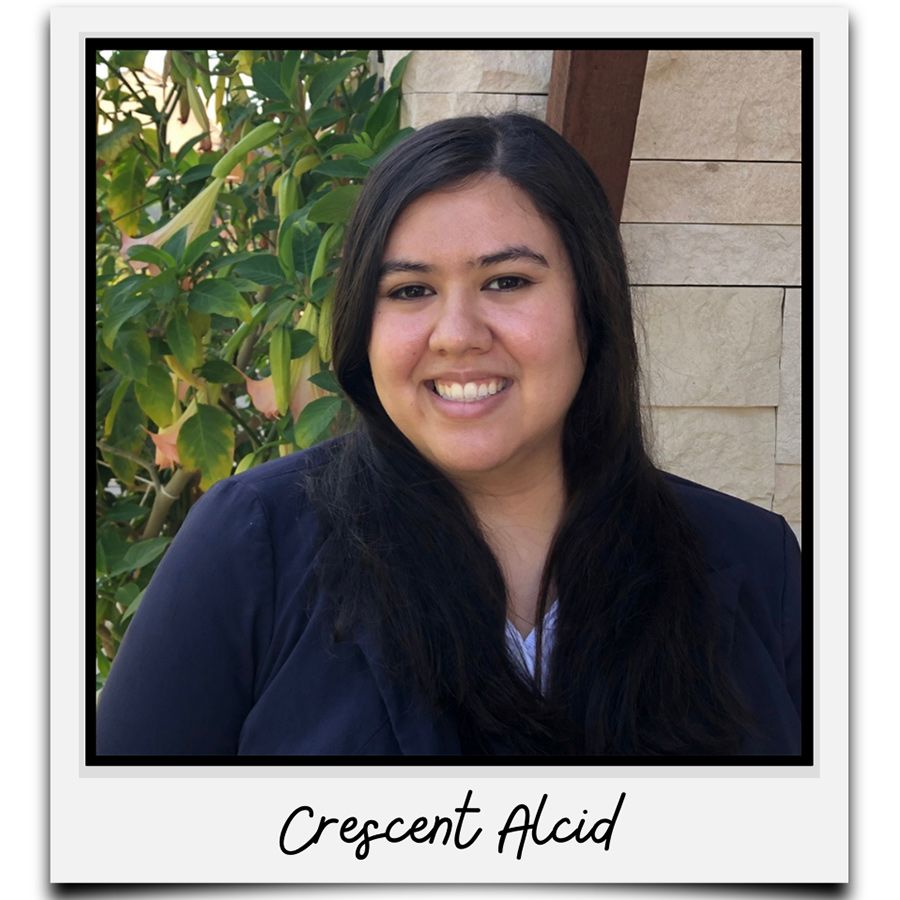 School: Rollins School of Public Health
Program: Master of Public Health, 1st year
Age: 28
Called to action
As a college sophomore in their hometown of San Diego, Crescent Alcid worked on LGBTQIA+ issues, gender equity and cross-cultural issues with peers. Later, they participated in demonstrations to decry the death of George Floyd at the knee of a police officer. But it wasn't until they moved to Atlanta to pursue an MPH last summer that their activism took off.
Immediately after settling in, Alcid engaged with LGBTQIA+ activism at Rollins and this year served as president of the school's Queer and Trans Collaborative. They also engage with Students for Social Justice and the Diversity, Equity and Inclusion Committee, as well as working with the Graduate Student Government Association on expanding diversity and equity studies to the graduate school curriculum.
With all this going on while working remotely on MPH studies during the pandemic, Alcid couldn't be more enthused.
"Emory University and the Atlanta metropolitan area have a lot of activist resources and it's an incredible place for student activists to connect with each other," they say.
"Although I have experience with activism in California, my experience in Georgia has been enlightening," Alcid adds. "I'm incredibly grateful to be here because I feel the passion of the tribe of activists I've met. In Atlanta, they fight and work so hard to make things happen."
---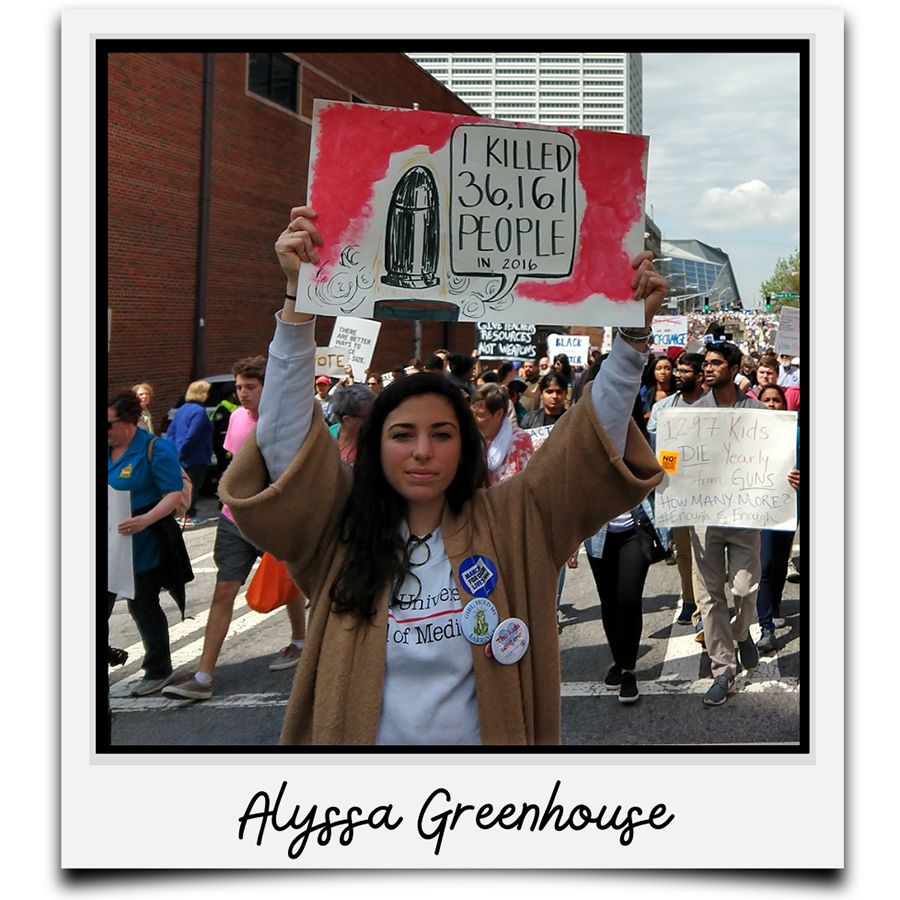 Schools: School of Medicine and School of Public Health
Program: MD/MPH, 4th year
Age: 27
Gun safety is her lane
The mass shooting in Las Vegas on Oct. 1, 2017, that claimed 61 lives inspired Alyssa Greenhouse to become a vocal advocate for gun safety.
"I was stunned and no one was talking about it," she recalls.
So, Alyssa joined Health Students Taking Action Together (H-STAT), a multifaceted nonprofit organization that unites graduate health students from Emory and other institutions. Their mission is to use service, education and advocacy to improve health.
By Nov. 11, 2017, barely six weeks after the Las Vegas incident, Greenhouse hosted an Advocacy Day to Address Gun Violence — an on-campus event that included panel discussions with physicians, community leaders and health care professionals.
In 2018, she organized a school walkout and participated in marches to protest the Parkland shooting. Two years later, she marched with Healthcare Workers Supporting Black Lives, a coalition of students who have staged demonstrations to protest racism and police brutality.
And, when the National Rifle Association angered physicians and doctors by saying they should stay "in their lane" and out of the gun control debate, Greenhouse and other medical students supported the medical profession's #this is my lane campaign.
"It's unrealistic to think that policy and politics don't affect health," she says. "There are opportunities to integrate advocacy in many of the things we do." Clearly, Greenhouse is staunchly committed to embracing such opportunities.
---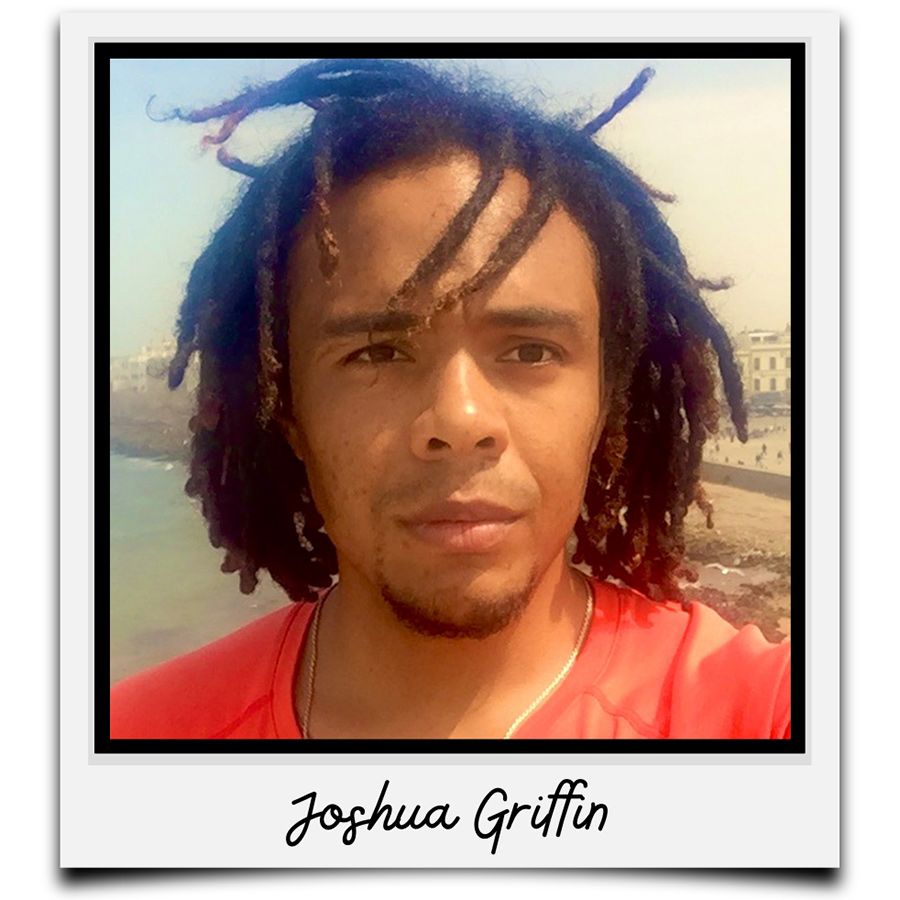 School: Laney Graduate School
Program: Master of Development Practice, 2nd year (graduated May 2021)
Age: 31
Embracing service to community
Joshua Griffin organized and led Black Lives Matter protests in Atlanta during the summer of 2020. That August, he participated in the 57th anniversary of the March on Washington. This year, he served as a panelist with Dr. Bernice King and others for Bridging the Generational Divide, a discussion organized by the King Center for its Beloved Community Global Summit.
At The Carter Center, Griffin produced and moderated roundtable discussions on social justice as part of the center's Forum on Human Rights. He conducted research on civil and human rights issues and helped produce reports on truth and reconciliation commissions around the world and similar efforts in the United States. His Carter Center work also includes creating a database that catalogs attacks on human rights defenders worldwide.
Where did Griffin find the inspiration to manage such a full agenda and pursue an MDP with a concentration in international human rights?
Raised in Seattle, he spent two years as a Peace Corps volunteer in Bni Ayat, a small town in Morocco.
"I experienced a lot of hardship and failure there but also a strong sense of belonging and love. Bni Ayat taught me what it means to be part of a community and how important it is to serve that community," says Griffin. "It was the Peace Corps and my service in Bni Ayat that brought me to grad school at Emory."
---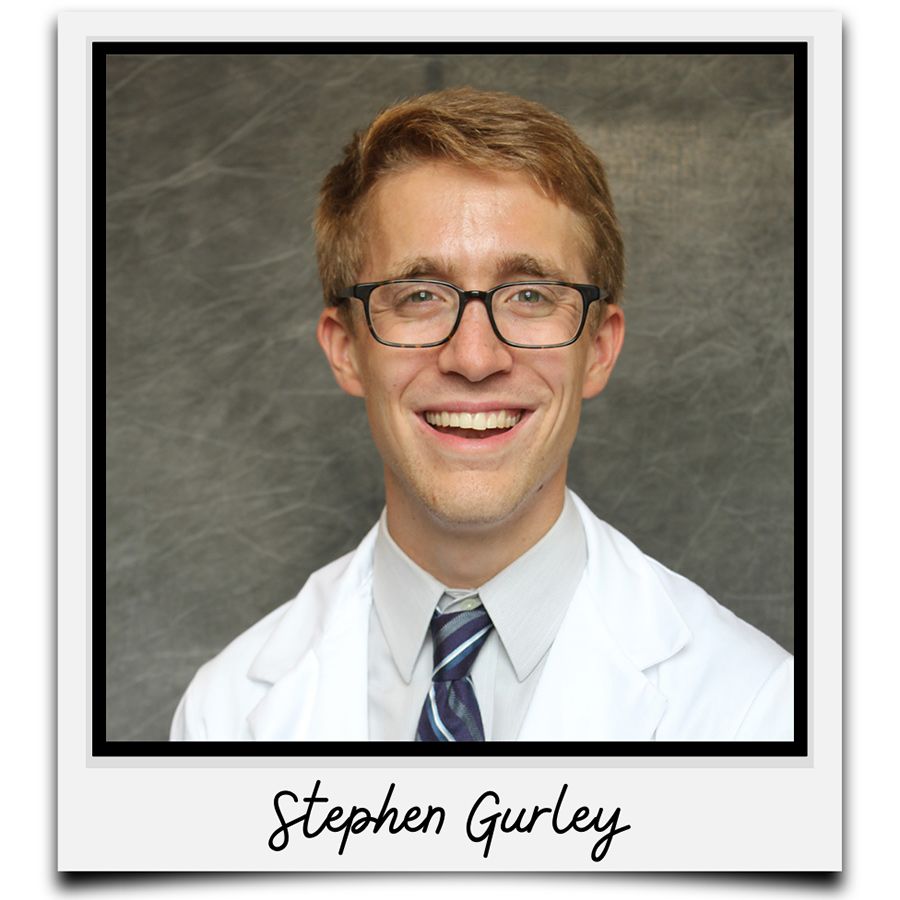 Schools: School of Medicine and School of Public Health
Program: MD/MPH, 4th year
Age: 26
Voting is healthy
For Reston, Virginia, native Stephen Gurley, H-STAT was the perfect organization to promote his passion to advocate for people in need.
What began in 2008 as a campaign to save Grady Hospital from being shuttered has morphed into advocacy to serve hundreds of thousands of Georgians without adequate medical care, including people who are homeless. 
During his four years at Emory, Gurley has lobbied the Georgia Legislature, helping to push for legislation to cap the price of insulin for diabetes patients. He also helped mount an  engagement-blitzkrieg leading up to Georgia's general election in November to enable voters hospitalized at Grady to vote absentee.
Through the Voting is Healthy campaign, an army of H-STAT volunteers went to Grady to pass out and return absentee ballots, something that had not been done before.
The organization, which has more than 500 members, is also focused on stopping the spread of COVID-19. This spring, H-STAT partnered with Grady Hospital to call patients who have not received a COVID-19 vaccination to talk to them about getting a shot.
"We want to dispel rumors about the vaccine and overcome fears," says Gurley, noting that the population at Grady is mostly Black and low-income, a group that has been particularly hard hit by the pandemic.
---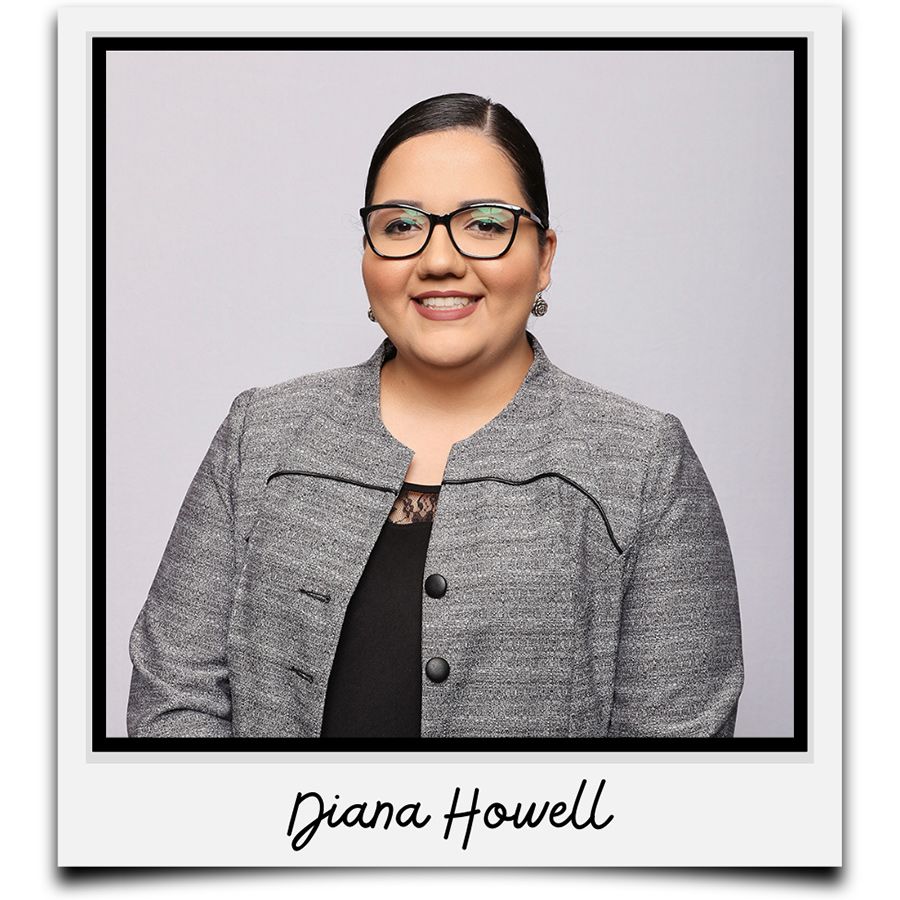 School: School of Law
Program: Juris doctor, 2nd year
Age: 25
Building lives, not walls
Diana Howell grew up in El Paso, Texas, in a community that was 98% Hispanic. She spoke Spanish at home and frequently crossed the border to visit family and friends. After graduating from the University of Tennessee, Howell worked as a high school Spanish teacher with Teach for America.
She saw firsthand the plight of undocumented students, as well as students and families who needed resources to succeed in school and gain permanent U.S. residency. Howell started a Latin American group and decided to go to law school so she could practice immigration law.
After enrolling at Emory Law in 2019, Howell volunteered with the Emory Immigrant Legal Assistance Clinic. In 2020, she was elected president of the Emory Immigration Law Practice Society, an organization that connects students with local legal practitioners. The partnership enables Emory scholars to network and gain real-world experience working in the field.
"In immigration law, there are so many areas to work in," Howell says, referring to nonprofit organizations, private law firms and immigration in the public sector.
When she's not studying or organizing with the Law Practice Society, Howell works on an externship with Tahirih Justice Center in Atlanta, a nonprofit that protects immigrant women and girls from violence and abuse.
---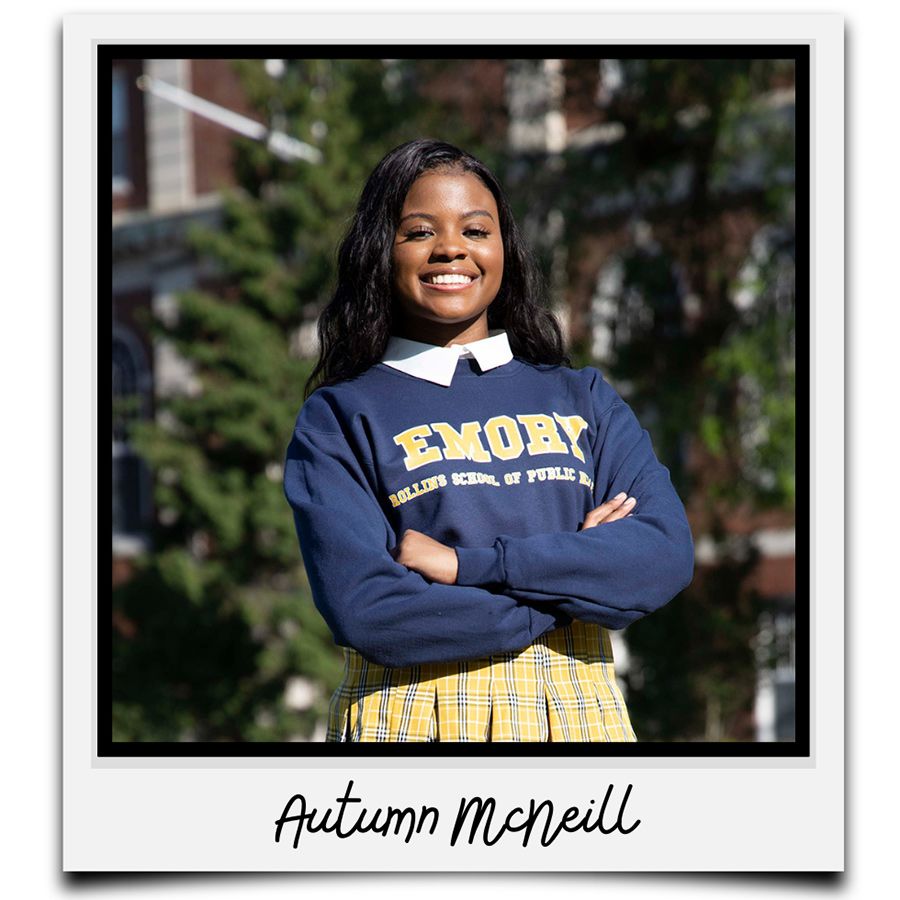 School: Rollins School of Public Health
Program: Master of Public Health, 1st year
Age: 23
Making connections 
As co-president of the Rollins Environmental Health Action Coalition (REHAC) and community engagement/service chair for the Association for Black Public Health Students (ABPHS), Autumn McNeill is perfectly positioned to make a difference.
While her studies focus on the intersections among environmentalism, sustainability, mental health and social behaviors, it was a Black Lives Matter protest in her home of Freehold, New Jersey, that helped McNeill find her voice and speak out.
Through REHAC, McNeill and her colleagues use social media platforms to promote global discussions on the environment. And, through ABPHS, she is developing healing sessions and bonding activities for Black graduate students to help them cope with the trauma and injustice they experience in their daily lives.
McNeill's inspiration comes from wanting to serve others and help close the gap between haves and have nots. She plans to use her undergraduate degrees in sociology and environmental studies from Howard University and masters in behavioral, social and health education sciences from Emory to become a community educator and advocate.
"My mother and grandmother always told me to keep moving forward because I will never know who I will help and inspire along the way," she says.
---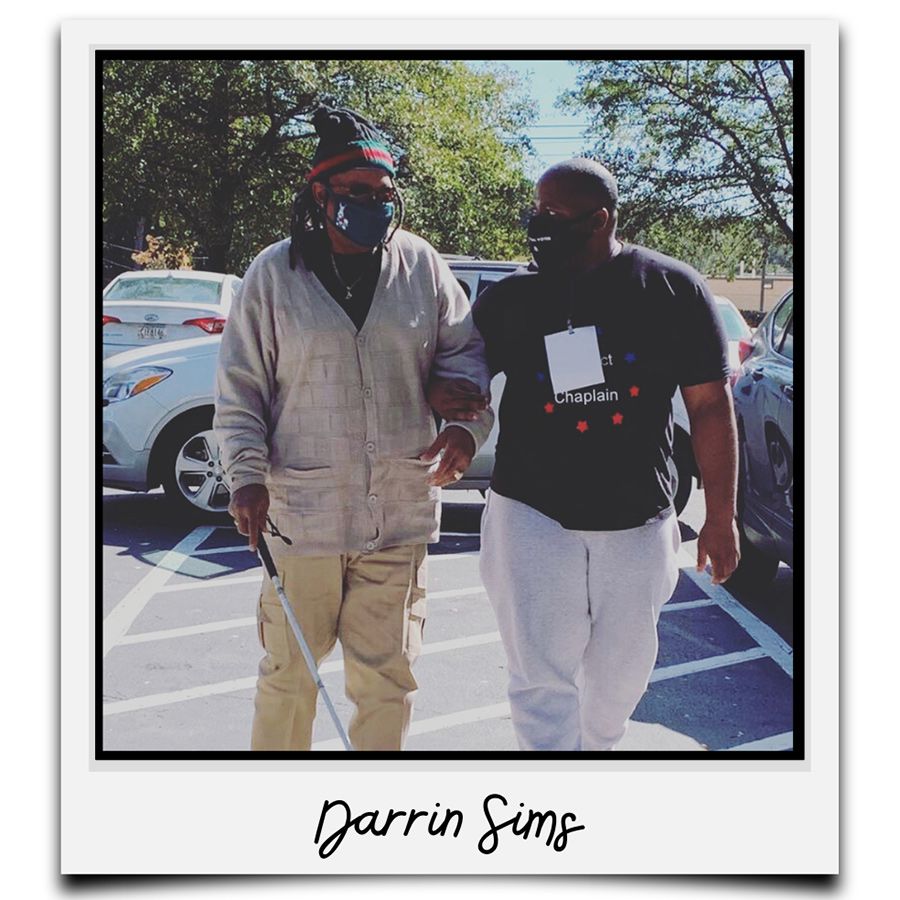 School: Candler School of Theology
Program: Master of Divinity, 4th year (graduated May 2021)
Age: 30
Minister of faith and faith-based organizer
Born and raised in St. Louis, Missouri, Darrin Sims felt a personal connection when 18-year-old Michael Brown was fatally shot by a police officer in August 2014. Although he was serving as a teacher in Tennessee, the incident and public protests inspired him to get involved.
"That was my city. That was my block. Michael Brown was tragic but common," says Sims, recalling how he drove his 1996 Nissan Pathfinder from Nashville to Ferguson to attend demonstrations.
Soon after Sims came to Emory, the licensed minister worked as a chaplain at an Atlanta facility for juveniles. That introduction to a criminal justice system that houses a disproportionate number of Black boys inspired him to focus on prisoners' rights and reentry into society.
He's doing just that as an organizer with the Georgia Justice Project, which successfully got legislation passed to provide early probation termination for formerly incarcerated individuals who have served their time.
Sims earned a Master of Divinity but doesn't plan to become a full-time pastor. Instead, he sees himself as a faith-based organizer.
"Faith has always been a part of our history and culture, particularly around social change," Sims says. "I want to remove the myth of ex-felons as second-class citizens because I believe in second chances. Faith is the best way to do that."
---
School: Goizueta Business School
Program: Master of Business Administration, 2nd year (graduated May 2021)
Age: 34
Making the case for racial justice in corporate America
In response to protests that made headlines throughout 2020, corporations embraced the call for more diversity, equity and inclusion in the workplace and society. The question was how?
Enter the John R. Lewis Racial Justice Case Competition sponsored by Emory's Goizueta Business School.
The initiative, founded by MBA student Willie Sullivan, enables business students to offer solutions to issues that businesses encounter. Helping companies to utilize all their resources — including financial, technological and human — to create racial equity internally and externally is his mission, according to Sullivan. 
The business school sponsored the national case competition during the Martin Luther King Jr. weekend in January 2021 in partnership with six Fortune 500 corporations. The objective was for students to develop innovative methods to help corporations reach their desired goals.
For example, HP Inc. wanted ideas on how to grow a diverse supplier network, while Johnson & Johnson wanted to support training for more than 1 million women and girls of color in science, technology, engineering and math (STEM) fields by 2025. Business students from schools throughout the country competed, including Wharton, Vanderbilt and Harvard. An Emory team was among the six finalists in the competition.
"In many cases, businesses would hire a consulting firm," notes Sullivan, "but we thought students who have the most energy in this space would have bold and innovative ideas."
---
About this story: Written by Alma Hill and John Baker Brown. Portrait photos courtesy of the students. Historical activism photos from Emory Libraries, Emory Magazine and Emory Photo/Video. Title graphic (clockwise from top left): 1972 Black Student Alliance meeting, 2020 Emory Votes Initiative, 2020 "White Coats for Black Lives"; 2014 "Die-In"; 1992 LGBT rights protest.