Summer, Service
& Social Justice
Emory Scholars spent 10 weeks this summer serving the community and learning about social justice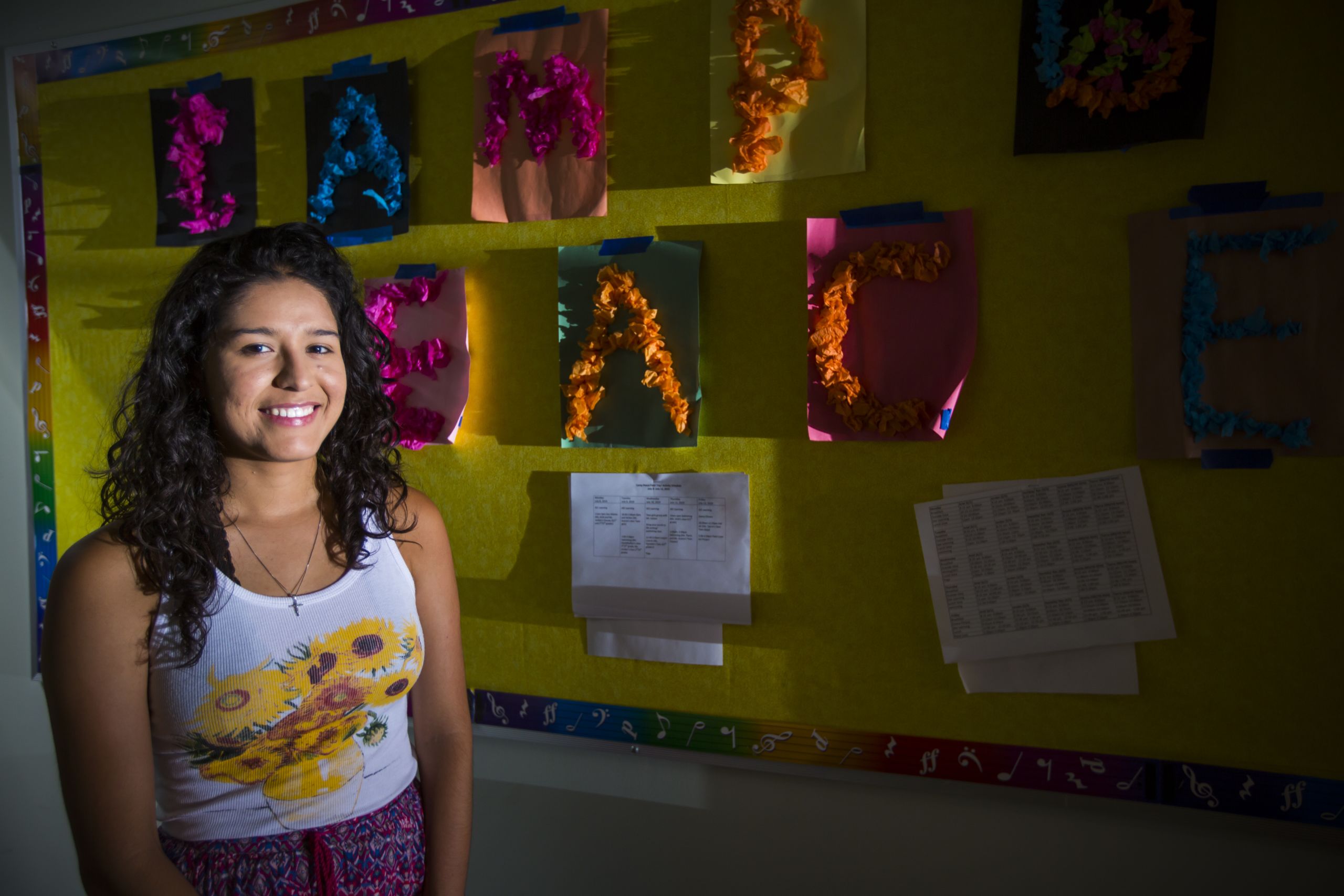 At first glance, the summer camp classroom seems like a typical space for preschool or elementary age children: soft music plays through the speakers on an old laptop, a corner is set aside for group discussions or reading, slightly battered tables and chairs are prepped for hands-on activities. 
But then smaller details in the room show that this place, this program, is different. 
The Word of the Week written on bright-colored construction paper is "empathy." The Word of the Summer is "resilient." A mirror propped against the back wall proclaims "You are beautiful." 
Welcome to Camp PEACE, a program of the Women's Resource Center to End Domestic Violence in Decatur, where children are taught ways to tap into their emotions and find constructive ways to express themselves. The program name is an acronym for what founders hope to teach children: Peace, Education, Action, Compassion and Empathy. 
In the midst of it all is Dayra Leal Sanchez, an Emory College student who became involved with Camp PEACE through Emory's Scholarship and Service Program (SAS).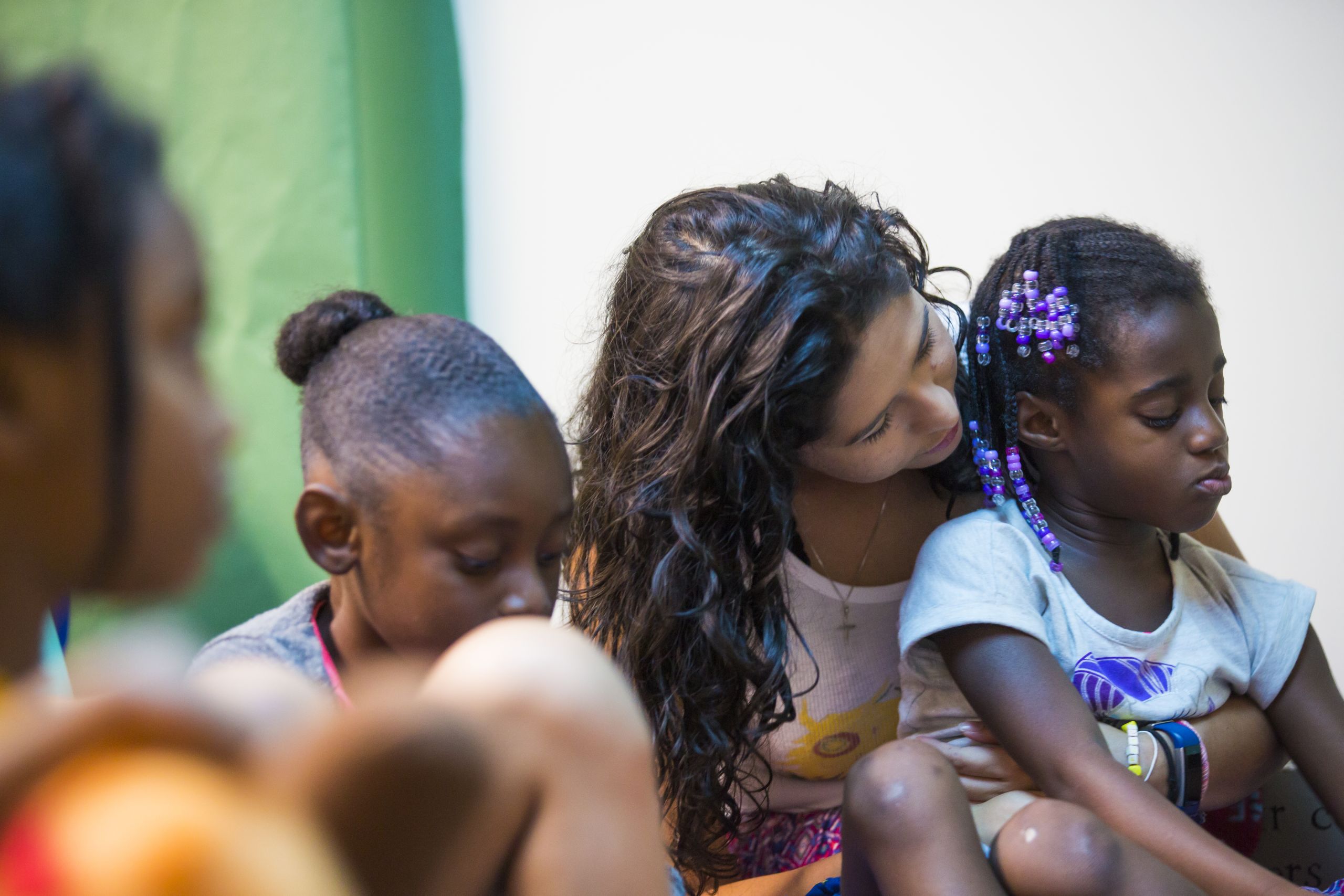 Leal Sanchez, a Woodruff Scholar beginning her sophomore year at Emory, is one of 13 Emory Scholars who participated in the 10-week summer program. The experience is part internship, part open classroom, with coordinated topical discussions and field trips. 
"Each week we focused on a different social justice issue such as education, affordable housing or the legal system," she says. "It was a summer full of learning." 
"SAS is an immersive summer program for Emory Scholars that explores the history, politics and geography of social justice in Atlanta," explains program director Ed Goode. "The students aren't only exploring some of the most challenging issues in the Atlanta area. They're also living in a house together, trying out new recipes for dinner, exploring hiking trails and cafes in Atlanta, talking for hours about everything from immigration policy to local government. It's the kind of program that can change your life." 
Students in the program are required to secure an internship with a local nonprofit agency. They work at their internship on Tuesday, Wednesday and Thursday; Monday and Friday are reserved for guest speakers and group outings related to the week's topic.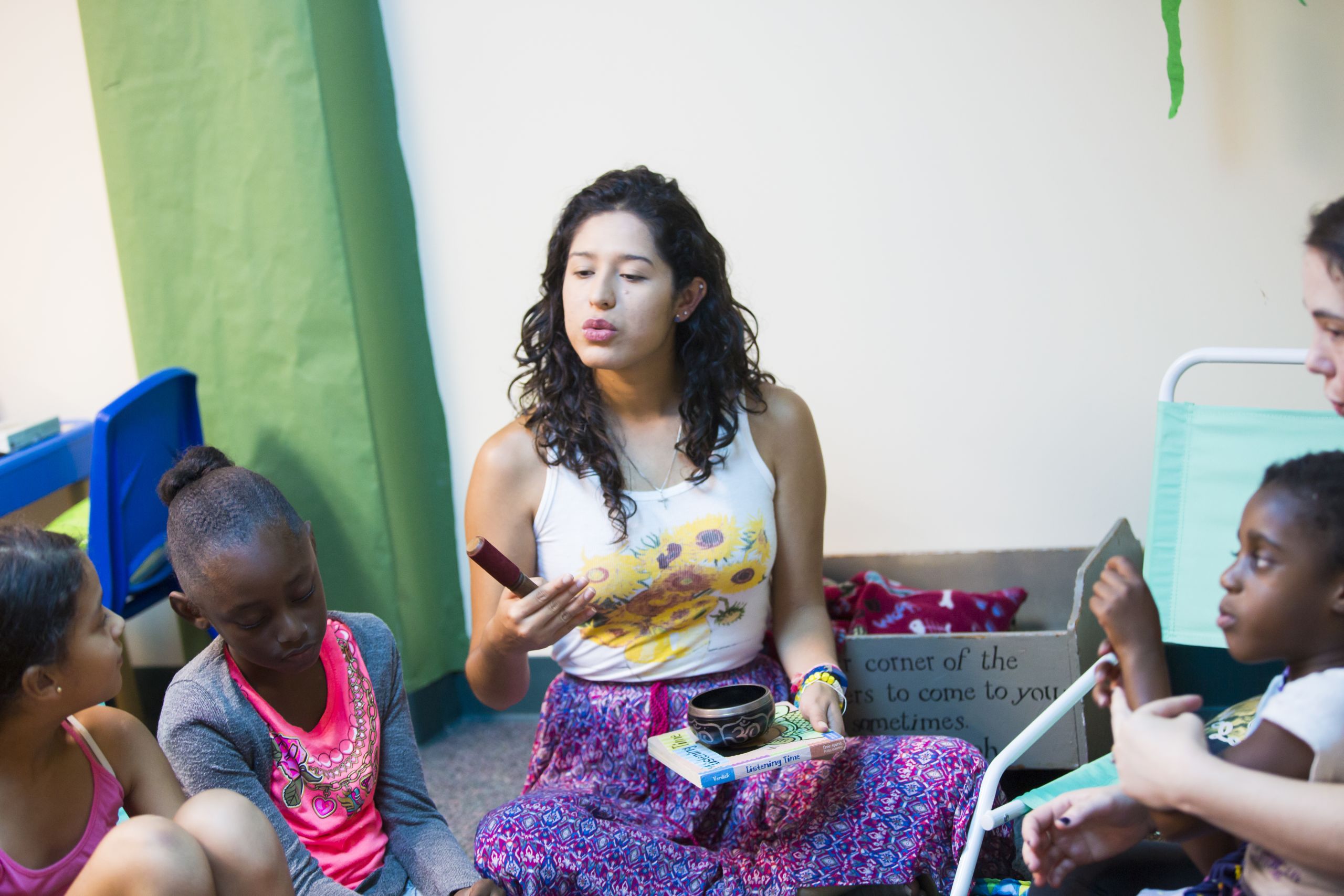 "Students get to see the hard, and often unheralded, work that goes into local government, running a school or community clinic or operating a non-profit organization," Goode says. "This perspective gives them insight into service-oriented careers as well as the need for active and public-minded citizens."
"It's one thing to learn about issues in class," adds Leal Sanchez, who is majoring in philosophy of politics and law, with a minor in Italian studies. "It's another to see for yourself how those issues have affected people." 
That difference can be especially apparent in children. As Leal Sanchez says, "Sometimes it looks like a child is having a tantrum for no real reason. But it makes sense when you know the child and know what he's been through."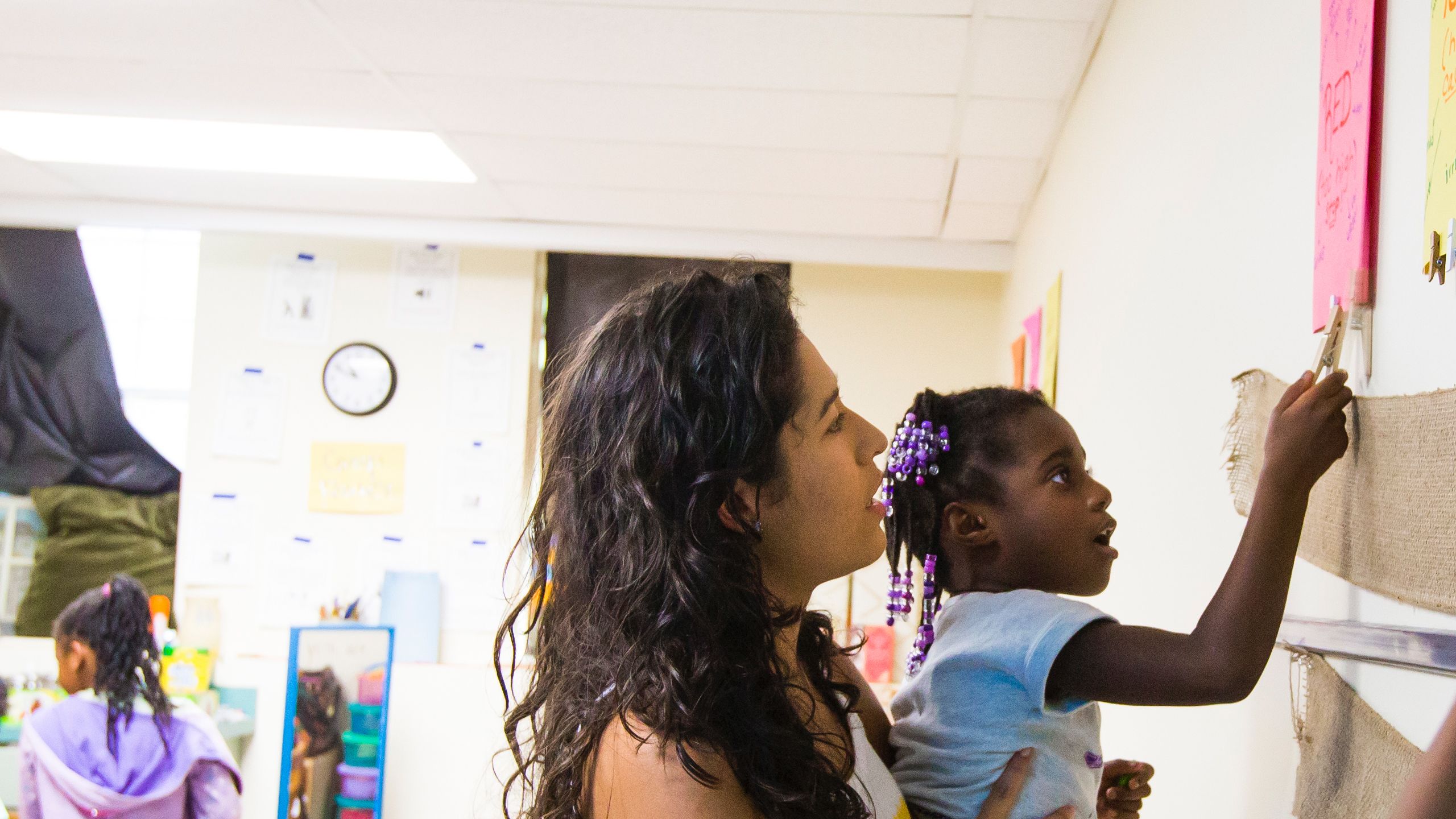 Leal Sanchez saw that firsthand at Camp PEACE. She also saw how a supportive environment can positively influence a child. 
"They grew so much from the first day of camp," she says. "They were listening to the lessons and trying to find better ways to calm themselves down and work through things together. They weren't just getting angry or frustrated and throwing things." 
Prompts throughout the classroom encourage children to be aware of themselves and how they feel physically and mentally. It's all designed to help them make better choices in everyday situations. 
"That's easier to do when they're in a place where they feel safe and comfortable," Leal Sanchez says.
Part of each day is spent with the SEE (Social, Emotional and Ethical) Learning teacher, Cassandra Velasco. She begins their time together by gathering everyone in a corner that brings a bit of the outdoors inside: a paper tree fills the corner and spreads across the ceiling, complete with dangling green and tan crepe paper branches. A large can partially filled with red and orange wads of tissue paper serves as Velasco's campfire of negativity, where children can write down negative thoughts or other things they want to clear from their minds and "burn" the papers by tossing them in the fire.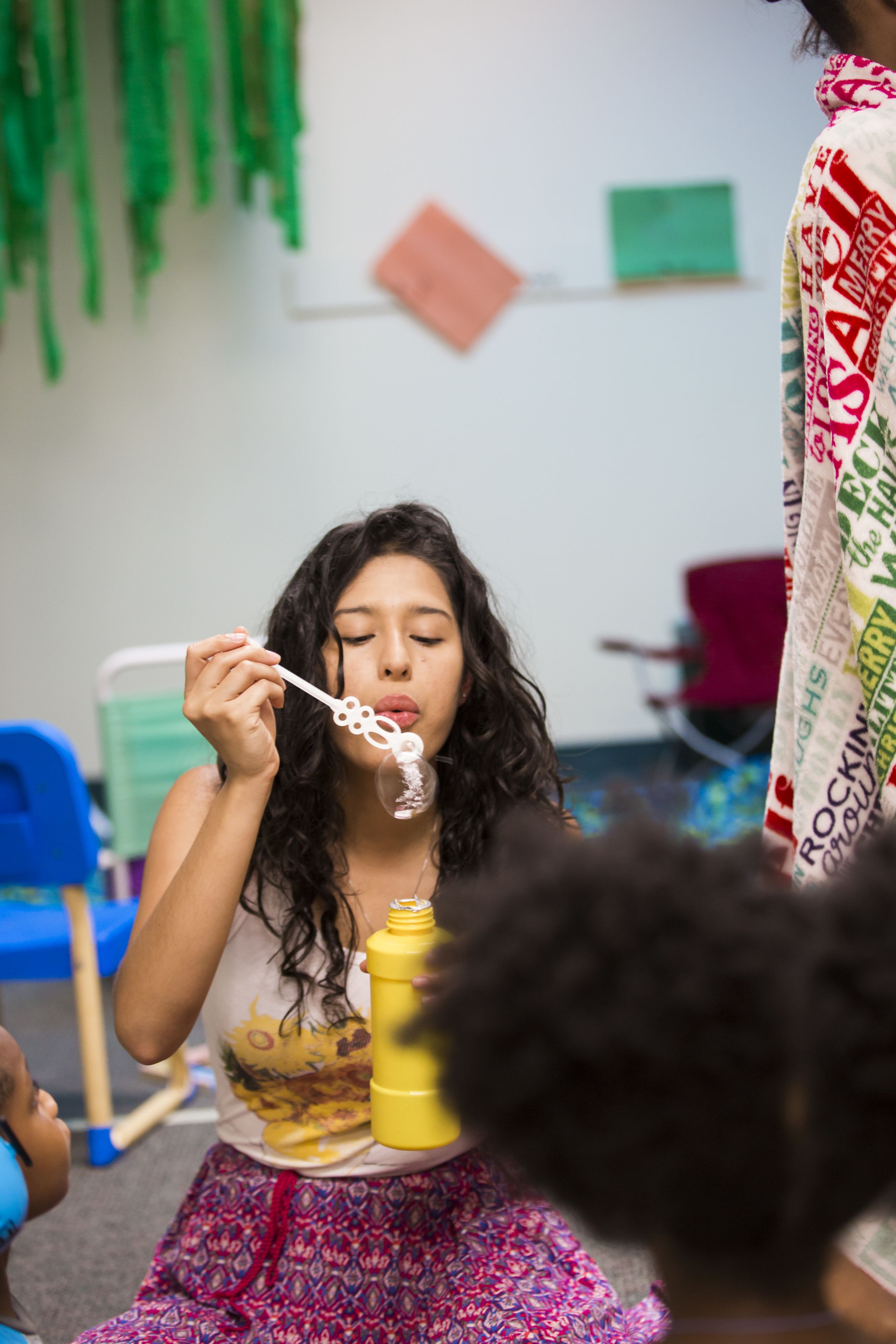 Children who are part of SEE Learning environments are taught how to find activities that help them relax and focus, whether it's creating something with Play-Doh or enjoying bubble blowing.
The children settle into spots on the floor or in low chairs beneath the tree; some grab blankets from a nearby basket and wrap themselves in fleecy comfort. One student climbs into Leal Sanchez's lap as soon as she joins them. Velasco instructs everyone to close their eyes and take deep breaths. Calmness settles over the room. One at a time, the children lightly tap a chime that is passed around the circle. The entire group releases long breaths and relaxes a bit more as the noise fades away. 
"Be thinking positive things so you're ready to share when we get to you," Velasco instructs. "Share something positive about yourself when it's your turn."
Some responses come quickly: I'm brave. I'm smart. I'm happy today. Others are a bit slower to reach the surface, only rising after gentle encouragement from Velasco and Leal Sanchez. 
But every child manages to think of something to share, which is the point: you can always find a reason to be grateful and positive.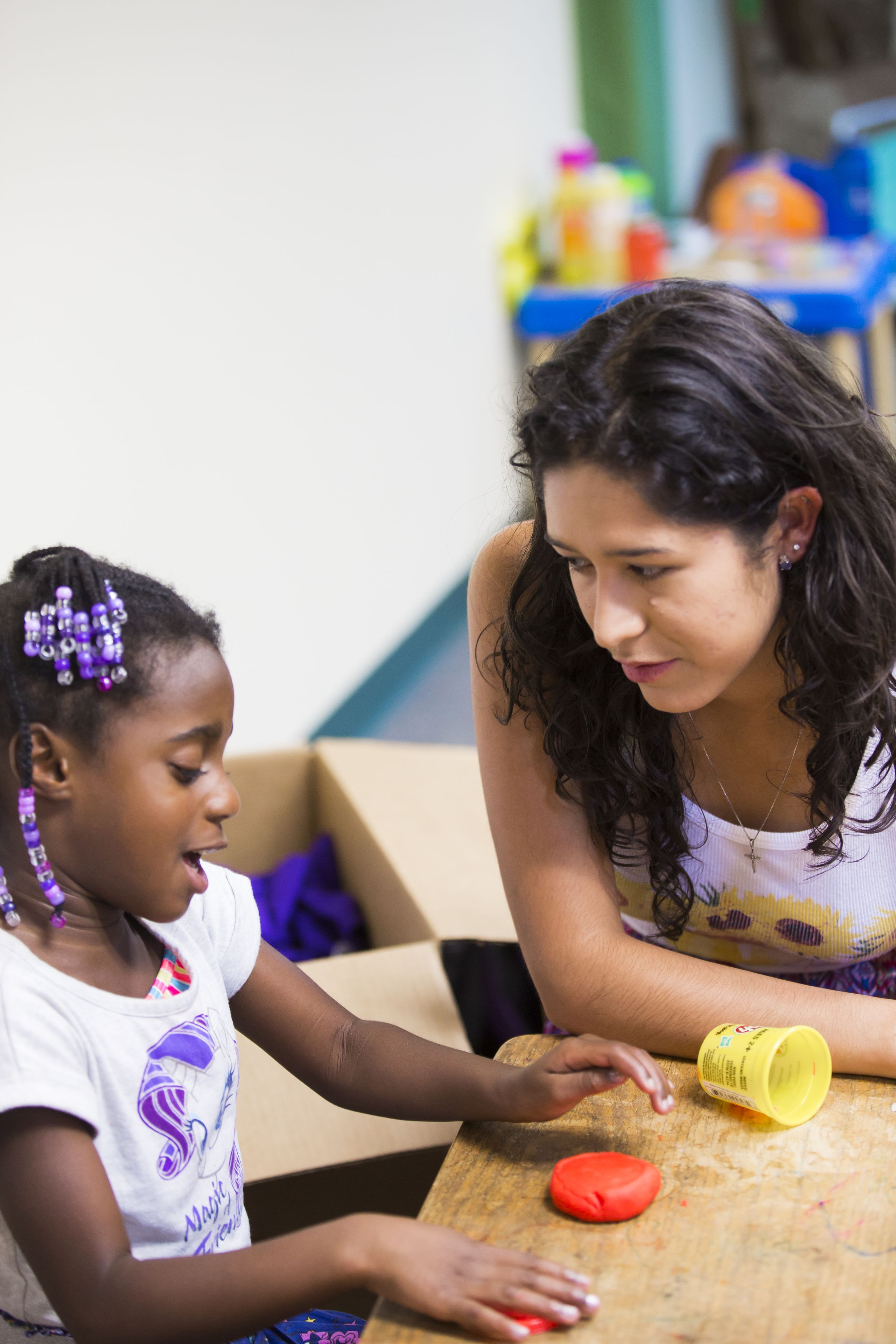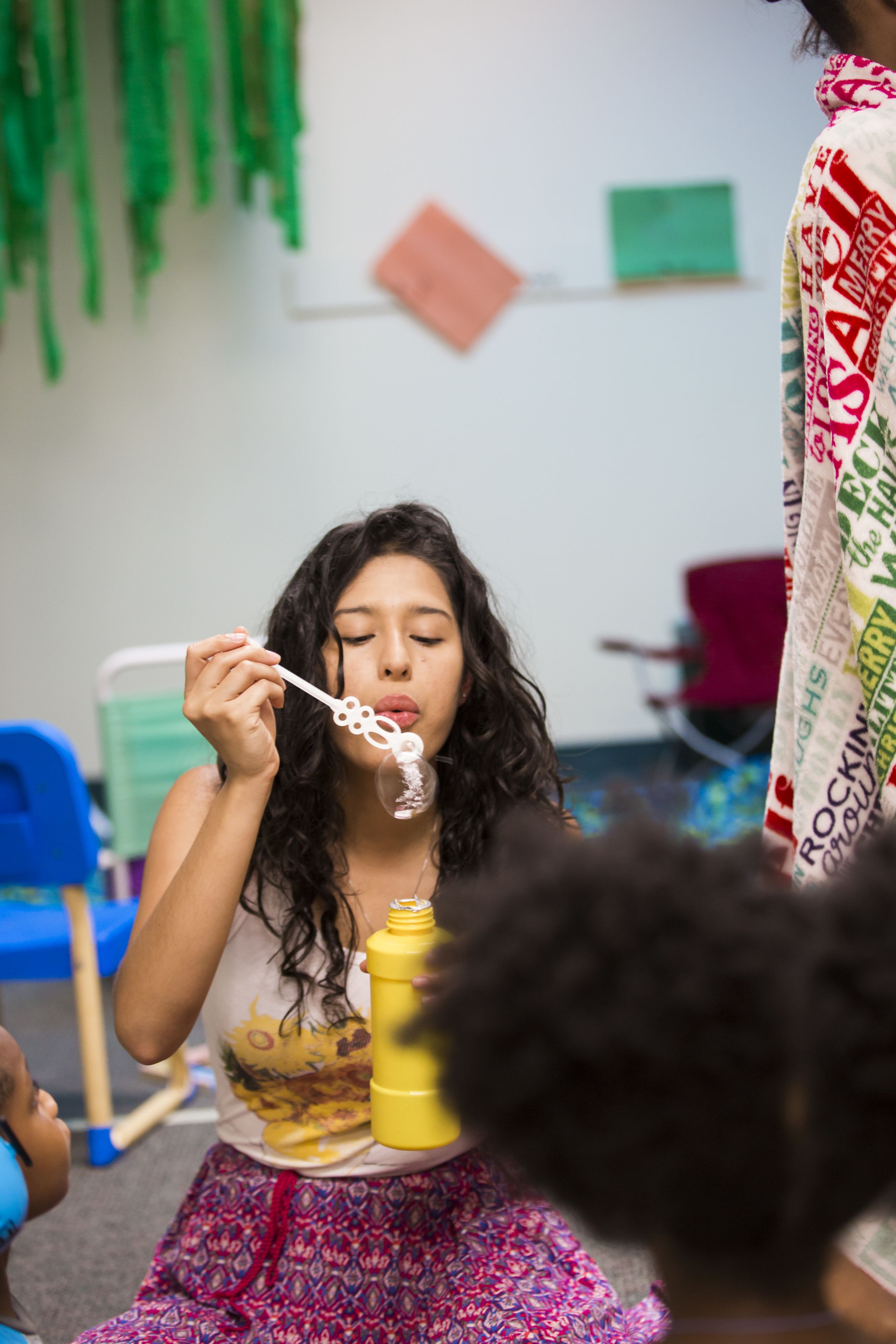 Connecting curriculum to life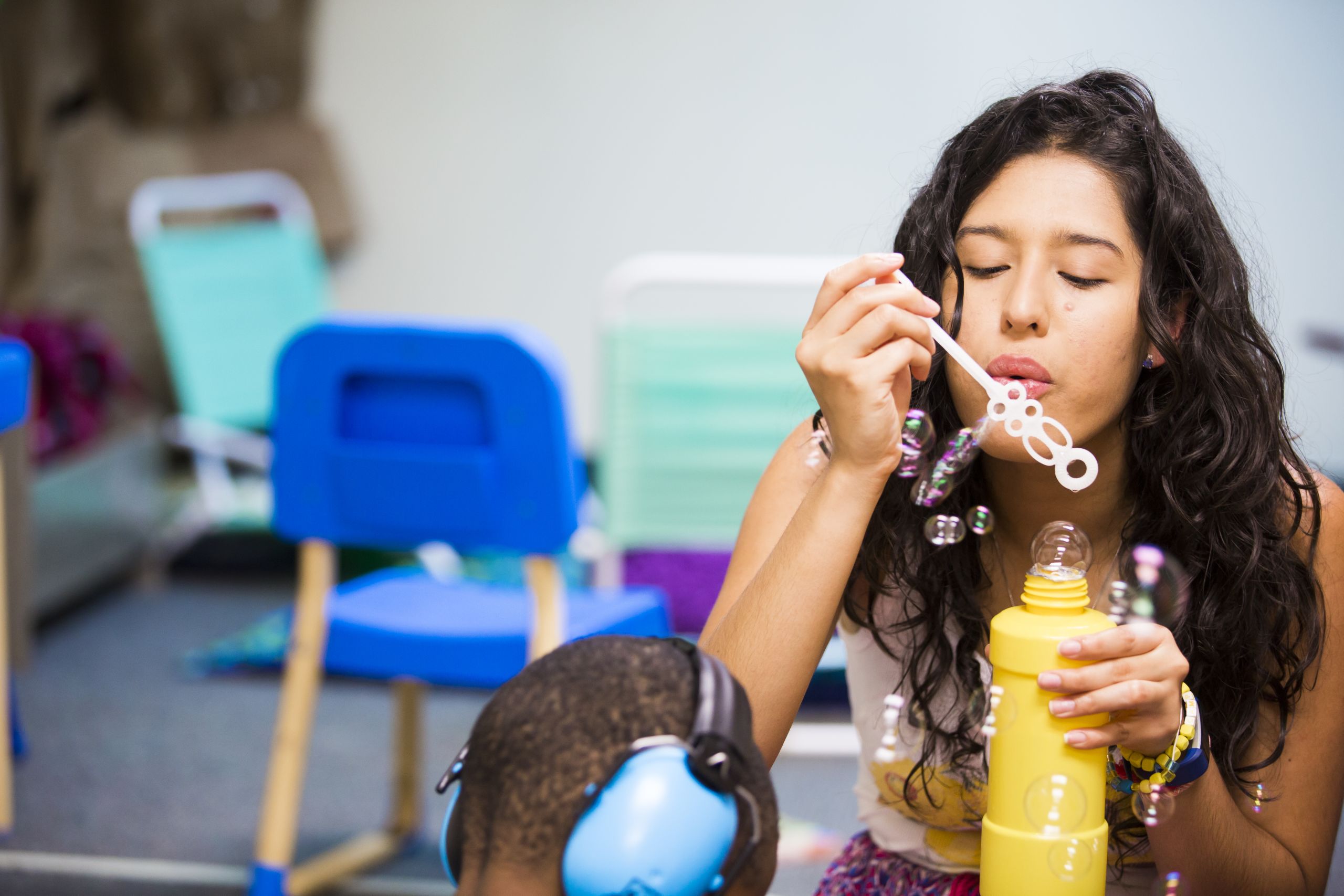 This mindset is foundational to the SEE Learning curriculum developed by Emory and led at Camp PEACE by Velasco. Lessons incorporate meditation and other coping skills and strategies that teach children how to navigate emotions, build awareness and compassion for themselves and others and strengthen their attention skills.
"What's an emotion?" Velasco asks. "It's something – a sensation – you feel in your body and mind." She invites the children to name an emotion and gets responses ranging from jealous, upset and disgusted to peaceful, kind and happy. Then they discuss how those emotions might make them feel physically and mentally, and how they can handle the emotions in a positive way.
The sharing time beneath the tree ends and Velasco directs the children to find seats around the tables. Once again, Leal Sanchez is a favorite as they choose partners to play a version of charades focusing on emotions. The children are animated during the role play, shouting suggestions to each other and cheering when the answers are correct. Velasco and Leal Sanchez continue to offer positive feedback and gentle redirection if needed.
It's a time for fun, but also a time for teamwork, sharing and building each other up. Those are other aspects of SEE Learning, and part of what Leal Sanchez enjoyed about Camp PEACE. 
"Watching the children incorporate the SEE curriculum and make connections in their day-to-day activities has been incredible," she says. "The things they're focusing on during their lessons are reinforced throughout camp. And it's really working." 
Selina Armstrong, director of children's services for the Women's Resource Center, agrees. 2019 marked the sixth summer of Camp PEACE, but the first year of incorporating the SEE Learning curriculum. 
"Throughout the summer I've seen students more actively in tune to their emotions and awareness regarding what's going on around them," she says. "I think that has a lot to do with SEE Learning and the environment we create at camp. It was amazing to see how allowing the students to feel hard emotions and sit with that instead of dismissing it allowed them to grow."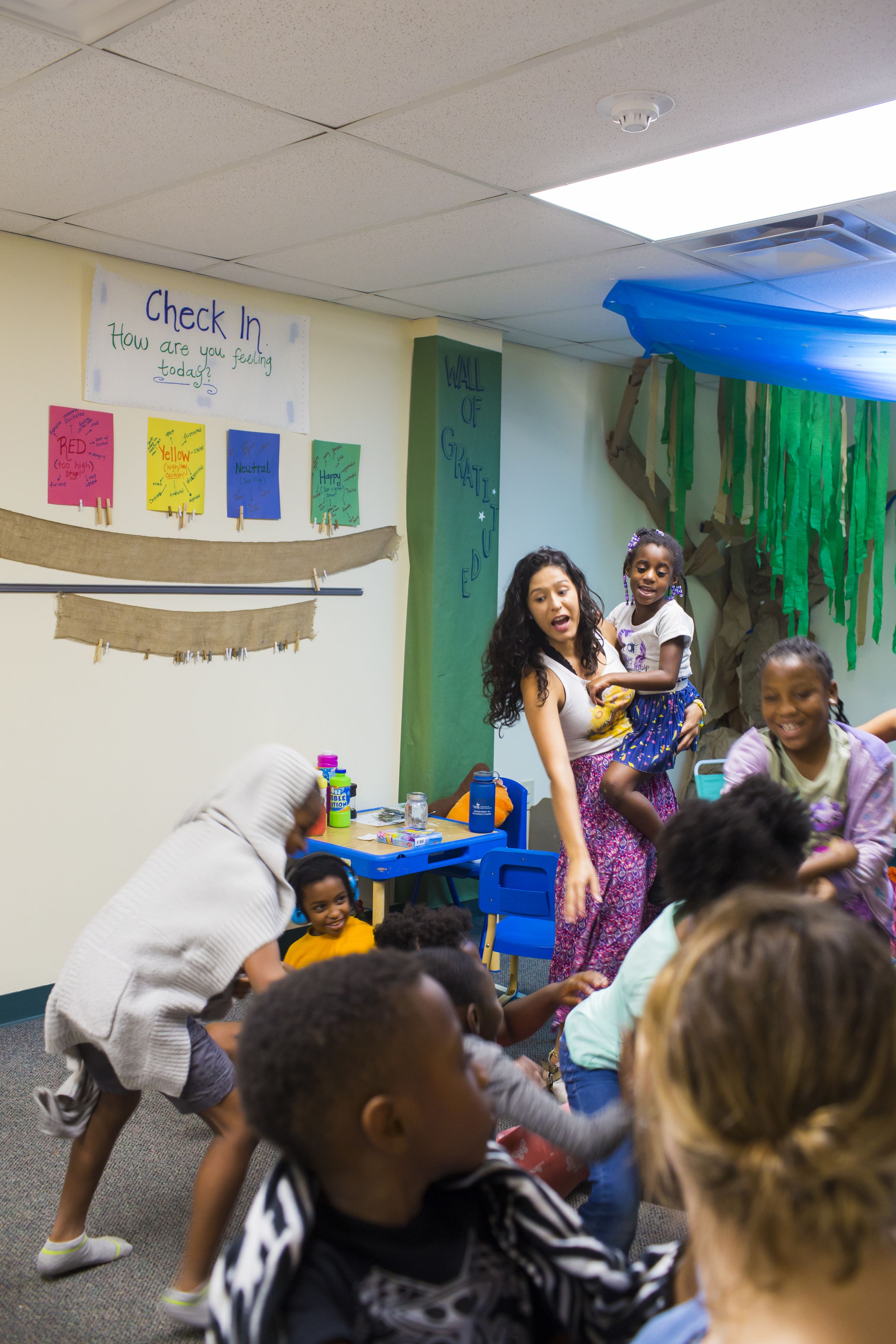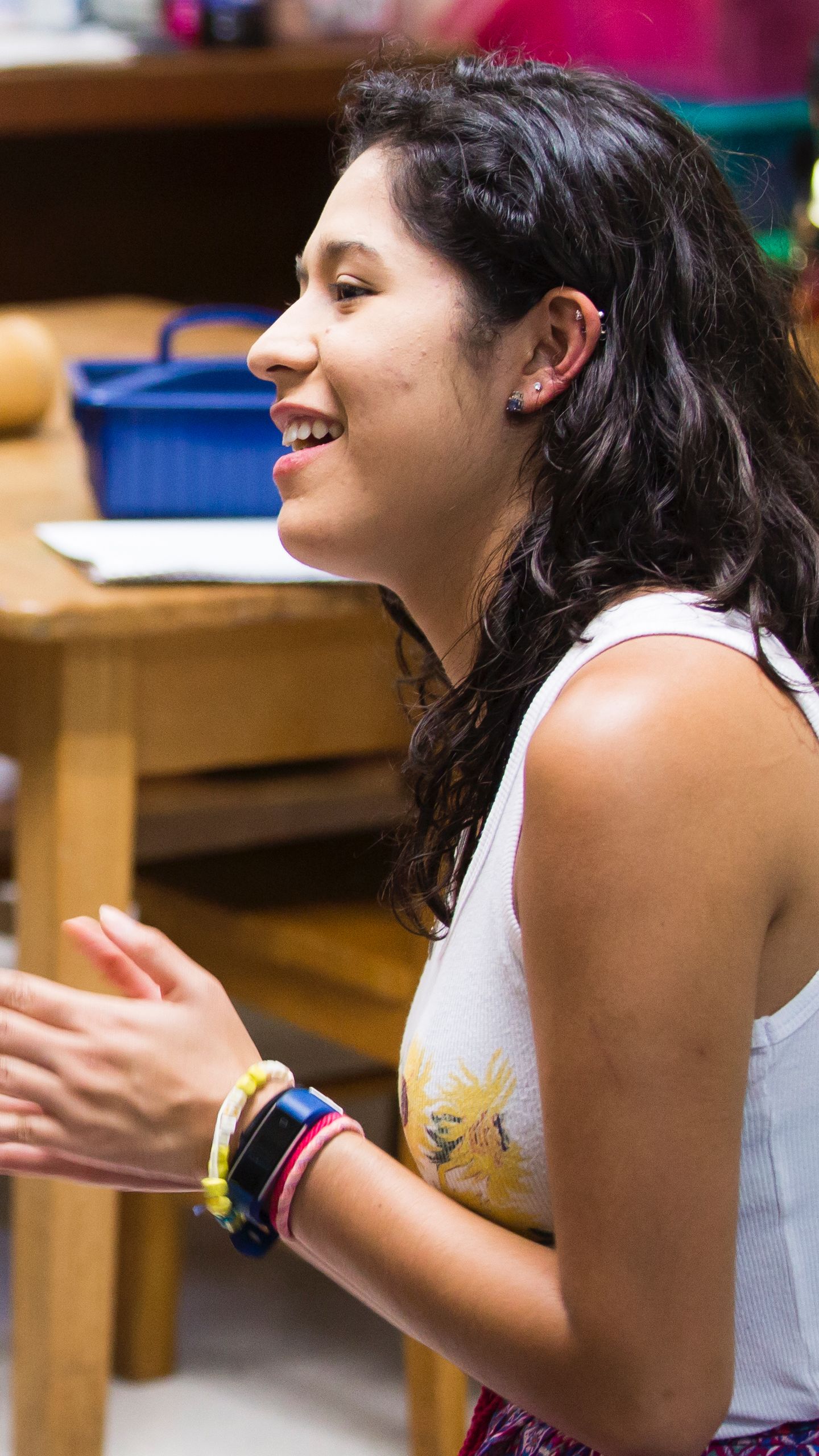 Bonding through common experiences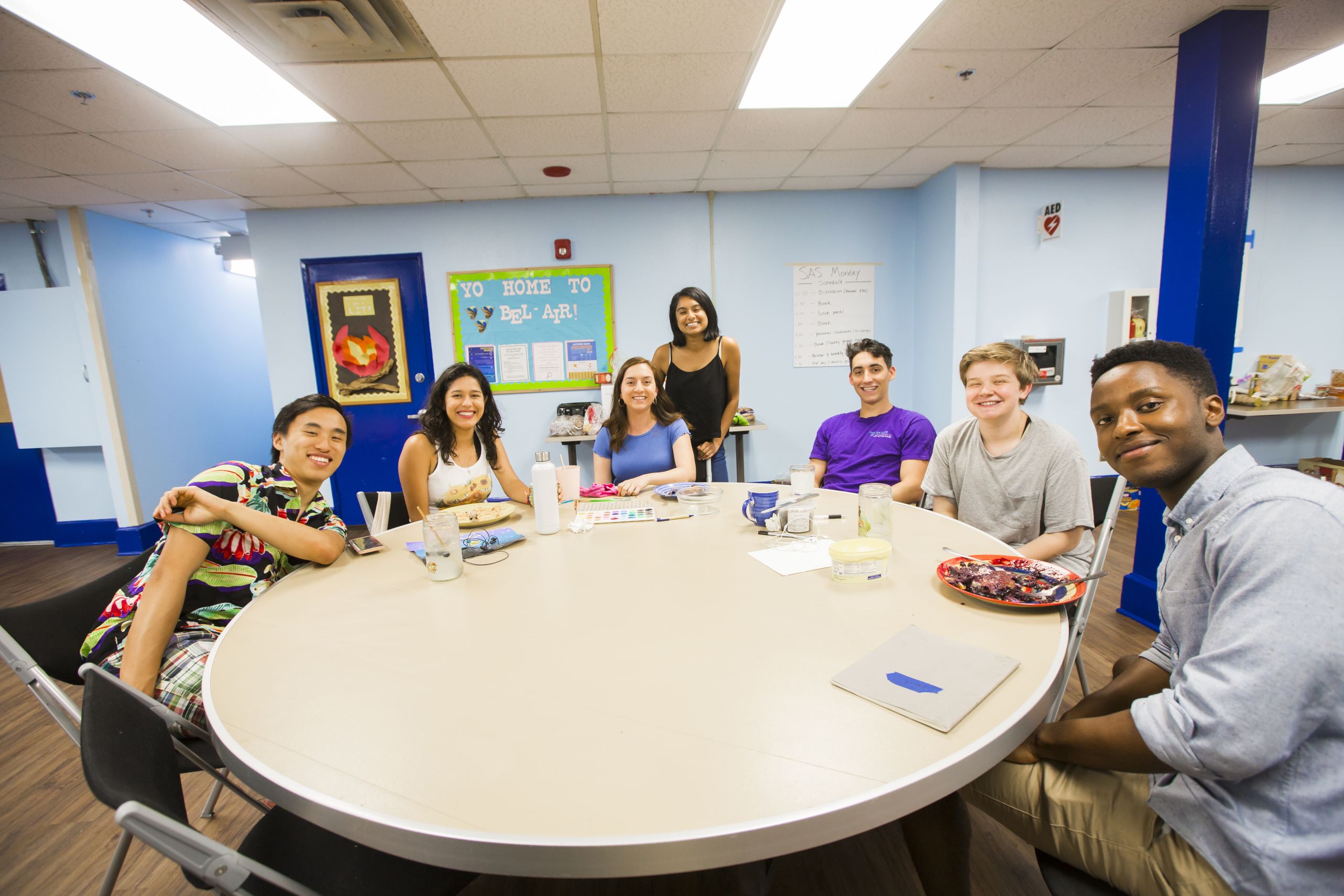 Seeing such progress doesn't mean the summer didn't have its share of challenges, however. When those times arose, Leal Sanchez appreciated being able to share the load with her fellow scholars. 
The 13 students lived together on campus for the summer with two advisers of SAS: graduate assistant Maggie Mang 17C and peer mentor Tarunika Anand 19C. Anand participated in the SAS 2018 cohort, interning with Atlanta City Council Member Amir Farokhi. 
The scholars learned as much from each other as they did during their hands-on internship work.
"We really relied on each other," Leal Sanchez says. "We would share issues and ask for advice on how to handle problems. Many of us worked in places where things could be very emotional or really weigh on us. Even if they couldn't help me with an issue, just knowing that they would listen and offer support made a difference."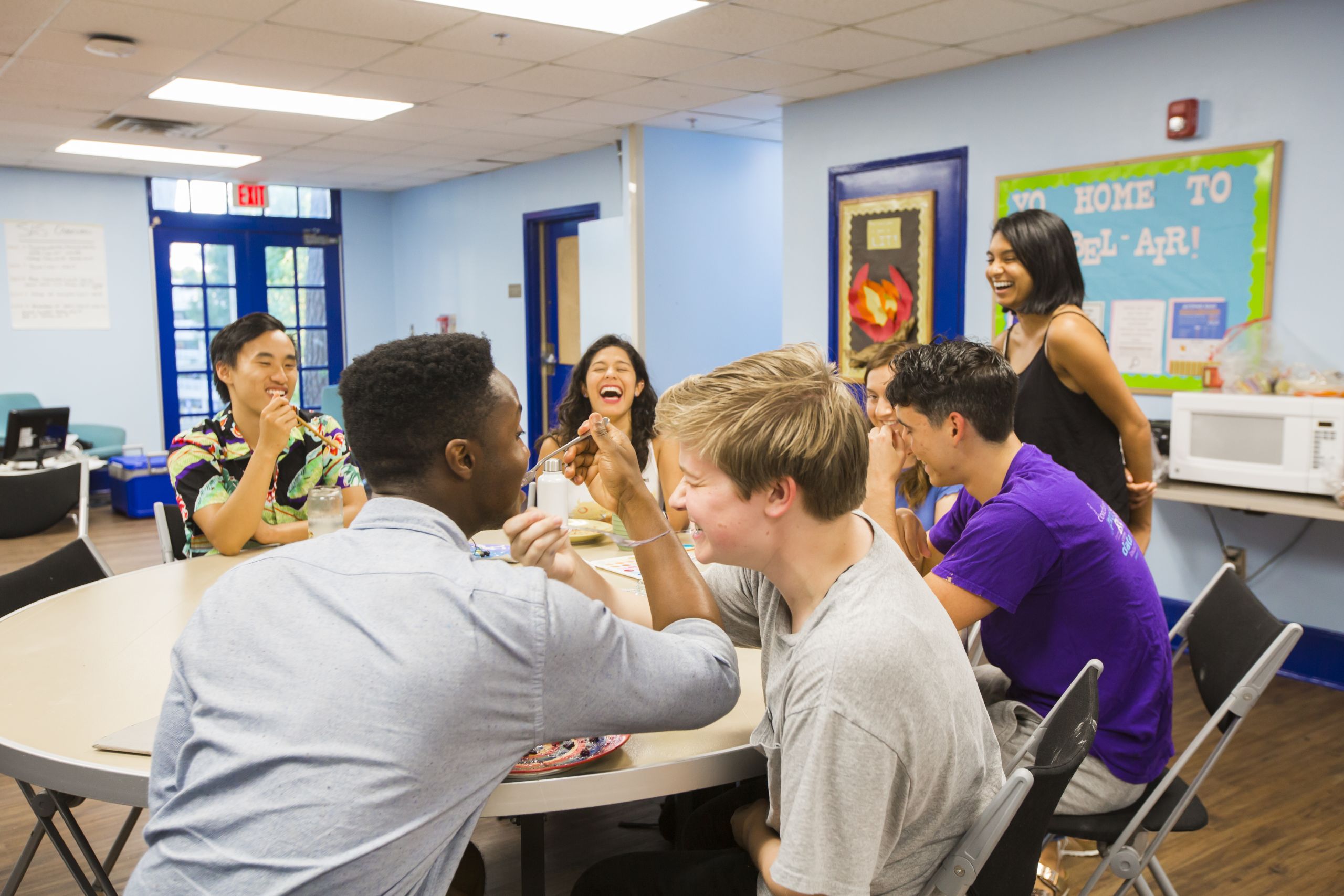 The group also supported each other through some difficult discussions surrounding their weekly topics. Students were given reading assignments on Friday evenings and expected to go through the material during the weekend. Local topic experts joined the scholars for lunch on Monday.
"We would talk together beforehand and write questions for the panelists to help prepare ourselves," Leal Sanchez says. Conversations continued through the week, culminating with a day trip on Friday to a place related to the topic. 
"The issues we covered were very big," she continues. "It took time to process what we were experiencing. But we needed to do it once we saw things for ourselves."
That mental wrestling made such an impression on Leal Sanchez that she expects to long remember the summer of 2019 – both the children of Camp PEACE and her fellow SAS program scholars. 
"The children learned a lot about themselves and others and I did too. I really grew to care about them and to admire the Camp PEACE staff. And I've gained so many new friends through the program – we've really bonded with each other. Being part of the program is educational in so many ways, but it can also help you find your path in life."
One thing that sets Camp PEACE apart from other summer programs is the incorporation of the Social, Emotional and Ethical (SEE) Learning curriculum during each day's activities. 
SEE Learning was created at Emory with the help of experts in developmental psychology, education, neuroscience and trauma-informed care. The program is the culmination of more than two decades of academic collaboration between Emory and His Holiness the Dalai Lama. 
---
"It is vital that when educating our children's brains, we do not neglect to educate their hearts, a key element of which has to be the nurturing of our compassionate nature." 
- His Holiness the Dalai Lama
---
"The Dalai Lama invited Emory to create a program in ethics and basic human values that would be grounded in common sense, common experience and scientific evidence, and that would be equally acceptable to those of any religious faith and those without," says Lobsang Tenzin Negi, executive director of Emory's Center for Contemplative Science and Compassion-Based Ethics and professor of practice in the Department of Religion.
"Scientific research has shown that ethical development, alongside social and emotional learning, contribute to a student's physical, psychological and social well-being, helping them to succeed not just academically, but in life." 
Lessons include topics such as attention training, the cultivation of compassion for self and others, resilience skills based on trauma-informed care, systems thinking and ethical discernment. The current curriculum is designed for early elementary, late elementary and middle school students; a high school curriculum is planned for 2020. 
More than 600 educators in multiple countries have attended SEE Learning workshops. The curriculum is being translated into 14 languages. 
---
ABOUT THIS STORY: Written by Leigh DeLozier. Photos by Kay Hinton.