Politics, peace and peanut butter
President Jimmy Carter fields questions from students at 38th annual Emory town hall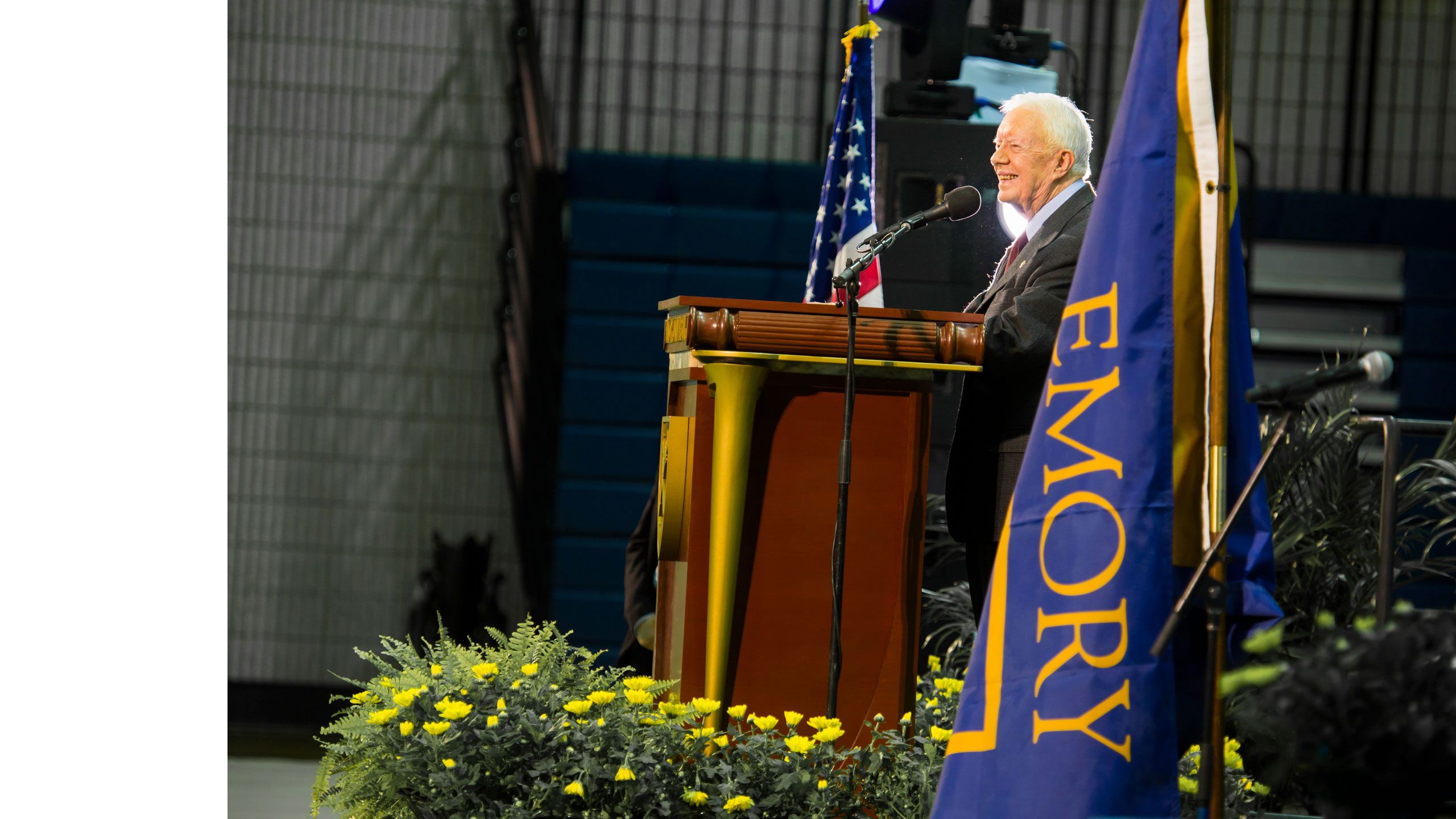 For 38 years, former U.S. President Jimmy Carter has joined first-year Emory students for the annual Carter Town Hall, a spirited, surprisingly candid exchange that offers firsthand lessons in life, leadership and governance gleaned across a lifetime of public service.
On Wednesday, Sept. 18, the 94-year-old global humanitarian returned to campus for the popular, time-honored tradition, deftly fielding a variety of student-submitted questions, ranging from the political and personal to, naturally, the peanut-centric.
But this year, the Emory community had a surprise of its own.
"In less than two weeks, President Carter will be celebrating his 95th birthday," Emory President Claire E. Sterk announced, inviting the cheering crowd to join her in singing "Happy birthday" as Carter was presented with an oversized birthday card signed by the campus community.
Sterk welcomed the 39th U.S. president and his wife, Rosalynn, praising their courage and leadership in protecting human rights, promoting democracy and confronting some of the world's greatest challenges — including intractable diseases — through The Carter Center.
Acknowledging the university's longstanding partnership with The Carter Center, she thanked the globe-trotting couple "for showing the world the power of compassionate action and for reminding us daily that peaceful democracy is possible and something we all should commit to."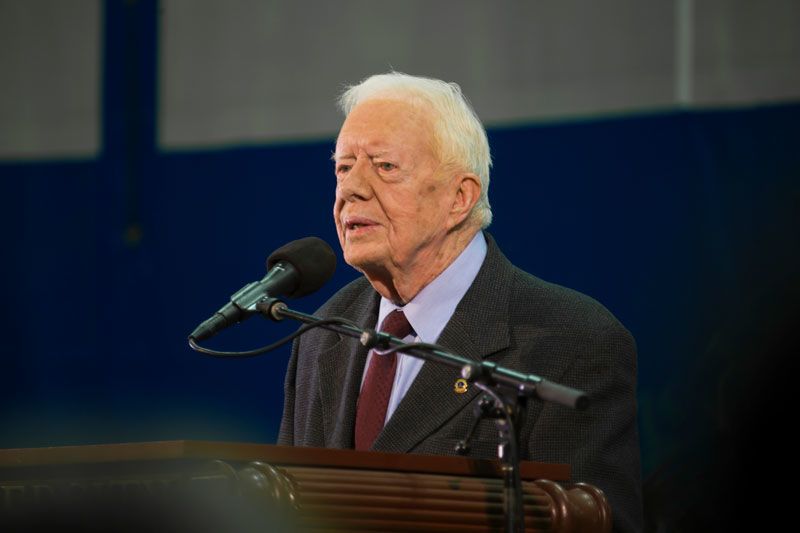 U.S. President Jimmy Carter has been an Emory professor for almost four decades, holding annual town halls, meeting regularly with faculty and students, and speaking to classes across the university.
With a broad smile, Sterk introduced Carter as "our tenured Emory University Distinguished Professor." After nearly four decades of service to the university, the senior statesman was recently granted a tenured faculty appointment in four schools: Emory College of Arts and Sciences, Oxford College, Candler School of Theology and Rollins School of Public Health.
With good humor, Carter thanked Sterk for the recognition. "I've been here almost 39 years," he said. "When I first arrived, I asked (former Emory president) Jim Laney, 'How do you get tenure?'"
Not only would Carter have to develop a good reputation as a teacher, he learned, he would have to write books, too. "So I wrote one book, then I wrote two books, I wrote 10 books, and I wrote 20 books, and I wrote 30 books," he said.
"Finally I wrote 33 books, and Claire finally granted me tenure," Carter quipped, laughing.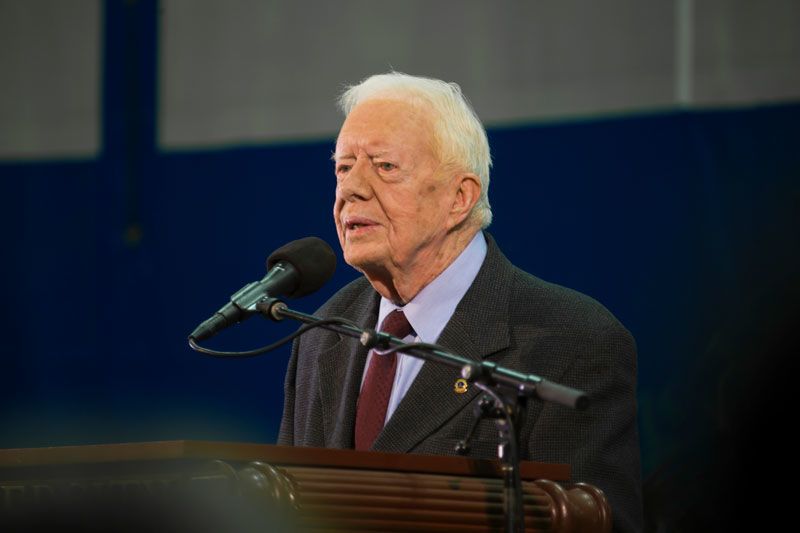 See some of the highlights of President Jimmy Carter's 38th annual town hall meeting.
See some of the highlights of President Jimmy Carter's 38th annual town hall meeting.
Opportunity of a lifetime
Speaking to nearly 2,000 students, most from Emory College of Arts and Sciences and Oxford College, Carter transformed the Woodruff Physical Education Center into the largest classroom on campus, slipping easily into his role as Emory University Distinguished Professor, a position he's held since 1982.
Carter's unifying message — a call for peace building, public service and political engagement — bridged the generations, drawing cheers from an enthusiastic young crowd that seemed to welcome his words amid a national climate roiled by political divisions.
"It's so easy to get so caught up in that kind of noise," acknowledged Emory Student Government Association President Ben Palmer. "But by embracing the values and legacy of President Carter, we can remain engaged, present and intentional amongst all of it."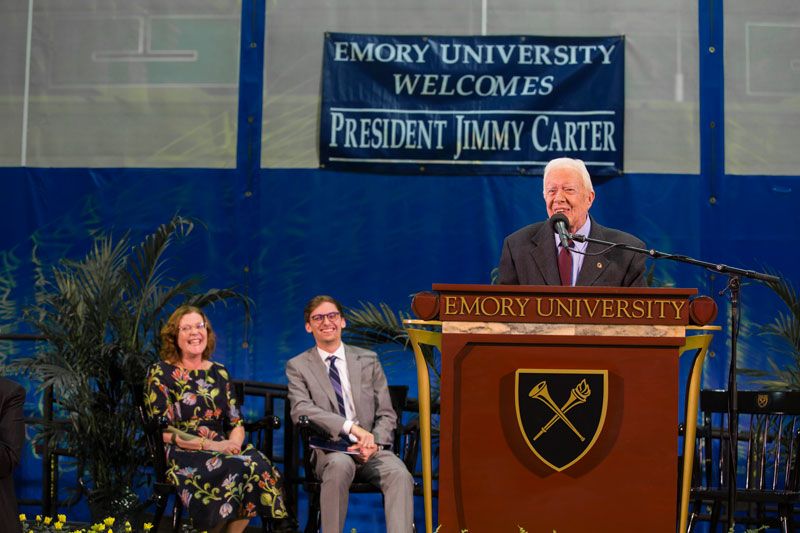 For many just beginning their Emory experience, the gathering was impressive. "You just don't get to see a president that often — this is a once-in-a-lifetime opportunity," said Ikki Kaijima, a first-year Oxford College student from Tokyo, Japan.
Carson Sanford, a first-year Emory College student from Stone Mountain, Georgia, agreed. "The chance to hear a former president of the United States? That's just amazing." 
"I grew up here in Georgia and know how influential Jimmy Carter has been in state and national politics," he said. "I've visited The Carter Center, but I've never had a chance to actually hear him speak, until now."
J'Dyn Plater, a first-year Emory College student from Seattle, Washington, wasn't going to miss the chance to watch the longest living president in U.S. history tackle some of the nation's most topical issues.
"It's really incredible to hear from a past president who's had such a close perspective of our government," she said. "It's so nice that he wants to hear from students, to take our questions. I just really admire the connection that he has maintained with Emory and Atlanta." 
Politics and polarization
And so they came with questions scribbled on paper and plucked from social media, seeking Carter's thoughts on topics including women in politics (he's a big fan), how to combat party divisions, what motivates him as a public servant and his predictions for America's future.
Politics offered the evening's most serious moments, as Carter was asked what advice he would give the current field of Democratic presidential hopefuls. 
"The basic change that needs to be made in our government is for us to become a super power I'd say in four different categories of life," he said, advocating for the U.S. to become known as the top nation on earth for promoting peace, championing human rights, advancing environmental policies that address climate change and "welcoming everybody as equals to the United States."
Carter lamented increasing party polarization on Capitol Hill. "When I was president, I had just as much support among Republicans as I did Democrats," he said. "There were no blue states and no red states."
And he traced the development back to a rise in gerrymandering focused on the push to get a particular party elected to Congress and the massive infusion of outside money into today's elections — a marked change from when he was campaigning for the presidency.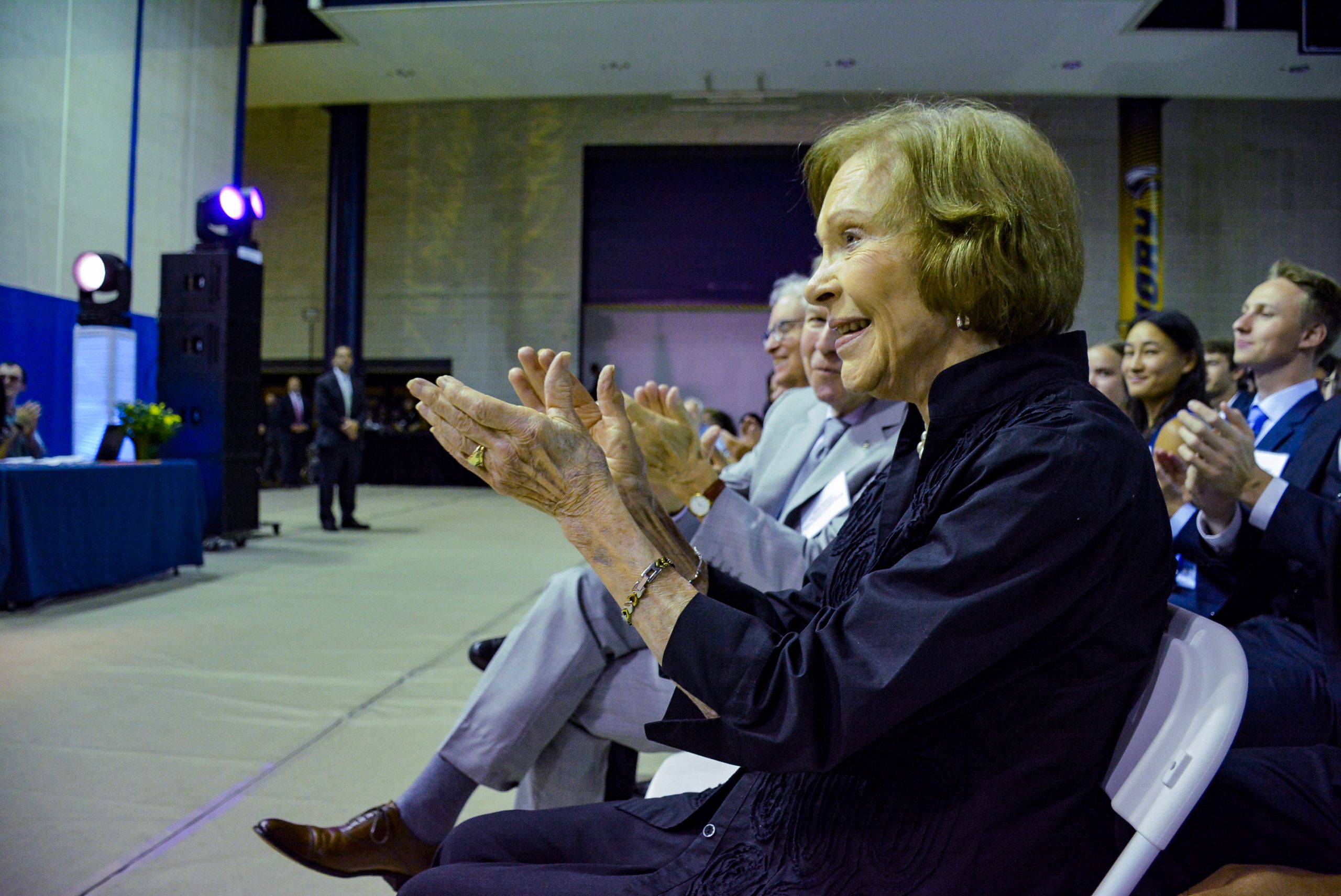 Throughout President Carter's remarks, he frequently referenced his wife of 73 years, Rosalynn Carter, who sat on the front row during the Town Hall.
When asked how to engage more female representation in U.S. government, Carter acknowledged the gains that have been made since he first entered the political arena, including a surge of women winning seats in state legislatures and Congress, as well as "a number of very highly qualified women running for president of the United States."
And though he's not endorsed a candidate yet, Carter says, "I think we have a good chance this next year of electing one president."
He encouraged women to get involved in all levels of the political process. "The more women we have in elected office, the better off our country will be, the more peaceful we will be, and the more successful the United States will be in every way," he said.
"So women, run for office. Get elected. If you don't get elected the first time, run again," he added, noting that's what he had to do.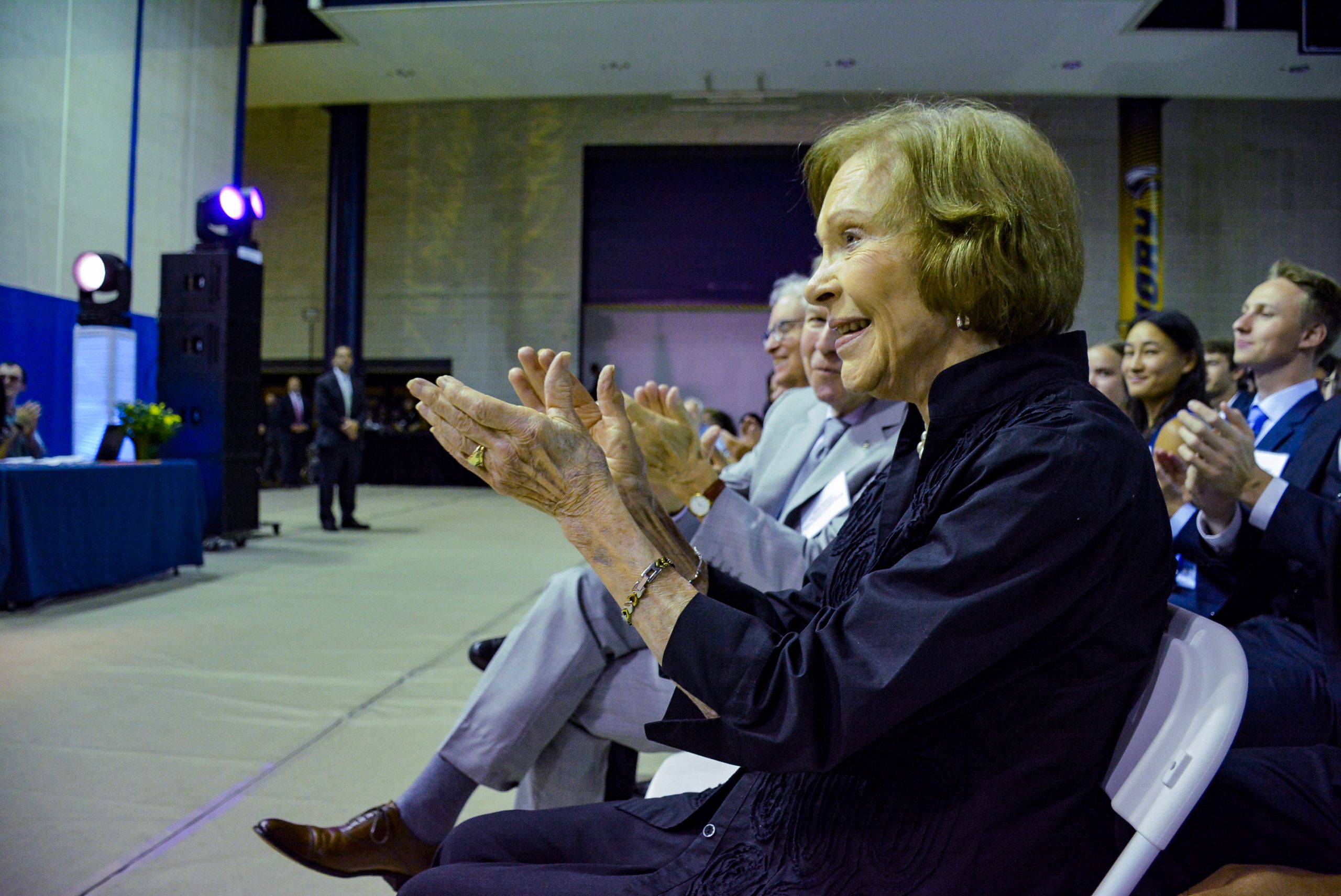 "You're part of The Carter Center and I am part of Emory."
— President Jimmy Carter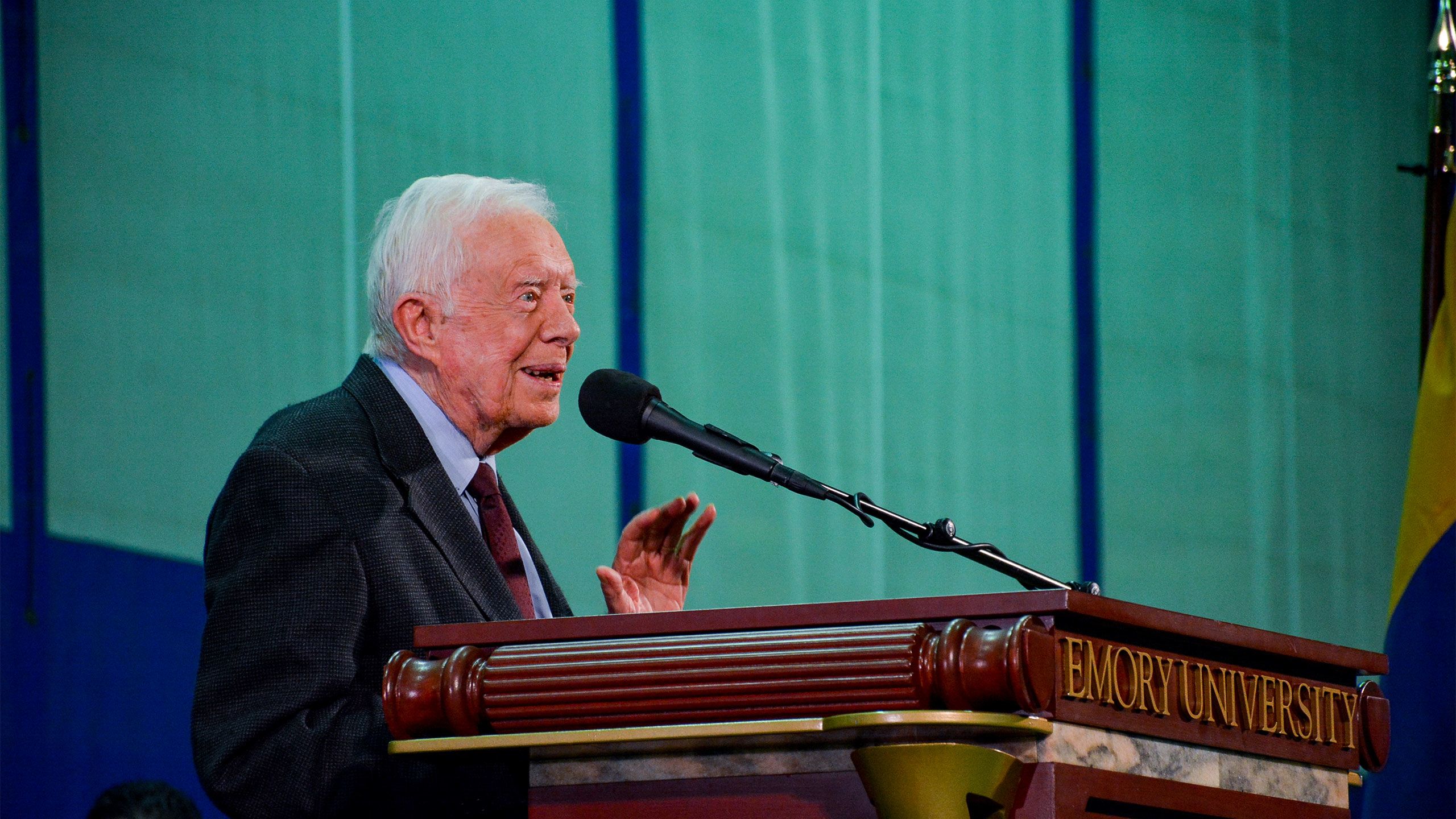 On elephants and almond butter
But the evening held lighter moments, too.
When asked what motivates the Nobel Peace Prize winner to help both his local and global communities, Carter smiled wryly and first quipped, "I generally try to do what my wife tells me to do."
He went on to describe the importance of their spiritual lives — he's a deacon who teaches Sunday School twice a month at Maranatha Baptist Church in Plains, Georgia. As president, Carter said he "tried to do what I thought was best for other people, one of those was to promote human rights, the other was to keep peace" — something anyone can aspire to within their own communities.
The best advice he ever received came from a high school superintendent: "We must accommodate changing times, but cling to principles that never change." The worst was when he was urged to respond to the Iran hostage crisis with bombs, which he refused to do, out of concern that it would lead to the deaths of the U.S. hostages and Iranian citizens.
When asked what book changed his life, he described reading the Bible together with Rosalynn every night. "That keeps our marriage together for 73 years," he said, adding that he's a big fan of Patrick O'Brian novels, too.
When asked by a 6-year-old named Eleanor what his favorite African animal was, given his many travels with The Carter Center, he gently acknowledged that Eleanor was his wife's first name, too. 
"Do you have a favorite animal?" he asked. "A cheetah," she answered.
Carter smiled. "I really think an elephant is my favorite," he told her, except when "they transfer to be a symbol of American politics."
"But I don't guess you can consider donkeys an African animal," he added, smiling.
His final question of the evening went straight to his Georgia heritage: "As a peanut farmer, what are your thoughts on almond butter?"
"I never have tasted it — and I don't intend to," he deadpanned. "We only have peanut butter in our house."
Carter left the podium to a thundering standing ovation, then students began streaming out of the venue, carried along in a swell of conversation.
"It was cool to hear a former president's perspective on current politics," said Lia Rubel, a first-year Emory College student from Barre, Vermont. "I especially appreciated his thoughts on human rights. The humanitarian crises around the world is a topic that is not discussed as much as it should be. He had a very interesting presidency because of all the issues going on at the time. It gives him an interesting perspective on today's politics."
Josh Beskind, a first-year Emory College student, thought the chance to hear Carter "was fantastic," he said. "He was a very engaging speaker, who could also be hilarious. Just a really great experience."
For Carolina Gustafson, a PhD student from West Hartford, Connecticut, studying nursing at the Laney Graduate School, hearing Carter answer a question she had submitted was "probably the best moment of my year."
"I've always admired President Carter tremendously and wanted to know what had been the most important advice he valued, how he was guided by the advice he received," she said. 
"To have him look at me and answer it felt very one-on-one, like he genuinely wanted to answer and reflect on it."
---
ABOUT THIS STORY: Written by Kimber Williams and Leigh DeLozier. Photos by Kay Hinton and Parth Mody. Video by Corey Broman-Fulks and Damon Meharg.