President Jimmy Carter sits down with Emory President Claire E. Sterk for her new video series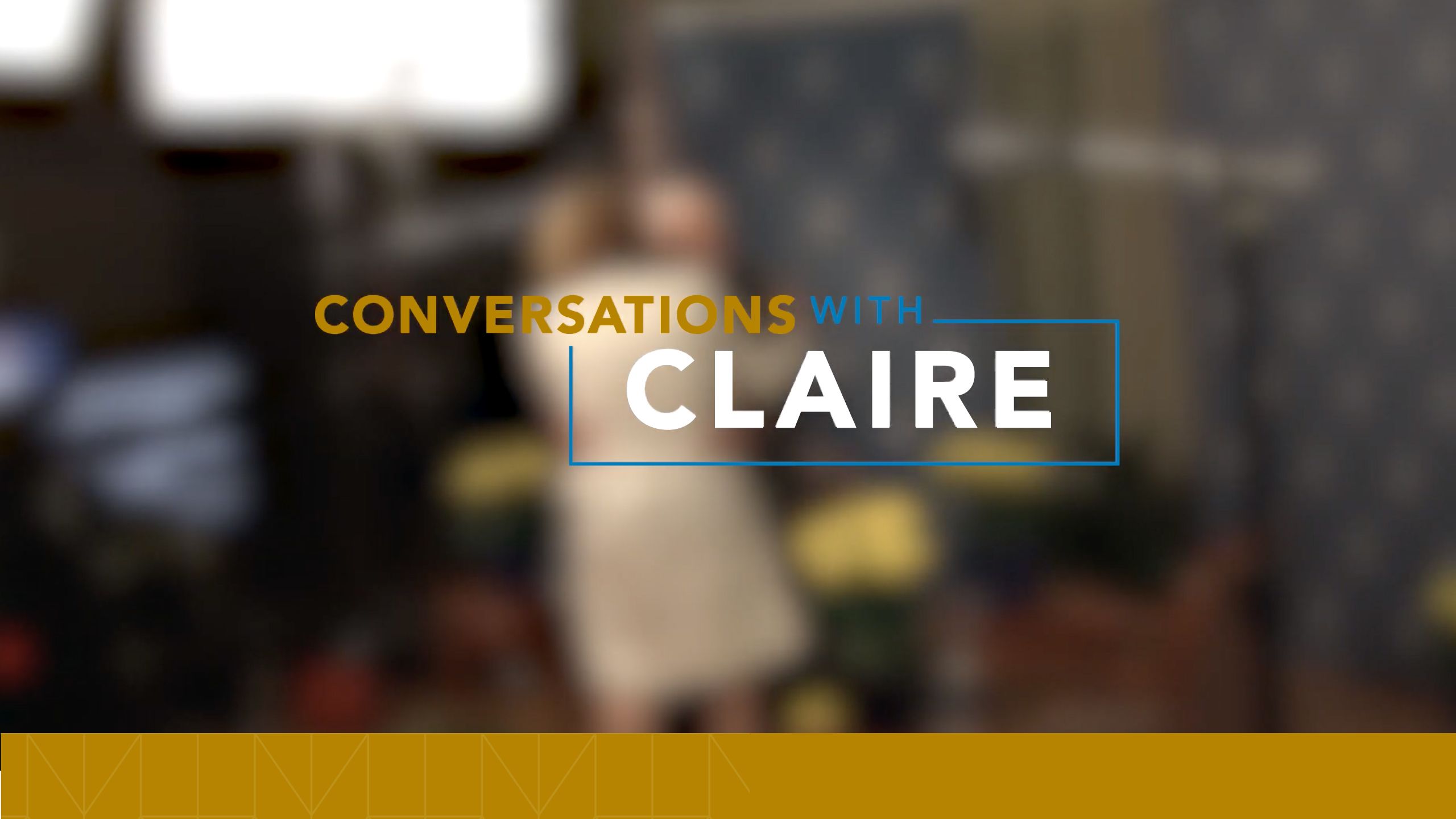 "Conversations with Claire" features Emory President Claire E. Sterk interviewing some of today's most inspirational leaders, who have left indelible impressions on the university and the world.
In the inaugural episode of the video series, Sterk sits down with President Jimmy Carter, the 39th president of the United States, human rights advocate, Nobel Peace Prize winner and Emory University Distinguished Professor.
Carter's relationship with Emory spans almost four decades. He launched The Carter Center in September 1982 from an office in Emory's Woodruff Library, and the two institutions continue to work in close partnership. Generations of Emory students have fond memories of the annual Carter Town Hall, a beloved campus tradition where the former president takes questions from first-year students, and his many visits to Emory classes across a wide range of subjects.
In the first episode of "Conversations with Claire," Carter discusses his partnership with Emory as a professor and through The Carter Center, the principles that have helped him navigate a changing world, his advice for 2020 presidential hopefuls, his vision for the United States and how college students can help achieve it.
Watch the full-length "Conversations with Claire" video of President Sterk interviewing President Carter. You can also watch highlights of the interview.
Watch the full-length "Conversations with Claire" video of President Sterk interviewing President Carter. You can also watch highlights of the interview.
President Carter granted tenure at Emory
To a lifetime filled with accolades for innumerable contributions to human rights and global health, President Jimmy Carter has added another.
After serving as University Distinguished Professor at Emory for the past 37 years, Carter has been granted tenure at Emory University. His tenured faculty appointment in four schools, Emory College of Arts and Sciences, Oxford College, Candler School of Theology, and Rollins School of Public Health, reflects the breadth of the president's work and his impact on numerous fields.
With this honor, he becomes the first tenured faculty member at Emory to hold a Nobel Prize and the first tenured faculty member to have been a U.S. president. The principle undergirding tenure — which essentially means a continuous post as a professor — is to preserve academic freedom for those who teach and pursue research in higher education.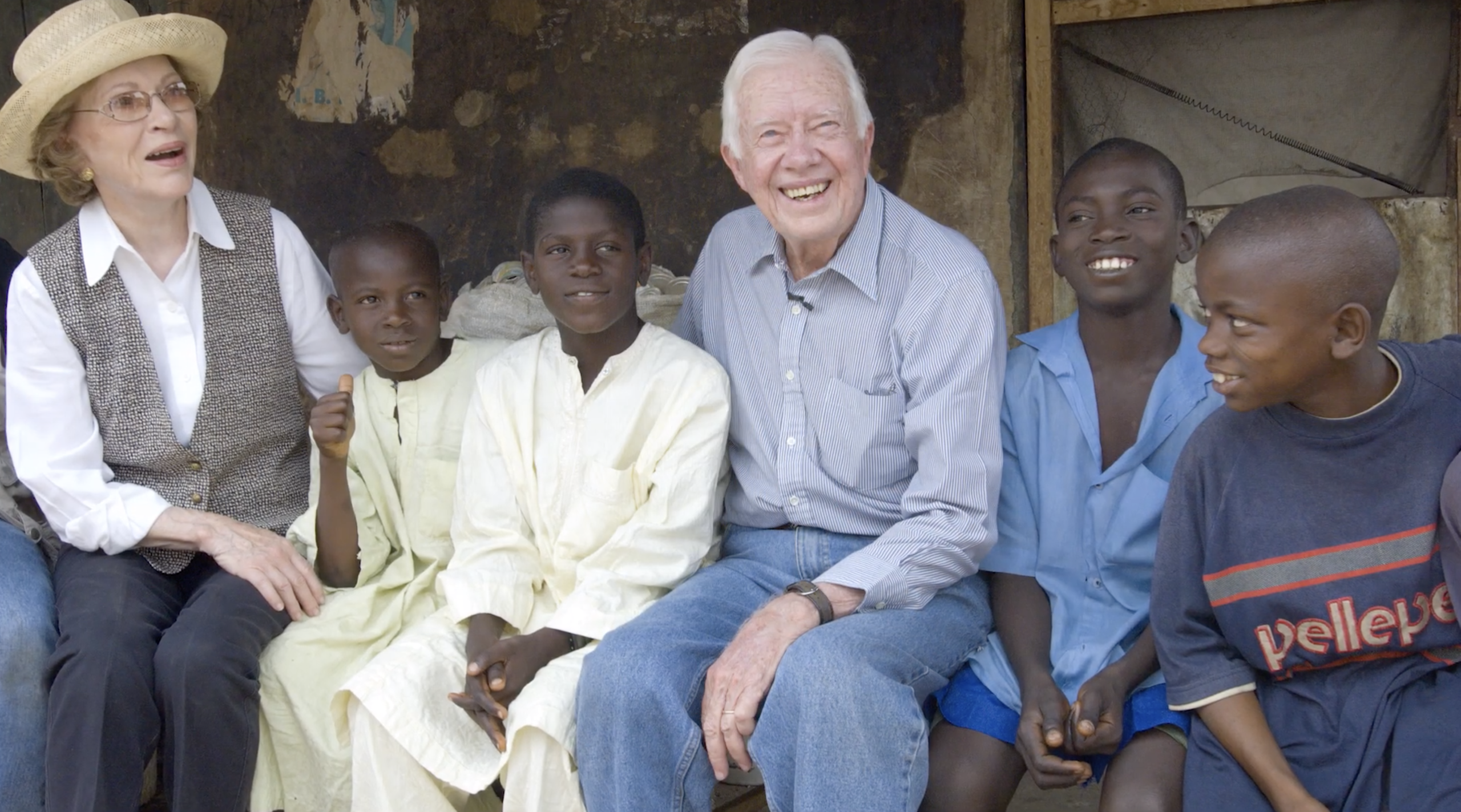 Emory President Claire E. Sterk says, "It gives me such pleasure to announce that the Board of Trustees has conferred this well-earned recognition on President Carter. Across nearly four decades, he has given Emory the full measure of what it means to be a public intellectual and an engaged faculty member. He has viewed teaching as a revered calling —the same humble approach he has brought to every undertaking, large and small, across a lifetime."
When Carter's term as president ended in 1981, he was seeking a university affiliation close to home for what would become the work of The Carter Center. As he shared in a 1998 interview, "When I left the White House, I decided not to join any corporate boards and not to take part in commercial ventures. I've long had an ambition to teach."
Carter naturally attracted the interest of many of Georgia's leading higher education institutions. For his part, he saw the greatest possibilities in Emory — among them, the quality of its education and commitment to free speech. Under the leadership of former Emory University President James T. Laney, Carter signed on for what he describes as an association that "has been one of the great honors of my life."
His larger-than-life status notwithstanding, Carter has been in every sense a full-fledged faculty member: meeting often with students, advising them about their projects, and engaging with other faculty to create the sort of unique, fruitful initiatives that can arise only between an NGO like The Carter Center and a research university like Emory. When, in lectures over the years, he reflected on his Emory career, Carter playfully pointed out that he had taught students in every school of the university and published multiple books and articles but had yet to be awarded tenure.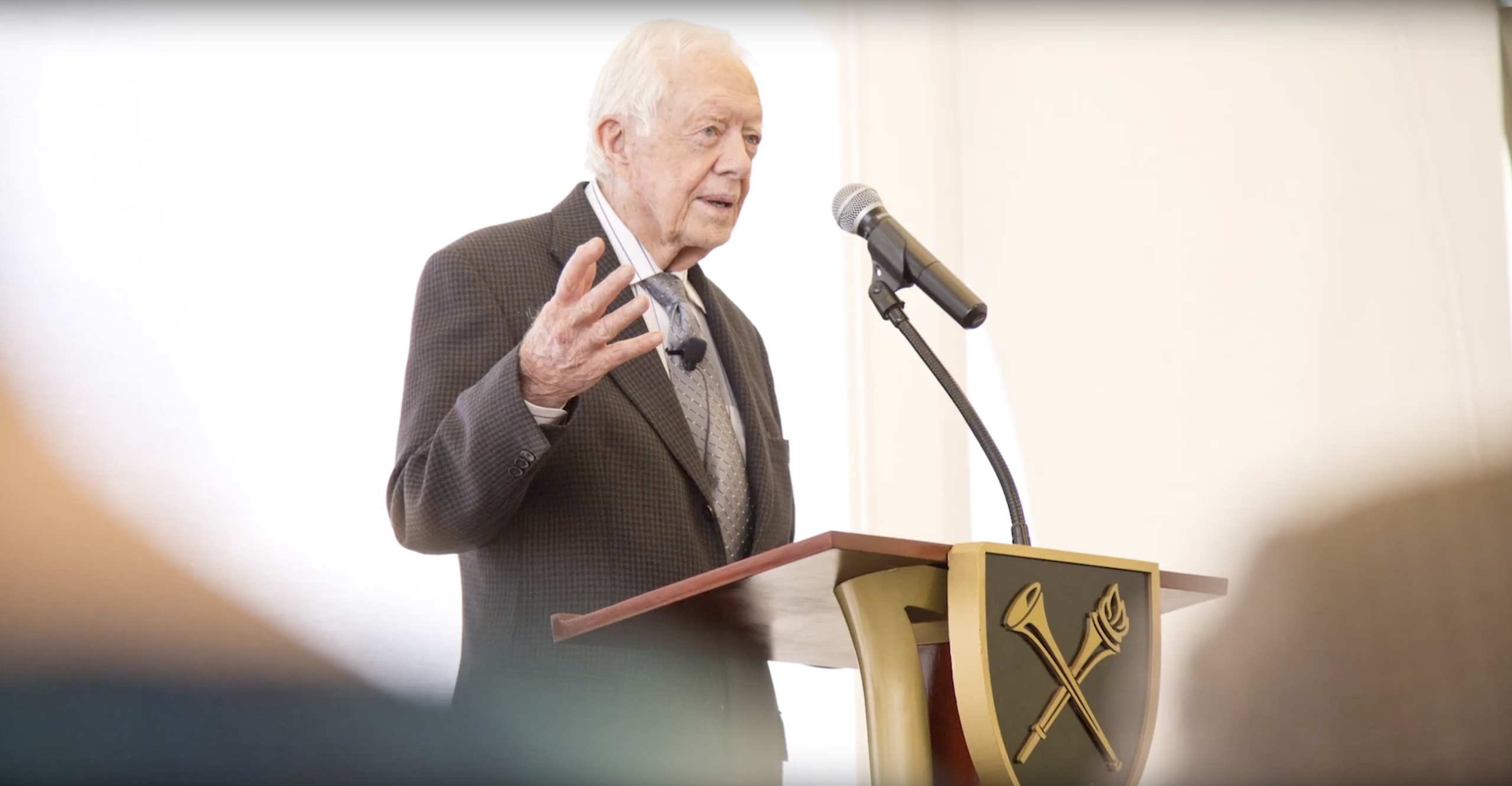 For Emory's first-year students, President Carter has conducted—despite his busy schedule — an unbroken string of 37 town halls, where they get the chance to hear from him and ask questions. Through the years, the president's candor, warmth, and sense of humor have created an unforgettable memory that binds generations of students.
"Having President Carter as part of the Emory experience has a profound impact on our students," says Dwight A. McBride, provost and executive vice president for academic affairs. "As a servant leader, he models inclusivity and empathy inside the classroom and beyond, and inspires our faculty and students to approach their research, teaching, and studies with a tireless sense of purpose."    
At the last town hall, President Carter was asked about his legacy, and he answered: "I would like to be remembered as a champion of human rights, as a president who kept our country at peace, and as having been a distinguished professor at Emory University."
Emory University Media Contact: Elaine Justice, 404-727-0643, elaine.justice@emory.edu