For Faculty and Staff of Emory University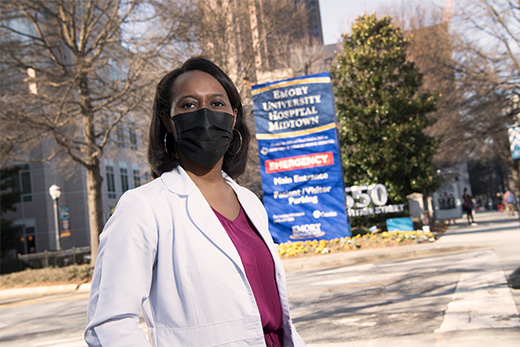 'Fighting for my family'
For Emory researcher and physician Zanthia Wiley, the fight against COVID-19 health disparities is deeply personal. Learn more about Wiley and her work in the new series "I am an Emory Researcher."
---
---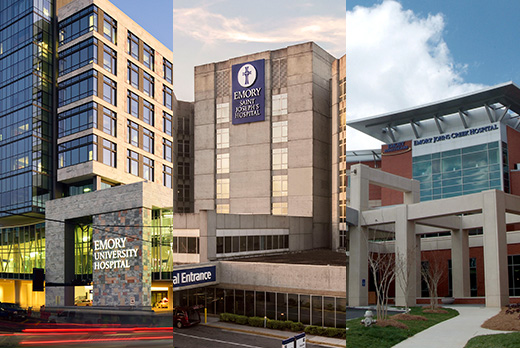 Three Emory hospitals named in list of World's Best Hospitals 2021
According to Newsweek's list of "The World's Best Hospitals 2021," Emory University Hospital ranked No. 1 in Georgia, Emory Saint Joseph's Hospital ranked No. 2 and Emory Johns Creek Hospital ranked No. 3. Each hospital also ranked nationally.
---
---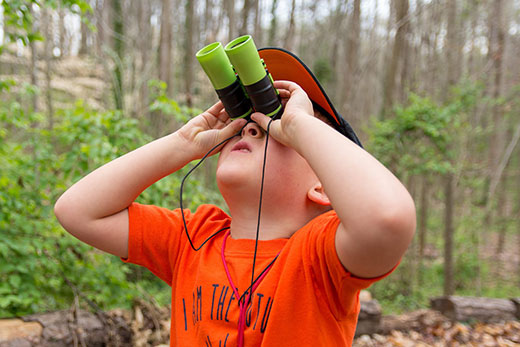 'Science always prevails' as Atlanta Science Festival returns March 13-27
The Atlanta Science Festival returns with more than 80 events, including virtual and physically distanced activities — all aimed to educate, engage and entertain all ages. Emory faculty and students will headline events ranging from discussions of COVID-19 vaccines to a "Drive-In Demo Show" of chemistry in action.
COVID-19 Community Update
Vaccine distribution plan: Emory has rolled out a new process to help facilitate vaccine distribution for those who became eligible March 8. Read the latest from Amir St. Clair, executive director of COVID-19 response and recovery, and watch the community town hall.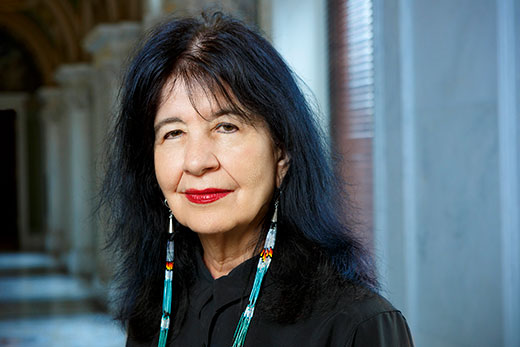 U.S. Poet Laureate Joy Harjo to give free reading online
Joy Harjo, the first Native American U.S. poet laureate, will read her poems at an online event hosted by the Stuart A. Rose Manuscript, Archives, and Rare Book Library on Saturday, March 20.
---
Emory celebrates Women's History Month 2021
Renee Montgomery, co-owner of the Atlanta Dream and former WNBA player, will be the featured speaker at "Beyond the Games: Black Women in Sports Past, Present and Future" on March 18. Read about other events.
---
Webinar: "Classical Music in the Time of Black Lives Matter" with Morris Robinson
Opera singer Morris Robinson, a frequent speaker on race in classical music, will explore the past, present and future of race and equity in classical music with vocal instructor Maria Clark. A student Q&A session facilitated by Candy Tate of the Center for Creativity and Arts will follow.
When: March 10, 12:00 p.m.
Where: Online
Admission: Free; registration required
Discussion: "Might Could: Stories of Innovation in the ATL" with Karen Cashion
This new series from The Hatchery, Emory Center for Innovation, features conversations with innovation thought leaders and disruptors in nonprofits, higher education and industry who are making Atlanta a city of the future. Karen Cashion, CEO of Tech Alpharetta, will speak.
When: March 11, 1:00 p.m.
Where: Online
Admission: Free; registration required
Emory President Gregory L. Fenves: First Address
In his first address to the university community, Emory President Gregory L. Fenves will speak on the unprecedented journey we've undertaken during the past year, our bright future as a university and how we can build on our rich legacy of excellence and impact.
When: March 23, 3:00 p.m.
Where: Emory.edu home page
Admission: Free
Editor: Leigh DeLozier
Vice President for Enterprise Communications: Douglas Busk
Senior Vice President for Communications and Public Affairs: David Sandor

Emory Report is published by  Communications and Public Affairs
Read the Emory Report Guidelines
Copyright 2022 Emory University | All Rights Reserved
201 Dowman Drive, Atlanta, Georgia 30322 USA | 404.727.6123