Book|Report Podcast Archives
Tune in as faculty authors tell how their new books are shaping scholarship. Explore the podcasts collected here, or subscribe to the series on iTunes U.
LATEST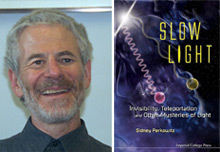 Harnessing the mysteries of light
The latest book from Sidney Perkowitz sheds light on the biggest mystery in quantum physics.


Book|Report Archives:
December 15, 2011
Catherine Nickerson: The Cambridge Companion to American Crime Fiction 
November 30, 2011
Robert Gaynes: Germ Theory: Medical Pioneers in Infectious Disease
November 16, 2011
Amy Benson Brown: The Book of Sarah
November 2, 2011
Ian A. McFarland: The Cambridge Dictionary of Christian Theology
October 19, 2011
Susan Bauer-Wu: Leaves Falling Gently: Living Fully with Serious and Life-Limiting Illness through Mindfulness, Compassion, and Connectedness
October 5, 2011
Mark Sanders: A Black Soldier's Story: The Narrative of Ricardo Batrell
September 21, 2011
Rebecca Stone: The Jaguar Within: Shamanic Trance in Ancient Central and South American Art
September 9, 2011
Michael J. Broyde: Contending with Catastrophe: Jewish Perspectives on September 11
August 31, 2011
Bryan Meltz: AFTER: Images from Haiti
July 12, 2011
Charles Hatcher: All in the Timing
May 11, 2011
Phyllis Kozarsky: CDC Health Information for International Travel
April 20, 2011
John Witte Jr.: Alliance of religion and human rights explored
April 7, 2011
Deborah Lipstadt: Looking back, Nazi's trial gave voice to victims
March 2, 2011
Allen Tullos: Getting away from Alabama as a stereotype
February 8, 2011
Rudolph P. Byrd: Racial revelations in Jean Toomer's 'Cane'
January 27, 2011
Mark Auslander: Tracing the enigmatic life of 'Miss Kitty'
December 15, 2010
Eugene Bianchi: Years as a priest and a professor shape memoir
November 24, 2010
Sam Cherribi: An insider's look at troubling trends toward Dutch Muslims, post 9/11
November 8, 2010
Gary Hauk and Sally Wolff-King: Many voices tell Emory's history
October 25, 2010
Fraser Harbutt: Yalta 1945: Europe and America at the Crossroads
October 4, 2010
Lawrence Jackson: The Indignant Generation: A Narrative History of African American Writers and Critics, 1934-1960
September 21, 2010
Shalom Goldman:  Zionism, Israel and the Judeo-Christian imagination
September 10, 2010
Natasha Trethewey: After the storm, after the Pulitzer
August 24, 2010
Joseph Skibell: A Novel Freud

July 19, 2010
Harvey Klehr: Sples among us

June 21, 2010
Laurie Patton: Found in Translation

May 3, 2010
Alan  Abramowitz: Polarization in American politics

April 19, 2010
Lynne Huffer: Truly mad, or sexually deviant?

April 5, 2010
Matthew Bernstein: Screening a lynching: Leo Frank case revisited
March 15, 2010
Pamela Scully and Clifton Crais: Who was the Hottentot Venus?
March 1, 2010
Mark Risjord: Bridging a gap in nursing.
Feb. 15, 2010
Sally Wolff King: Diary uncovers Faulkner find
Feb. 1, 2010
Luke Timothy Johnson: Exploring parallels between Christianity, paganism
Jan. 11, 2010
Andra Gillespie: Black politics after and beyond Obama
Nov. 23, 2009
Rosemarie Garland-Thomson: A new look at staring
Nov. 9, 2009
Sharon Strocchia: Invisible hands: The lives within 15th century convent walls
Oct. 26, 2009
Robert Schapiro: The case for a new federalism
Oct. 5, 2009
Scott Lilienfeld:  Opposites don't attract: Lilienfeld debunks pop psych myths
Sept. 21, 2009
Patrick Allitt: Allitt traces history of American conservatism