Atlanta Science Festival Expands Your Horizons
The citywide STEM celebration marks its 10th year by inspiring the curious to go further afield
Emory alumna Rae Wynn-Grant forged a path as a wildlife biologist. (Video courtesy Rae Wynn-Grant)
Emory alumna Rae Wynn-Grant forged a path as a wildlife biologist. (Video courtesy Rae Wynn-Grant)
"Science has quite literally taken me around the world," says Rae Wynn-Grant, an Emory alumna and wildlife biologist whose field research has spanned six continents.
"But you don't have to physically travel to be a great scientist," she adds. "I want people to know that there are many different ways that science can expand your horizons."
Wynn-Grant returns to Atlanta as a featured speaker to launch this year's Atlanta Science Festival, set for March 10-25. The festival is bigger and more expansive than ever with more than 150 events and an overarching theme: Where will science take you?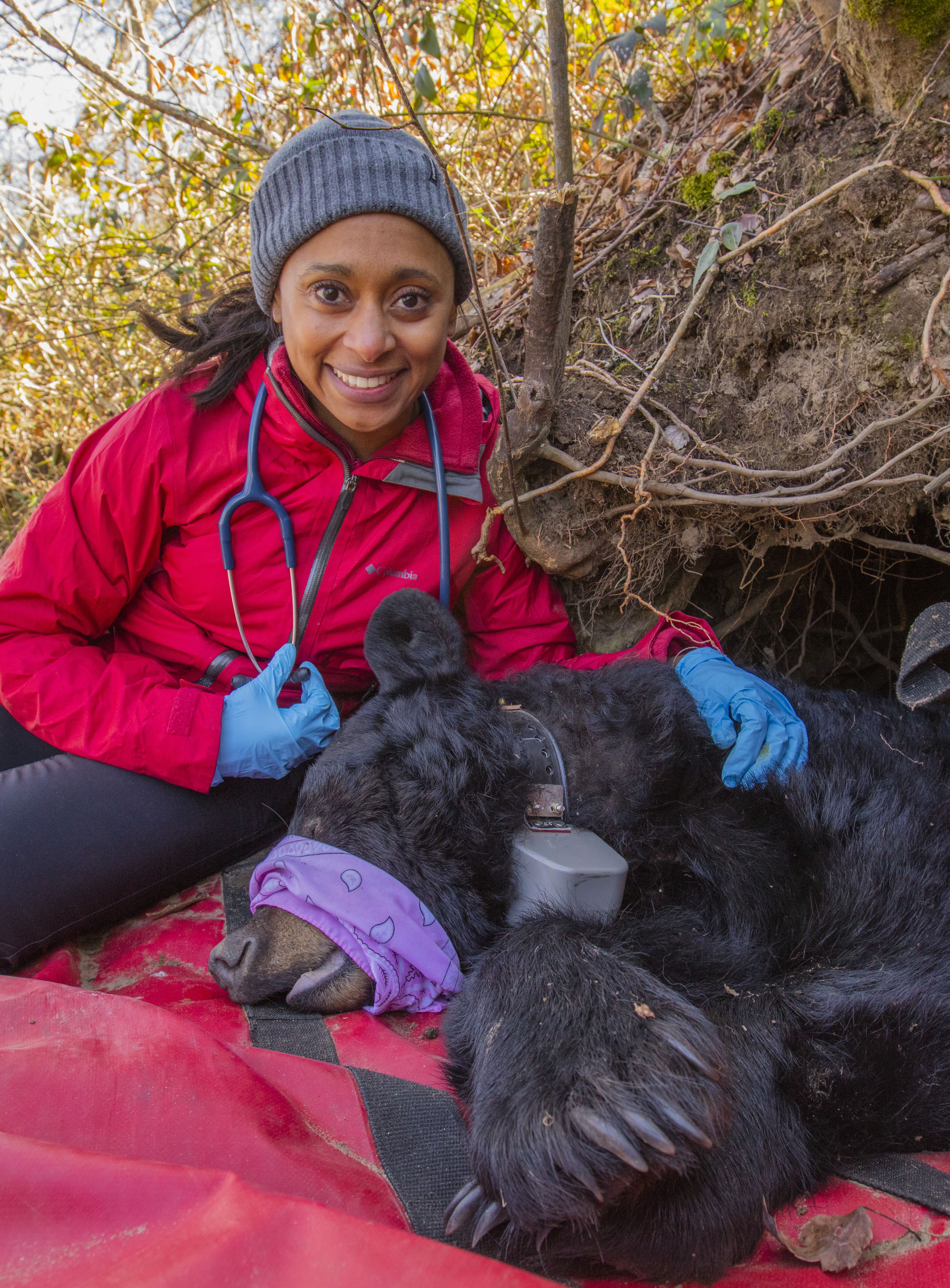 Science lovers are invited to travel back in time to learn about the cultural history of water at the Carlos Museum, enter a chance to win a trip to a U.S. National Park and glimpse the future through a tour of Hermeus, an Atlanta corporation developing the world's fastest aircraft.
"Often people think of science as something done in a laboratory by men in white coats," says Meisa Salaita, executive co-director of Science ATL, the nonprofit organization that produces the Atlanta Science Festival. "We want to showcase that science is happening right around you and everywhere in the world. And it doesn't matter who you are. You can be a part of it."
The Atlanta Science Festival, now in its 10th year, was co-founded by Emory, Georgia Tech and the Metro Atlanta Chamber.
"I was inspired to have this career because of the science communication of nature shows," says Rae Wynn-Grant. (Video courtesty Rae Wynn-Grant)
"I was inspired to have this career because of the science communication of nature shows," says Rae Wynn-Grant. (Video courtesty Rae Wynn-Grant)
Emory students, faculty, staff and alumni are out in force again for the festival. They invite the public to join a health-themed coding hackathon, an AI workshop on facial recognition, a self-guided science tour of the campus and a chance to step into the shoes of "citizen-scientists" who have partnered with Emory researchers working to improve the health of communities across Atlanta.
"Destination Science" launches the festival on Friday, March 10, at 7 p.m. in the Ferst Center for the Arts. Members of the Emory community may use the code HALFOFF when buying tickets to receive a 50% discount.
WABE's Molly Samuels will lead a discussion with three adventurous scientists talking about where science has taken them. The panel includes glaciologist M Jackson, marine scientist Melissa Cristina Márquez and Rae Wynn-Grant.
Wynn-Grant was raised in city environments, including Norfolk, Virginia, and did not come from a family of scientists or of outdoor enthusiasts.
"My parents were really strict with television when I was a kid," she recalls. "Whatever we watched had to be educational. Lucky for me, my favorite things were nature shows, so I was allowed to watch a lot of educational nature programs. I loved them more than cartoons."
She dreamed of becoming a nature show host. "It seemed so exciting, adventurous and fun," Wynn-Grant says, "to interact with animals in the wilderness and explain their biology and behaviors. I carried that dream through my whole upbringing."
Although Wynn-Grant knew what she wanted to do, she didn't necessarily think that she could.
"I hope I can play a small role in helping people see that science is a space where anyone can find belonging."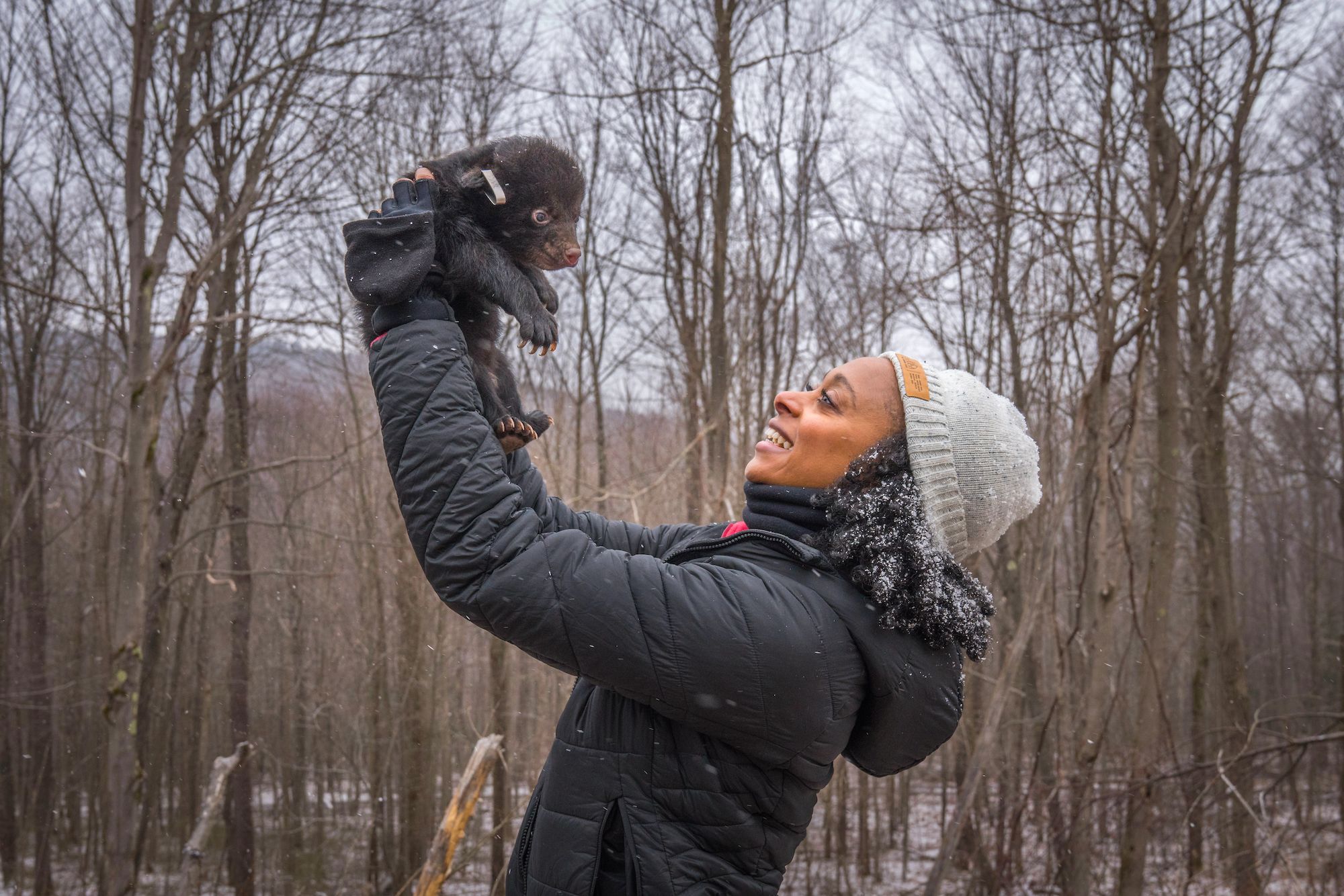 Rae Wynn-Grant admires a black bear cub after tagging it. Photo by Tsalani Lassiter
Rae Wynn-Grant admires a black bear cub after tagging it. Photo by Tsalani Lassiter
"They didn't have women hosting nature shows," she says. "They didn't have people of color or anyone who represented an urban background. They really didn't have anyone who was like me at all."
She majored in environmental sciences as an Emory undergraduate and realized she was one of the few students in the program who did not have actual experience in the wilderness. She signed up for a study-abroad program her junior year, which took her to Kenya's Amboseli National Park.
"It was magical," Wynn-Grant says of her time in Africa, where she researched how the diversion of water by farmers affected the migration of zebras. "I returned to Emory with a lot of vigor and energy. I realized that I wanted to be a conservation scientist."
Wynn-Grant went on to study lions in Tanzania for her master's at Yale and black bears in Nevada for her PhD at Columbia. She is now a National Geographic Society Explorer and a large carnivore ecologist on the faculty of the University of California, Santa Barbara. And even though she did not become a full-time nature show host, she has appeared as a guest on nature shows and has more on the horizon.
"It's the full-circle moment that I thought would never come," she says.
Following are more highlights of festival events with an Emory connection.
The Carlos Museum hosts "Water, the Source of Civilizations," a deep dive into how art can reveal a culture's relationship to water. Two guided tours, on Saturdays, March 11 and March 18, will cover artifacts from civilizations throughout time and across the globe that reveal how different cultures have responded to the excess or scarcity of the most important and precious of molecules.
On Sunday, March 12, "Conversations in Creativity with Science Gallery Atlanta" brings together an Atlanta artist and an Emory physician to discuss the possibilities that arise when you blur the boundaries of art and science. Jane Foley, a new-media artist who works with luminous gas, will take the stage along with Madeleine Hackney, a former professional dancer, an associate professor in Emory University School of Medicine and a research scientist with the Center for Visual and Neurocognitive Rehabilitation at the Atlanta VA.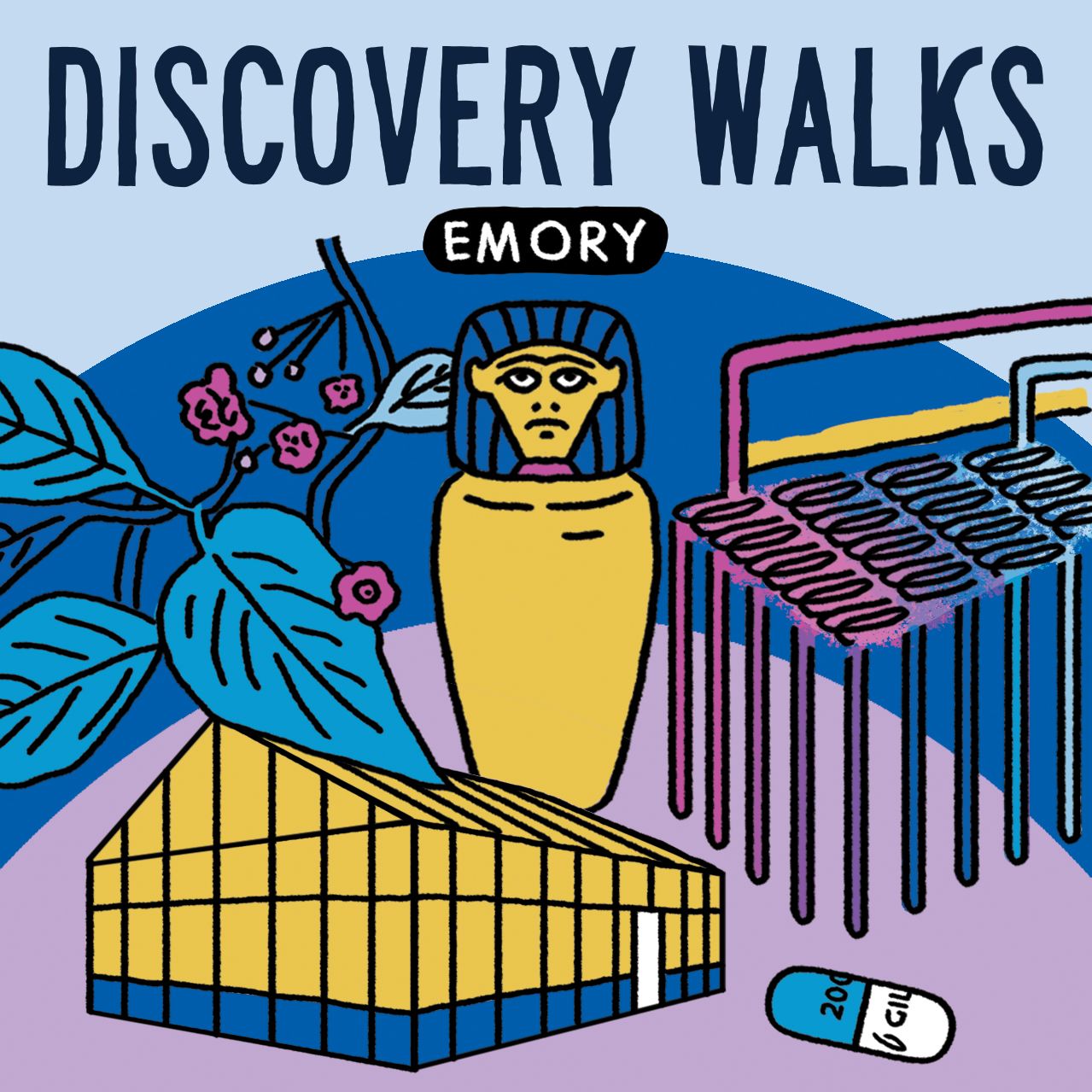 "Discovery Walk: Emory," also on March 12, is a self-guided tour of intriguing science stops on the Emory campus. From 1 to 3 p.m., volunteers in the courtyard behind Emory's Boisfeuillet Jones Center will distribute collector-quality, illustrated maps that will lead you through some of the unexpected ways that science pops up on the 700-acre campus. The self-guided walk ends at the Carlos Museum, where the maps provide free entrance and a chance to learn about the science of mummies.
"HealthHacks2023," hosted by Emory Citizen Science and Diversity, begins on Saturday, March 18, at 9 a.m. in Emory's White Hall, room 205. High school and middle school girls are invited to the Emory campus to learn to code and use the new skill to create a project. The theme for this year's workshop is food science and the U.S. health care system.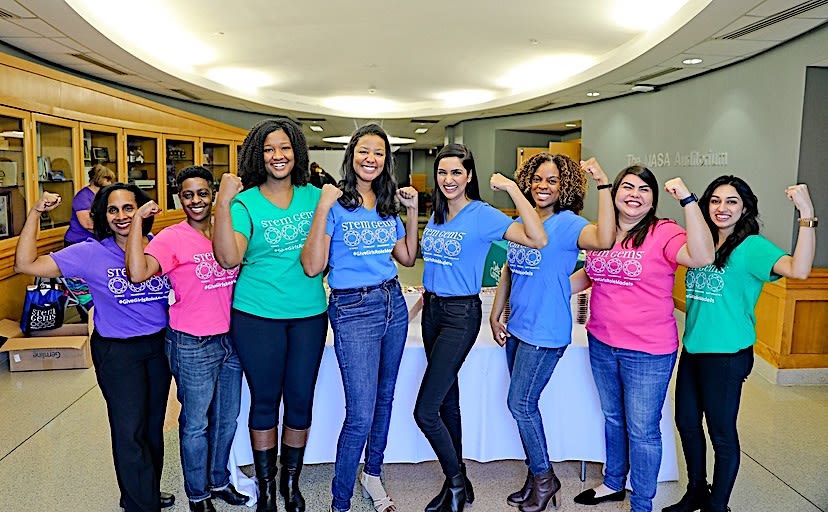 Also on March 18, Jada Holye-Gardner, a postdoctoral researcher at Rollins School of Public Health, and Emory alumna Erica Harris are among the panel of seven scientists featured in "STEM Gems: Giving Girls Role Models." The panel discussion — aimed at enlightening girls about careers in science, technology, engineering and math (STEM) — begins at 10:30 a.m. at Spelman College Science Center NASA Auditorium.
Emory's Department of Biomedical Informatics presents "Does AI Recognize Me?" on March 18 at 1 p.m. The workshop will show how to make AI tech, like voice and face recognition, work for you — even if you don't happen to look like the technology creators. Participants will gain hands-on experience in training AI to recognize both their voice and face.
"Community Science for Change" highlights how communities across Atlanta have partnered with the Emory HERCULES Exposome Research Center to tackle local environmental health issues. The March 18 event begins at 1 p.m. at the William Walker Recreation center. Participants will learn about the tools and methods used to track contaminants, monitor water-quality samples and more to learn how anyone can become a "citizen-scientist."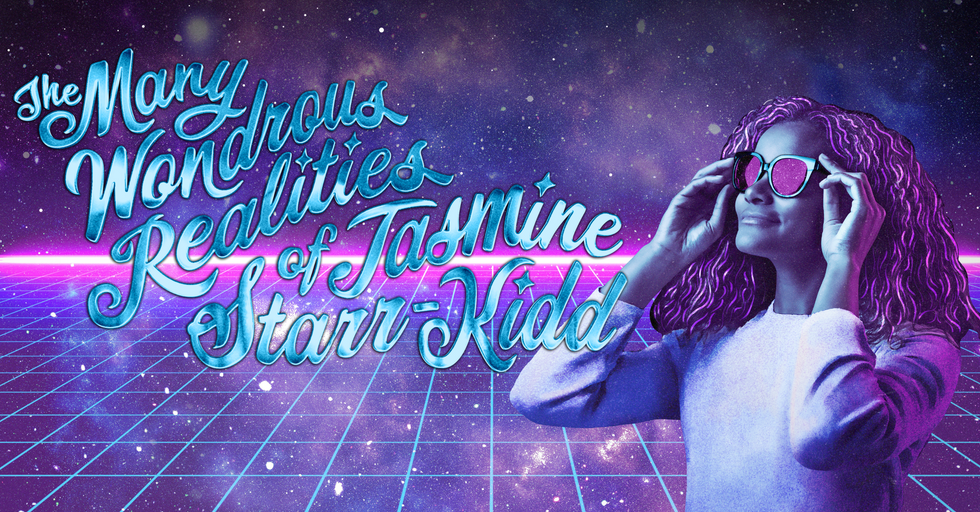 "The Many Wondrous Realities of Jasmine Starr-Kidd" is a kid-friendly Alliance Theatre production set for March 18 at 2:30 p.m. The play combines computer hacking, AI, giant lasers and time travel. After the performance, Emory physicist Justin Burton will take the stage to explain the science behind these concepts and answer audience questions.
On Wednesday, March 22, "The Plant Hunter: A Scientist's Quest for Nature's Next Medicines" features Emory ethnobotanist Cassandra Quave sharing the story of her research into new ways to fight diseases through the healing power of plants. The event begins at 7 p.m. at The Carter Center Presidential Library and Museum.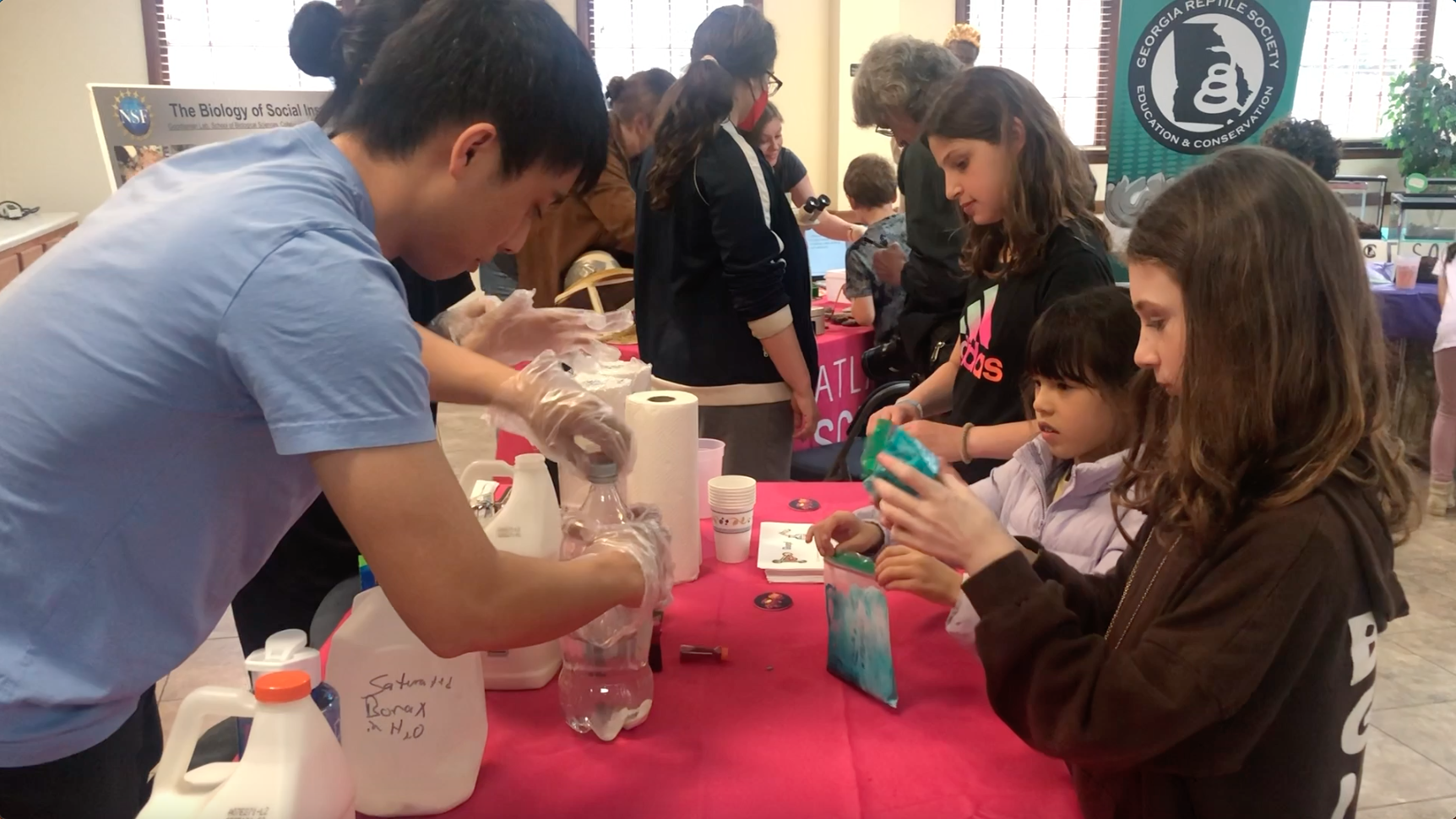 Emory junior Jonathan Lin leads young science fans in a chemistry experiment involving polymers at a festival preview event. The activity is one of many that Emory students and faculty will share with the public at the Exploration Expo on March 25.
Emory junior Jonathan Lin leads young science fans in a chemistry experiment involving polymers at a festival preview event. The activity is one of many that Emory students and faculty will share with the public at the Exploration Expo on March 25.
"Pet or Pest? Why Humans Love Some Animals and Loathe Others," part of the ongoing Emory "Health Storytelling" series, is a virtual event set for Thursday, March 23, at 7 p.m. Bethany Brookshire will talk about her new book, "PESTS: How Humans Create Animal Villains" with Maryn McKenna, a science journalist and senior fellow at Emory's Center for the Study of Human Health.
Get your weekend off to a bang with "The Chemistry Bonanza Demo Show" on Friday, March 24, at 5:30 p.m. in the Emory Math and Science Center. Emory chemist Doug Mulford and his students will demonstrate chemistry polymers, combustion reactions, cloud formation and throw in a few fireballs. The extravaganza will conclude with servings of liquid nitrogen ice cream.
The culmination of the festival is the "Exploration Expo," set for Saturday, March 25, at Piedmont Park. Families can explore more than 100 interactive booths and science demos, including many helmed by Emory students and faculty. This big party celebrating science invites attendees to travel back in time, 3D print their own bones and test their brains with laser beams.
New at this year's festival is a contest called "Where will science take you?" Contestants are invited to draw a picture on a postcard of their dream destination with a science theme. Immediately following the festival, a winner will be chosen through a drawing of the submitted postcards. The prize is a $2,000 credit from Delta Airlines, a major sponsor of the festival, to fly a family of four to a U.S. national park. The prize will also include $500 for spending at the park and $500 to cover the cost of a rental car.
Story and design by Carol Clark.
For more details:
Media inquiries: Carol Clark, carol.clark@emory.edu, 404.727.0501