'The best kind of challenging'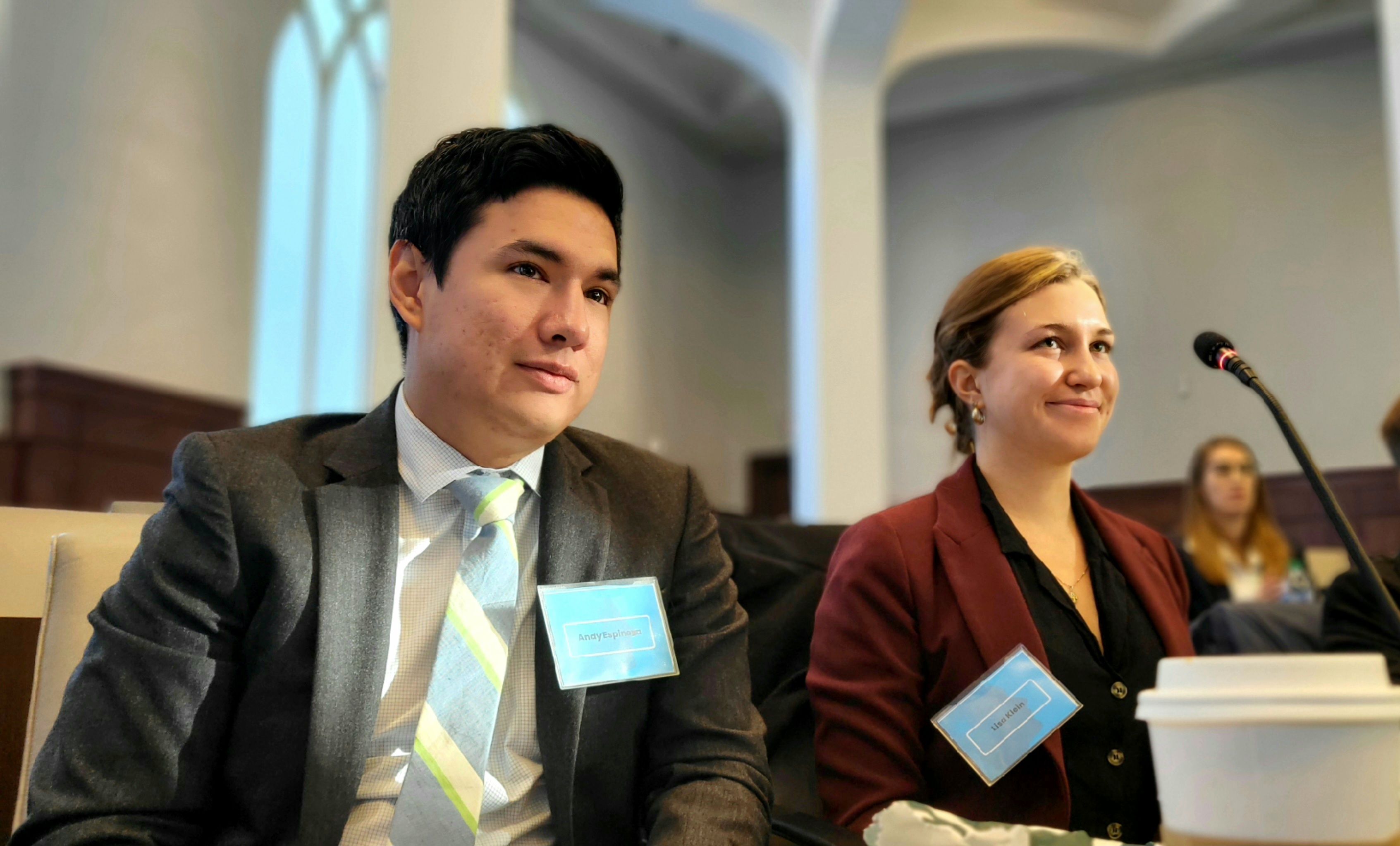 By Susan Carini 04G
Though it's a place she has never visited, Rebekah Elting 24N represented Mexico. Her Emory classmate, Andy Espinoza 24N, was half of the German delegation.
They joined an international student group late last year at Emory's Convocation Hall, eager to test newfound skills on the culminating day of Simuvaction, centered on the topic "AI and Health Disparities on a Global Stage." Twenty-five students from 10 universities participated, most of them coming to the U.S. for the first time.
Simuvaction is a portmanteau word combining "simulation," "innovation" and "action"; and the vision for it came from Anne-Elisabeth Courrier, visiting senior faculty fellow at the Emory Center for Ethics and associate professor in public law at the University of Nantes.
Courrier won the Prize for Passion in Pedagogy in Higher Education from the French Ministry of Higher Education, Innovation and Research for a similar event in 2017: a simulation of the European Council where students took on the roles of journalists, lobbyists and heads of state to negotiate a common position on a given topic.
In the view of Courrier's Ethics Center colleague Edward Queen, director of the D. Abbottt Turner Program in Ethics and Servant Leadership, the event demonstrated her "thoughtfulness and creativity as a teacher, creating a project that required research on the topic, working in teams, negotiating with other stakeholders, and developing and defending policy positions."
During her law studies, Courrier experienced life in cities in Canada, England and Italy. "I realized how much studying abroad is crucial to better understanding our own environments. That is why I pay it forward," she says.
Simuvaction was made possible in part by a grant from the Atlanta Global Research and Education Collaborative (AGREC), co-created by Emory's Office of Global Strategy and Initiatives and the Atlanta Global Studies Center. AGREC builds and strengthens networks of multi-institutional scholars and practitioners to support global research and education projects in the Greater Atlanta region.
Philip Wainwright, vice provost for global strategy and initiatives, commented as the proceedings were getting underway: "This initiative affirms Emory's commitment to student flourishing, preparing students for a lifelong journey of transformation, contribution and service. Today's activities are a testament to students training as thinkers, doers and team players both on a local and global stage."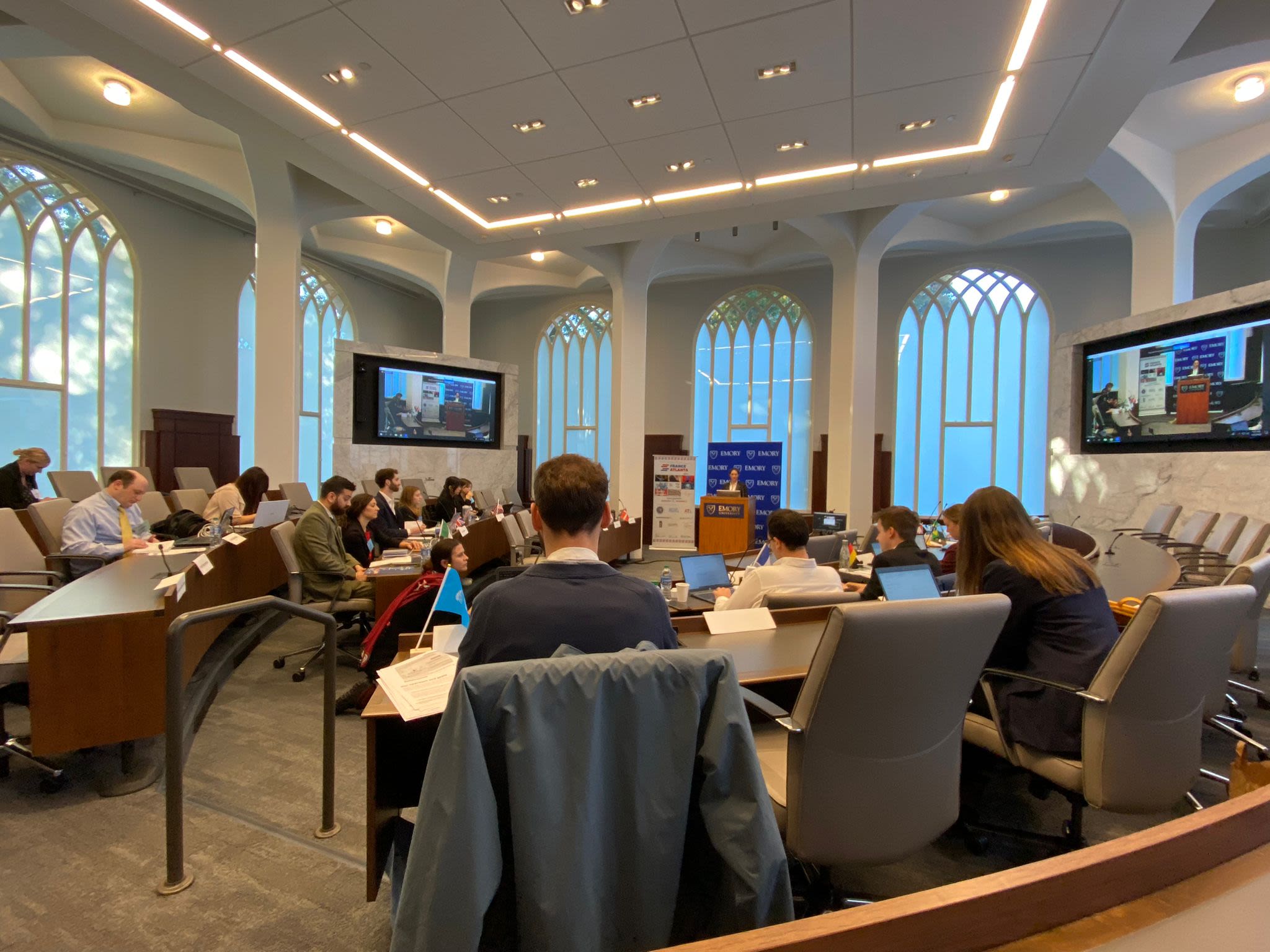 Convocation Hall on the "Day of Action," resembling the United Nations with its country flags, speaker mics and delegate nameplates. Photo: Jack Wang
The event also was part of the France-Atlanta series, which began in 2010 focused on transatlantic cooperation in science, business, culture and humanitarian affairs. Rami Abi-Akl, attaché for science and technology at the Consulate General of France, spent the day on campus and observes, "The intellectual level of the discussions gives hope for the future generation of leaders who will have to address tomorrow's complex challenges."
Students rising to those challenges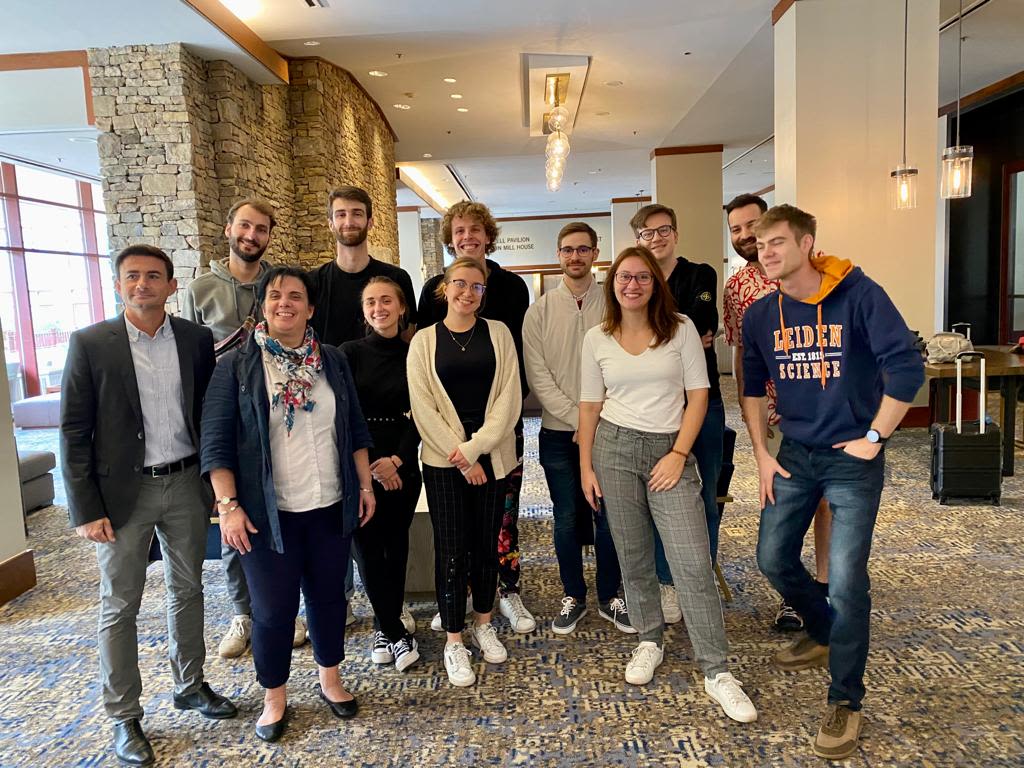 The catalyst for Simuvaction, Visiting Professor Anne-Elisabeth Courrier (second from left, front row), considers AI "a powerful tool, but one that drives ethical concerns that will have to tackled with or without regulations." Photo: Alexandra Blank
The idea was for students to train for two months in a common curriculum while receiving the support of professional partners. Representatives from universities, consulates, businesses and NGOs coached the students, helping them understand what it is to be a real stakeholder defending a position. Notes Courrier, "My purpose also was to create connections so that students could later get a letter of recommendation, an internship, a future job — who knows?"
Built on active-learning principles, Simuvaction bridged the gap between students' studies and the professional world and enhanced the links among knowledge, know-how and interpersonal skills through multidisciplinary teamwork. Also central to the intellectual scaffolding was the notion of "thinking globally, acting locally."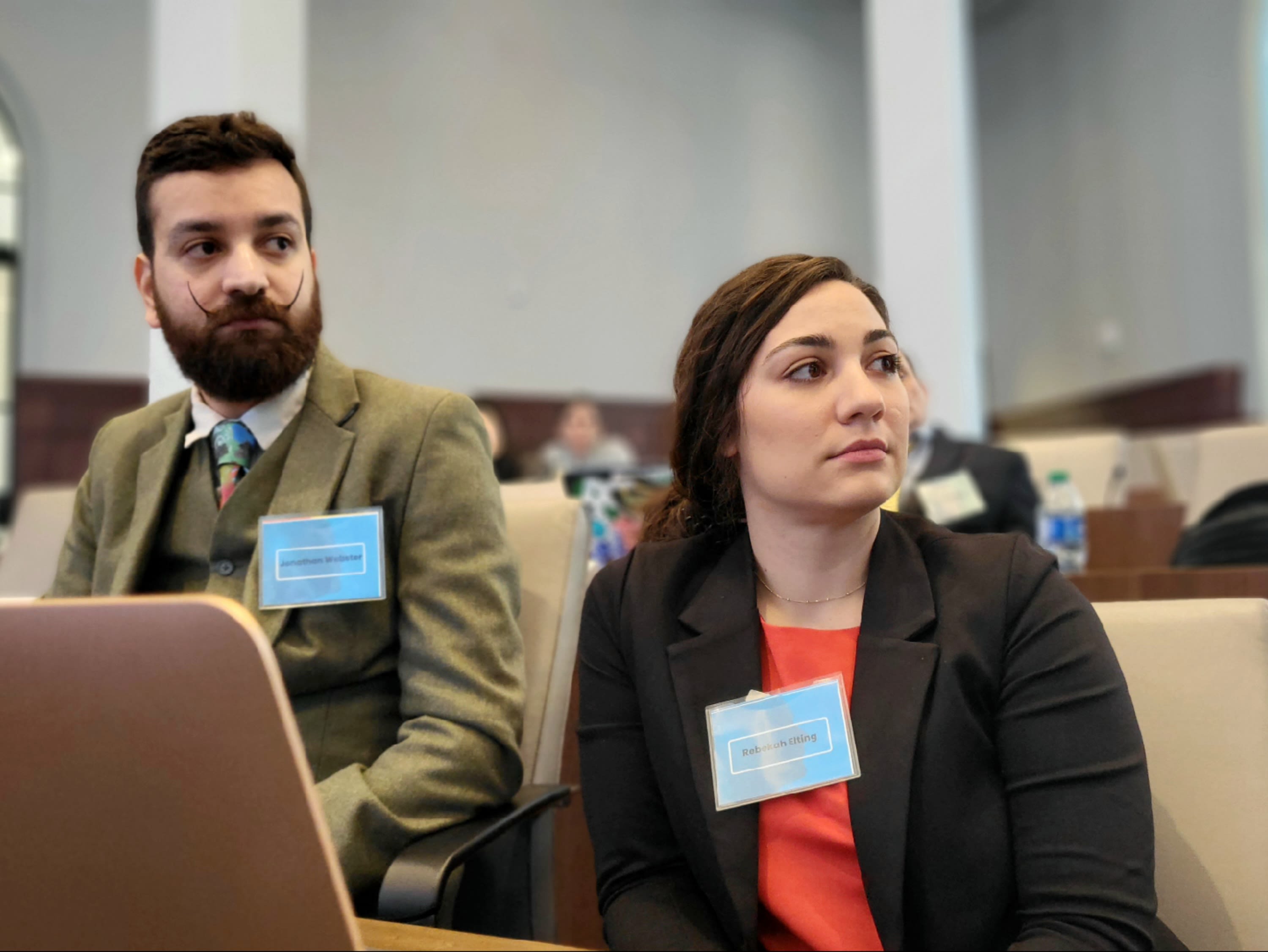 Emory Nurse Anesthesia student Rebekah Elting says of Simuvaction, "It became so real to all of us." Next to Elting is her partner, Jonathan Webster, a student in health environment and public health at the UK's University of Birmingham. Photo: Gabrielle Veilleux
"In a simulation, the student must be prepared to step out of their comfort zone to play a role — say, speaking up for a hard regulation on AI risk management. But this is part of the costume, as in life. The question being then how do you do it ethically?" says Courrier.
Prepping for the "Day of Action"
From Sept. 15 to Oct. 15, students participated weekly in two-hour Zoom conferences. Presenters included representatives from Merlynn-AI Technologies, the French Ministerial Delegation for Digital Health, the American Red Cross and UNESCO, as well as a talk by the chair of bioinformatics at Emory, Gari Clifford.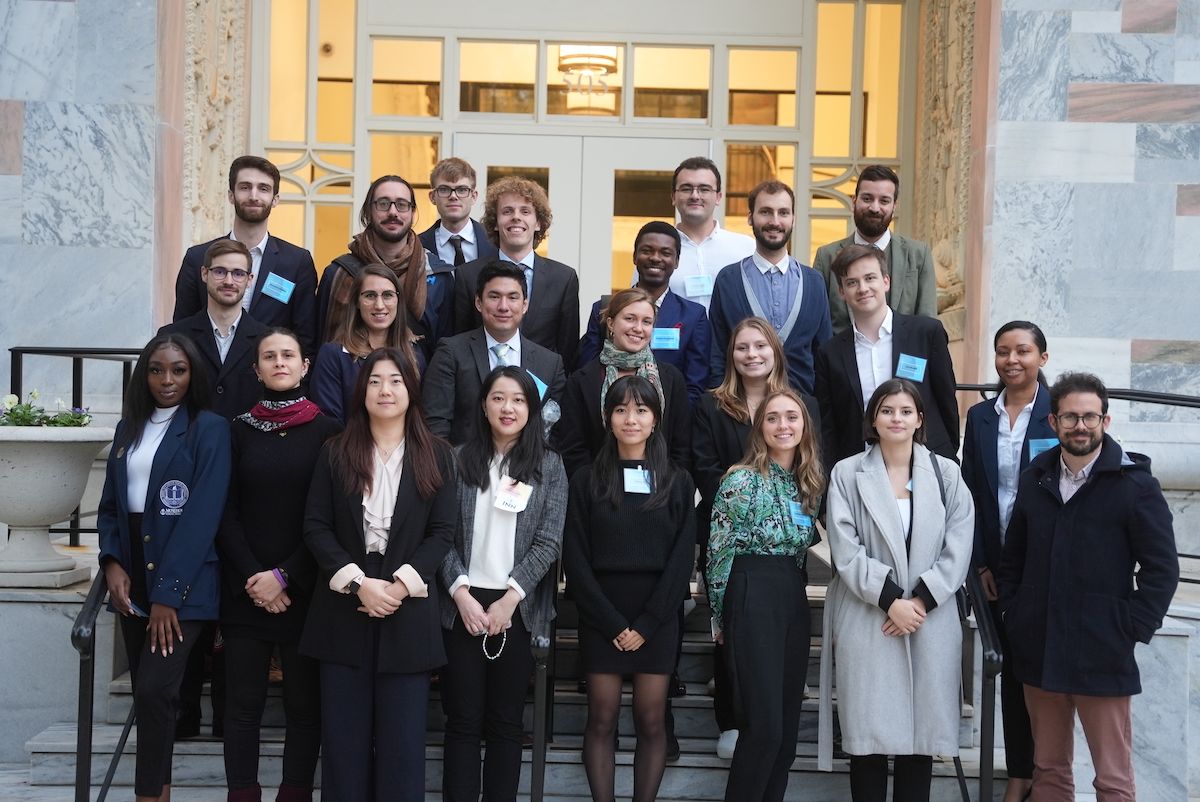 Twenty-five students from 10 universities participated, including three from Emory. A network of international faculty, all working in AI from a different perspective, selected the students and helped create the exercise. Photo: Jack Wang
Students then were assigned their roles and partnered with another student. They researched their assigned positions, connected despite the challenge of juggling myriad time zones, and created and posted a draft of their team's position paper. The international students arrived on Oct. 29, and two days of negotiation exercises followed.
Elting and Espinoza were among a handful of students studying for direct roles in health care. Neither of them had any background in AI. Espinoza's partner is pursuing health economics at the University of Florence, while Elting's partner is studying public health in the UK.
"What appealed to me was being able to work with international students, understanding different backgrounds and mindsets. It was helpful to gain learning tools that go beyond the operating room, such as negotiation skills," says Espinoza.
"The act of representing other countries made my perspective grow. There are so many systems at play affecting the patient. It is more than just the nursing or health care aspect," Elting observes.
Blaise Hartsoe 22C 23G has the distinction of being the sole undergraduate participant. She graduated from Emory in December with a double major in neuroscience and behavioral biology/anthropology and human biology and is now a master's of bioethics student here. She and a partner studying international law at University of Nantes represented the UK.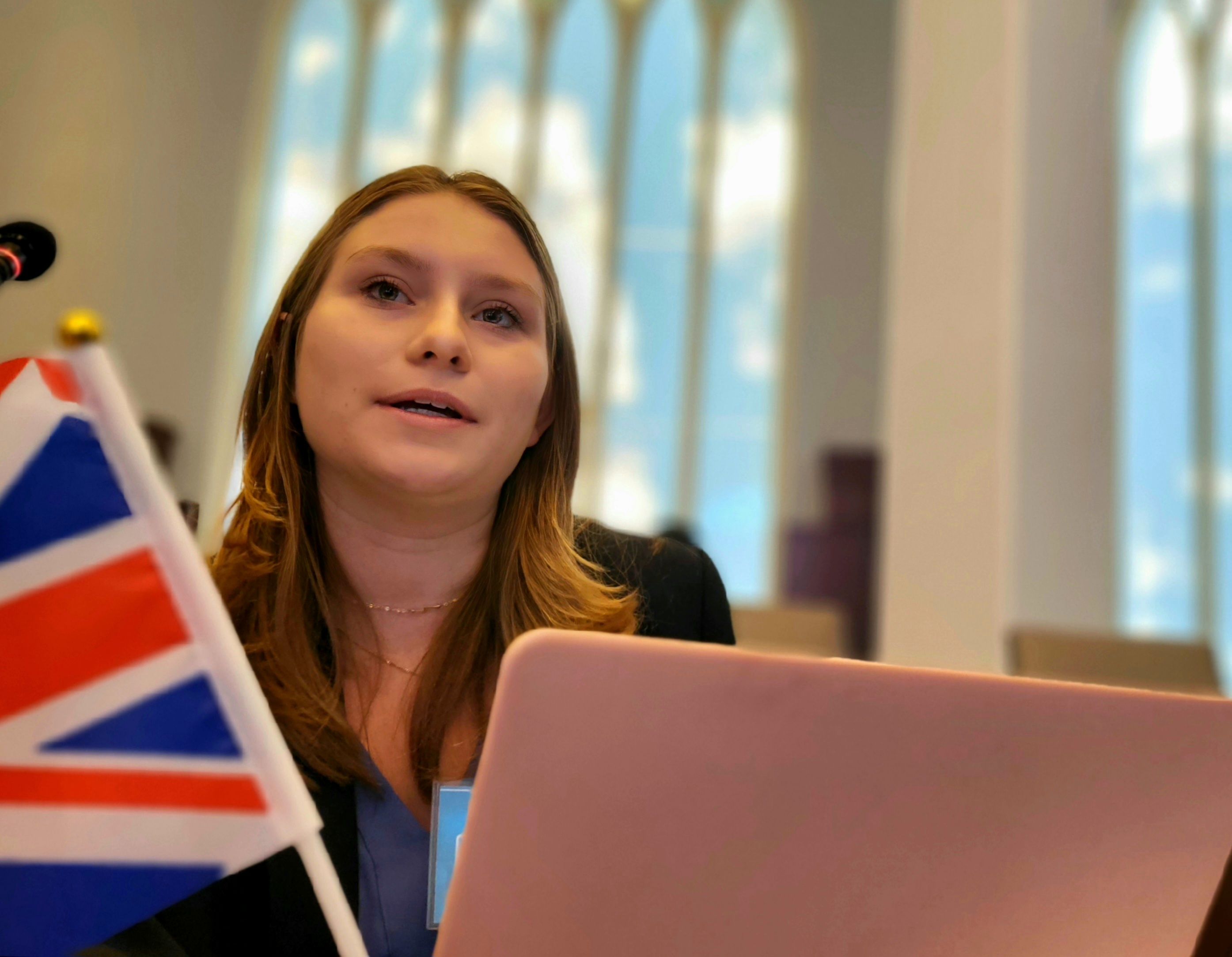 Blaise Hartsoe was an Emory undergraduate during Simuvaction. Now pursuing a master's degree here, she says the experience "set the scene for what I want to do with my graduate education." Photo: Gabrielle Veilleux
Hopeful of becoming a physician serving underrepresented communities, Hartsoe says that Simuvaction was a good reminder that "health care doesn't exist in a bubble; it is necessary to interact with a host of other fields."
Server Dede had a unique perspective — that of an exchange student from Koç University enrolled at Goizueta Business School. No stranger to lessons in negotiation as a law and economics student, he nonetheless credits Simuvaction with "teaching the true meaning of negotiation. Its lifelike complexity helped me state my ideas succinctly and effectively while really listening to the counterparties' positions."
A warm welcome to first-time visitors
For many students, it was their first trip to the U.S., so conference planners made sure to provide a memorable taste of Atlanta, sponsoring trips to the National Center for Civil and Human Rights and the David J. Sencer CDC Museum.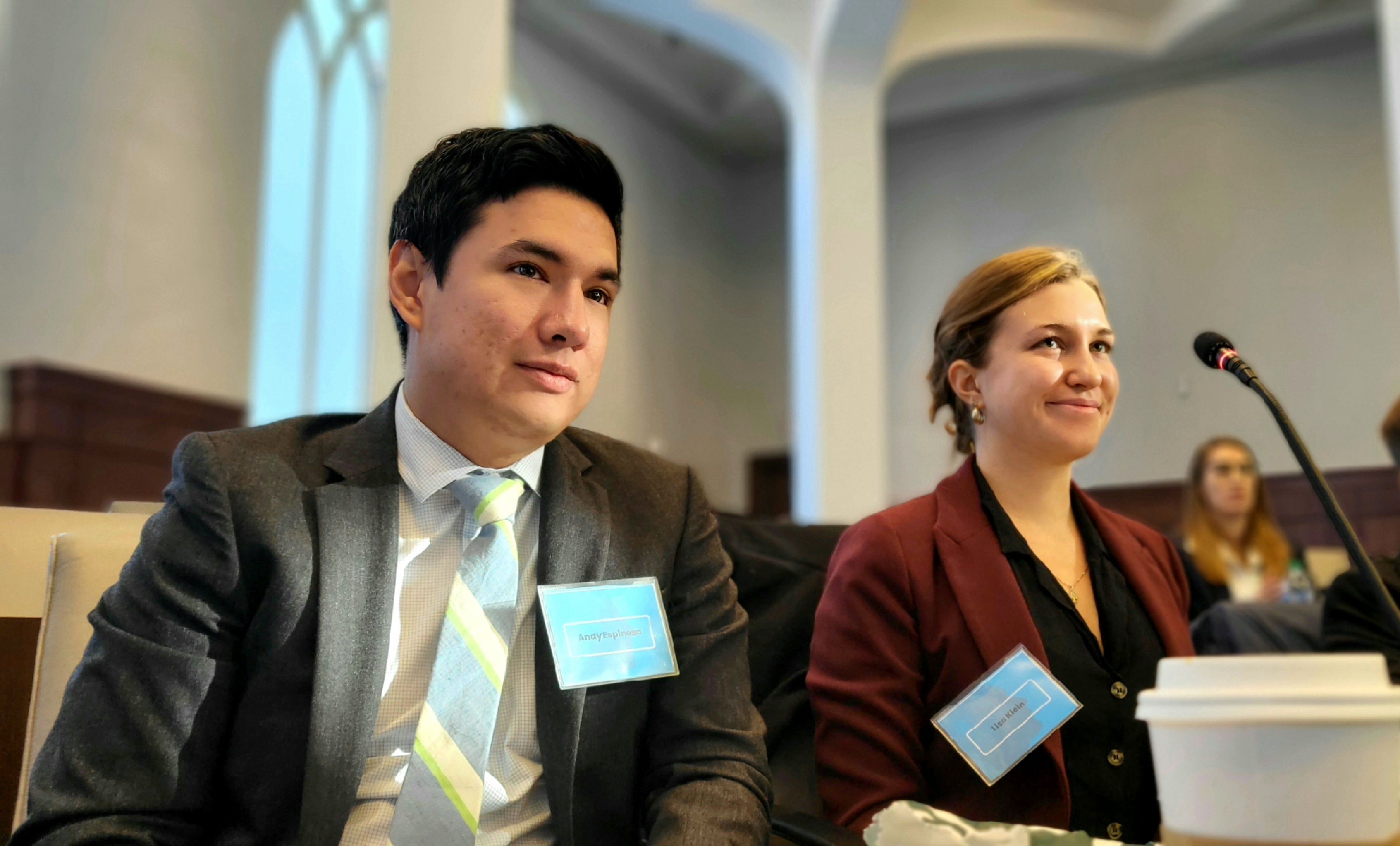 Emory Nurse Anesthesia student Andy Espinoza learned "not to go into the final deliberations with a solution, to be open to creativity and innovation." Next to Epinoza is his partner, Lisa Klein, a student in health economics at University of Florence. Photo: Gabrielle Veilleux
Espinoza identified another important cultural touchpoint for life in the South: a trip to Waffle House, which he organized for some fellow students. "Already, I miss the camaraderie. We learned so much about others' culture," he says.
Luca Bindini, a computer science student from the University of Florence, represented France and was making his debut visit to the States. "Atlanta is a wonderful city that I would gladly return to in the future," he says.
Country flags flying, it all came down to one day
As students gathered in Convocation Hall on Nov. 1, they might well have felt that they were appearing at the United Nations. "It felt like the real thing," recalls Espinoza, to which Elting adds: "We had nation flags, ID cards, a mic. It was all very formal. You had to request the chance to talk."
No one, though, who had an observer's perch to watch the students' intense preparations and fearless dives into new territory was ever in doubt of the outcome. In the words of Paul Wolpe, director of the Center for Ethics, who welcomed students that morning: "The Center for Ethics is a place that tries hard to talk about timely issues, especially where attitudes and opinions about them differ, sometimes greatly. What you are about to do here today is a microcosm of everything we are trying to do."
For Hartsoe, "Action day was very high stakes trying to fit together all the puzzle pieces." Not only was it necessary to find accord within the room; it was also necessary to "take into account the countries that are not present," she says. At day's end, she declared the experience "rewarding and challenging at times — but the best kind of challenging. It felt like we were making change and had a vision for equity in AI."
Antoine Boudreau LeBlanc, a PhD student in bioethics at University of Montreal, was voted the day's most influential student, with Dede coming in second. In making the announcement, Stefano Folli — executive vice president and head of global services and solution delivery at Philips — let LeBlanc know that he earned a one-month internship at any Philips company location in the world.
Courrier's greatest hope going into Simuvaction was that students would "be daring and trust themselves," buoyed by earning credits from their home institutions, learning from international classmates, as well as connecting with local and international businesses and organizations.
Thank goodness for a chat function that deliberately was left open for students to continue to deepen their ties with one another following the conclusion of the simulation. Conversation through it and social media continues apace.
Hartsoe has a disarmingly simple analysis of what was achieved: "We transitioned from learning from the leaders to being the leaders," she says.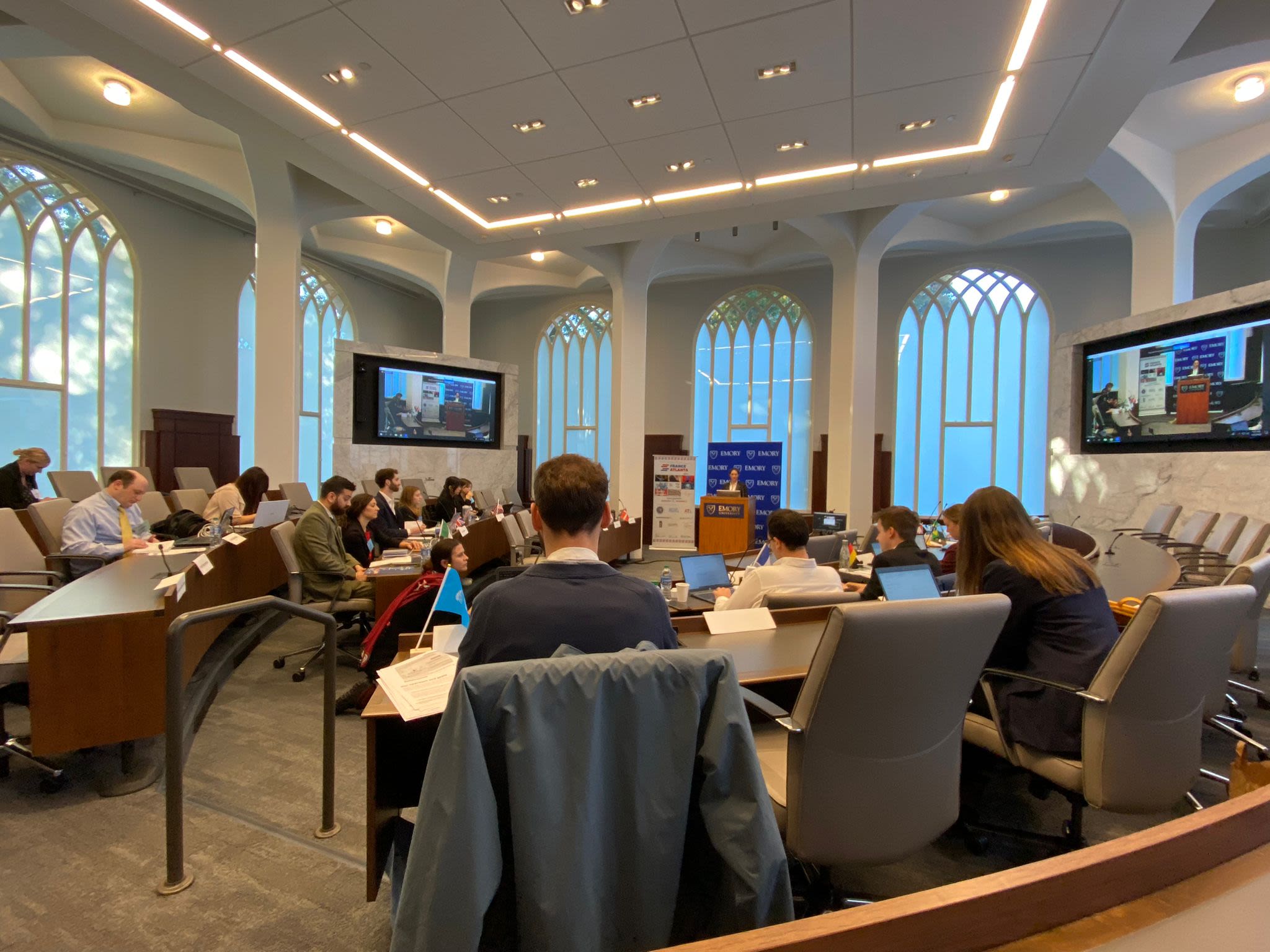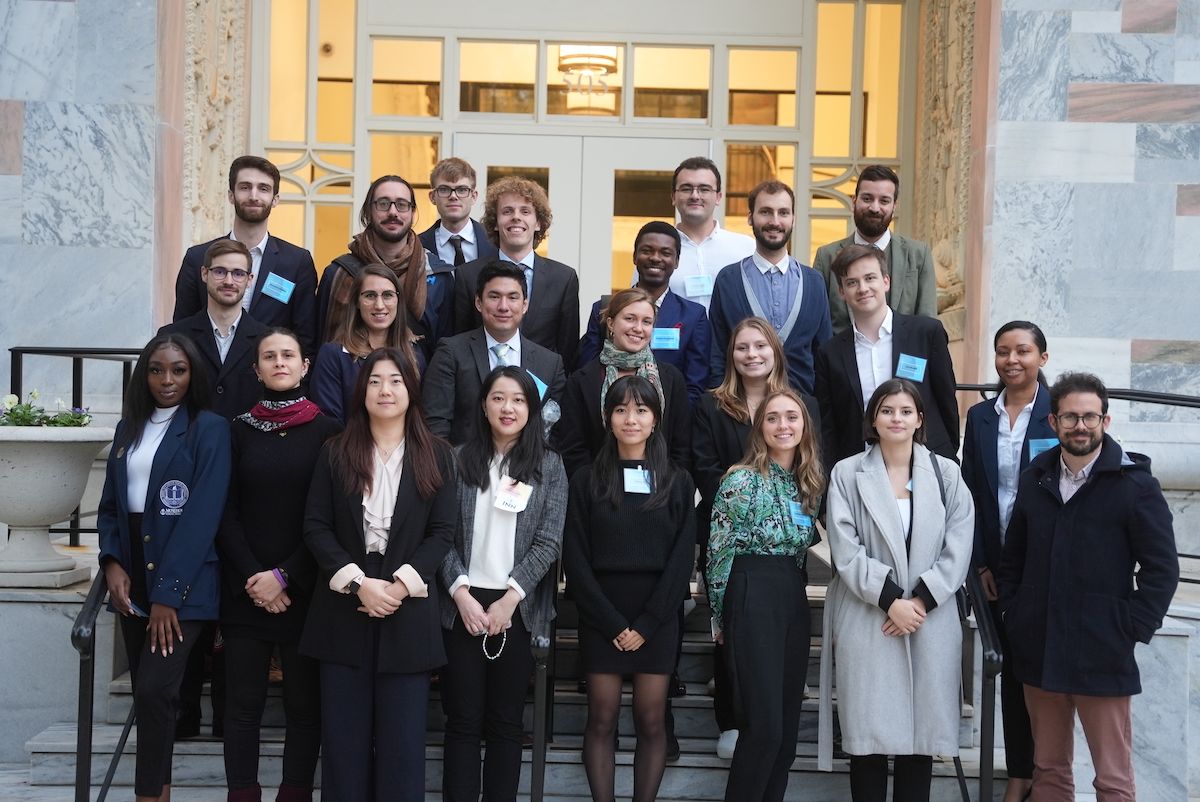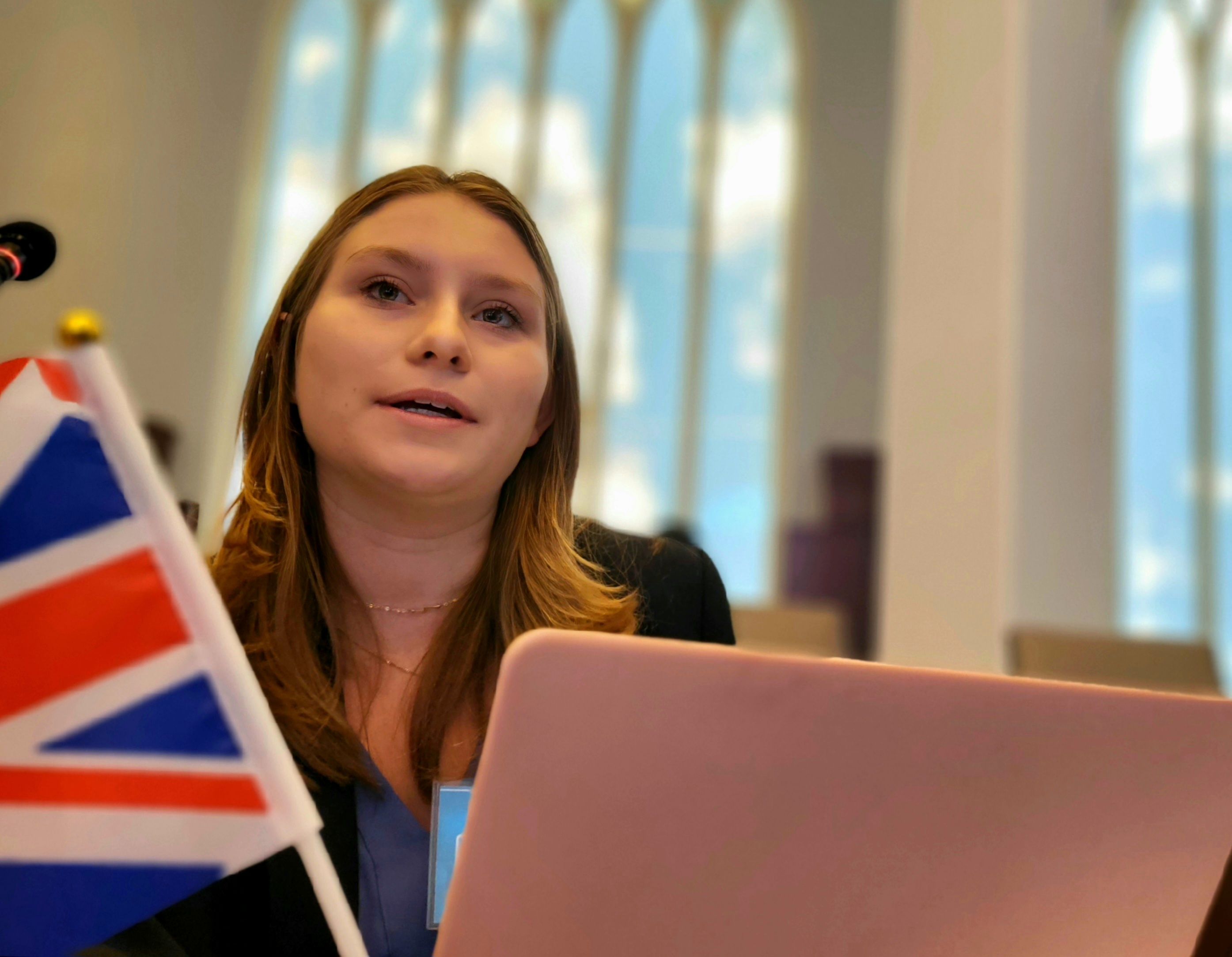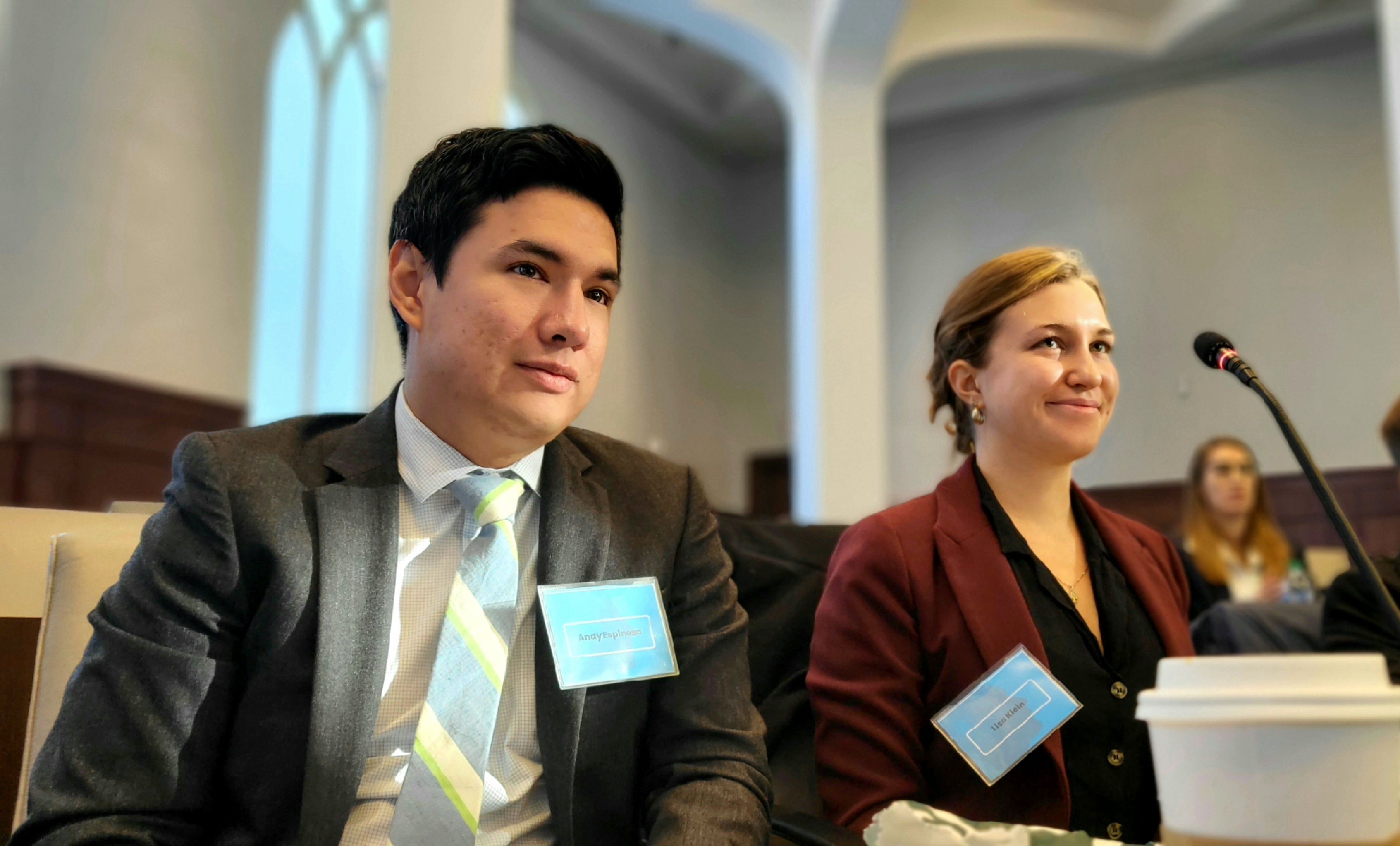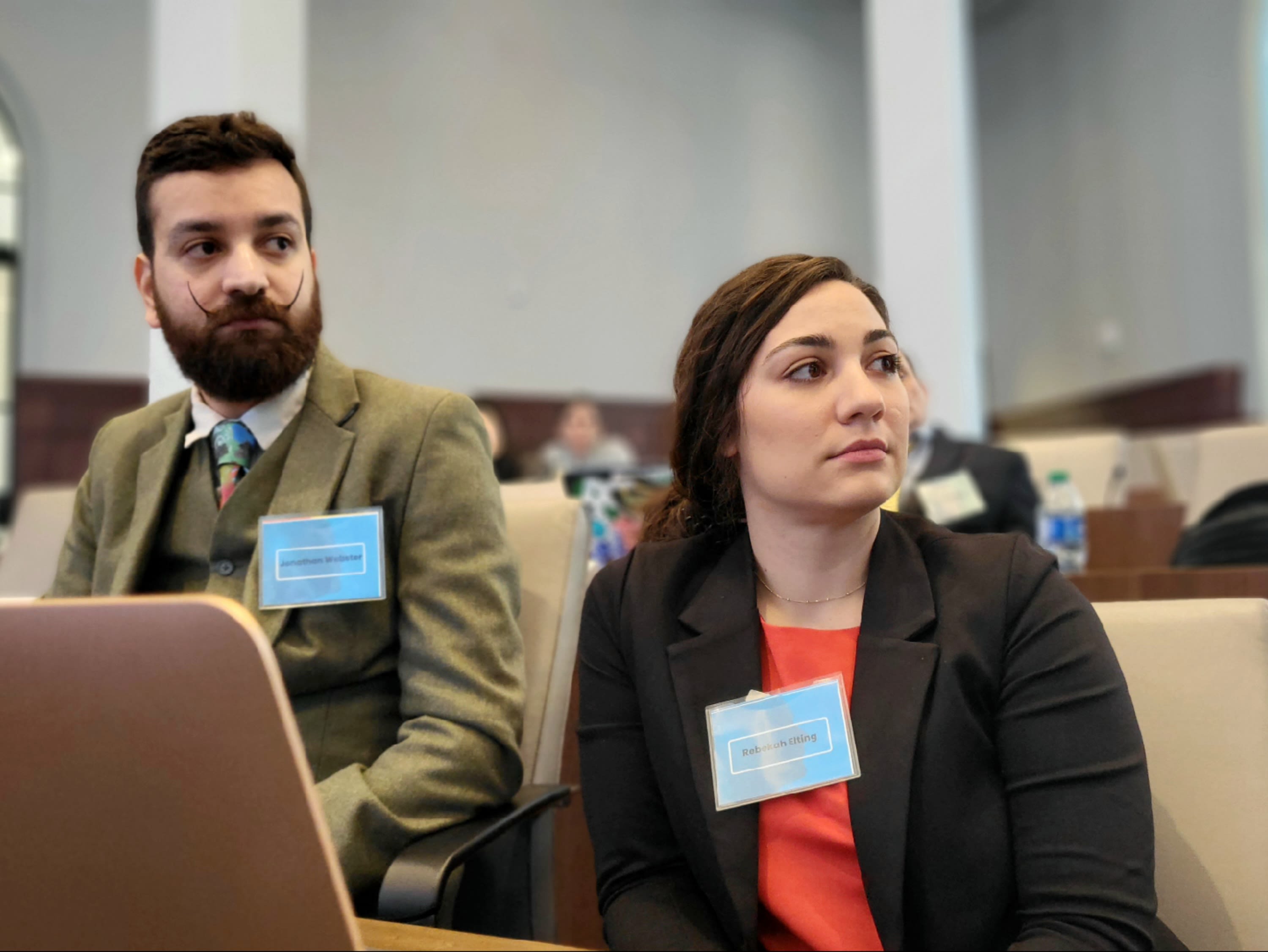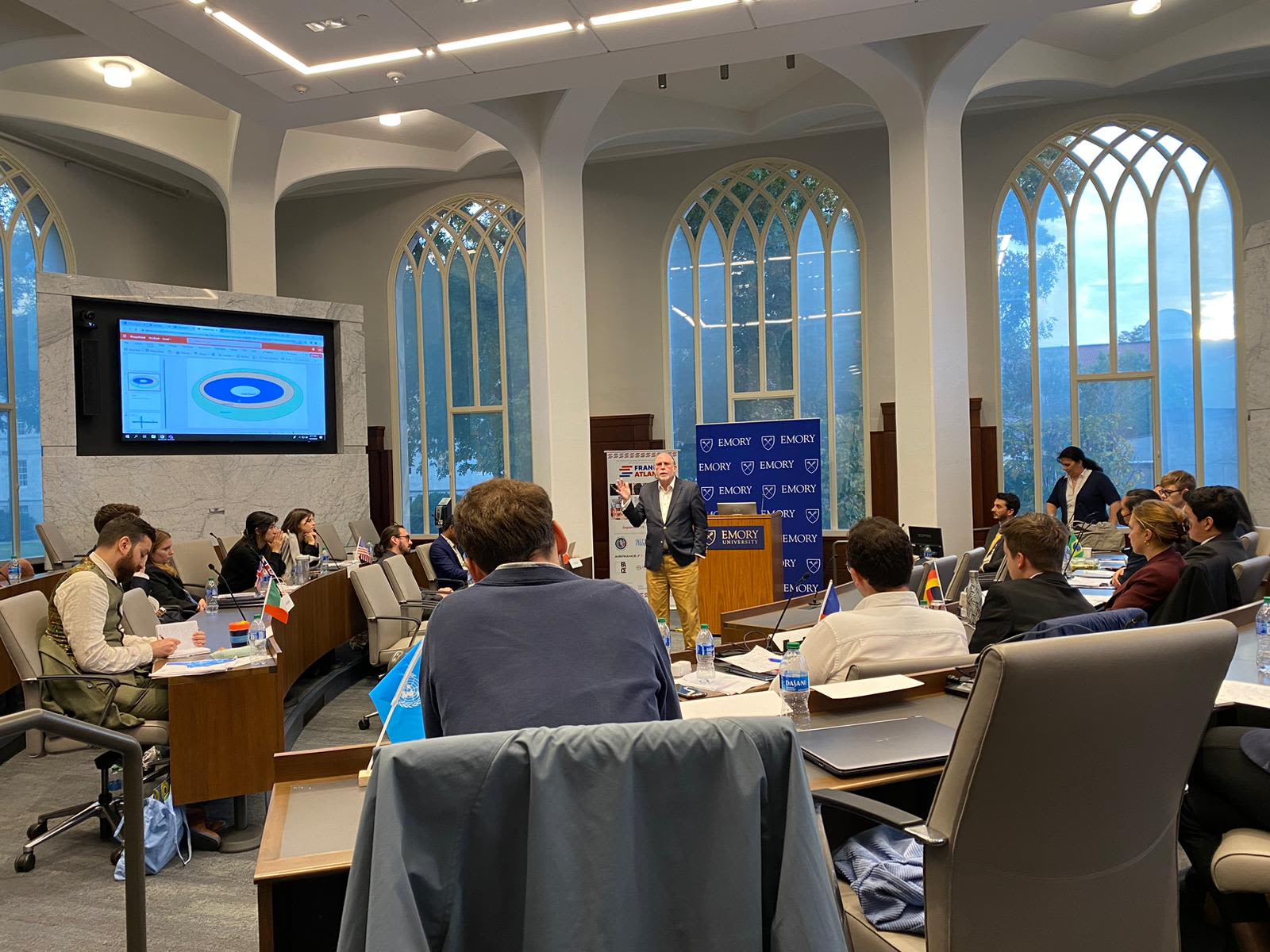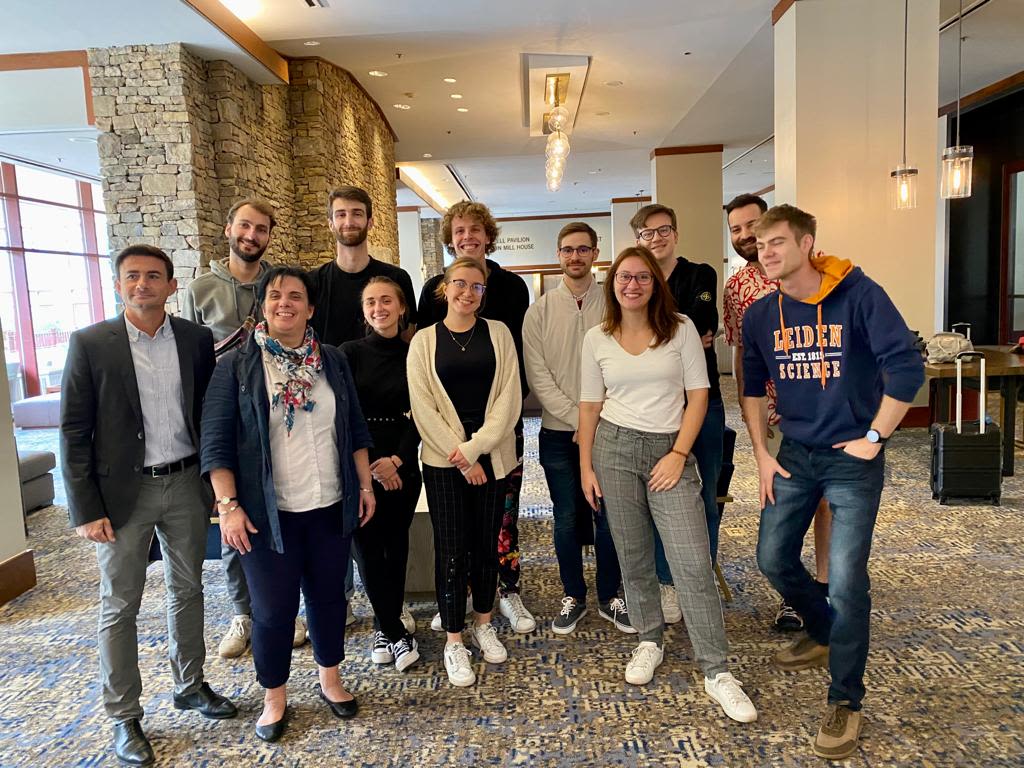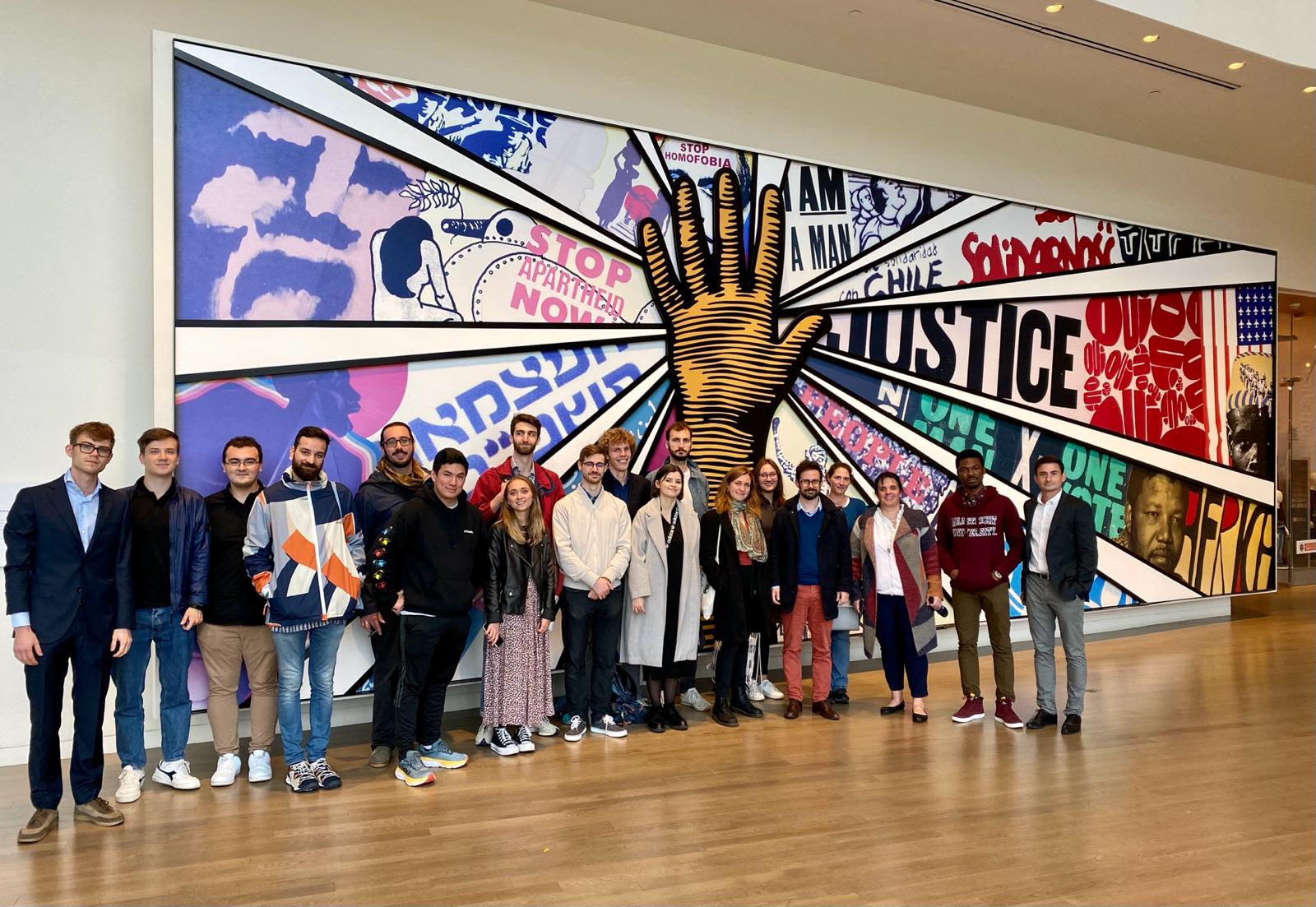 Part of showing international students the best of what Atlanta has to offer included a trip to the National Center for Civil and Human Rights. Photo: Samuel Sanchez
Part of showing international students the best of what Atlanta has to offer included a trip to the National Center for Civil and Human Rights. Photo: Samuel Sanchez