A New Era
LOOKING BACK AT THE IMPACT OF TITLE IX ON EMORY ATHLETICS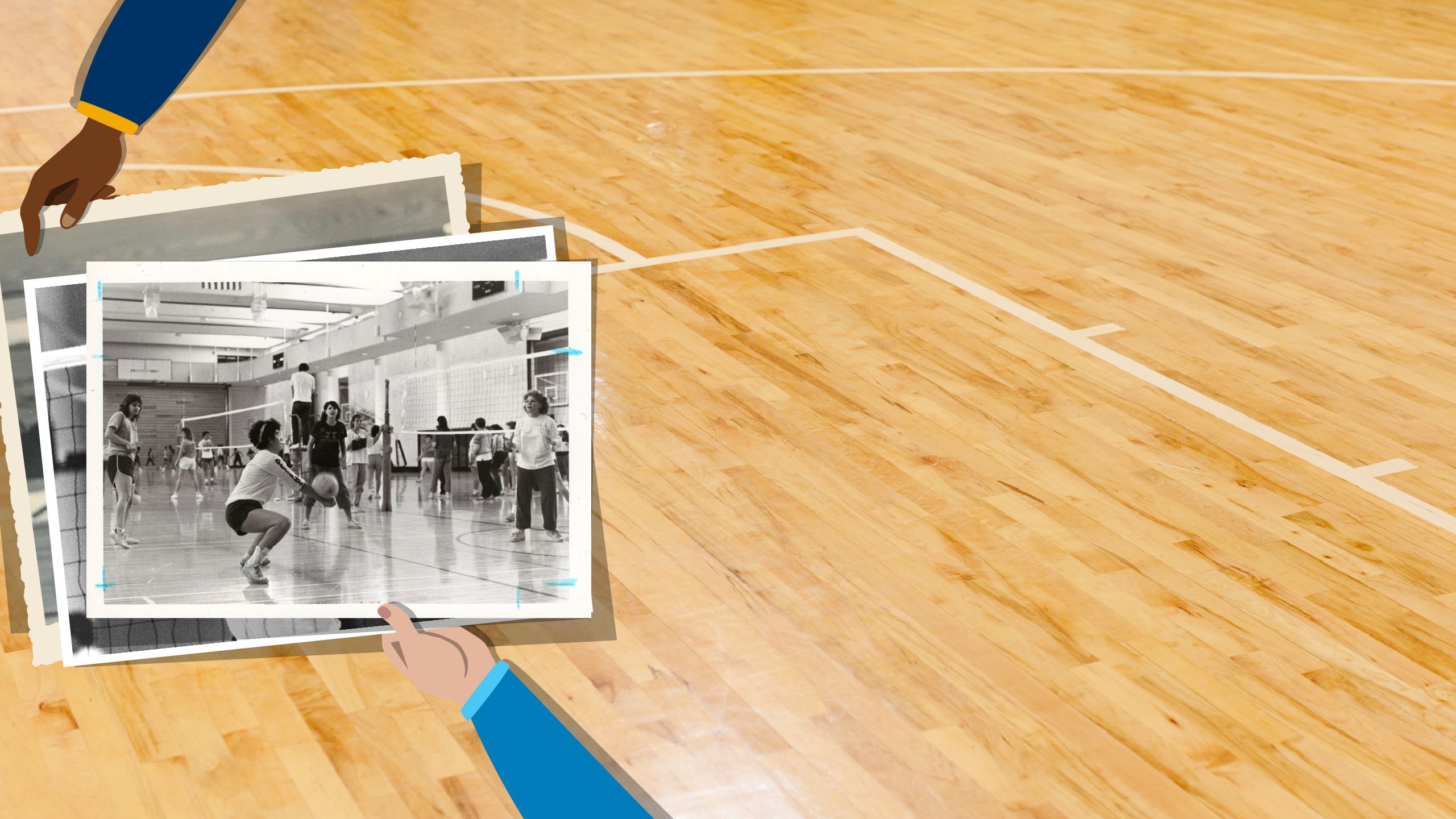 When coach Jenny McDowell first came to Emory in 1996, she was tasked with coaching the relatively new women's volleyball team. By then, Title IX — which turned 50 this year — had been the law for two decades, but colleges and universities were still scrambling to incorporate women's sports on their campuses.
The second-wave feminist movement that ushered in Titles VII, VIII and IX created a paradigm shift in America. Women, who could be fired for being pregnant and were unable to get a credit card without a man, demanded full personhood and wouldn't let up.
McDowell had a very different experience playing college volleyball than the young women she coaches today. She was recruited to play at the University of Georgia in 1984, when women's sports were still struggling to gain visibility and resources.
"We had to buy our own shoes," says McDowell, who is retiring in 2023. "When we were on the road, we ate two meals a day, usually at McDonald's or Taco Bell."
Stacey Winston 89C can relate. She started playing volleyball in eighth grade in Montgomery County, Maryland. When she came to Emory in 1985, she had no expectations to play volleyball, but when she learned that a team was in the works, she wanted to be a part of it. Winston recalls that one of the biggest hurdles to starting the team was the uniform.
"At that time, most college teams wore bun huggers to compete, which were basically bathing suit bottoms," says Winston, who is the assistant principal at The Paideia School. "The university didn't want us wearing those, so they gave us thin shorts that had a panty sewn into the bottom."
They traveled to regional competitions in a 14-passenger van and had a winning season the first year. By Winston's junior year, the club team became a varsity team and flew to national competitions.
What does Title IX mean to you?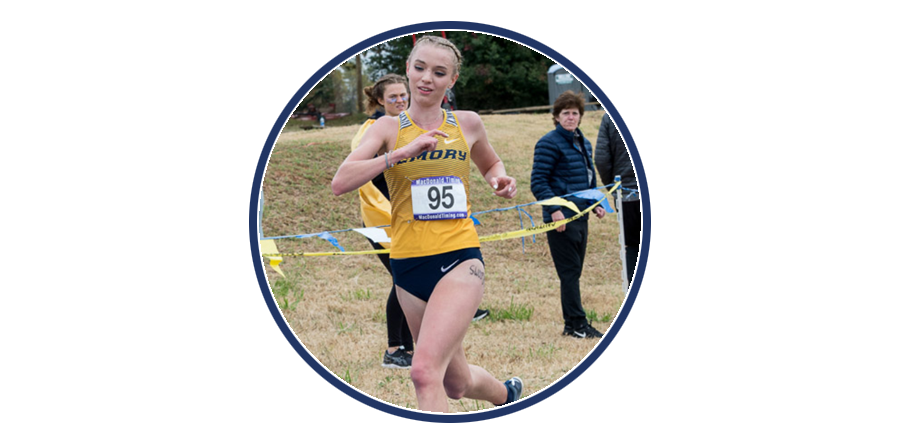 Annika Urban
TRACK AND FIELD
"I've always taken for granted I would have the same opportunities as men would to participate in sports and to race. I play a sport that is very coed—we practice together and go to the same meets. I always assumed I would have the same opportunities as men. I couldn't imagine my college career without running."
"Volleyball was my happy place on campus," says Winston. "Title IX made a difference—along with Brown v. Board—for what I could do in school. My mom went to a segregated high school with no real opportunity to play sports. Generationally we have come so far, but there is more work to be done."
The idea that Winston would become an assistant girls' volleyball coach, or that McDowell would coach the Emory women's volleyball team to two National Collegiate Athletic Association (NCAA) Division III championships, was almost unimaginable back then. However, the architects of Title IX — and some committed athletic directors and coaches — played the long game.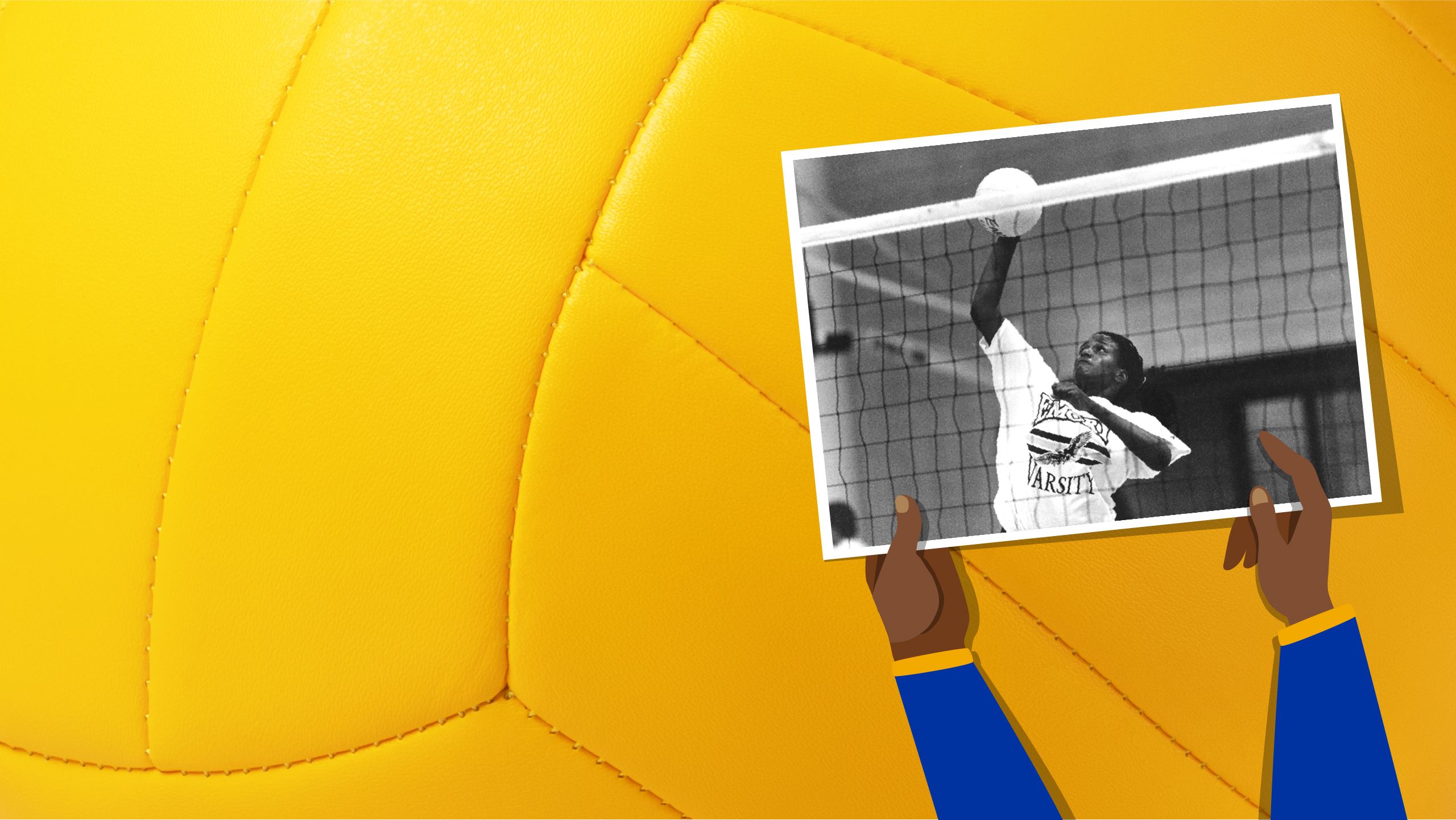 Women doing it for themselves
Though women attended classes at Emory as early as 1917, Emory College did not officially admit women until 1953. From the outset, women participated in sports. Synchronized swimming, sorority volleyball competitions and cheerleading are just a few of the ways women got exercise and created a sense of community for themselves on campus.
Intercollegiate competition only existed for the men, who had well-established track and field, swimming and diving, cross country and tennis teams by that point. Then, the 1970s happened. Americans had moved from the farms to the factories, and the factories were starting to move overseas. Jobs that allowed for significant social mobility required a college education, and athletics scholarships were a golden ticket for many men. In exchange for winning on the field, they received a free degree.
"Prior to Title IX, women's athletics struggled to exist," says Keiko Price, assistant vice president of campus life and director of athletics. "They struggled to gain equipment, have access to facilities, receive athletic scholarships and compete in championships."
Representatives Patsy T. Mink (Hawaii) and Edith Green (OR), along with Sen. Birch Bayh of Indiana, saw the times changing and authored the Title IX Amendment to the Civil Rights Act of 1964. The amendment simply reads: "No person in the United States shall, on the basis of sex, be excluded from participation in, be denied the benefits of, or be subjected to discrimination under any education program or activity receiving Federal financial assistance."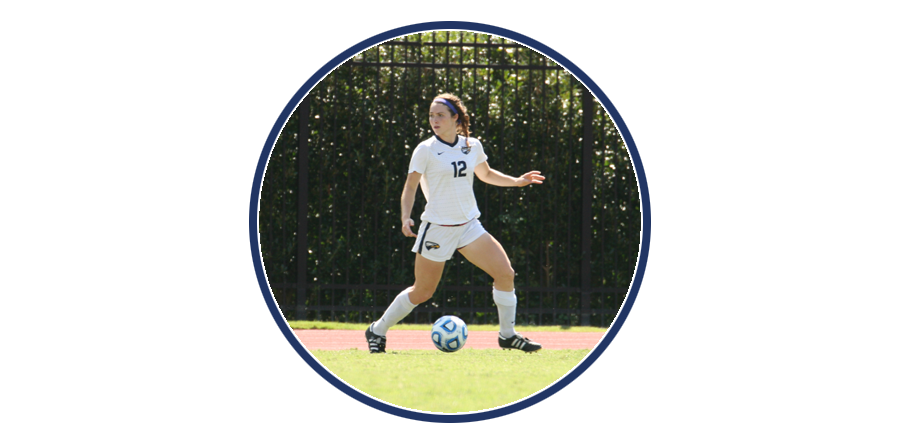 Hannah Meyer 17C
SOCCER
"I feel so incredibly lucky to live in a time where women in this country are not only allowed to compete, but it's considered a totally normal thing. There is still room to grow, such as pay equity between men's and women's sports, but Title IX has definitely made a difference for women. I'm grateful to the women who came before me and fought for these rights."
On June 23, 1972, Title IX became the law of the land. This meant that any educational institution that received federal funds for its operations could not discriminate on the basis of sex. Specifically for sports, it meant that men's and women's sports had to receive the same funding, resources and opportunities for competition. As the NCAA describes it, "Women's and men's programs were required to devote the same resources to locker rooms, medical treatment, training, coaching, practice times, travel and per diem allowances, equipment, practice facilities, tutoring and recruitment. Scholarship money was to be budgeted on a commensurate basis, so that if 40 percent of a school's athletic scholarships were awarded to men, 40 percent of the scholarship budget was also earmarked for women."
At the same time, three competitive swimmers from Louisville, Kentucky, were getting ready to enroll at Emory.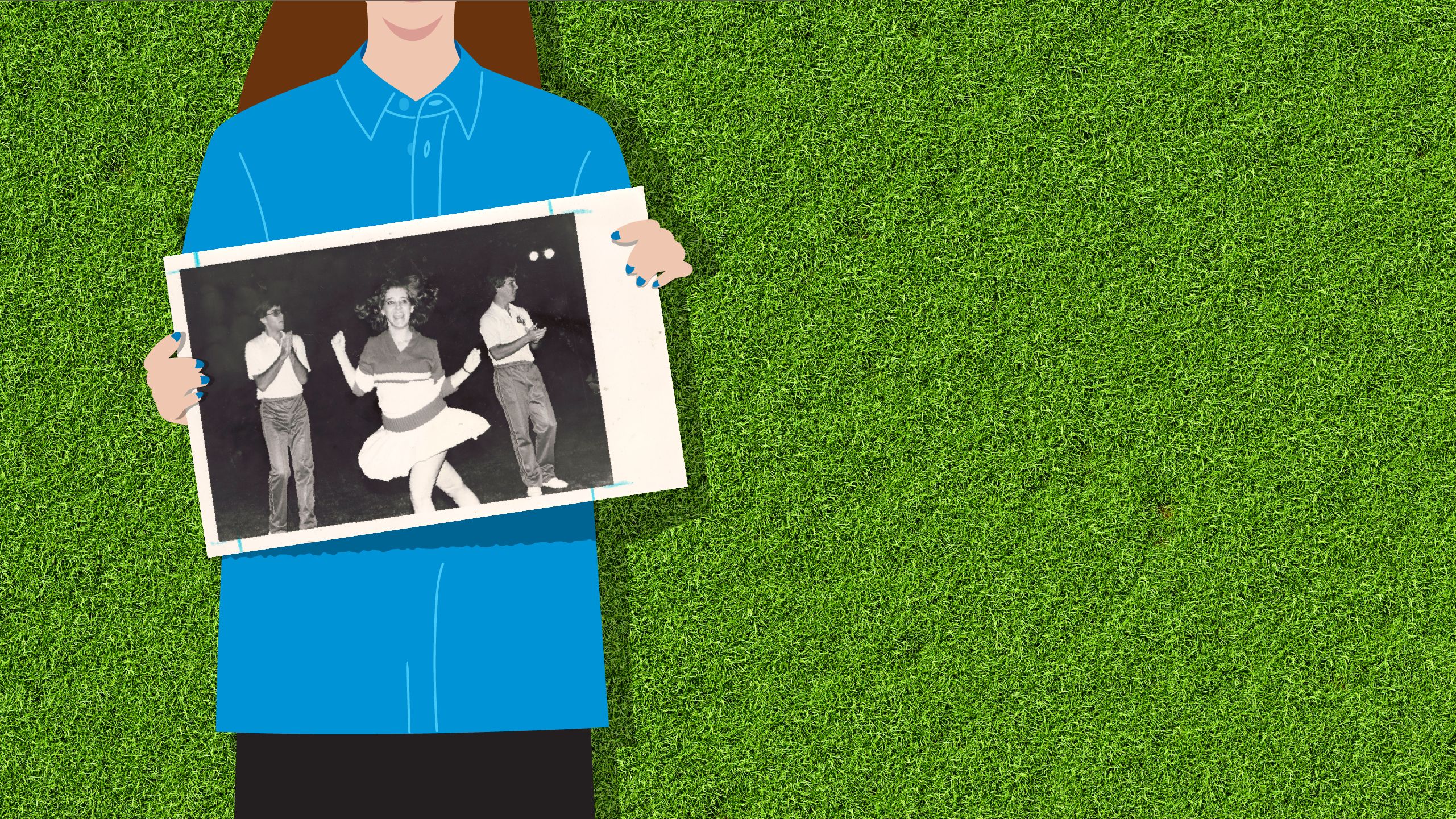 Implementing Title IX on campus
Susan (Nolan) Lamar 76N, Terry (Potts) Graves and Jill (Henderson) Replogle grew up swimming competitively for Amateur Athletic Union and recreational leagues as well as for their high schools. When it came time for college, they never thought about swimming. However, Emory had a mandatory physical education course called Drownproofing. Ed Smyke, who coached the swimming and diving team, taught the class. At the time, the pool was located inside an old airplane hangar near what is now McDonough Field.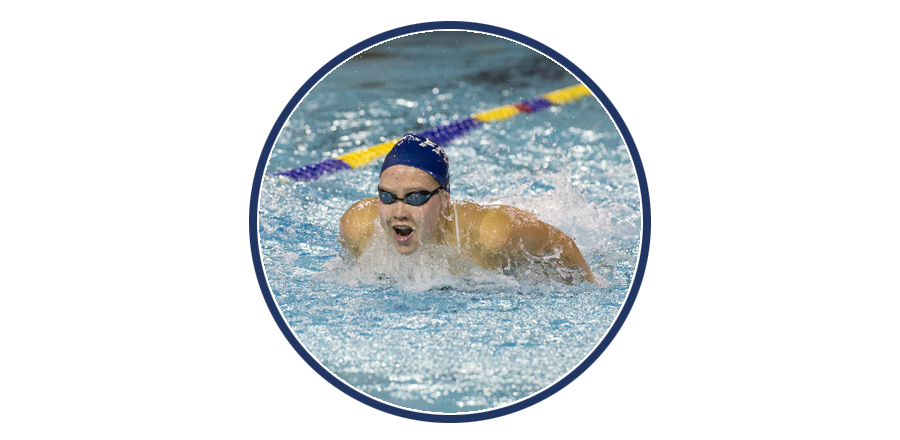 Clio Hancock 22C
SWIMMING AND DIVING
"I've always lived in a Title IX world. Title IX was something I learned about in school, and it was mind-blowing to me that you would need to enact something to ensure there are equal opportunities for sports. I followed women's sports when I was younger. There were always female athletes for me to look up to, and I suppose that is the legacy of Title IX."
One of the exams entailed students jumping into the pool fully clothed and swimming across to simulate an emergency situation. With the passage of Title IX, Smyke had been charged with adding women to the swimming and diving team. The class turned out to be a perfect recruitment tool.
"He told us that if we joined the swim team, that would be our winter quarter PE credit and he would give us an A in the class," Lamar recalls. "Jill and I were freshmen and we pledged Alpha Delta Pi. We recruited two girls from Florida, Helen Bussey and Barbara Matthews, and we had enough people to swim our first relay."
By fall 1973, Lamar and Replogle were joined by Graves, who had been to the Olympic trials twice by the time she graduated from high school. During Graves' sophomore year, Smyke's daughter Tricia joined the swim team. They, along with a handful of others, swam with the men since most of the schools Emory competed against did not have women's teams. Graves laughs that her father liked to boast that his daughter was competing against the guys. After her sophomore year, Graves transferred to the University of Kentucky and Replogle went to pharmacy school at Mercer University Southern School of Pharmacy, but all three remained lifelong swimmers.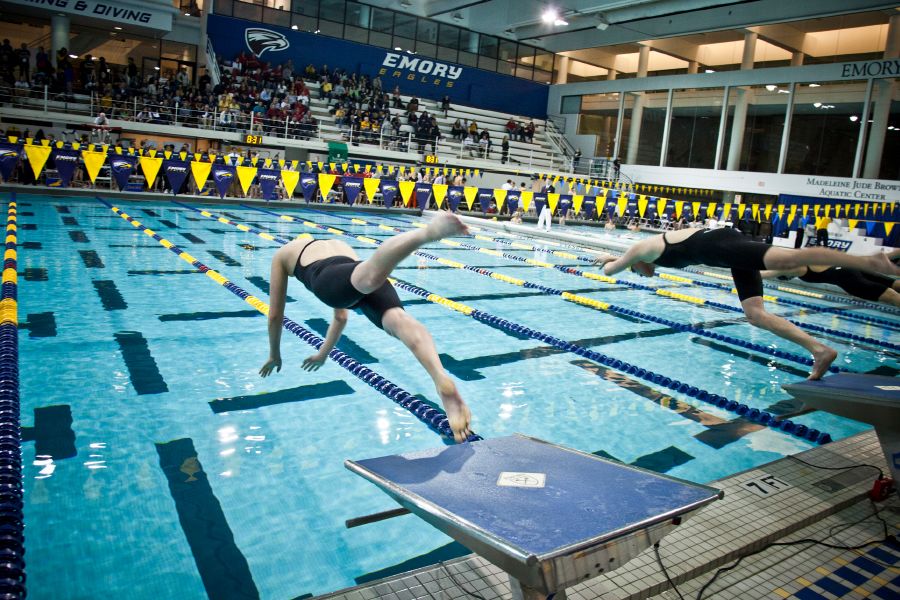 "I think we were on the beginning part of it in such a way that we slid into it," says Graves. "I have one sister who is three years younger who was offered a swim scholarship to Colorado State. She decided she had enough and didn't do it, but just three years made a difference."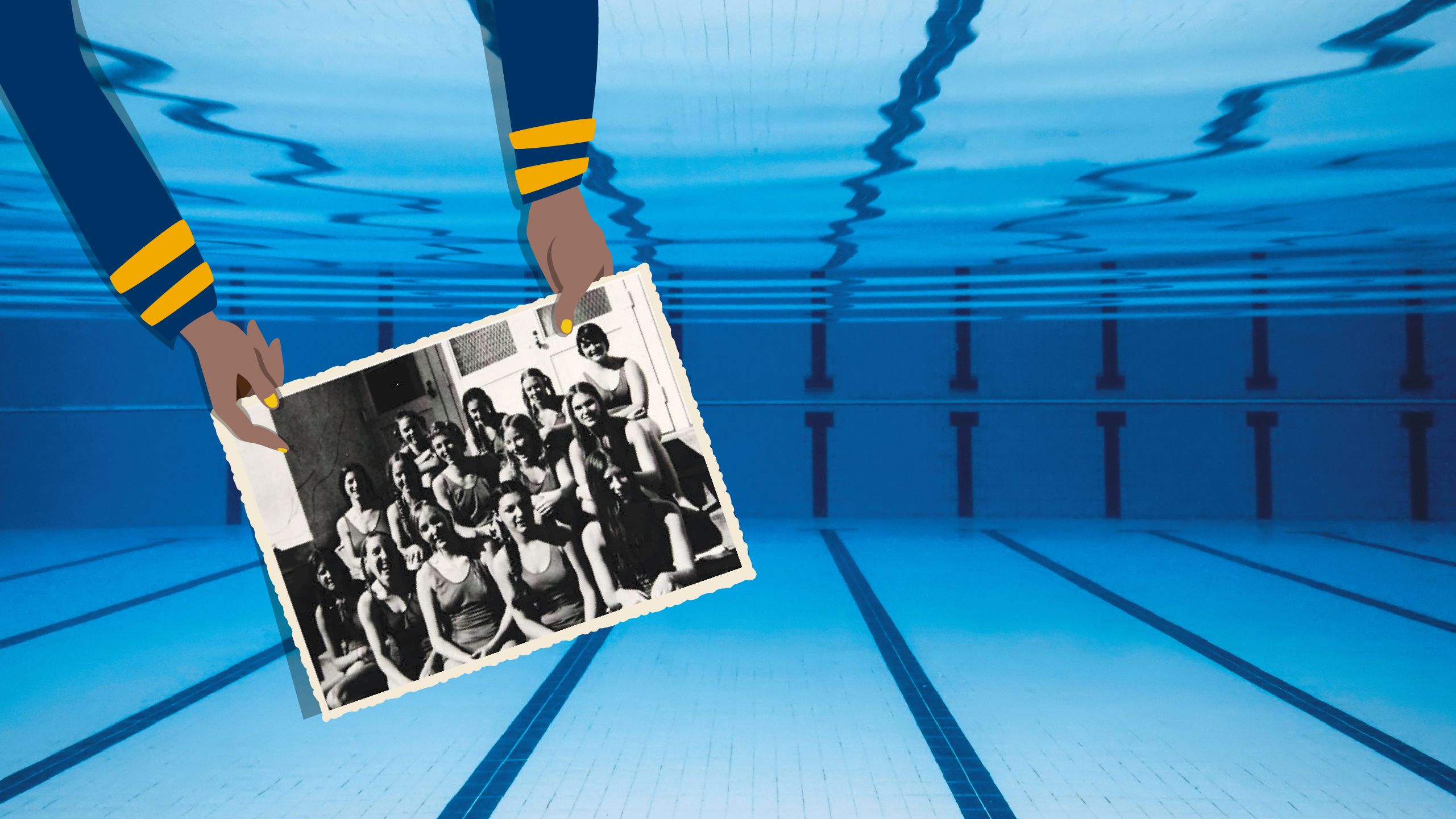 Ushering in a new era for women's sports
James T. Laney was dean of Candler School of Theology when Title IX passed and served as Emory president from 1977 to 1993. When his presidency began, he pursued two matters directly affecting women at Emory: the creation of the Center for Women and the establishment of the women's studies department. This set the stage for a campus environment where women's issues and concerns mattered. It made a way for people such as Joyce Jaleel, the senior director of athletics, to come in and help expand the athletics department. In her 36 years at Emory, Jaleel has seen the growth and opportunities in women's sports.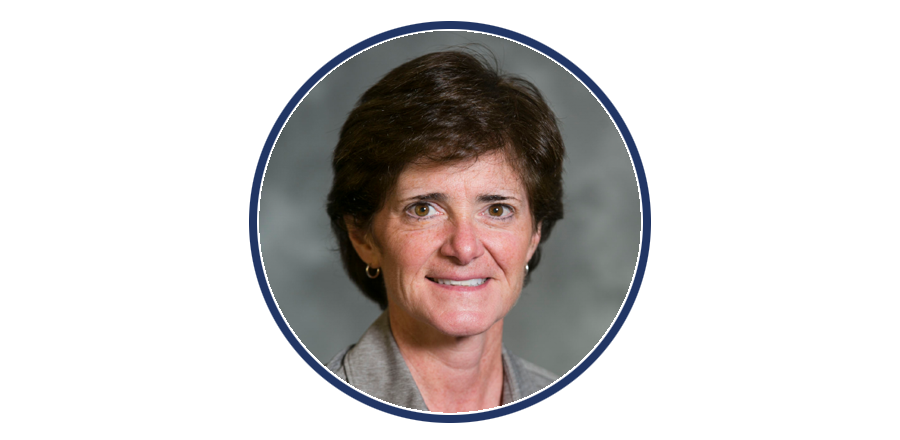 Joyce Jaleel
SENIOR DIRECTOR OF ATHLETICS
"Title IX opened the doors and paved the way for so many girls and women in sports, whether they're playing or in athletic administration. Who knows where we'd be if the 37 words in Title IX weren't written into law? It opened a lot of opportunities and I'm grateful for the females who paved the way for me. To be able to support the mission of Title IX, it means so much."
Jaleel grew up playing soccer at the YMCA along with her older brother. She was on the first competitive girls' soccer team at Southwest DeKalb High School in the 1980s. There was already a boys' team, and Jaleel and her friends wanted to keep playing competitively in high school.
"We were so excited to have girls' soccer added in DeKalb County schools that we were willing to put all of our energy into it," says Jaleel. "Our science teacher was our coach, and she didn't know a thing about soccer. She was willing to work on Saturdays and carry us to games."
After high school, Jaleel earned her bachelor's degree from the University of West Georgia and briefly worked in finance before joining the Emory Athletics staff. Here, Jaleel found mentors in Sandy Tillman, who was the associate director of athletics, and Myra Sims, who was the first women's volleyball and basketball coach.
"From the outset, I can say without a doubt that our athletic directors and vice presidents of campus life have been overwhelmingly supportive of our female athletics," says Jaleel. "We don't tier sports; everybody is treated equally."
In 1986, Emory joined the University Athletic Association and started the process of adding more women's sports.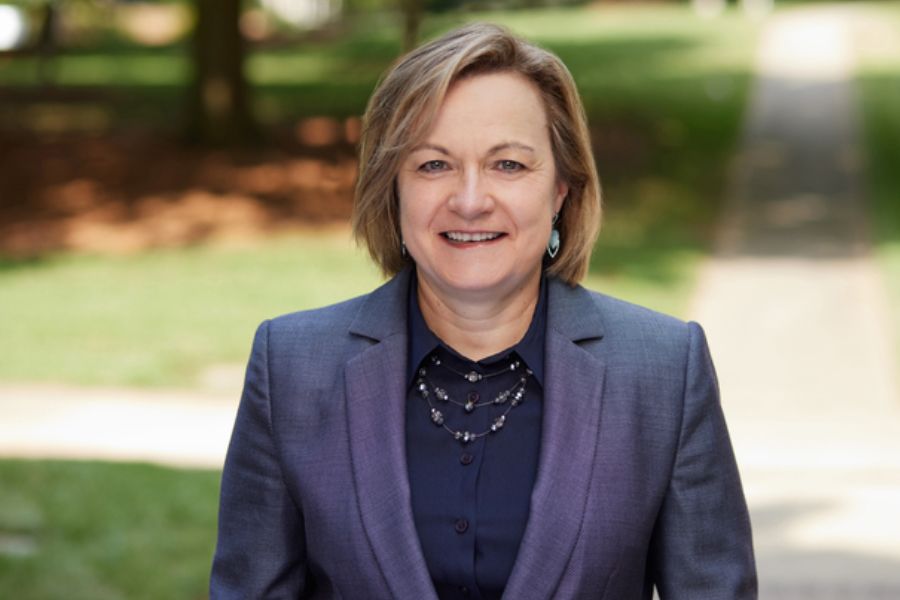 Polly Price 86C, Asa Griggs Candler Professor of Law at Emory, was on the first women's basketball club team during the 1985-1986 school year. Price grew up in rural Arkansas and played point guard most of her life. When she came to Emory in 1982, there was intramural women's basketball, but no university team. Her junior year, Price studied abroad as a Bobby Jones Scholar at the University of St Andrews in Scotland and enjoyed intercollegiate competition there. She earned the school's highest sports award and briefly played for the Scottish Universities national team.
Then, when she returned to Emory for her senior year, she joined a group of young women who started a basketball club team with the support of then-athletic director Clyde Partin.
That first year, Price says her teammate Kim Craddock arranged the competition schedule, and their volunteer coach was Phil James, who worked in residence life.
"I remember we played Georgia College and State University, and they were already an NCAA team," says Price. "We got there, and we were blown out of the water. We were sitting there at halftime thinking about escaping out the back door. We lost that game by 75 points, but our goal was to show we could sustain a season with sufficient interest from people who were already here."
Other games were more competitive, according to Price, and the Emory Eagles finished the year with a good showing.
Emory added a varsity women's basketball team in 1988. Years later, Price and her former teammates, Julie Corderman-Bieger, Kim Craddock, Renee Hoggard-Fleming, Beth Burley Pilling and Carol Terry, named the captain's locker for the 1985-86 team to celebrate the occasion.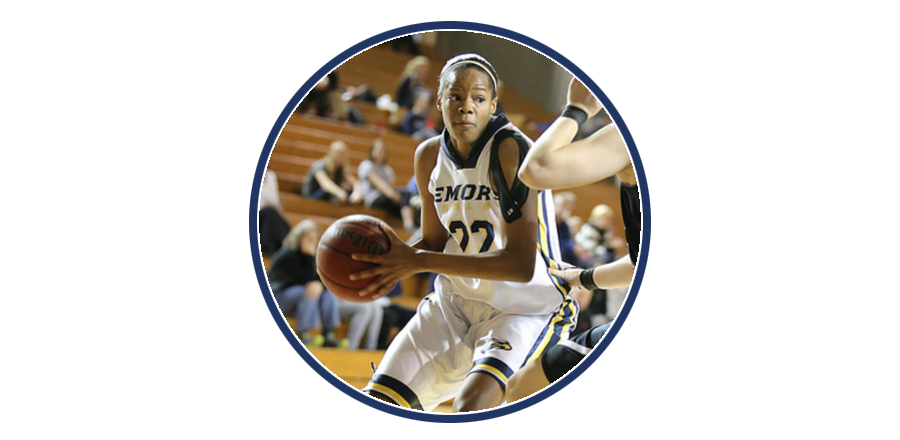 Misha Jackson 17C
WOMEN'S BASKETBALL HEAD COACH
"The fact that I could play my sport and now I get to coach, it is unfathomable. I never had to wonder — it was never a thought that I couldn't play. It never occurred to me that there wasn't a team or that there wasn't an option for a team."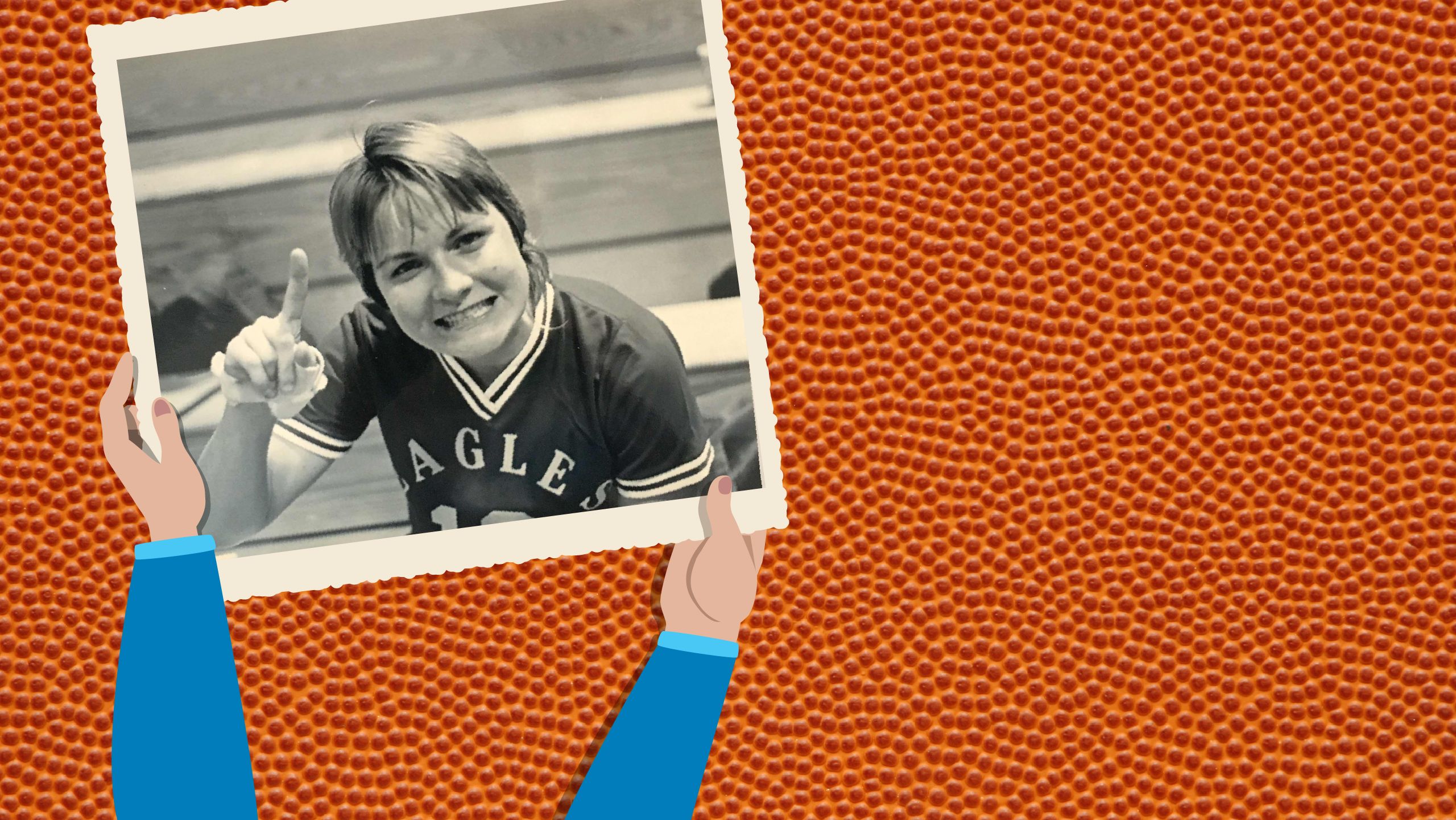 Winning tastes sweetest
Today, there are nine varsity women's sports teams at Emory that have brought in 23 national titles. The women's tennis and swimming and diving teams are among the best in the division.
Women's golf was added in 2019, and earlier this year the team won the NCAA Division III championship.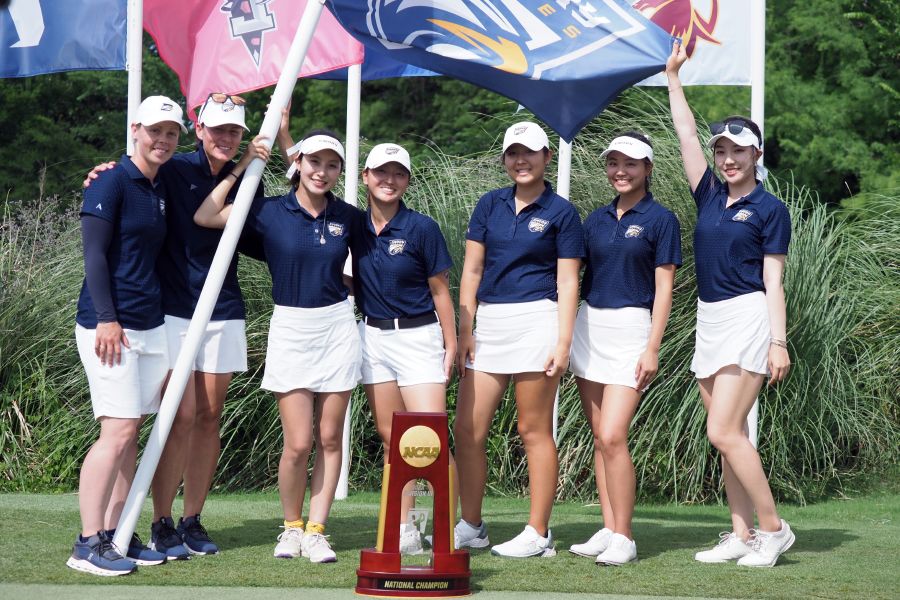 Ellen Dong, a second-year student who grew up in Beijing, China, and central Florida, is a member of that team. Dong has been playing competitive golf since the age of 10. Watching Ladies Professional Golf Association champion Michelle Wie West compete inspired her to play golf in college.
"I won the Florida Girl's State Junior championship, and I realized I had an opportunity to go to the next level," says Dong, who is an applied math and statistics major. "Everything I worked for paid off. I contacted coach Katie Futcher, because Emory had top academics and a really young golf team. I felt like I could grow with a young team and we could pursue a championship together."
Dong captured the individual national championship earlier this year. The win helped her secure sponsorship from Titleist for balls, gloves and shoes. Such sponsorship was unheard of 50 years ago.
Last school year, Emory also experienced another first when now fourth-year student Claire Brock became the first Academic All-American on the women's basketball team. Brock is from Knoxville, Tennessee, where she played basketball tagging along behind her older brother. She says she chose Emory for school because she wanted strong academics given that she plans to attend medical school after graduation. However, by being here she's gained much more.
"[Being on the team] has brought me outside my comfort zone," says Brock. "It helped me learn how to manage my time and gave me good leadership skills and a work ethic that I can use for the rest of my life. It has also connected me to a vast alumni network."
Title IX opened the door for other advances in women's rights, such as protection from domestic abuse, the establishment of rape-crisis hotlines and more. At Emory, it ushered in a new era of excellence in the classroom and in competition.
"Because of Title IX, I was able to compete at the University of California, Los Angeles, on scholarship, travel across the country and world, and train in unbelievable facilities," says Keiko Price. "Those experiences ultimately led to professional opportunities, including my role as AD here at Emory. The anniversary of Title IX is a reminder of how far we've come with creating more access and opportunities for women in sport while still having more work to do."
ABOUT THIS STORY: Written by Kelundra Smith. Student interviews by Martha Nolan. Photos courtesy of Emory Archives and by Kay Hinton. Photo of Polly Price by Renee Hoggard-Fleming. Illustration Getty Images. Design by Elizabeth Hautau Karp.