DEEP DIVE
with Athletics Director Keiko Price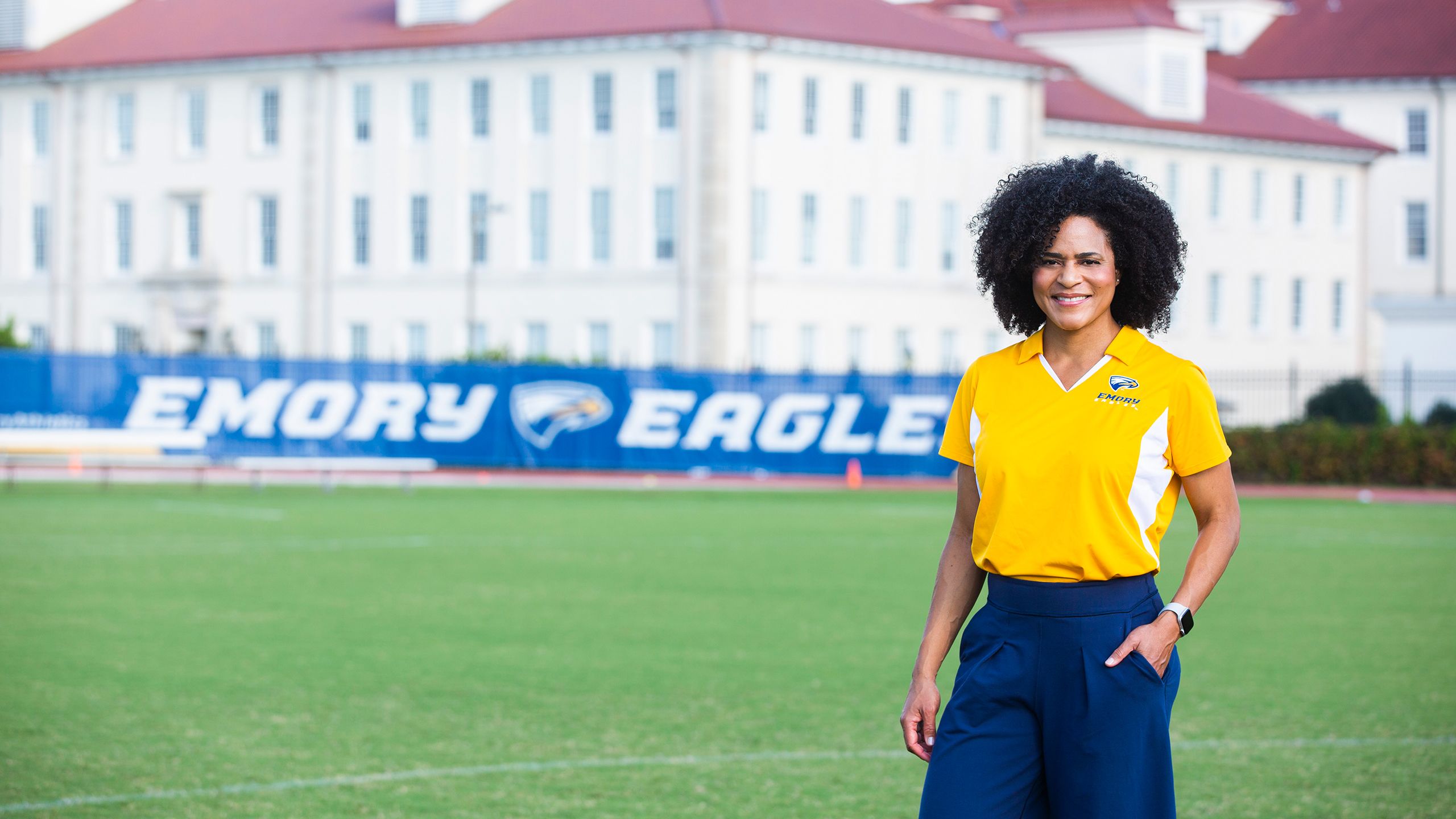 Former NCAA standout swimmer brings Division I experience to Emory — and a drive to help student-athletes succeed in sports and life.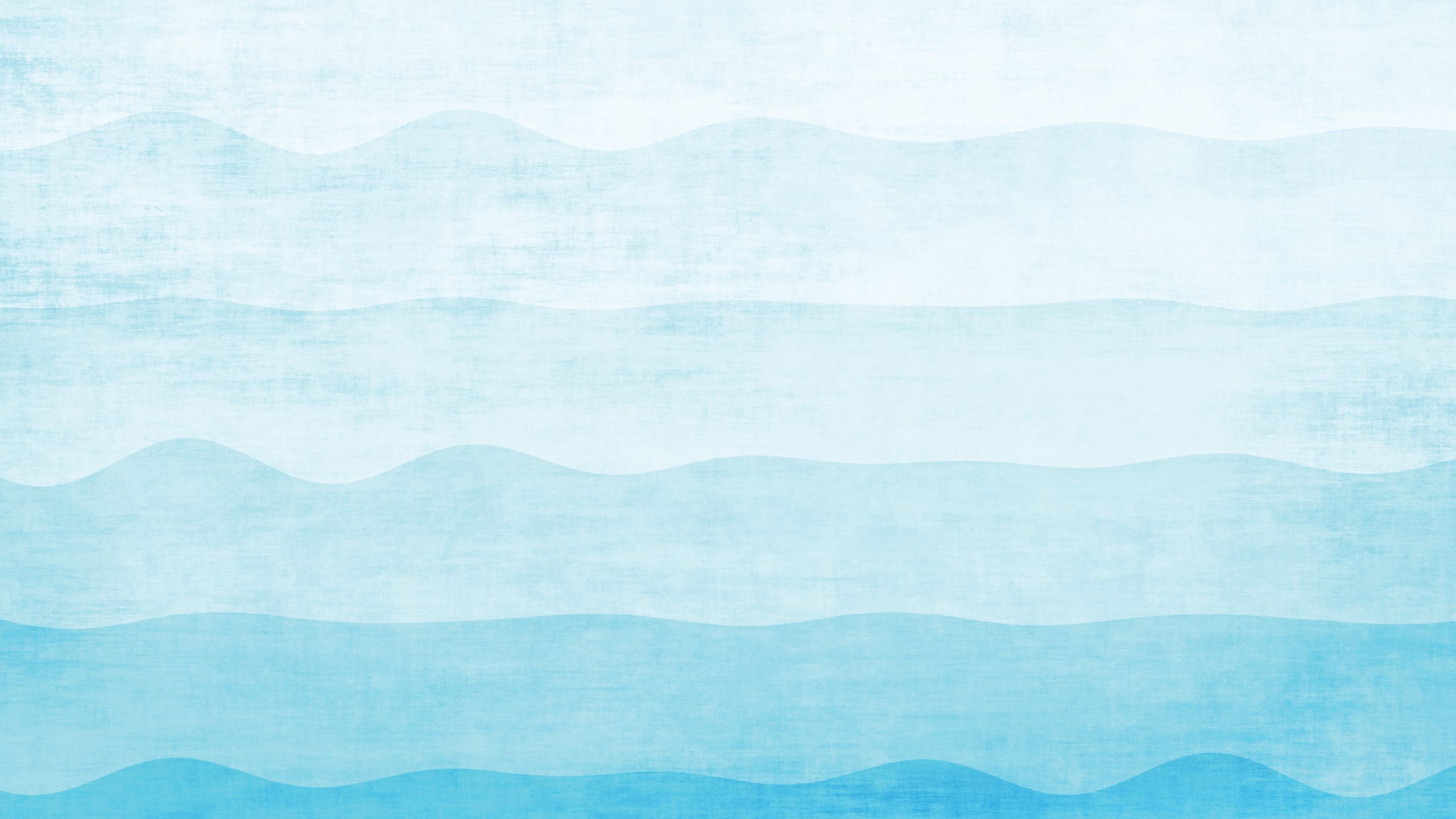 Swimming is as familiar as breathing for Keiko Price. Growing up in Oahu, Hawaii, her parents were passionate about water safety and promoting physical fitness, so her mother taught her and her brothers to swim at a young age. By the time Price turned 10 years old, she was swimming competitively in local pools. A decade later, she'd be dominating meets at the top collegiate levels, as well as competing in the US Olympic Trials.
Price understands the journey that student-athletes take from the amateur ranks to sports' biggest stages, and she brings that firsthand experience — along with more than a decade developing sports programs at Stanford University; the University of California, Berkeley; and the University of Illinois — to her position as Emory University's newest athletics director and assistant vice president of campus life.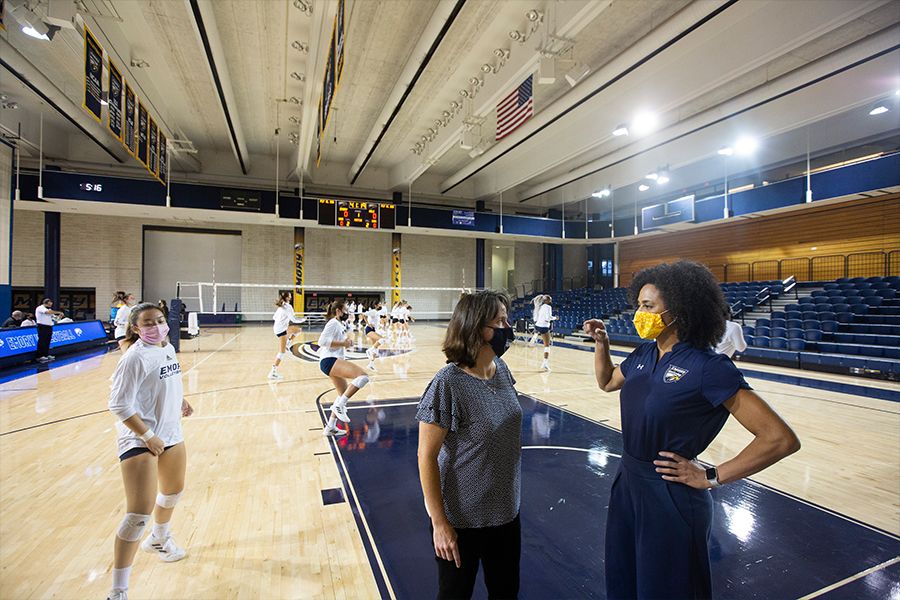 She joined Emory in December 2020, and despite campus restrictions due to COVID-19, has been focused on bringing athletic activities back safely and leading improvements to recreation facilities on the Atlanta campus. She serves on a campuswide COVID-19 committee that is charged with planning a return to operations and resolving emerging issues related to the student experience. She's also been collaborating with staff to create a vision, mission, values, and goals for the department as well as growing the team by hiring deputy athletics director, Lauren Taylor.
One of her biggest goals is to find ways to elevate the incredible successes of the university's student-athletes, both on and off the field. She's amplifying their stories on digital platforms, installing interactive touchscreens in the Woodruff PE Center (WoodPEC) building to showcase their triumphs, and exploring ways to generate more fervent support within the Emory community. That includes, of course, increasing attendance at games.
Price is also committed to providing greater support directly to Emory's 400-plus student-athletes.
"Emory really believes in competitive excellence," Price says. "I think my experience at high-level Division I schools will help enhance the holistic development of our student-athletes. My plan is to be forward thinking in the support that we provide them. It's important to focus on their well-being, including nutrition and mental health."
The latter is another big focus for Price, since throughout the pandemic many students have missed out on precious playing time.
"Not being able to have access to facilities to train for months doesn't give you a chance to improve your craft," Price says. "Not being around teammates or coaches, not having something to focus on that drives them day-to-day, it takes a toll. There's also the risk of injuries that can occur after an extended period of time when you are not training on a consistent basis at a high level.  Injuries can exacerbate mental health challenges."
Price has tackled a lot over the past nine months, and she's eager to see a full year of uninterrupted athletics and fitness programs, from varsity and club teams to intramurals and daily workouts.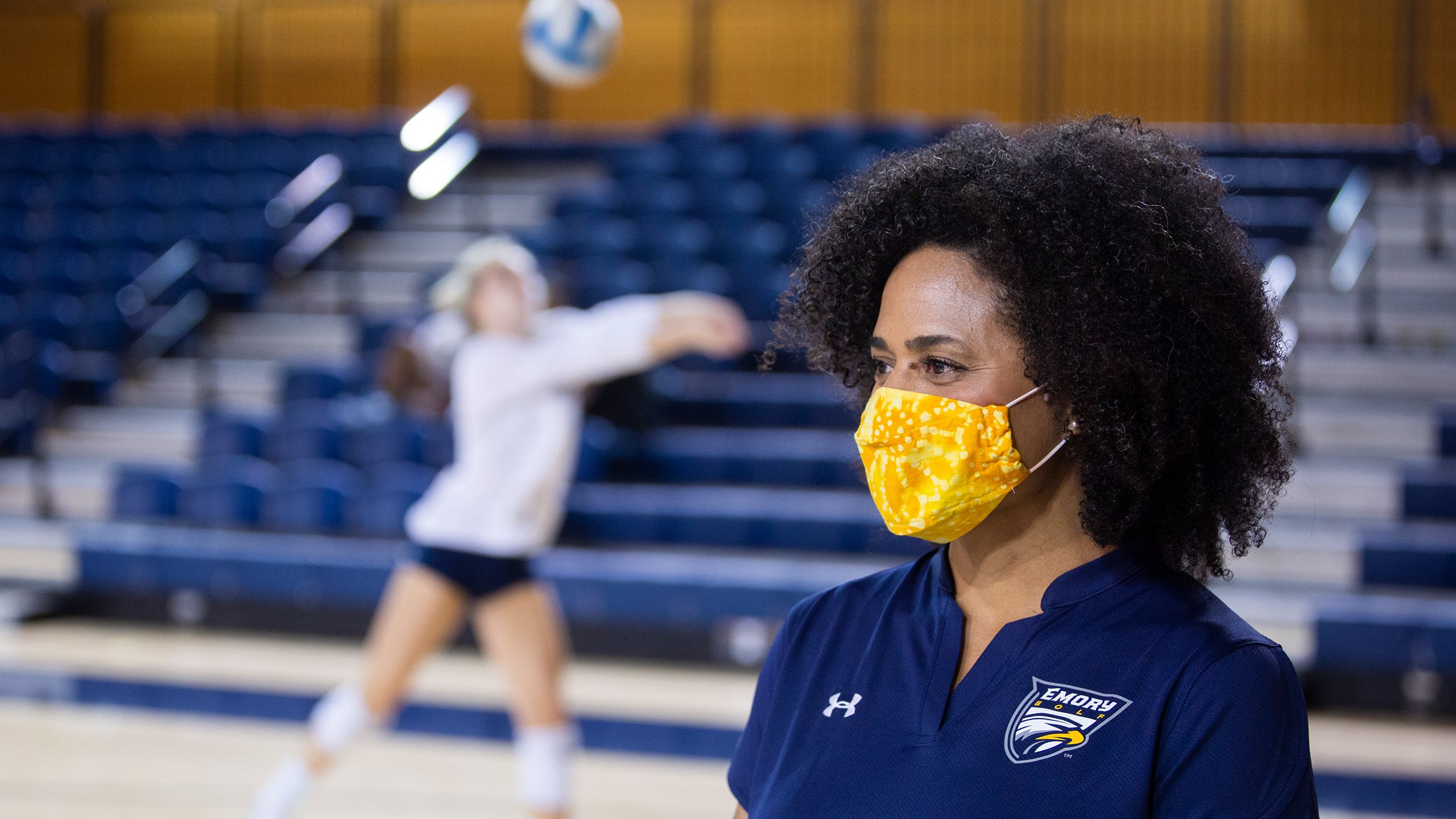 COMPETITIVE EDGE
For most students-athletes at Emory, sports are a critical part of the college experience and provide needed balance against rigorous academic pursuits. Since many of them started at a young age, their very identities are developed in sports, something Price can closely relate to based on her experiences as a young athlete.
After qualifying for junior and senior nationals in high school, Price was recruited to swim for the University of California, Los Angeles (UCLA).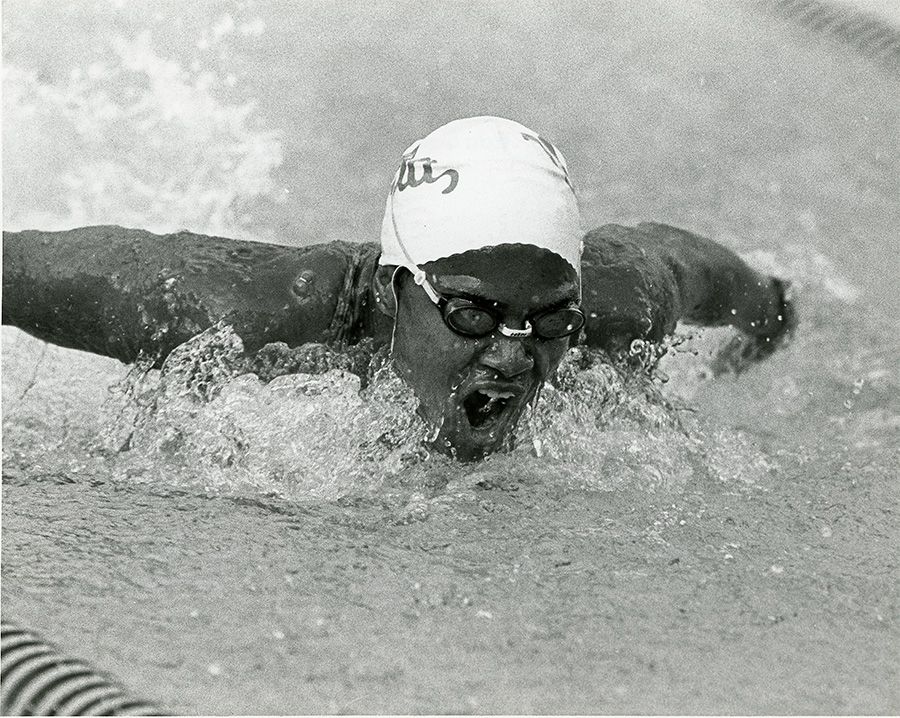 The more Price ascended in the sport, the more she realized that competitive swimming was predominantly white. The child of a Japanese mother and an African American father, she was used to seeing brown people all around her at home. In Oahu, being an ethnic minority in the pool or ocean was commonplace. On the "mainland," as they called it, that wasn't the case. Still, she was determined to be the best.
"In college, it was just me and one other Black teammate when we'd compete," Price says. "I pretty much stuck out like a sore thumb."
At UCLA, she excelled in the classroom and in the pool. Price won the 1999 Pac-10 championship in the 100-meter freestyle. Her best mark of 48.59 ranks No. 3 all-time at UCLA. By the time she graduated, she was a 22-time All-American, and she also swam in the US Olympic Trials three times.
She earned a bachelor's degree in African American studies, but after graduation she found herself wondering, what now? Competitive swimming had consumed her life for a decade but now it was over. She worked as a personal trainer, swim coach, and fitness model while she searched for her next move.
"I asked myself, 'what spaces make me feel like I'm giving back?' " Price says. "I knew I didn't want to be a full-time coach, but after doing some soul searching, I realized that I wanted to help student-athletes navigate not only their college experiences, but also their postcollegiate careers. That led me to UC Berkeley. I love the energy in higher education, the freedom of thought and ideas."
Price enrolled at UC Berkeley in 2002 and earned a master's degree in education, focusing on student-athletes and academic achievement. She went on to work numerous years implementing programs to enhance academic achievement and student development at both Stanford University and UC Berkeley.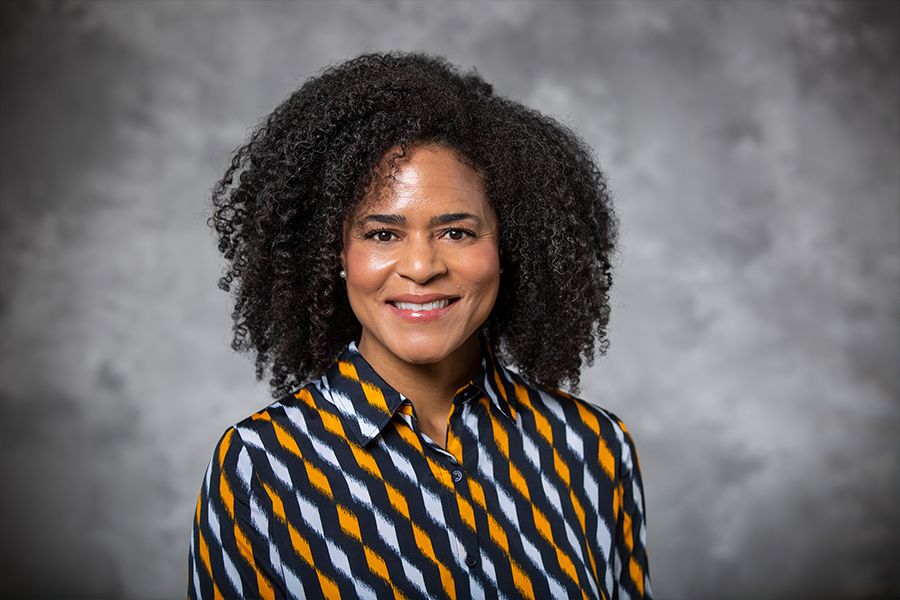 "I've always been intentional about working at institutions with a great academic reputation," Price says. "I believe in the balance of academics and athletics."
Prior to coming to Emory, Price was the senior associate athletic director at the University of Illinois Urbana-Champaign. As the chair of the athletic department's diversity and inclusion committee, she focused on student-athlete development as well as hiring and retaining diverse staff and creating a supportive space for student activism. She also concentrated her efforts on widening and diversifying spectatorship.
She plans to continue that work at Emory. Price says that one of the many things that drew her to Emory is the focus on student care and inclusivity. For Price, the latter is key, so she and her team are committed to reducing barriers and increasing engagement with athletics and well-being for underrepresented populations, so all identities feel welcomed; recruiting and retaining diverse staff and student-athletes; collaborating with campus partners to provide a sense of belonging for students and staff through events, programs, facilities, and services; and diversifying spectatorship.
Price also wants to ensure that the programs are financially sound, a unique challenge for a Division III school versus a Division I program where sports generate funds.
"One of the biggest challenges in college athletics overall is the 'haves' versus the 'have-nots' and trying to win while also ensuring that student-athletes are not being taken advantage of while maintaining their amateurism," Price says. "What I look forward to at Emory is that I can focus on the student-athlete experience and make sure that they're reaping the benefits of their abilities without having to worry about the pressures that come with television and revenue generation."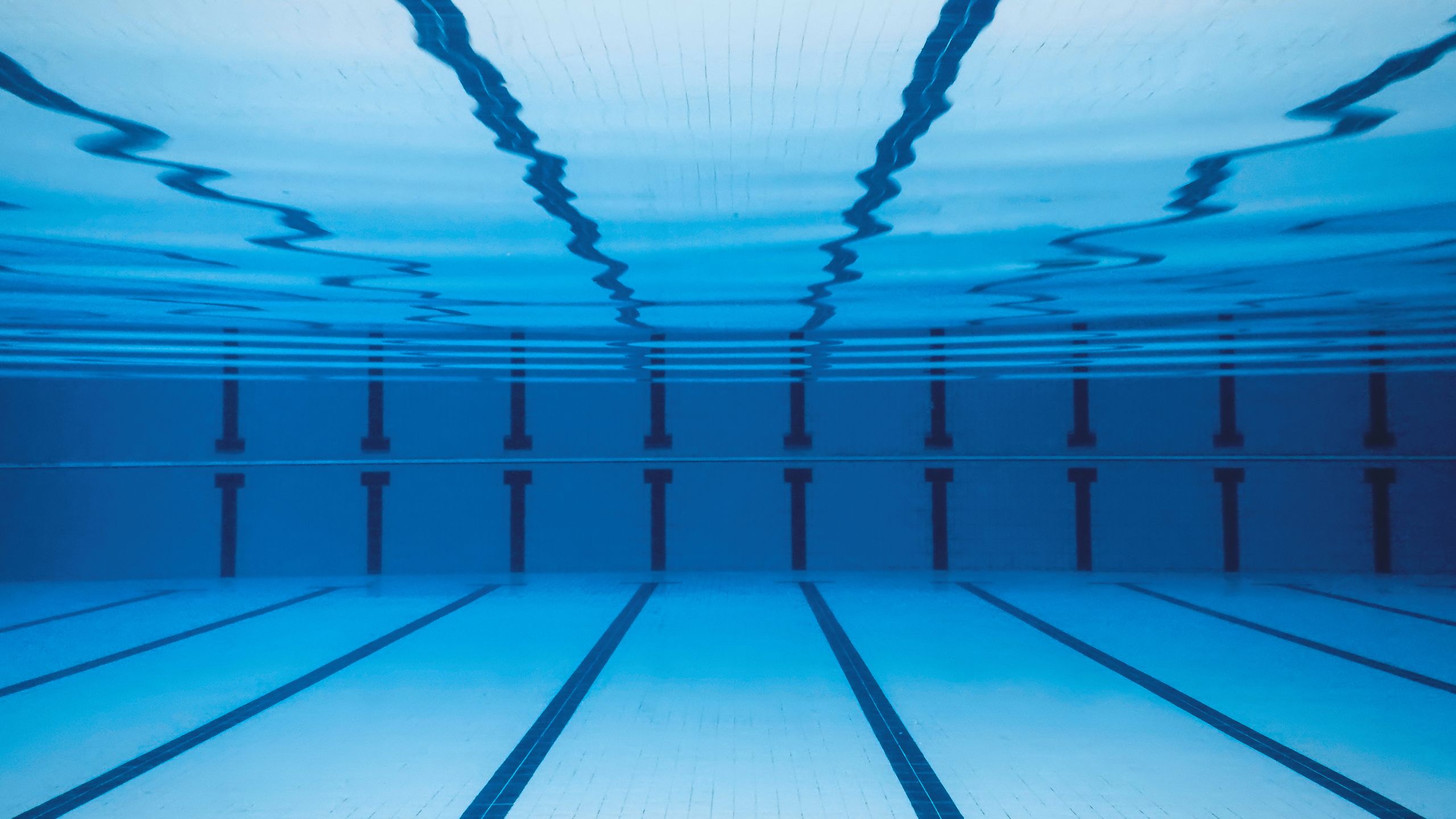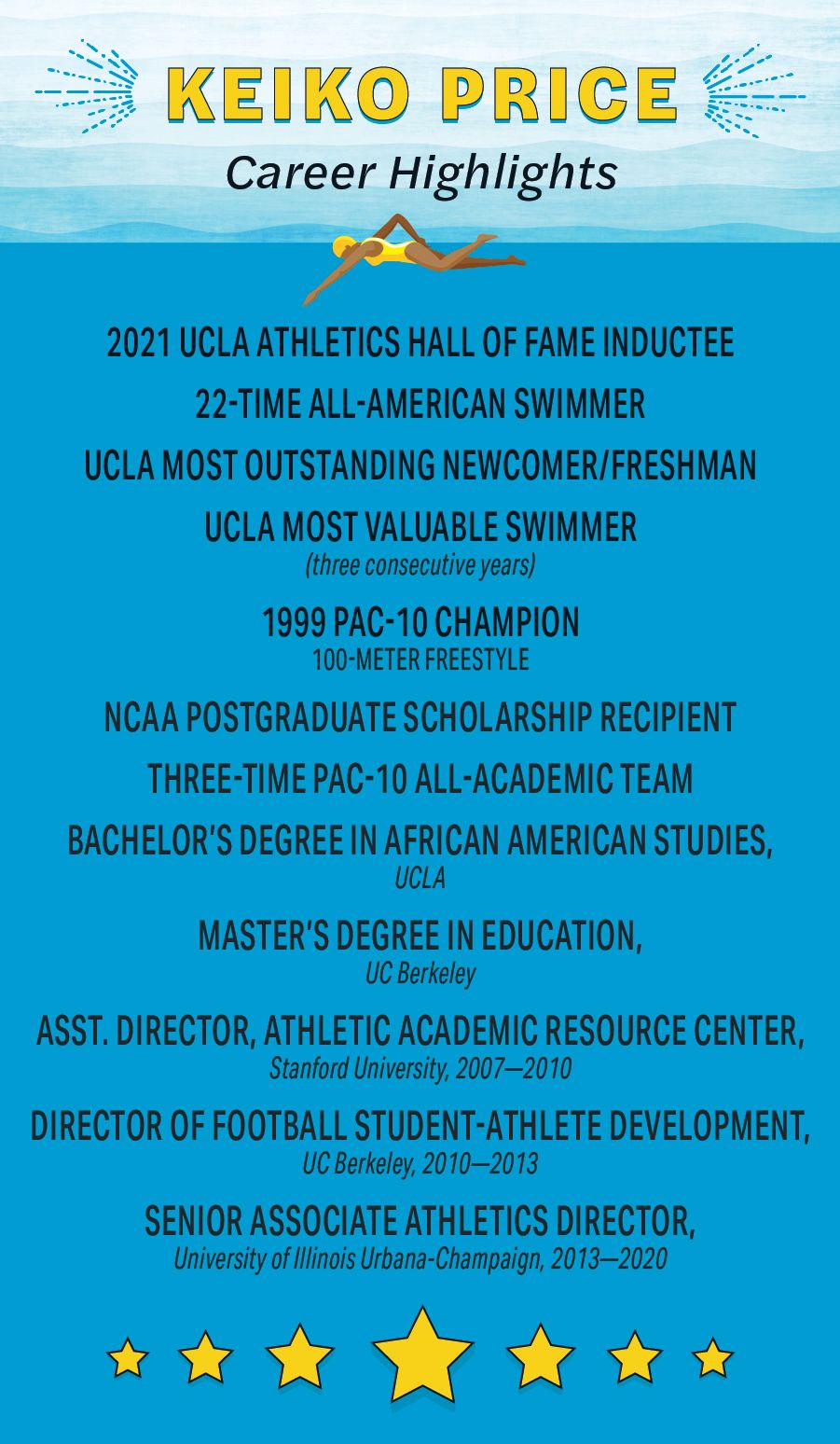 SPRINTING AHEAD
Price has come full circle, and she wants to see other students do the same. She still swims, but as a hobby with a local club team. She's also finding ways to make Atlanta home by exploring the restaurant scene, visiting art galleries, and getting outside.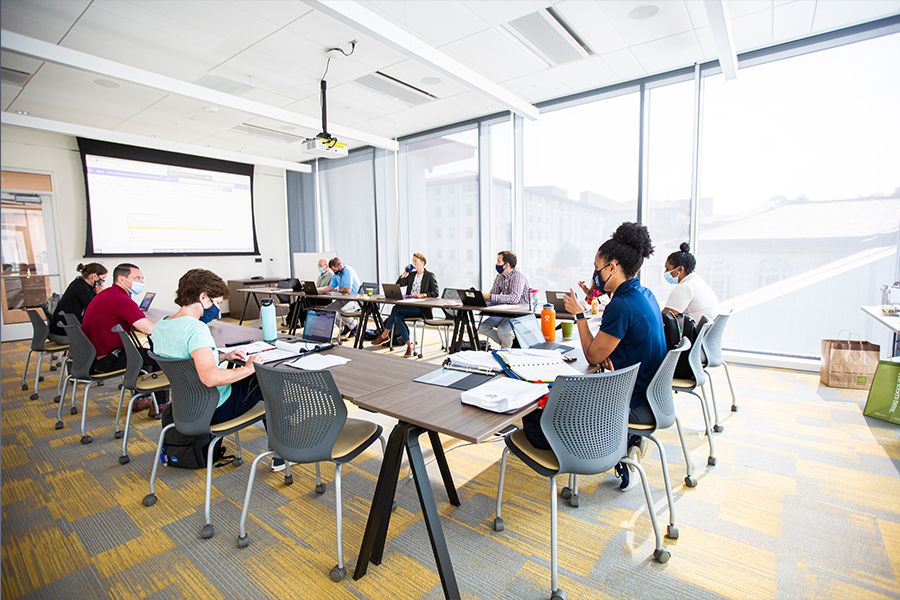 Though she brings her unique experiences to the role, she acknowledges that student-athletes face many different challenges and opportunities than they did 20 years ago. For example, the NCAA can no longer bar student-athletes from being paid for their name, image, and likeness, and she wants to help Emory students take full advantage of this opportunity.
"We can now allow student-athletes to be compensated for providing lessons for their sport, making endorsements, promoting a personal product, and scheduling appearances," Price says. "That wasn't permissible when I was a student athlete. We're working right now to create a program to help them build their brand and think about entrepreneurship so that they have marketability beyond their playing time."
In addition to focusing on sports, she and her staff are invested in the physical well-being of the entire Emory University community. Over the summer, they started making improvements to the WoodPEC and Student Activity and Academic Center (SAAC) buildings. This fall, visitors will see upgrades in the pool, tennis courts, faculty and staff locker rooms, and the weight room, as well as new cardio machines, including the addition of a Peloton.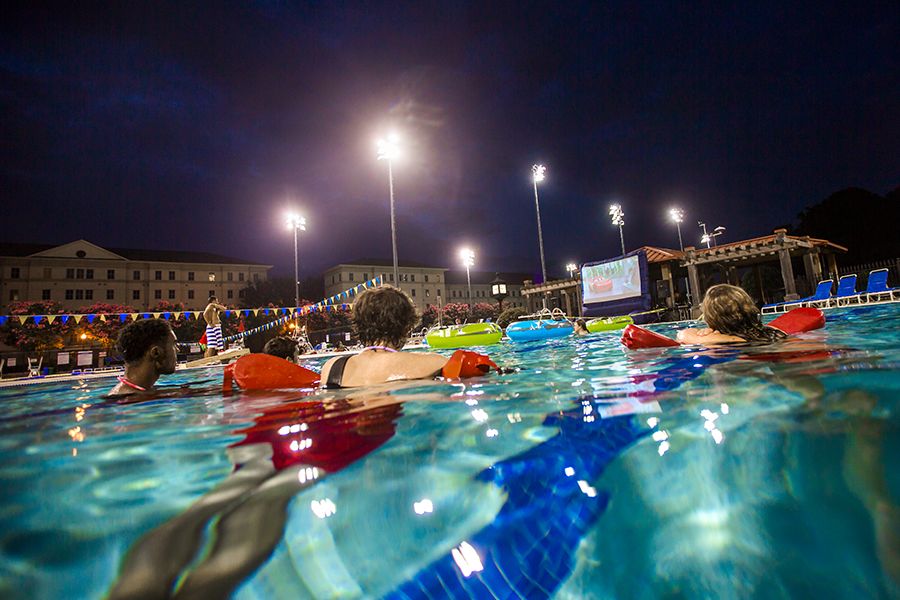 As associate vice president for campus life, Price wants to make sure that the athletics, and recreation and wellness divisions do not operate in a silo, and that the entire Emory community feels connected. The department's pillars include community, health and well-being, leadership development, and competitive excellence, and Price is dedicated to keeping them strong.
"The students here excel in everything they do, whether it's athletics, academics, or being active in the community," Price says. "I am happy to be a part of that success, and I also look forward to having a positive impact on the Emory community."
---
Written by Kelundra Smith. Photos by Kay Hinton. Design by Elizabeth Hautau Karp.