Our Year of Living Dangerously | Heron
Minding My P's . . . 
By Sheryl Heron
Heron is professor of emergency medicine and associate dean for community engagement, equity, and inclusion.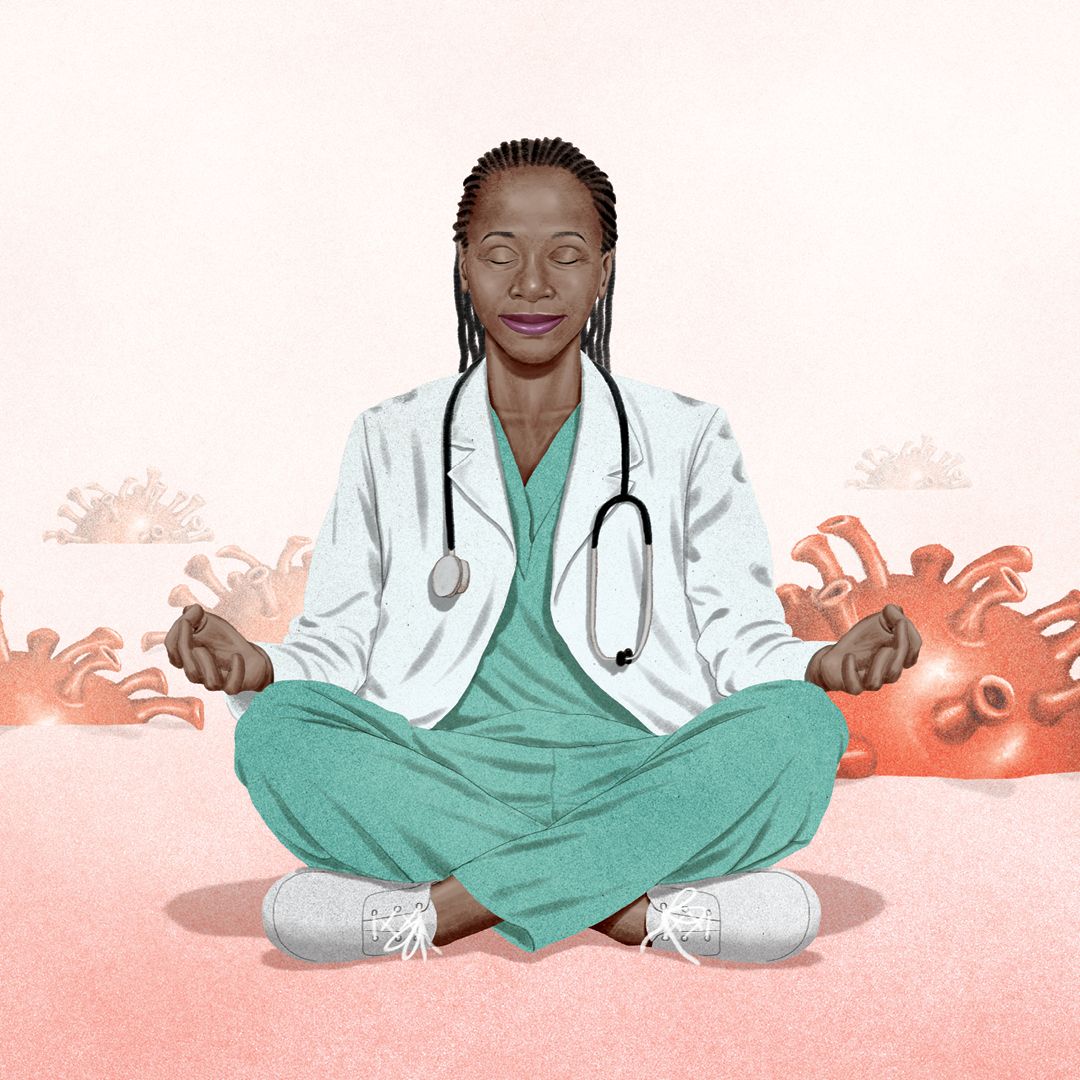 I call it the peril of the p's: pandemic, police brutality, protests, and politics—and they collided to make 2020, for me, a painful year yet one that fostered deep reflection.  
Here are the hats I wear. I am a professor and an associate dean; a vice chair of faculty equity, engagement, and empowerment for emergency medicine; and associate director of education at Emory's Injury Prevention Research Center. I am a healer and stand for fairness. That's what those long titles of mine come down to in the end. 
March 2020. More than a year in now, we all are choosing what to remember. The most startling recollection I have from that month, perhaps one that is universally shared, was that life would never be the same. 
One irony is that, as the country was beginning to shut down, I and colleagues from the School of Medicine and Emory's Center for Contemplative Science and Compassion-based Ethics had returned from a charrette on cognitively based compassion training.
With the entire world at a reckoning based on those four p's, small steps such as compassion training seemed both desperately needed and wholly inadequate.
As an emergency medicine physician who works clinically at Grady, I saw firsthand the trauma, tragedy, and fear associated with putting ourselves on the front lines. We were caring for patients with a still-mysterious illness that could be deadly to them, to their loved ones and associates, and to us—their doctors. 
Patients were arriving in increasing numbers with the red flags tied to COVID-19: fever, cough, and shortness of breath. These patients were appropriately placed in an isolation room. But others came with abdominal pain and diarrhea and were not isolated; we hadn't yet learned that these too were symptoms of COVID.
I vividly remember a patient presenting with diarrhea and abdominal pain. She was being seen in our fast-track area, which meant there was a good chance she would be discharged. Because she had reported no respite from her symptoms, a CT scan of her abdomen was ordered. It captured the bottom part of her lungs and immediately elicited everyone's concern. She, too, was suspected of having COVID. I saw the fear in my colleague's eyes as the patient was rushed to an isolation room but not before potentially exposing my colleague and other health care workers, as well as other patients, to the virus. 
As the days advanced, it was a further blow to learn that Black and Brown people bore a higher risk of hospitalization and death. 
So, I took a list I'd always used in my care for
patients and published it, the "Heron 8." 
We all need these three things: 
*something to do
*someone to love
*something to look forward to (in a word, hope). 
And we all need five communities that carry us through life: community of origin, community of creation, community of neighbors, community of workers, and community of faith.  
Many of my patients are more vulnerable, lacking some of these elements. 
While we, as their doctors, cannot create these essentials out of whole cloth, we can recommit ourselves to combating racial disparities and pushing toward health equity. 
We committed our energies, in the School of Medicine's wellness working group, to sharing our pain. We explored art, in all its forms, as a balm. As the chair of that group, I recognized the urgency to be vulnerable, to bring forth the realities of the pain we all were feeling.  
So, I shared a spoken word with the wellness working group; it was published in the fall 2020 issue of The Styloid Process, the School of Medicine's literary magazine created by students. Bringing these words to the forefront of my consciousness helped me regain some of my strength, the strength I needed to keep moving.
I also participated in the Good Listening Project, which partnered with the American Association of Medical Colleges. Its goal is to cultivate resilience and well-being in health care communities and to showcase the value of the arts in health care. One personal joy in that experience was that a poem was created for me. I'll share the lines that haunt and galvanize me:
She knows that we must unmake
the things that are destroying us.
She knows which anchors can bear
the weight of that unmaking.
As the year rolled mercilessly on, trapping us in Zoom,
isolating us from our family, I wasn't sure where to look
to find hope. 
COVID-19 accelerated and so did political divisiveness and senseless acts of hate. My husband and I, my colleagues and I, hunkered down, fearful that someone in our family might be the next to die—perhaps us. 
No amount of PPE could protect me from the stress, pain, and suffering of patients, colleagues, and staff. 
November 2020. I fell to my knees with severe right-side chest pain, not sure what was happening to me. There was no fever, no cough, no shortness of breath, no funny taste. I had the benefit of thoughtful, concerned, expert colleagues in the emergency department and yet initially none of us was thinking COVID. 
But it was. I immediately worried for my parents and my mother-in-law, residents in the same long-term-care facility, whom my husband and I had just seen the day before. We were afraid. 
My time with COVID was rough but short, and my parents and mother-in-law were thankfully spared. I was one of the lucky ones, left whole only through God's grace: friends and colleagues have succumbed or lost people close to them. 
I also am abundantly, sadly conscious of the many people who are unable to shake off COVID, who continue to battle it for weeks, months, even a year after the initial symptoms. 
A year later, I know what I have always known, but I am more secure in this knowledge after seeing it validated by rocky days of  uncertainty during a pandemic.  
I know that I must care for myself—doing so is part and parcel of being a committed physician. 
I know that a focus on wellness and well-being for faculty, learners, and staff—though it seemed like battling Goliath with David's rocks back in March—is right for me to pursue, and I accept the help of others in so doing. It doesn't sweep away all pain, but it helps. 
I know that there is an art to medicine that cannot be dispensed with, even in the midst of all the other imperatives the crisis puts before us. I must model that art for my colleagues and students, and I must bring it daily to my patients' bedsides. 
I know that my voice and yours matter. 
The p's haven't receded; they are still with us. But I tolerate their presence by magnifying the value of two other words: grace and time. 
The Masks We Wear
I knew I was not alone in my articulation of the 4 p's when I saw what the editors of The Styloid Process did with the theme of masking.
"For more than a century, healthcare workers have worn masks to protect themselves and their patients. What narratives have hidden, and continue to hide, behind those masks?"
"Now, in the midst of the COVID-19 pandemic, masks are being worn not just by healthcare workers but by everyone. What does it mean for us, as a society, to interact with each other in this way?"
"While masking us physically, the pandemic has unmasked issues that lie at the heart of society, bringing matters of social justice to the fore. . . . Where are we, and where must we go next?"
"What identities, issues, or themes do you grapple with behind your mask?"
Tough questions, all, and stubborn—demanding answers for us to move forward.