THE FUTURE OF THE WORKPLACE
11 ways in which how we work, both at home and at the office, has been forever changed by our experiences during the pandemic.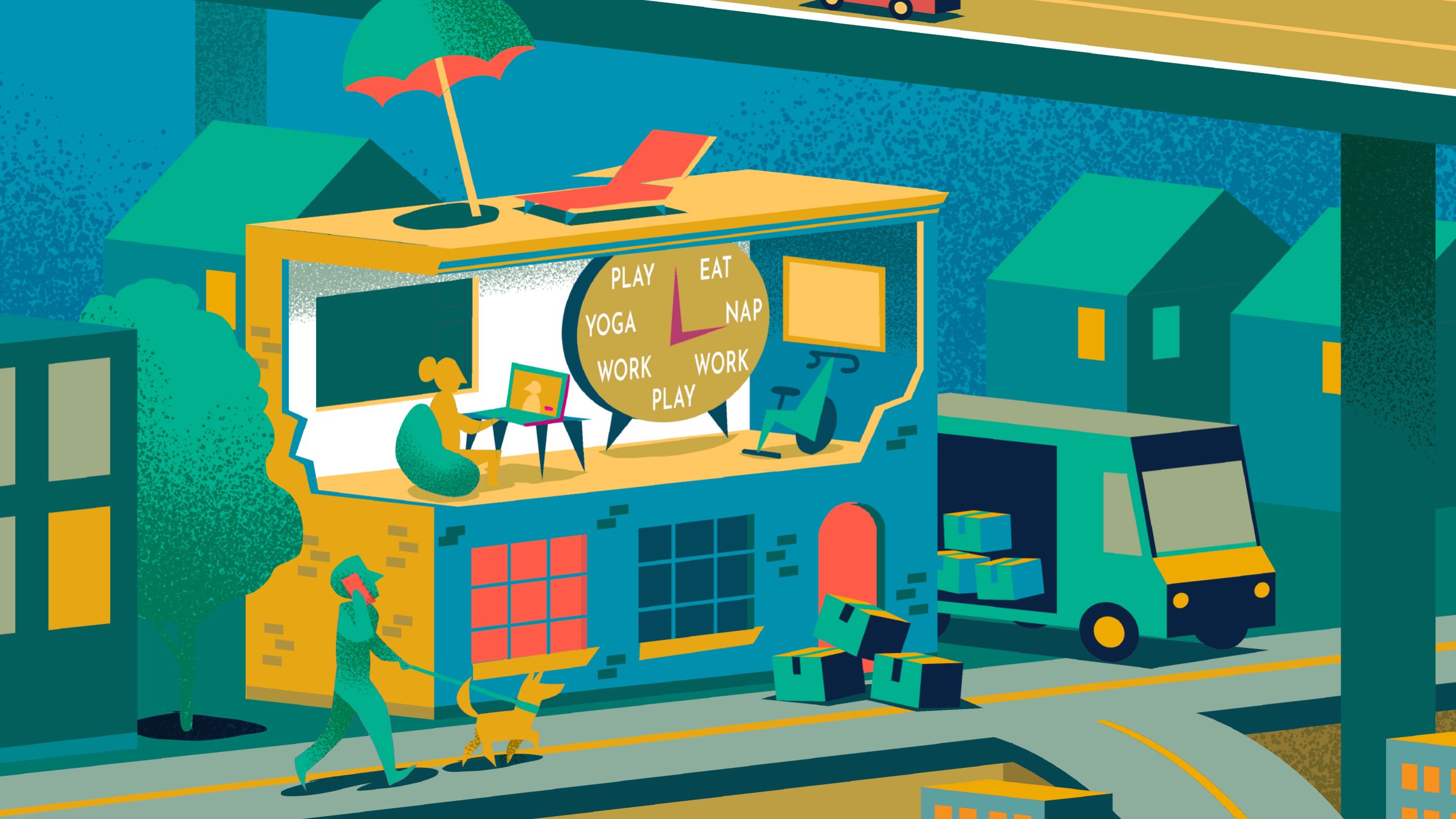 For the millions of Americans used to plugging away in a traditional office environment, the COVID-19 pandemic shook up the way we work and opened our eyes to new possibilities. Long commutes are gone, teleconferencing—and casual attire—have become the norm, and workday flexibility rules the roost.
Initially, employers were worried that productivity would drop, but some studies show that worker output stayed the same or ticked even higher than it was before the pandemic. That's a thought echoed by workplace expert Brandon Smith 05MBA, who consults with dozens of Fortune 100 companies, government agencies, and nonprofits.
"The biggest concern of leaders I worked with as COVID-19 forced their employees to work remotely was that they couldn't see what their workers were doing—they feared they would be goofing off," Smith says. "But the truth is productivity has gone up for most organizations. They were shocked."
Now that vaccinations are happening at a fast pace, organizations have begun looking at how their offices and employee working situations will change long-term.
"For most salaried workers, some kind of hybrid work week will become commonplace," says Smith, who serves as an adjunct instructor at Emory's Goizueta Business School, where he teaches workplace dynamics, leadership, and communication. He's also the founder of The Workplace Therapist, the author of The Hot Sauce Principle: How to Live and Lead in a World Where Everything Is Urgent All of the Time, and the host of his own weekly podcast.
Emory Magazine asked Smith to dust off his crystal ball and make some predictions for the future of the traditional workplace, home offices, and related matters, based on what he's hearing from his clients and other workplace experts.
WORKING FROM HOME
1. GOODBYE "NINE-TO-FIVE"
"For most salaried employees, working remotely during the pandemic saw the end of the nine-to-five workday," Smith says. "There's no solid block of uninterrupted work time anymore. And there's good and bad to that in this new blend of life and work. The early morning may be spent getting the kids to school and perhaps some time for exercise. Work actually may not start until 10 or 11 in the morning, or it could start earlier. And if you go to the office that day, you might leave early to pick up some groceries, take the kids to sports, get dinner started. But then you might log back on in the evening—and on the weekends—to dive back into your work."
2. WORK-LIFE BOUNDARIES DISSOLVED
"We're now living in a world that's lost its boundaries," Smith says. "While there's immense flexibility to the new workday, it may also be a challenge at times for the modern worker to set limits on availability. You're going to need to block out more time on your work calendar for your personal life. An interesting wrinkle to all of this is that employees and their managers will need to have more frank conversations about work expectations and personal obligations outside the office. In the past, you didn't need to talk about what you did in your off hours—those matters were always private. But to get the flexibility and trust you want as a worker, you're going to need to be more open to have a daily schedule that's more attuned to your needs."
3. END OF RUSH HOUR AS WE KNOW IT
"Rush hours are already disappearing," Smith notes. "Because more people are working at home on a given day, and because the workday schedules are becoming more flexible, those peaks and valleys of daily commutes will mostly disappear. Traffic will instead become steadier all day long. The good news is that as traffic flow becomes more predictable, the time it will take to drive anywhere will get more predictable, too."
THE WORKPLACE REIMAGINED
4. HYBRID IS HERE TO STAY
"Now that salaried employees have tasted the freedom of working from home, most are interested in keeping at least part of this arrangement permanent," Smith says. "And most companies are willing to offer up some of that flexibility as they've seen the benefits of it—from improved morale to the cost savings of downsizing their physical footprints. For offices that can support it, the work week for many will become three days at the office and two at home. Time spent and tasks performed in the office will change dramatically. You'll come in for the sole purpose of relationship building or project collaboration with teammates, maybe meeting face-to-face with customers and clients. But when you're done with those tasks, you head home where you'll likely do your core work."
5. SO LONG TO SOME OFFICE EXTRAS
"Since employees will be spending less time in and around the office, and because more space is needed for meeting rooms, a lot of office extras are being phased out," Smith says. "Gyms and fitness rooms, cafeterias, and personal services—amenities that are designed to keep workers on corporate campuses—just won't be needed anymore in the new hybrid normal."
6. MORE MEETING SPACE, FEWER OFFICES
"With less people coming into work daily, the need for individual offices shrinks," Smith says. "And so does the floorspace—the companies I'm talking to estimate that their physical footprints will shrink by about 25 percent overall moving forward. Common areas and cubicles in the center of the office will be transformed into comfortable, shared work areas that look like a library or coffee shop. There may be restaurant-like booths where you can huddle with a few teammates, as well as long tables—like the Harry Potter-esque ones I love in Candler Library—that can accommodate the whole department. This is where you'll grab a seat and park yourself, 'hoteling' in-between team meetings and collaborative work sessions. The perimeter of the floor plan will still include offices for senior leadership, but the biggest transformation will be the addition of meeting rooms. My clients are telling me they could account for as much as 50 percent of their total office space, as compared to 15 percent pre-pandemic. Remember when there were only a couple conference rooms in your area and they were always difficult to book? You shouldn't have that trouble anymore."
7. BUSINESS VERY CASUAL?
"During the pandemic and our remote Zoom meetings, we all embraced a very casual environment," Smith says. "We got comfortable with seeing each other—even our bosses—in T-shirts, sweats, ballcaps, even pajamas. I was on a call with a CEO of an insurance company recently and it looked like he was ready to go on a serious hike. Some of that relaxed dress code will continue forward at certain offices, but most others will still expect professional attire at least part of the time, especially when meeting with clients."
8.  GRAPPLING WITH TECHNOLOGY
"Corporate IT departments are slammed more than ever while making sure employees get the equipment and support they need while working remotely. That includes both solving software issues virtually and dealing with hardware problems in-person," Smith says. "The latter is causing some companies to set up on-call tech-support shops—kind of like an Apple Genius Bar or Best Buy Geek Squad desk—where workers can come in and drop off their laptops to get their hard drive replaced or a cracked screen fixed. They'll need to continue to flex and adapt as hybrid office models drive use of more sophisticated telecommuting tech over time."
BEYOND THE OFFICE
9. RESTAURANTS AND RETAIL GO OMNI-CHANNEL
"It's no surprise that restaurants, grocery stores, and other retail operations that quickly adapted to the pandemic by offering innovations like online ordering, delivery, and curbside pickup fared the best," Smith notes. "And their proactive approach has permanently changed our shopping and dining habits. But even with a light at the end of the tunnel and more customers getting vaccinated and stepping inside brick-and-mortar shops, companies will need to continue to invest in these innovations because they can't afford to take another hit. Not only will it help them survive disruptions better—and keep more of their workers employed—but they can also develop additional revenue streams and grow their businesses."
10. BUSINESSES THAT CAN'T FULLY ADAPT
"Movie theaters, sporting arenas, and other live entertainment venues have all been hit particularly hard by the pandemic," Smith says. "They've had little recourse but to sit and weather this drought of customers. The business, by nature, can't really change fundamentally. There's really nothing to replace the enjoyment of in-person events—streaming Broadway shows and concerts on your home TV hasn't really cut it. But now things are starting to open up, and there's immense pent-up demand. I mean, I'm a huge Braves fan and I can't wait to go to a game. But these businesses are not going to bounce back overnight. There's still some reluctance for people to go back and face the crowds, even with vaccinations in full swing. It's going to be a slow march back to normalcy for them."
11.  BUSINESS TRAVEL DELAYED—OR CANCELED
"With the ubiquity and efficacy of Zoom and other teleconferencing solutions in the corporate world, business travel may very well be the last piece of the work equation to bounce back," Smith says. "We're starting to see an uptick in leisure travel—again, that pent-up demand for anything experiential is enormous—but I think business travel and industry conferences will be very slow to return. In fact, I'm not sure it will ever be the same. Sales, business development, and maybe consulting are perhaps the only areas that might see a full rebound eventually. They're chomping at the bit to go back out and see their customers."
By Roger Slavens with Brandon Smith. Illustration by Charlie Layton. Design by Elizabeth Hautau Karp.