Still Dancing
Emory Dance gets creative with COVID-19 challenges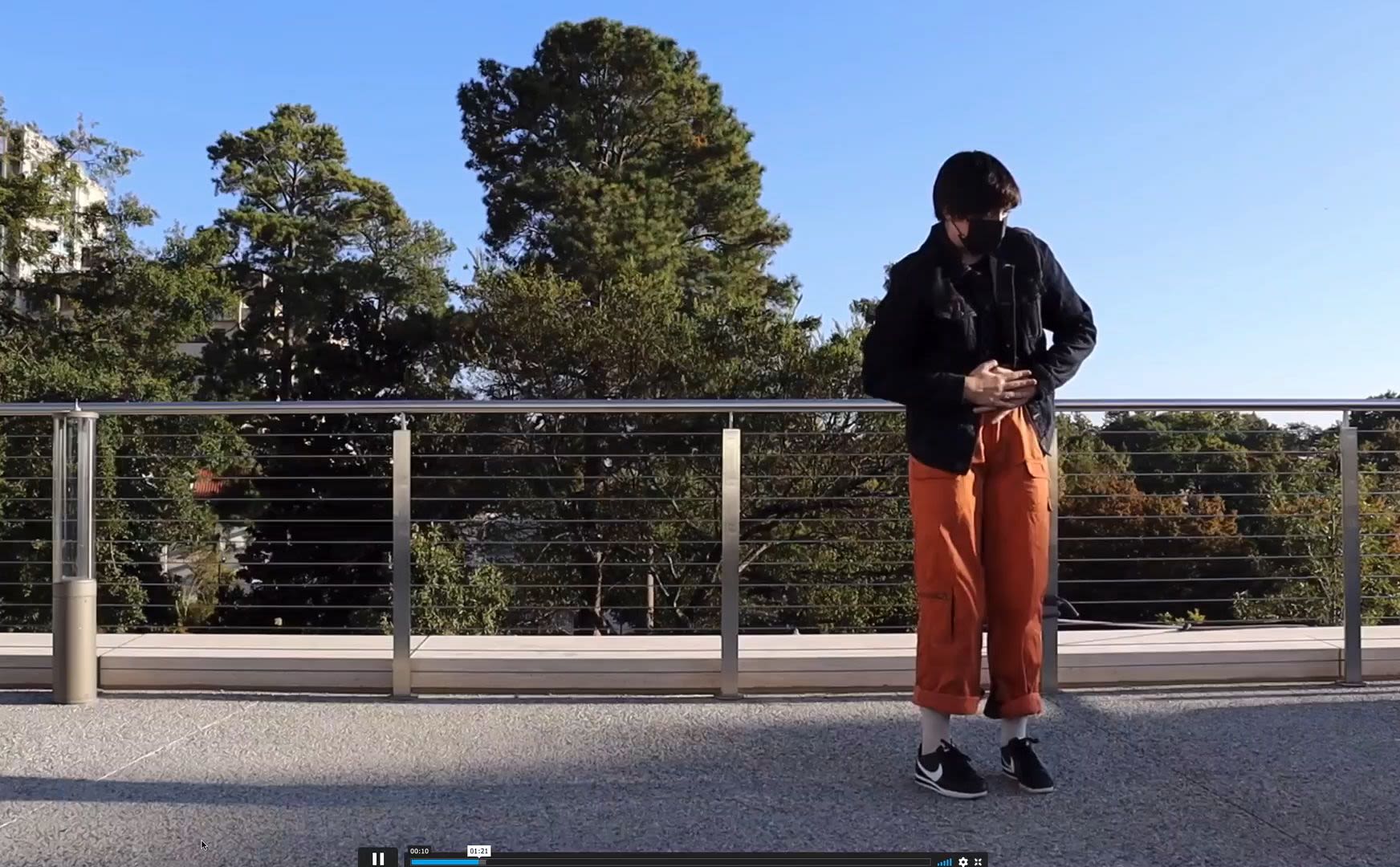 It may come as a surprise that one of Emory College's greatest success stories of adaptation in the wake of COVID-19 is the Emory Dance & Movement Studies program, whose innovative approach to teaching and performance this year mixes virtual and in-person solutions, including creating new protocols for dance classes and exploring creating work on film and in site-specific outdoor venues. 
However, Sally Radell, the director of the dance program, could have predicted their successful year.
"There's nothing really bizarre about what we did because this is what dance has always done: You just find a way to make it work and do it," she says. "It's exhausting, but it's worth it. Dancers are tenacious. We don't give up. We will find a way to make it work."
"The imagination and innovation that students and faculty in the Emory Dance Program have brought to navigating pandemic challenges has been nothing short of amazing," says associate dean for the arts, Kevin Karnes. "Their work has been an inspiration and a model, not only for other Emory artists but all across our campus community."
In late spring 2020, students and faculty had difficulty imagining how their dance practice and scholarship could continue uninterrupted in the face of extreme restrictions on in-person learning and live performance.
"The thing about dance is, because of its embodied nature, it's not easy for us to go online. Dancing is about the physical experience, it's about community. It's really powerful to move together in the same space with others," says Radell.
Many students experienced performance cancellations — months of preparations cut short, no culminating events celebrating their hard work and a loss of precious opportunities to share their artistry. 
 Over the summer, as the reality of their upcoming academic year came into focus, dance students continued to battle feelings of loss and anxiety. 
 "To be completely honest, I was pretty pessimistic about the opportunities that would be offered to us and did not have much hope of a semester that was anywhere near normal," says Leah Behm 21C. "Dance at Emory has been by far the largest and most influential part of my college experience, and I was worried that this year it would potentially not be a part of my education whatsoever."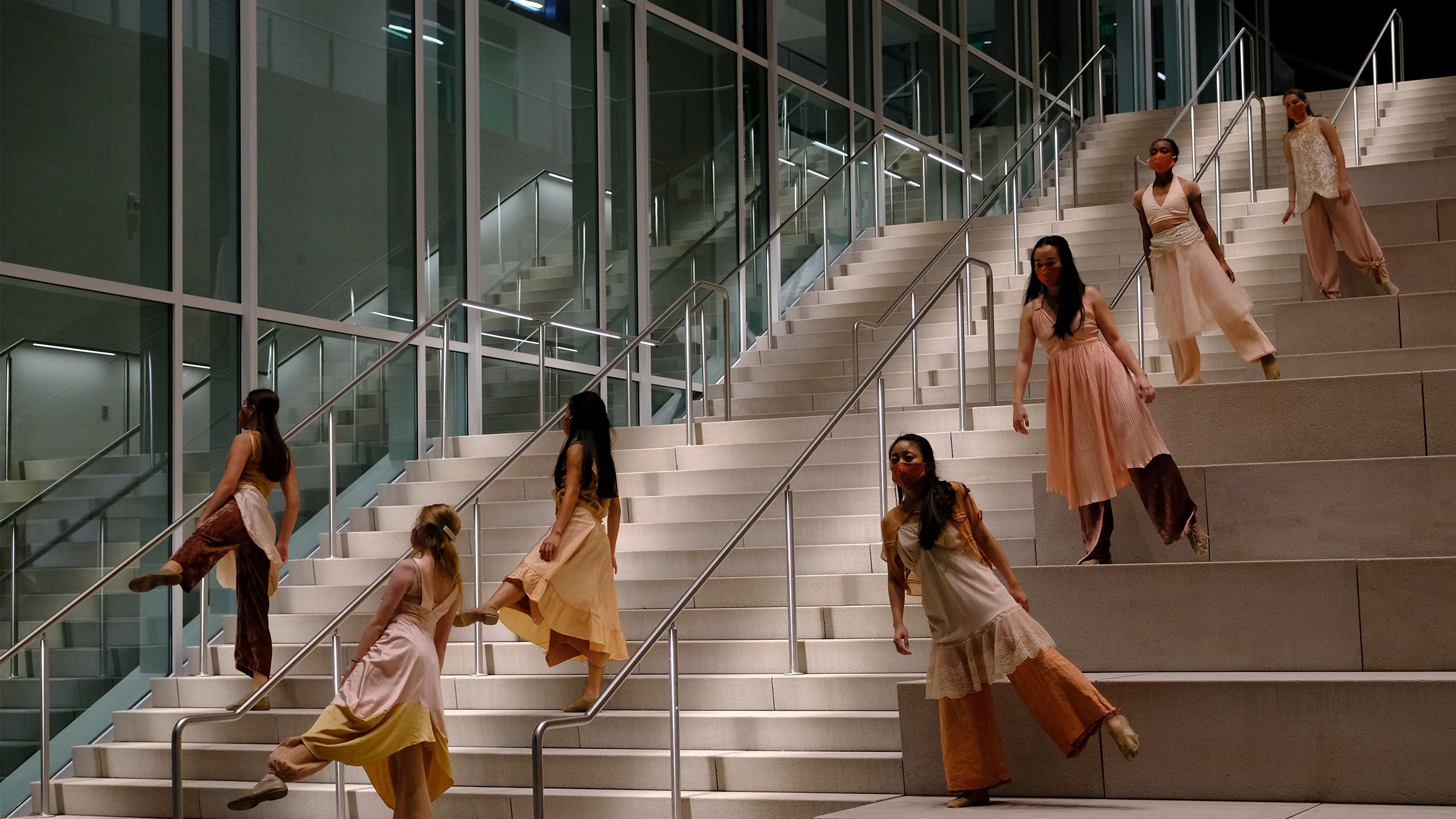 Adapting the classroom
Emory Dance faculty shared their students' fears and uncertainty. How could they provide the highest-quality education possible while protecting the safety of their students and colleagues? 
Enter Gregory Catellier, professor of practice and technical director for the Emory Dance program, who adapted the guidelines released by professional dance organization Dance/USA to suit the performance and classroom spaces at Emory. 
Measurements were taken to ensure class sizes allowed each dancer enough space; squares were taped across the Schwartz Dance Studio floor, one for each dancer. Catellier defined a clear path for entering and exiting the space and developed a sanitization schedule to ensure each class had clean facilities. 
For online classes, instructors would be filmed from multiple angles and a projection screen in the Dance Studio's audience seating bank provided a view large enough to observe the at-home students' movement. 
Faculty shot an instructional video so students would be fully prepared to follow protocols once they returned to the classroom. The students adapted with little complaint.
"The tape controls their classroom movement experience and they're very obedient," says Radell. "They are so compliant because they're so appreciative of being able to move in-person with others."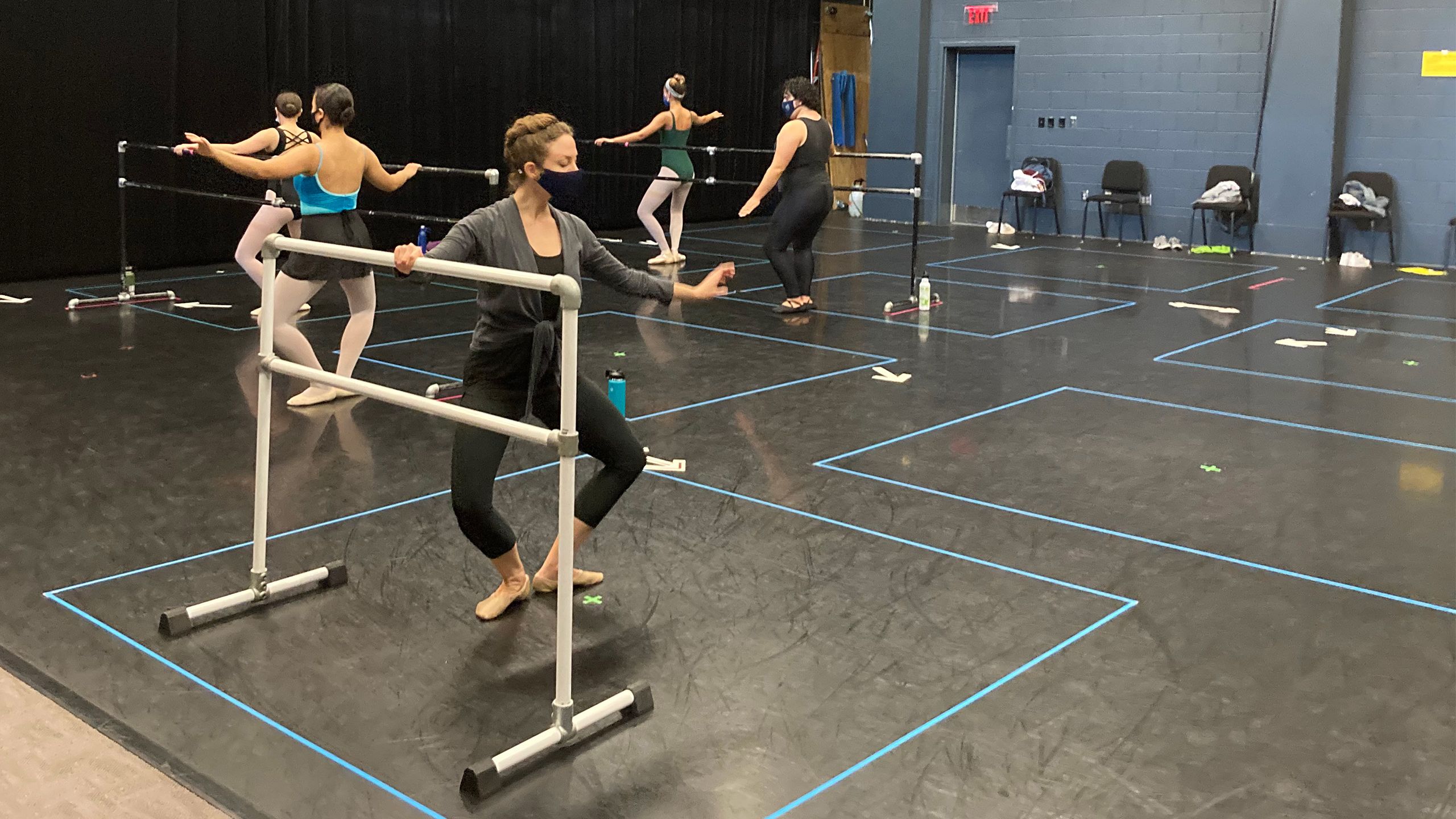 Performance solutions
Emory Dance Company (EDC) also adapted its semester concert formats. 
The fall 2020 concert featured a mix of dance on film and site-specific outdoor performances. To mimic the feel of a traditional EDC concert, the dancers gathered in the Schwartz Dance Studio in front of the large projection screen to watch pre-recorded Zoom presentations of each piece.
"There was a camera on the students sitting in the studio," says Catellier. "A faculty member would introduce the piece and we would play the video over Zoom. Then, we would go back to the camera on the students as they clapped. So, hopefully, parents watching at home got the sense of the community their children inhabit."
For their upcoming spring EDC concert, eight student choreographers have opted to present the work live, in a format as close to a traditional performance as possible. The event will be held in Emory Student Center to accommodate the dancers and allow for a small audience.
For George Staib, professor of practice and faculty director of the spring concert, the challenge of presenting live work in nontraditional spaces is another educational tool for the young artists involved.
"Looking at our own city, people are performing in parking garages, museums, meadows, shipping containers, as well as lovely indoor spaces — and it's all pretty fantastic," says Staib.
"Looking at every space as a possibility engages different parts of the community and people who may never would have stumbled upon dance," he adds.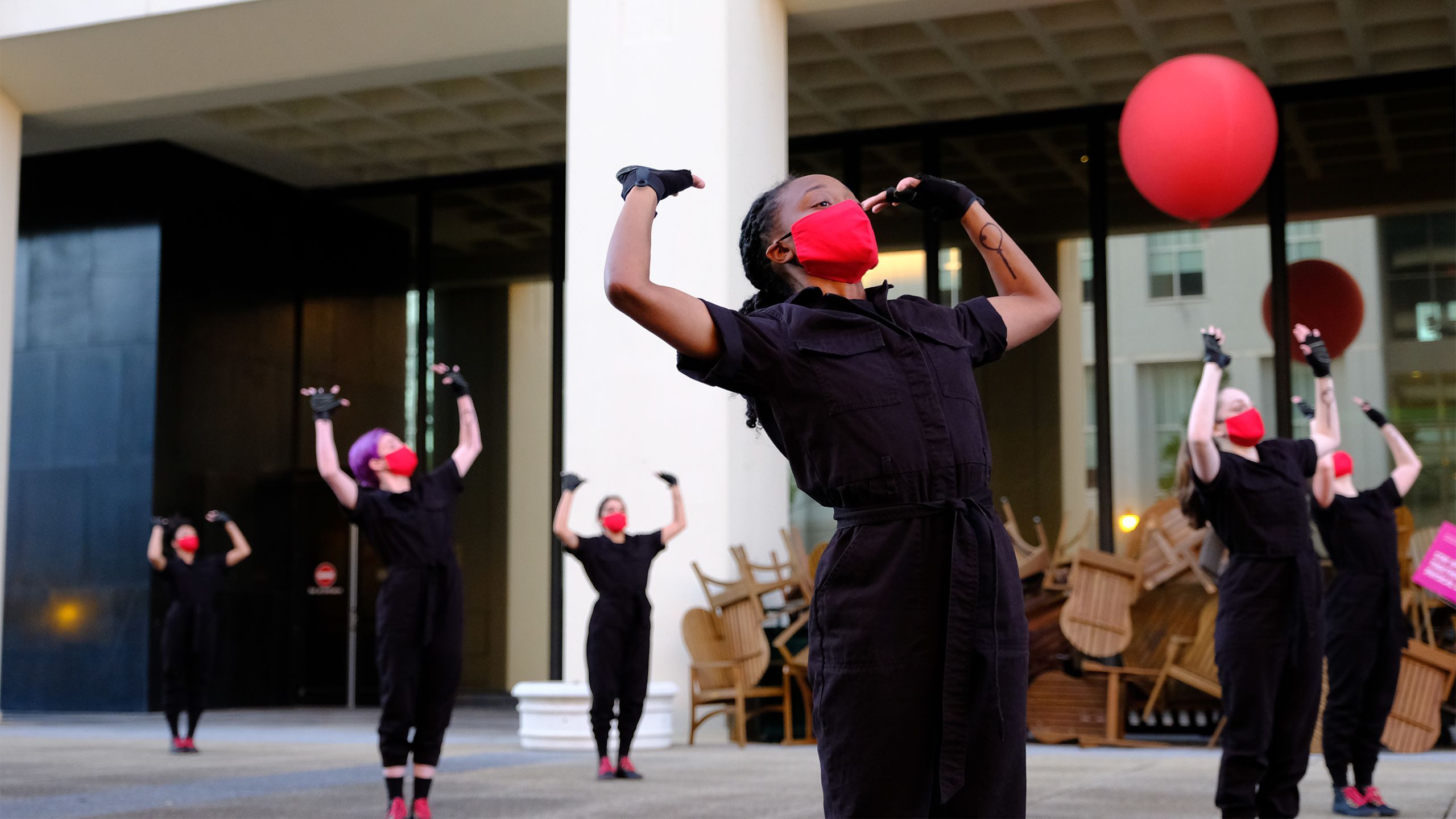 Staying student-focused
All the work that the Emory Dance program has put into maintaining a fruitful environment for their students has not gone unnoticed. 
"This year has turned out way better than I ever could have imagined. I am overjoyed that I have had the opportunity to do almost all of the things I was worried I wouldn't be able to, and more," says Behm. "Working around the guidelines and restrictions has allowed the program to greatly broaden the opportunities the students are offered. They really have worked hard to allow all of us to thrive during this weird year and I personally cannot thank them enough." 
For their part, Emory Dance faculty recognize that the success of this year wouldn't have been possible without support from Emory administration.
"I think Emory Dance is demonstrating real leadership right now," Catellier says. "I reflect on the mindfulness given to the innovative ways of keeping people healthy while also producing great work and with abundant camaraderie. I know from talking to colleagues at other colleges that administrations are leaving dance programs to fend for themselves and expecting full class sizes. I think I speak for the dance program faculty when I say that we feel very lucky to have the support of this administration."
When considering what they have done, Radell has no regrets about the immense amount of effort that went into making this year work. For her, this sort of scrappiness in the face of adversity is a hallmark of dance as a discipline.
"I feel that we're well supported at Emory, but it's kind of in our DNA as teachers and dancers — to find ways to make that physical experience available to our students no matter what," Radell says. "We weren't going to easily roll over and say 'okay, we'll do everything online.' It was more, 'No. We're going to figure this out.'"
---
Photos and video courtesy of the Emory Dance Program.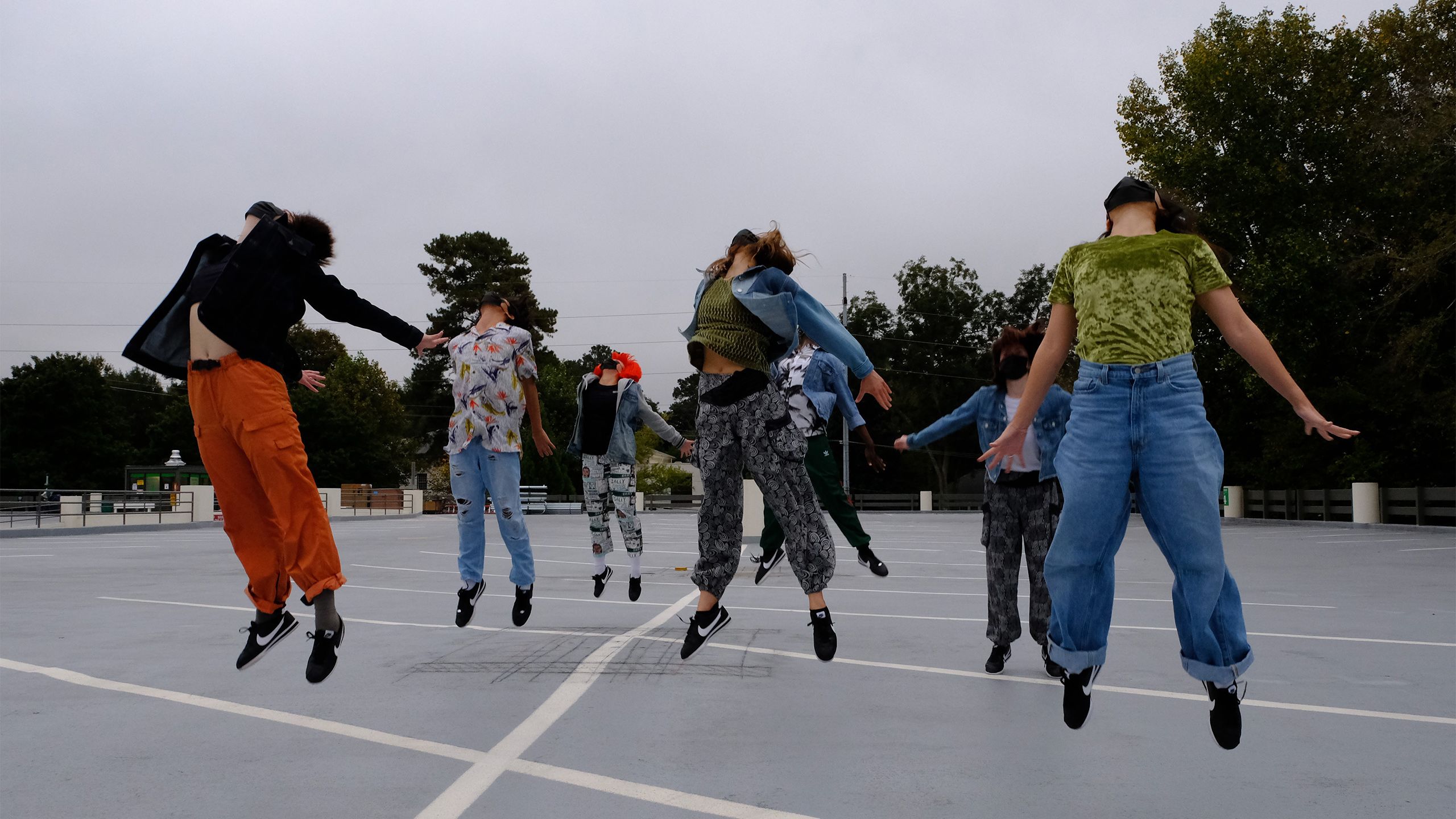 Emory Dance Company spring performances
April 29 – May 1 at 6:30 p.m.
Emory Student Center multipurpose room 
---
Tickets are $8 and will be on sale through the Schwartz Center for Performing Arts box office beginning April 12. Use promo code EDC21 to purchase tickets online. 
Performances are only open to Emory faculty, staff and students who have completed the university's onboarding process. Attendees must provide an Emory email address when purchasing tickets and will need to show an Emory ID at the door. 
The performance will be filmed and posted online for those who are unable to attend in person.