CARTER TOWN HALL
39th annual Carter Town Hall features a special message from President Jimmy Carter and questions with grandson Jason Carter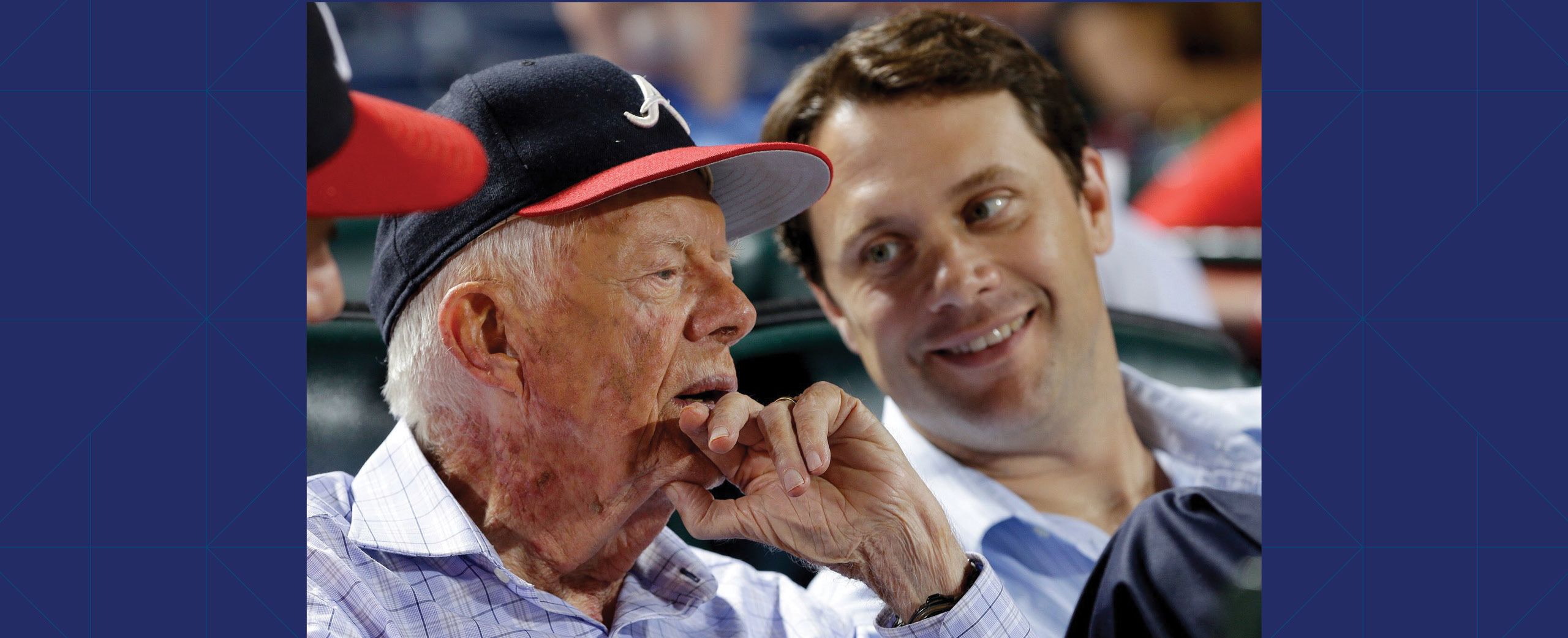 President Carter and Jason Carter at an Atlanta Braves game, August 14, 2013.
President Carter and Jason Carter at an Atlanta Braves game, August 14, 2013.
For nearly four decades, former U.S. President Jimmy Carter has enjoyed a special relationship with first-year Emory students, joining them in dialogue every fall for a master class in leadership and public service and fielding their questions, both serious and silly.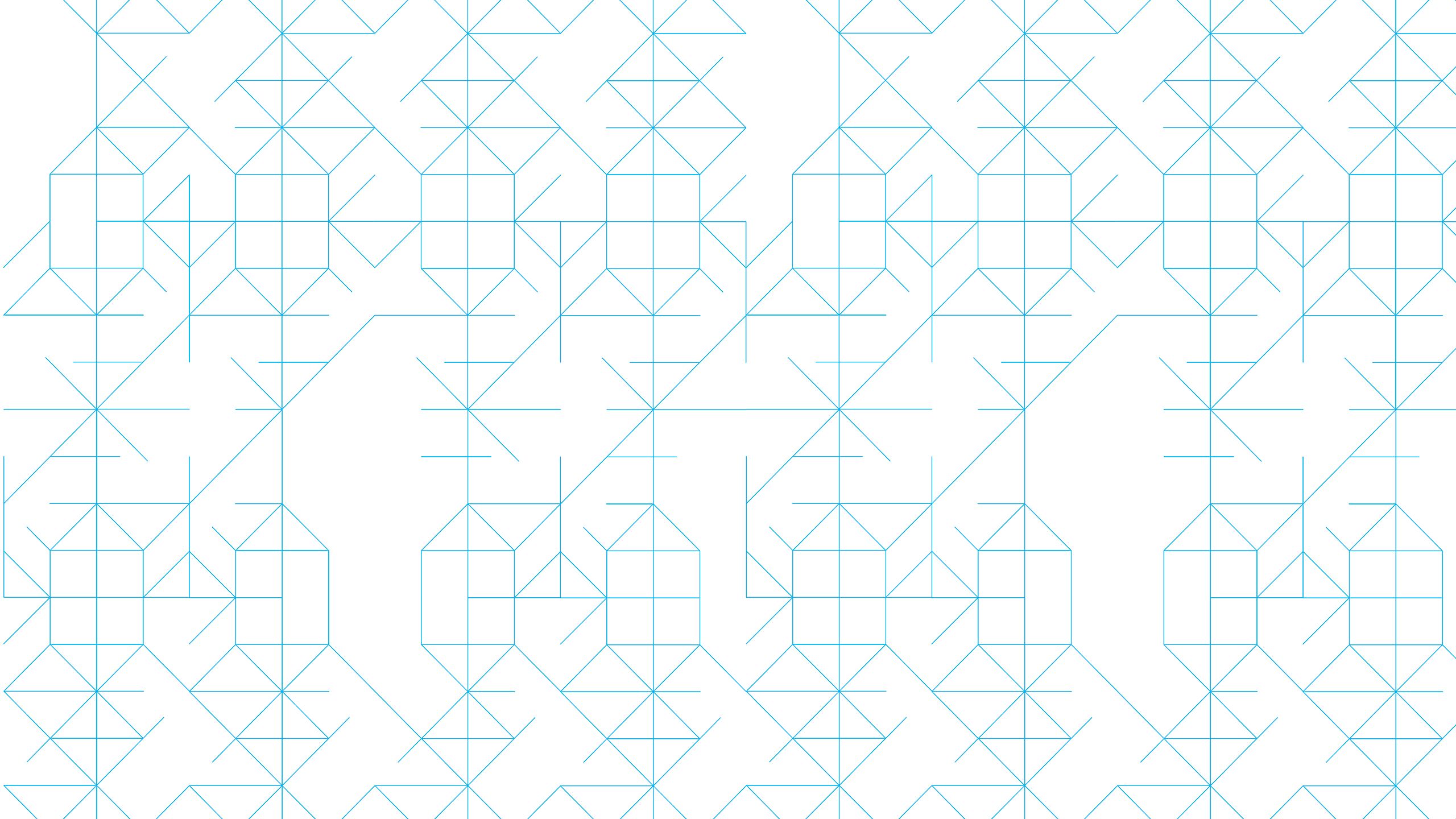 From insights gleaned from his time spent on the world stage as a politician, peacekeeper and global humanitarian to his peanut butter preferences, across the years Carter has met student inquiries with thoughtful reflection, good humor and his hallmark candor.
On Wednesday, Oct. 21, only weeks after his 96th birthday, the senior statesman and Emory University Distinguished Professor continued the popular, time-honored tradition, albeit with a twist.
With health and safety in mind, the 39th annual Carter Town Hall was held as a virtual event, as hundreds of Emory first-year and transfer students gathered before phone, laptop and computer screens to watch a special recorded message from President Carter in conversation with his eldest grandson, attorney and former Georgia State Sen. Jason Carter, then hear Jason Carter answer their questions live.
In welcoming remarks, Emory University President Gregory L. Fenves told Emory's Class of 2024 that he could recall meeting Carter for the first time when he was their age. "In 1976, I was like you, my first year in college, just like you are today," he said. "And I had the privilege of shaking President Jimmy Carter's hand. I'll never forget that moment."
Fenves said he is thrilled to be at a university where Carter is a distinguished university professor — and where Emory's partnership with the Carter Center is one of the most powerful ways that Emory's mission is implemented around the world.
"While we will miss President Carter joining us, we are excited to have his grandson Jason Carter with us tonight to carry out this Emory tradition," Fenves said. He invited students to watch a special video message from the former president, "a man who has changed history," he said, "a winner of a Nobel Peace Prize, a leader whose human rights work around the world has brought lasting change to millions of people, and last, but not least, a Georgia native."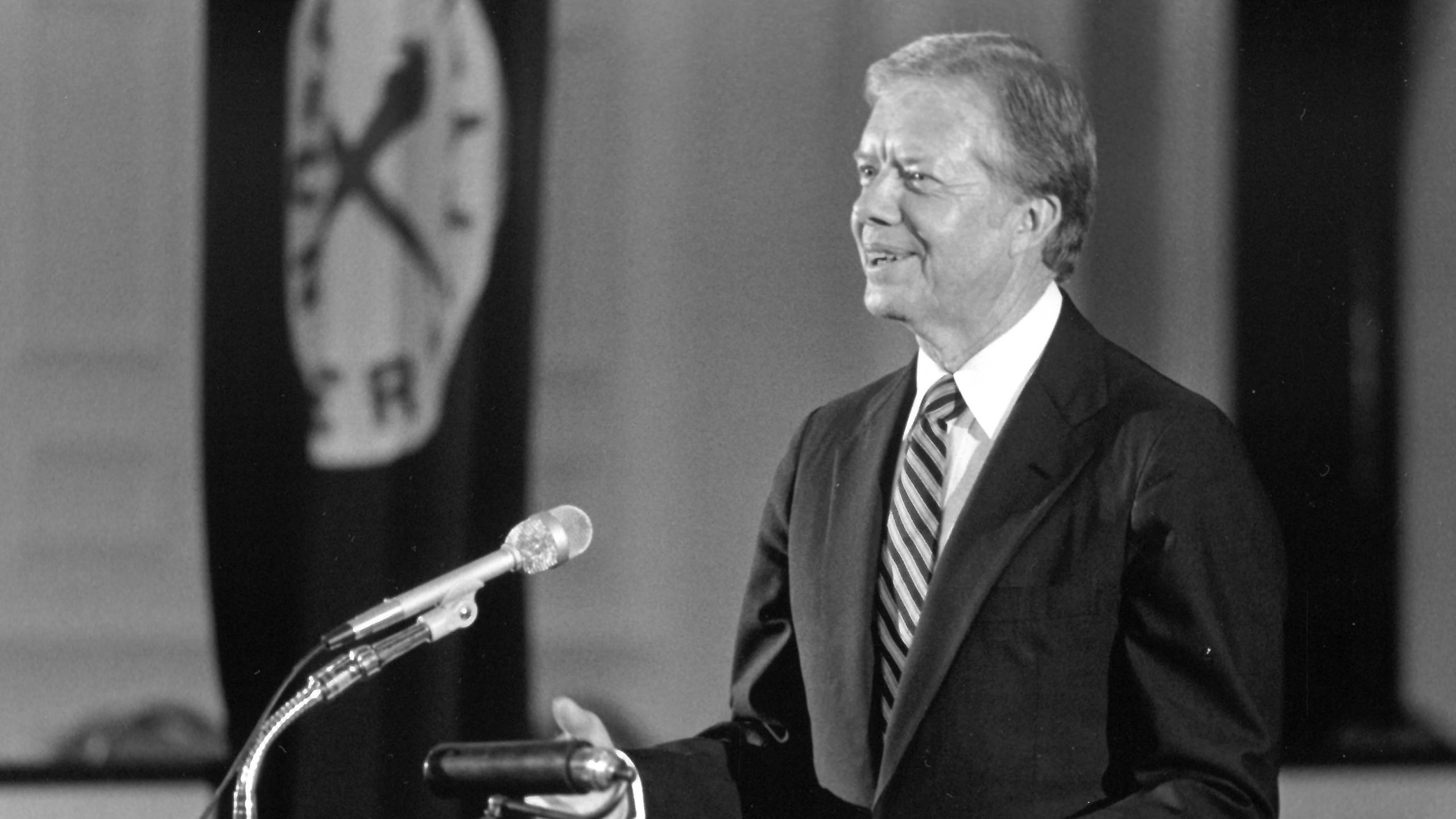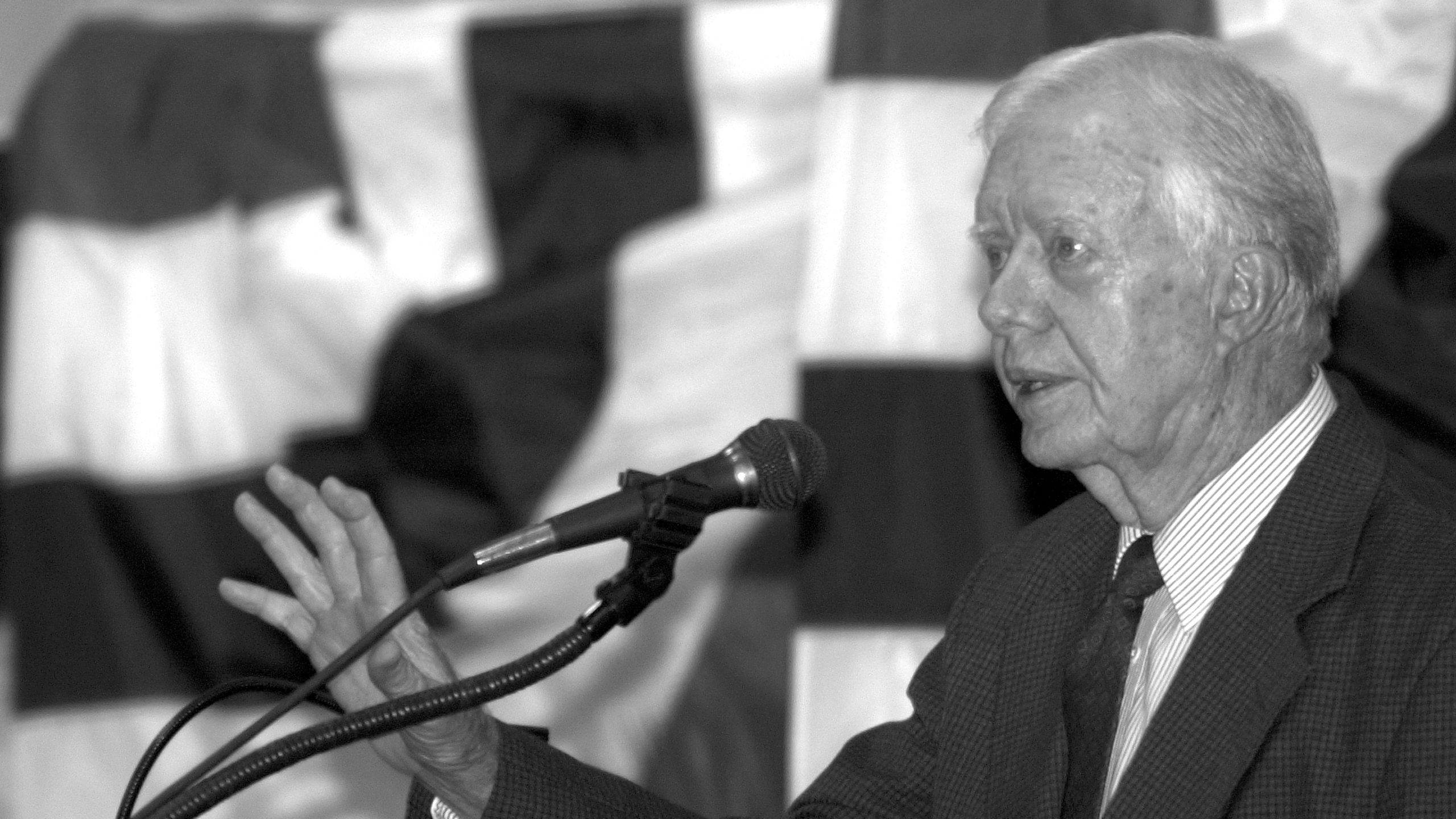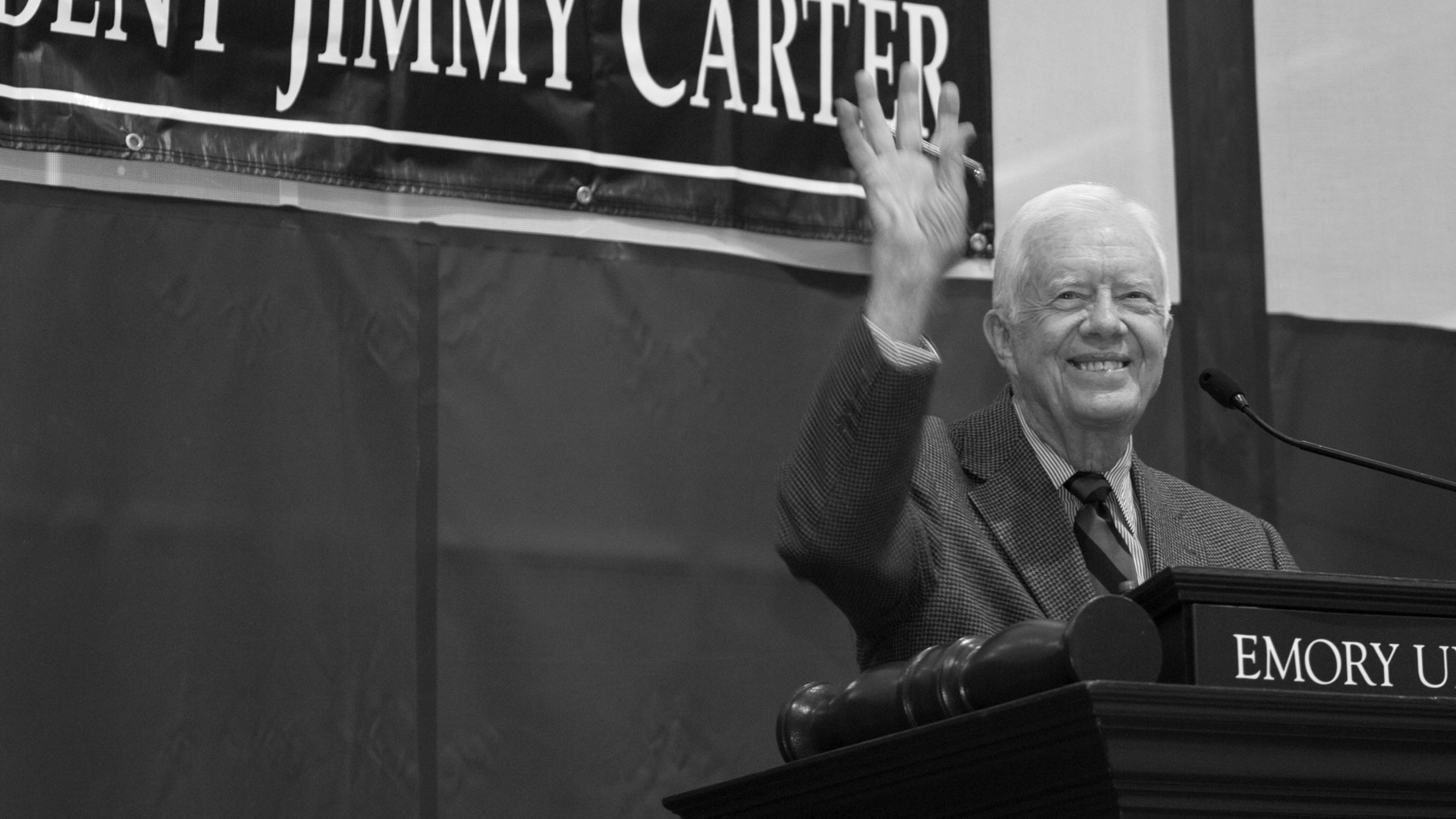 "I am grateful for President Carter's long-standing commitment to our students. He has never failed to offer honest answers to the questions Emory students have asked, and he has modeled true servant leadership by his actions. President, philanthropist, Navy veteran and Nobel Peace Prize winner — President Carter is an inspiration to us all."
Emory President Gregory L. Fenves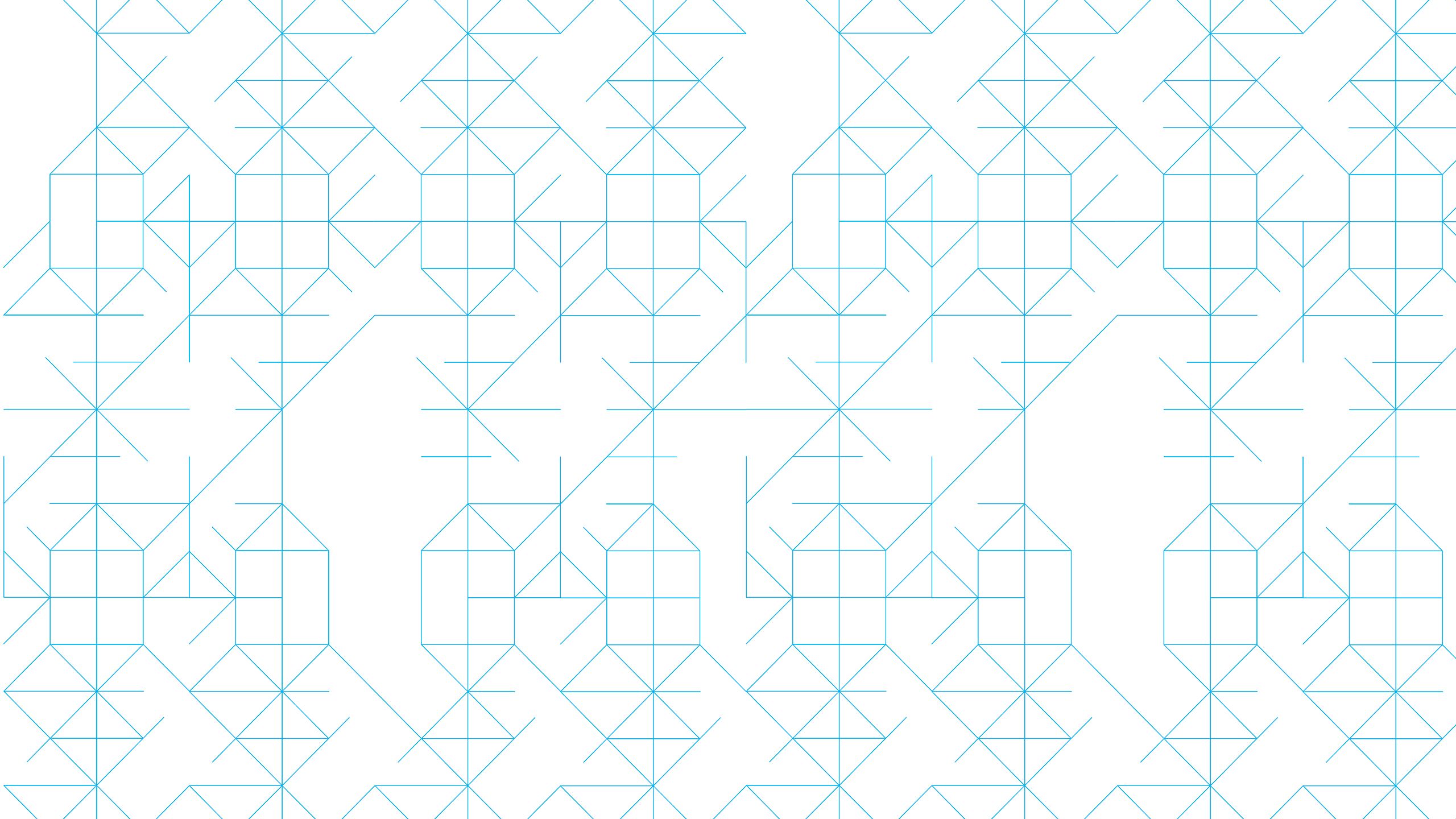 Watch as President Jimmy Carter is interviewed by his grandson Jason Carter about his almost 40 years of taking questions from Emory students. This special video was part of the 2020 Carter Town Hall.
Watch as President Jimmy Carter is interviewed by his grandson Jason Carter about his almost 40 years of taking questions from Emory students. This special video was part of the 2020 Carter Town Hall.
This year's Carter Town Hall marked a new chapter in the rich tradition of open, forthright discourse at Emory. Unlike past years, the event opened with a recorded video conversation between Jason and Jimmy Carter, who reflected on his participation in the longstanding forum.
Over the years, Carter said he's enjoyed the opportunity to meet and interact with Emory students, both through the town hall and his visits to campus classrooms. It's an enduring relationship that extends back to 1982, when then-Emory President James T. Laney invited Carter to join Emory as a University Distinguished Professor and partner with its unique resources to advance his global work in public health and human rights.
Laney assured Carter that he would always be able to talk with Emory students without restraint. And Carter promised to answer their questions with honesty — a vow that he would sometimes regret, he joked.
Though he's experienced rigorous interviews over the years, few have been as tough as the questions posed by Emory students at Carter Town Halls, he said. "I can generally anticipate what the question would be from the news media, but the students' questions were unanticipated," he explained in the video message.
Going forward, the town hall will continue with a rotating roster of speakers, as President Carter and his wife, Rosalynn, begin their retirement from public life. "The question is, should we keep that rule that you have to answer every single question?" Jason Carter asked.
Yes, President Carter said, admitting that he came to enjoy the rigor and diversity of student questions. Not only did the students seem to enjoy it, "they knew that I was bound to answer every question, so they were unrestrained in asking the questions."
As Jason Carter prepared to field student questions, he asked if his grandfather had any advice. "I would like to see the students be tough on you, like they were on me," the former president responded. "Don't avoid the questions and answer forthrightly."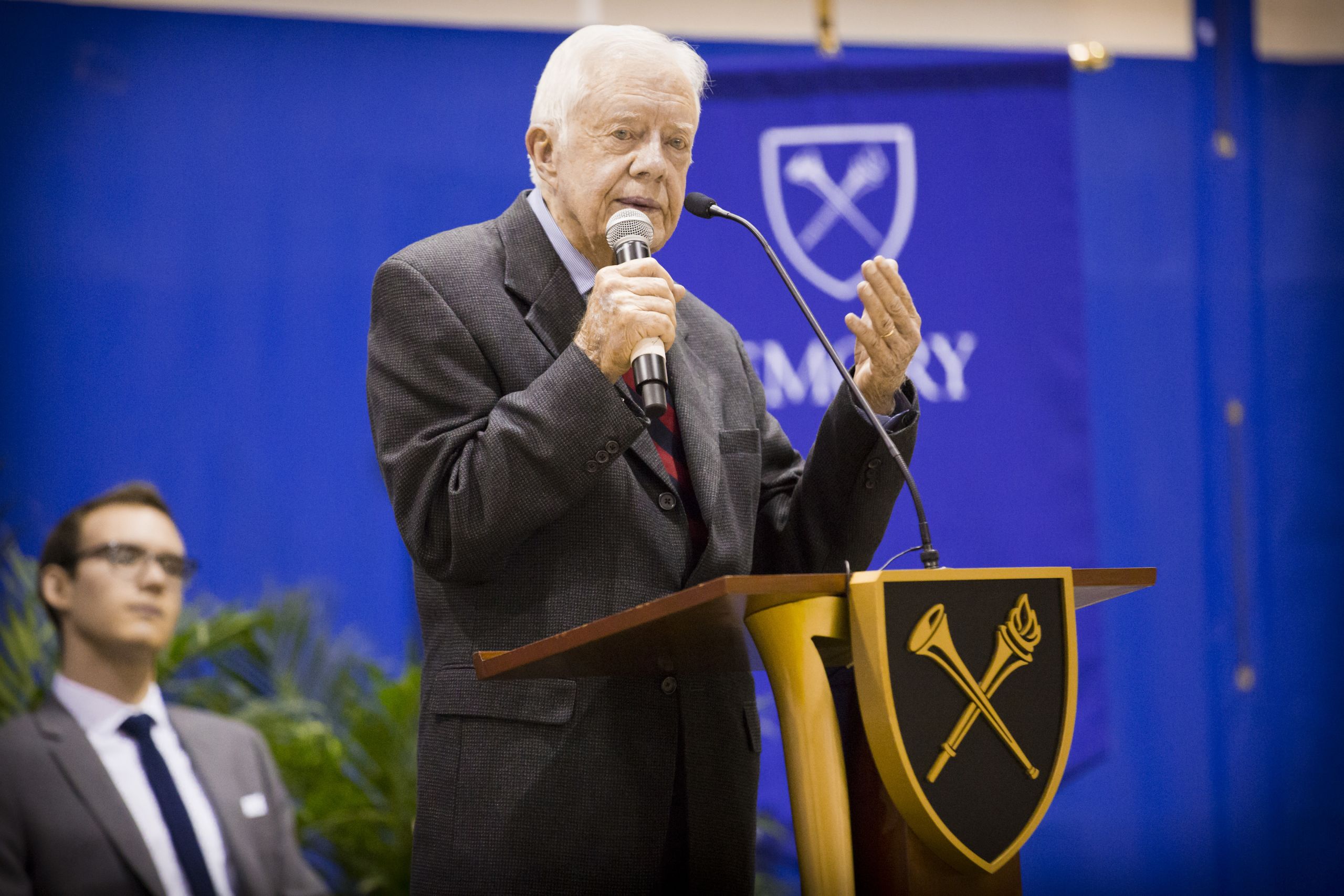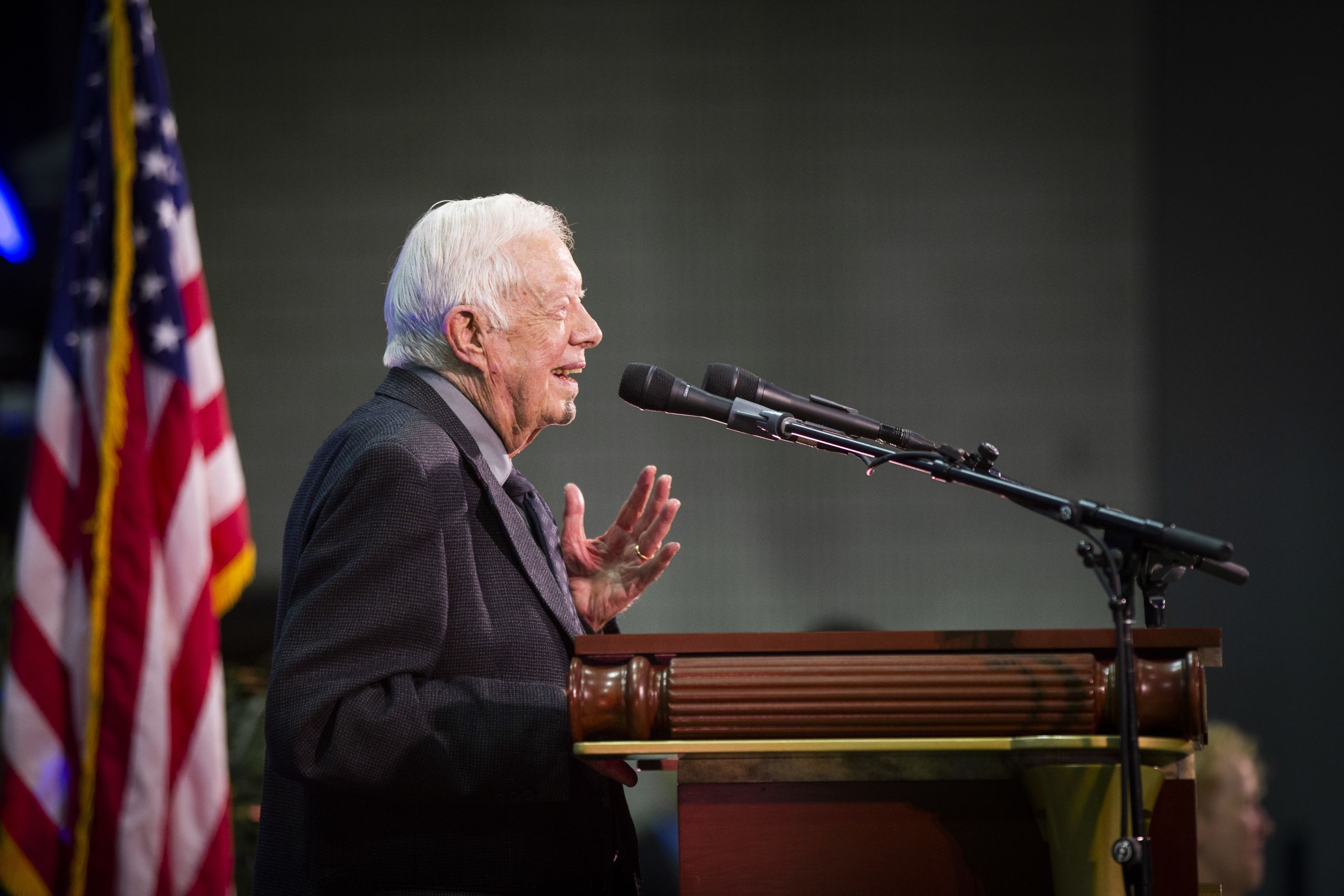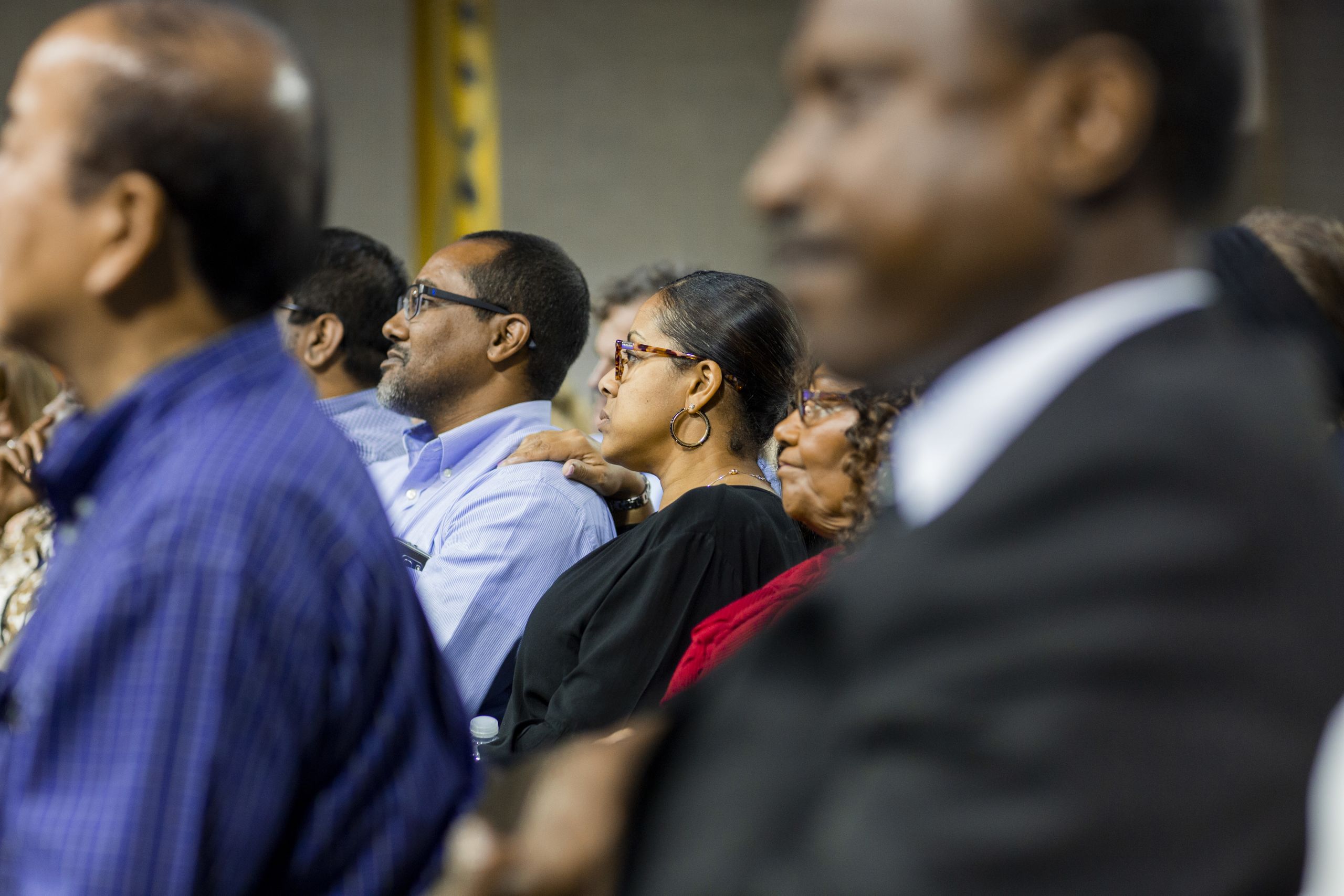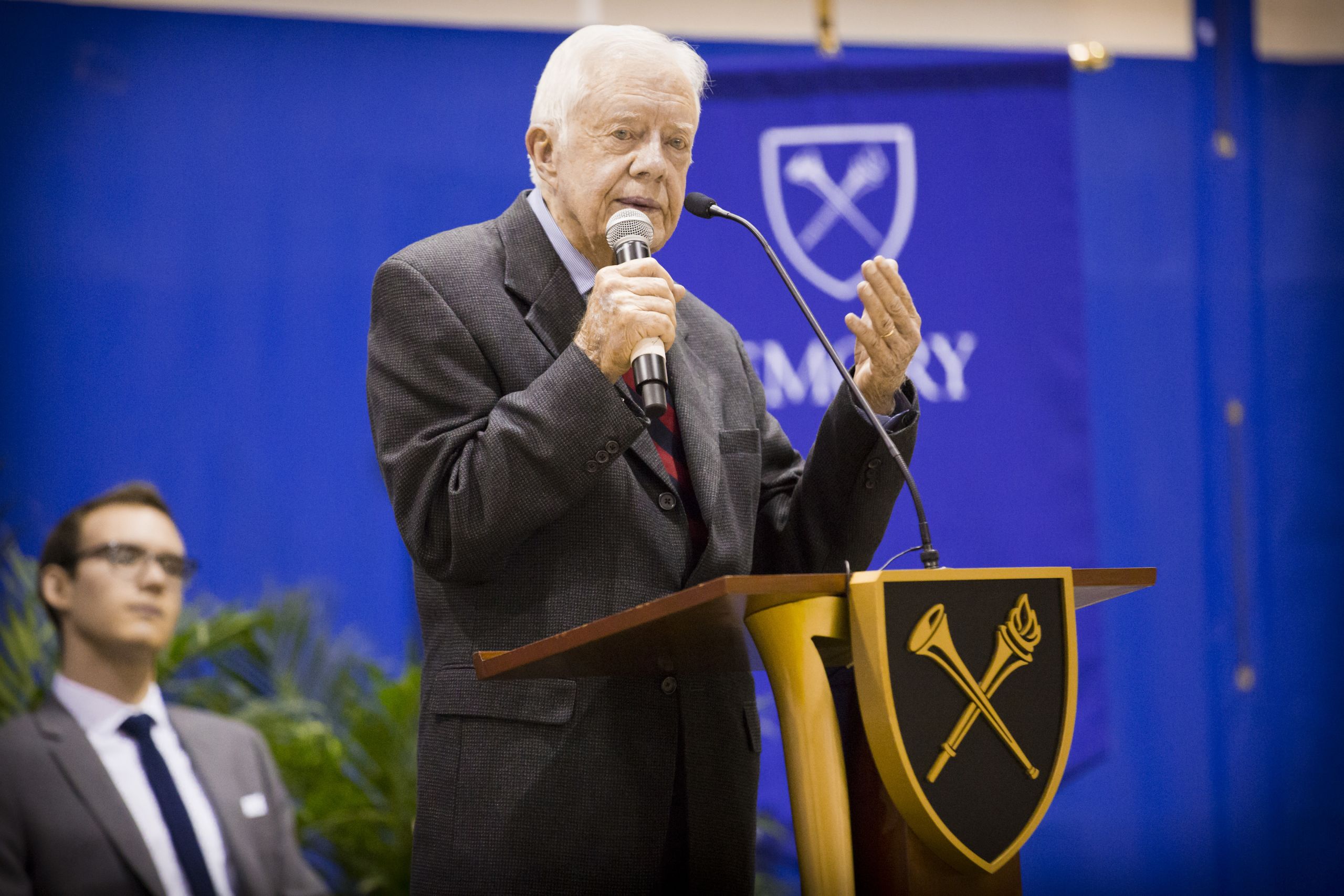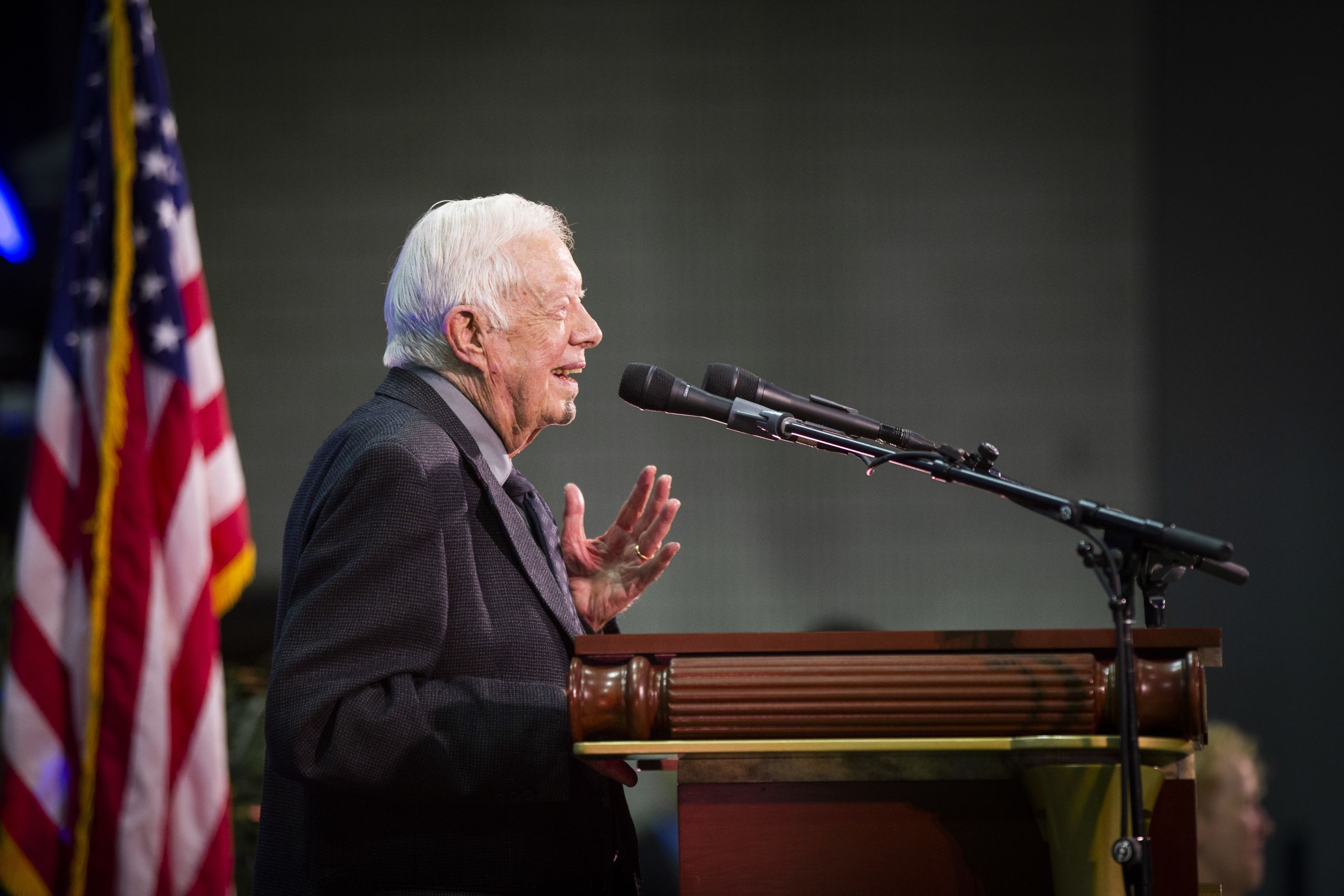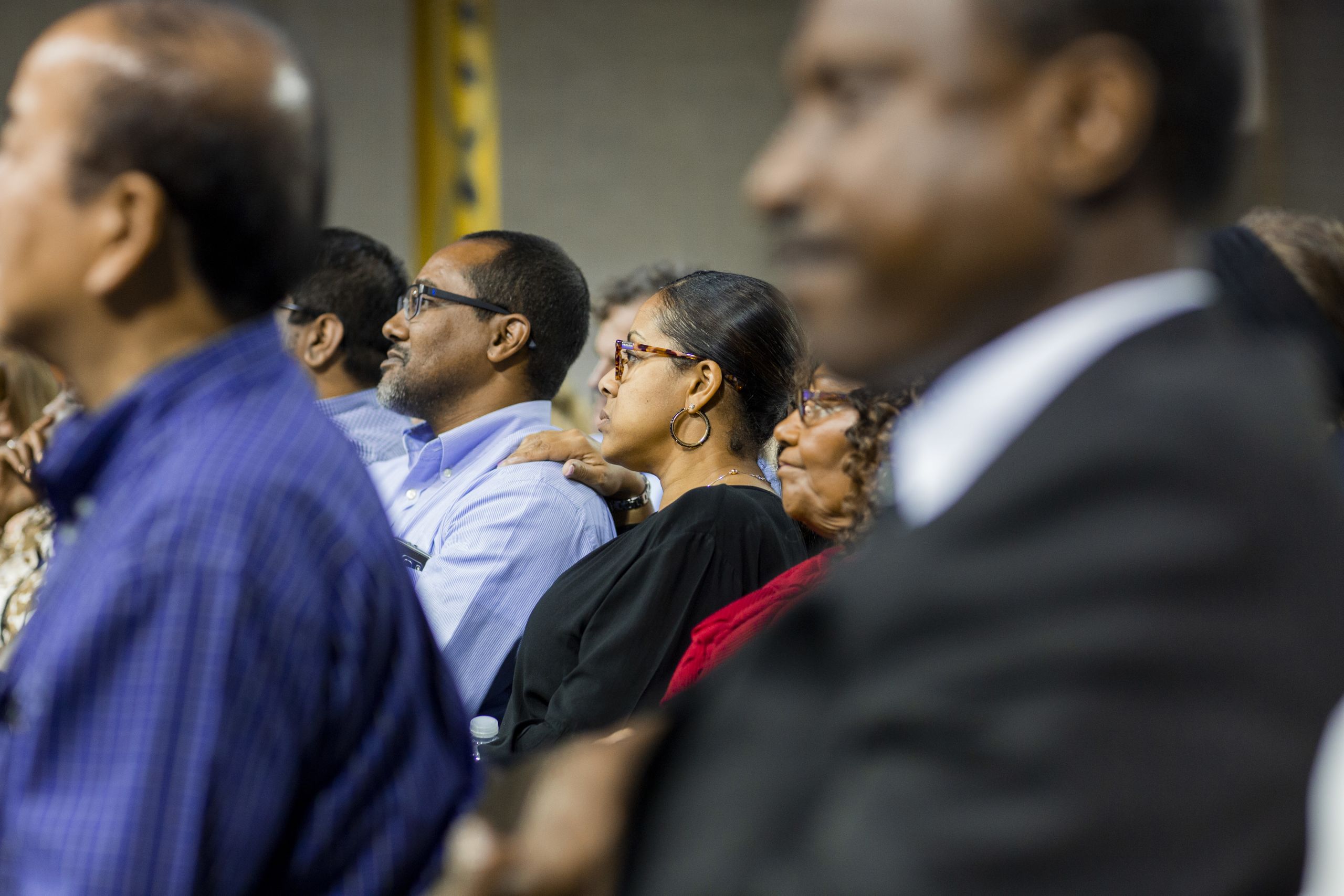 "I would like to be remembered as a champion of human rights, I would like to be remembered as a president who kept our country at peace and promoted peace for everybody else in the world with whom we had contact, and I would like to be remembered as having been a distinguished professor at Emory University."
President Jimmy Carter at the 2018 Carter Town Hall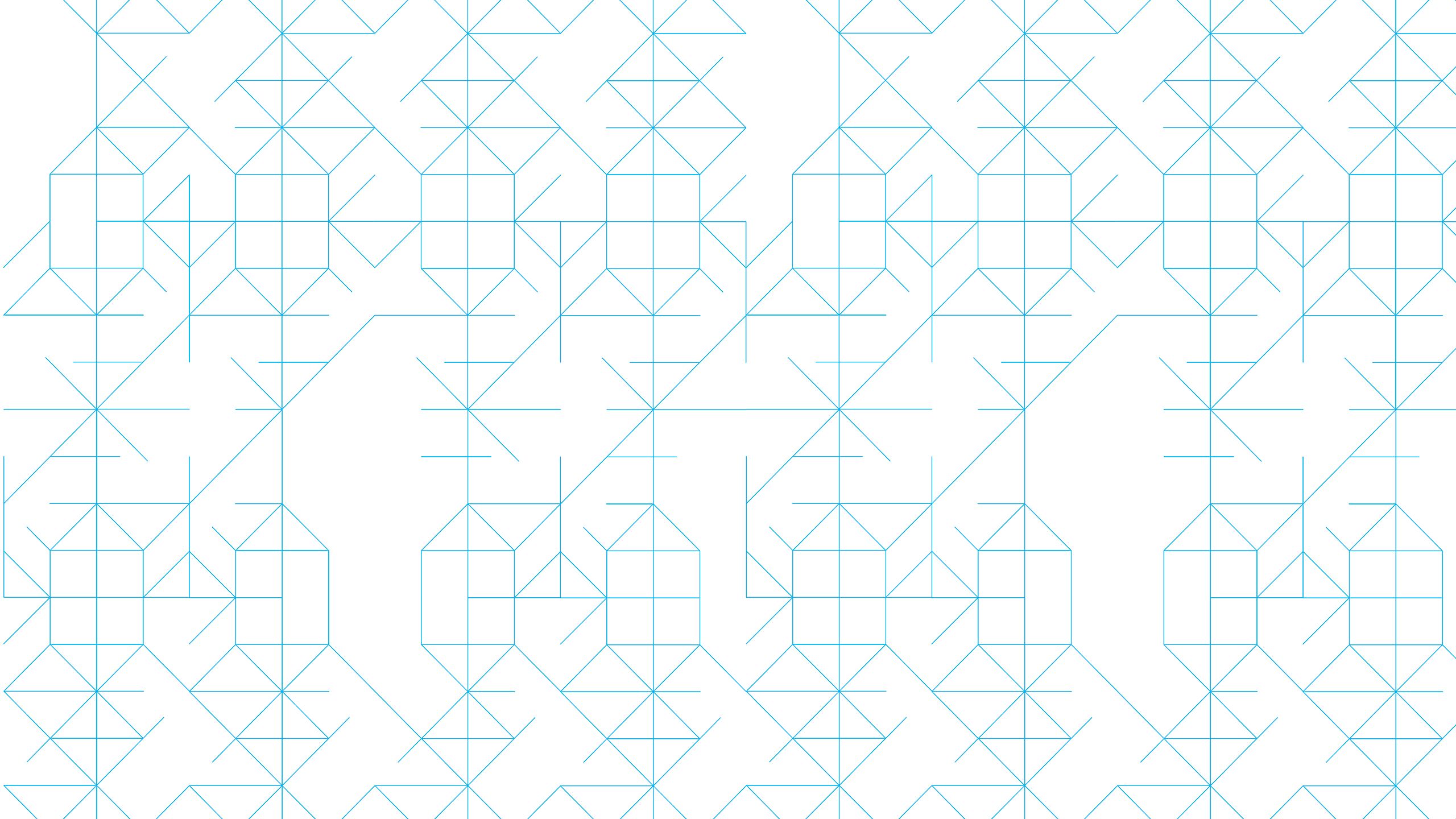 Following the recorded interview, Vice President and Dean of Campus Life Enku Gelaye welcomed students, acknowledging how moved she was "to see President Carter and to hear from him and to hear his words inspire us again."
Speaking to the Class of 2024, she noted "how special it is for you to be a part of this annual tradition — something to hold onto in this time where maybe it feels like maybe there's not a lot to hold on to. We're delighted to have you with us now, in this moment, to carry on this tradition.
"I'm sure you know by now that this is not the only longstanding tradition you will help to carry on during your time at Emory. There is so much that Emory offers and so much that people hold dear," Gelaye said. "We hope that you will continue to participate and create communities in ways that are meaningful for you."
Emory Student Government Association President Lori Steffel introduced Jason Carter as the evening's keynote, thanking the Carter Center for its "continued commitment to Emory students."
"This event is an incredible opportunity for our first-years and remains a hallmark of the student experience at Emory," said Steffel, a senior from Glenview, Illinois, studying finance and consulting at Emory's Goizueta Business School.
Jason Carter agreed that the video conversation with his grandfather "was certainly moving for me, too," adding that his grandparents send their regards. "My grandfather poured his heart out in these town halls. He stood with the Emory community, felt embraced by the Emory community, truly gave a real honest version of himself."
Following a bad fall last year, in which President Carter suffered a subdural hematoma — "a significant bleed and pressure in the brain"— his grandfather has been required to relearn a variety of basic things, Jason Carter explained.
But now, happily retired from their most public work, his grandparents are "doing great," Carter reported, adding that the former president is "up and at 'em these days, swimming every day and living at home in Plains" and engaged in local community projects.
Carter also highlighted the ongoing work of the Carter Center, where he chairs the board of trustees, and its global commitments to vanquish the stigma of mental illness; advance peace and conflict resolution, human rights and voting rights programs; and support public health and disease eradication and prevention in some of the world's poorest countries.
As a former state senator who represented Georgia's 42nd district, Carter reflected on how radically the political climate has changed since he served in the state senate and entered the 2014 Georgia governor's race.
"I'm 45-years-old and I feel like my political career occurred in a different era, so many things have changed in the last four years about the way we treat each other, about the way our country feels about itself, about the way that our country looks out at the world," he said. "It really is almost unrecognizable, in some ways."
In response to student questions about how the nation can heal an ever-widening partisan divide, Carter said that many broken aspects of the current political system, such as gerrymandered districts, only feed that gap. "That polarization that's so difficult is embedded in the system right now," he said. "We have to have reform in that system."
"Those things that pull us apart are real," he said. "But I do believe that when you look at who people are and how people interact with each other outside the context of our broken politics, I think you see a lot more human connection."
Carter challenged students to actively engage with those they may disagree with — breaking down barriers, rather than building them up. "Your goal is to at least understand," he said. "You can't let the things you disagree about tear you apart."
He also urged students to get involved with politics, adding that he's looking to the next generation "to push forward and really bring us and show us more clearly than we've ever been shown before what our country is and what it can mean in the world," he said. "We need more people who want to get involved in politics because they want to do good."
When asked about his grandparents' greatest impact, Carter described their humble, small-town roots in Plains, Georgia, a tiny town of 600 people. Through their travels with the Carter Center, they've been able to recognize the same resilience and potential among people in small, struggling villages across the globe.
"That belief in the power of individual people, no matter how rich or poor they are, to make a change in their own life is what I learned from my grandfather," he said.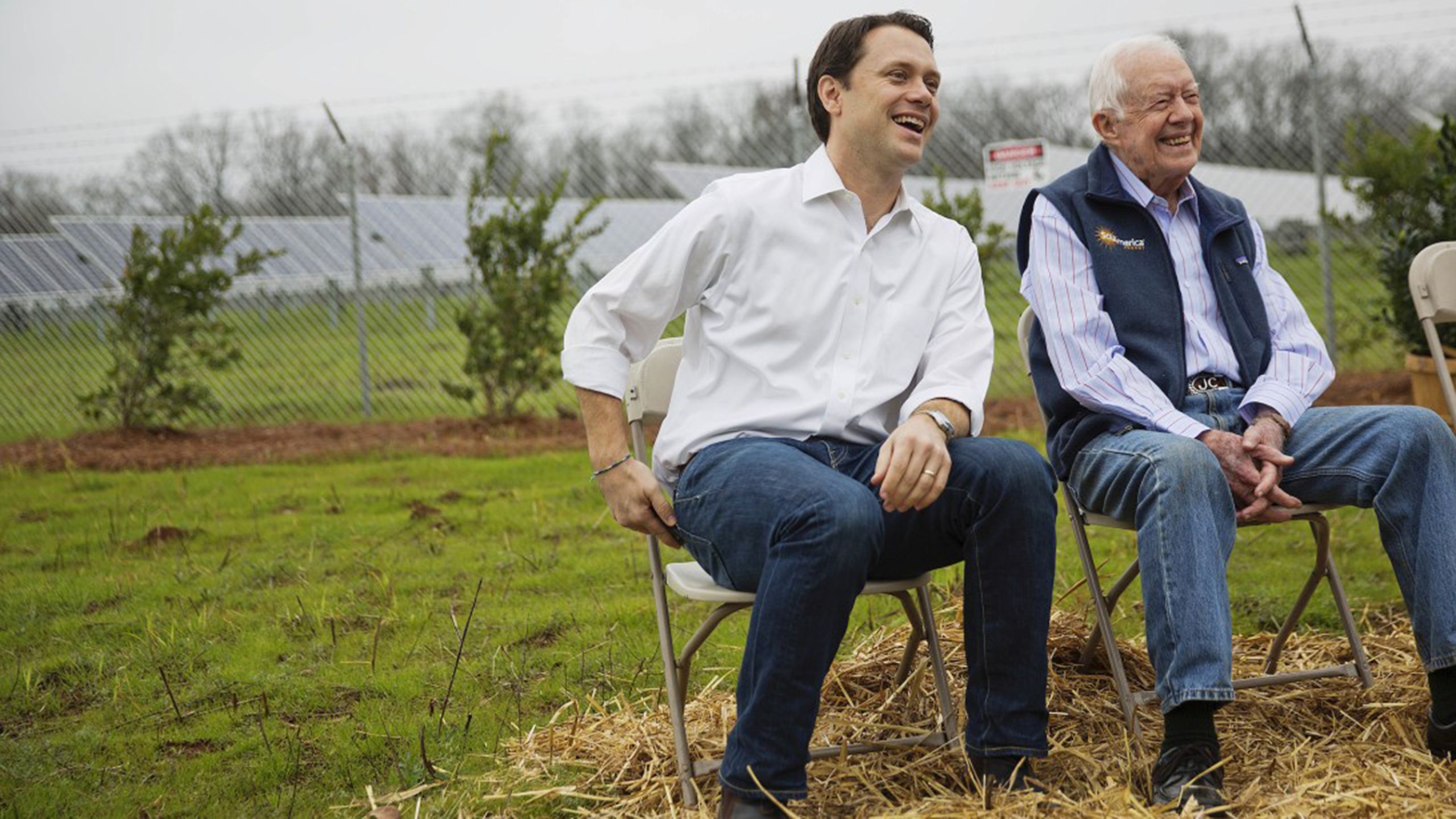 After the event, first-year students reflected on the first virtual version of the Carter Town Hall and the chance to hear from the nation's longest living president.
SGA President Steffel said that through her work in student government, she's had the opportunity to attend the past four Carter Town Halls. "As a first-year, you are so awestruck," she said. "Every year, I've learned something new about the history of our country. This year, it was great to learn more about the life and work of Jason Carter, who really takes after his grandfather."
Anusha Panjwani, a first-year student in Emory College of Arts and Sciences from New York City, was surprised to hear Jason Carter tackle a question about political polarization that she had submitted. "It was also interesting to hear President Carter talk about how, over the years, he couldn't anticipate the questions from Emory students and that they were some of the toughest he's ever been asked," she said. "There is some power in that."
Kate Lemons, a first-year student in Emory College from Johns Creek, Georgia, was interested in the Carter Center's work to combat neglected tropical diseases, which has included the near-total eradication of Guinea Worm disease. "They are doing so much for diseases that people in the U.S. aren't even aware of," says Lemons.
"Jimmy Carter is such an example of servant leadership and humility — it was really inspiring to hear from him," she said, adding that in a time of physical distancing, she appreciated having a shared event that helped unify her class. "For many of us, this is the first election that we can vote. It's nice to feel like we're all in this together."
For Calvin Lee III, a first-year student at Oxford College, Jason Carter's message was both timely and uplifting. "It's more important than ever to realize what's going on in the world," he said. "As a young person trying to navigate life and independence amid the twin pandemics of COVID and racism, I found it powerful and moving."
Kristopher Wallen, a first-year Emory College student from Coral Springs, Florida, served as a moderator, reading student questions that were submitted in advance and gathered via social media. For Wallen, who is studying political science and history, it was "definitely empowering and warming to hear Jason Carter talk about his own experience jumping into politics head-first."
"He talked about issues that are so relevant, especially racial and social justice movements that have us questioning what it is to be an American," he said. "To bridge those divides is more important than ever."
---
---
For many Emory alumni, attending the Carter Town Hall still stands as a transformational moment. Jeff Jackson 04C, now serving his third term as a senator in the North Carolina General Assembly, vividly remembers his own first-year experience, gathering with classmates to hear from the former president.
When a student asked President Carter what he would tell his father, if he could, Carter was momentarily stumped. Acknowledging that he'd never been asked that question before, he appeared to grow a little emotional, Jackson recalled.
Finally, he responded: "I guess I would say, 'Dad, I was president.'"
"It was a really human moment," Jackson said.
As a president of Emory's Black Student Alliance, Jonathan Butler 96C remembers the thrill of being invited along with other student leaders to dine with Jimmy and Rosalynn Carter prior to the annual town hall.
He remembers the Carters discussing the importance of spiritual awareness and was surprised to learn they are also interested in tai chi. "We had an honest conversation in the time I was with them," he said. "I realized they were ordinary people who've done extraordinary things."
Butler recalls feeling that their global work was a good match with Emory's larger calling to serve humanity, "the idea of being global citizens, that the human experience is based on being stewards for what we are given," he said.
"Jimmy Carter created a blueprint for how former presidents can go on to have meaningful impact in the world."